Pyaasa (Hindi: Pyāsā, meaning "Thirsty") is a 1957 Indian film produced by, directed by, and starring Guru Dutt. The film tells the story of Vijay, a struggling poet trying to make his works known in post-independence India, and Gulabo, a prostitute with a heart of gold who helps him to try and get his poems published. The music was composed by S.D. Burman.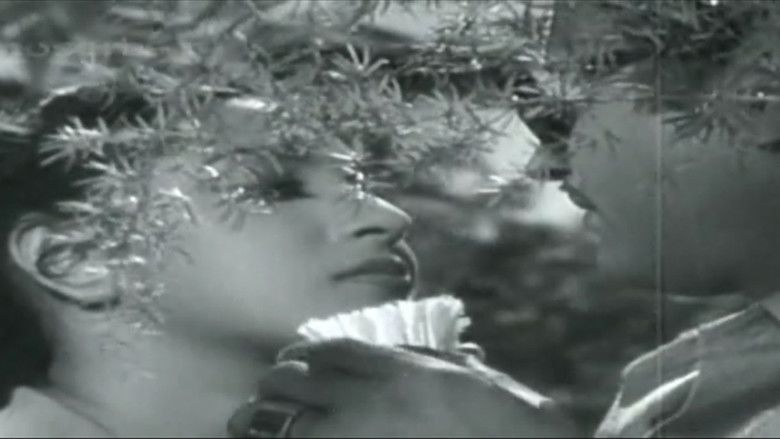 With the commercial success of thrillers like Baazi, Jaal, Aar Paar and CID as well as comedies like Mr. & Mrs. '55, Guru Dutt and his studio were financially secure and established. From 1957, he could now make movies he really wanted to make, including Pyaasa. In 2002, Pyaasa was ranked at No. 160 on the Sight & Sound critics' and directors' poll of all-time greatest films. In 2005, Pyaasa was rated as one of the 100 best films of all time by Time magazine, which called it "the soulfully romantic of the lot." Indiatimes Movies ranks the movie amongst the Top 25 Must See Bollywood Films. On the occasion of Valentine's Day 2011 Time magazine has declared it as one of the top 10 romantic movies of all time.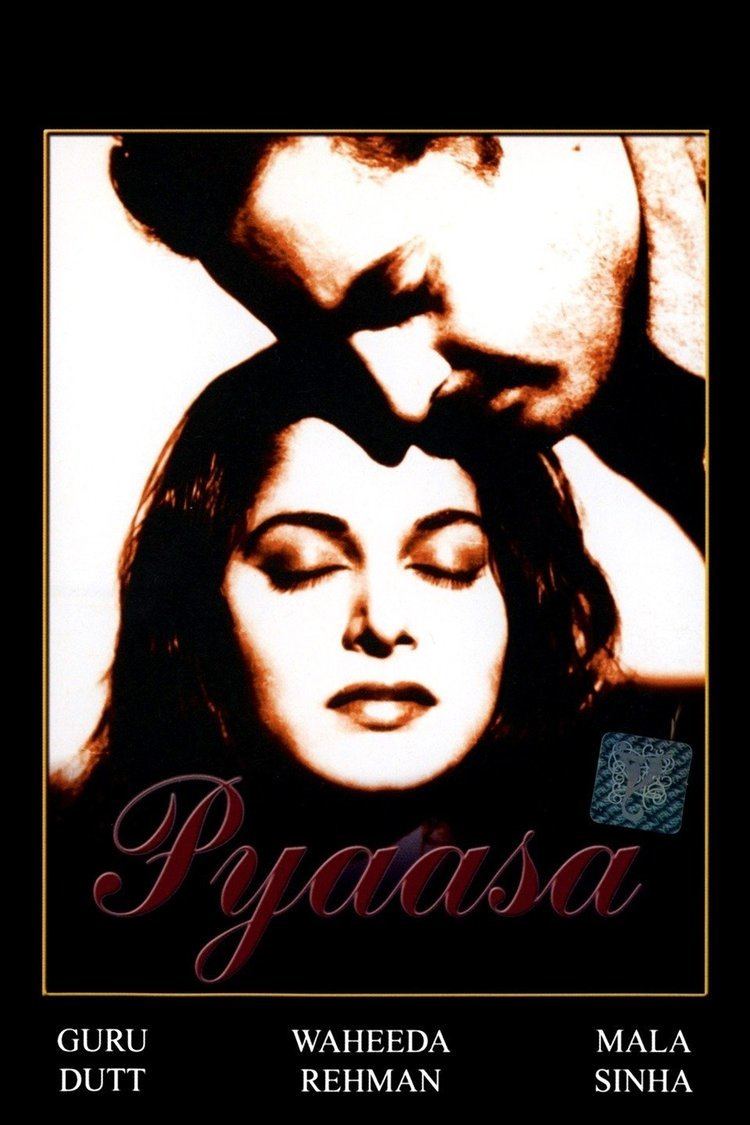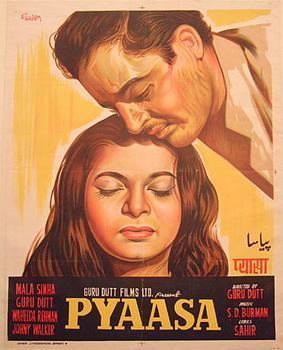 Vijay (Guru Dutt) is an unsuccessful poet whose works are not taken seriously by publishers or his brothers (who sell his poems as waste paper). Unable to bear their taunting that he is a good-for-nothing, he stays away from home and is often out on the streets. He encounters a good-hearted prostitute named Gulabo (Waheeda Rehman), who is enamoured with his poetry and falls in love with him. He also encounters his ex-girlfriend Meena (Mala Sinha) from college and finds out that she has married a big publisher Mr. Ghosh (Rehman) for financial security. Ghosh hires him as a servant to find out more about him and Meena. A dead beggar to whom Vijay gave his coat and whom he tries to save unsuccessfully from the path of a running train is mistaken for Vijay. Gulabo goes to Ghosh and gets his poems published. Ghosh does so feeling he can exploit the poems and make a killing. The poems are very successful. However, Vijay is alive and in the hospital after the train mishap.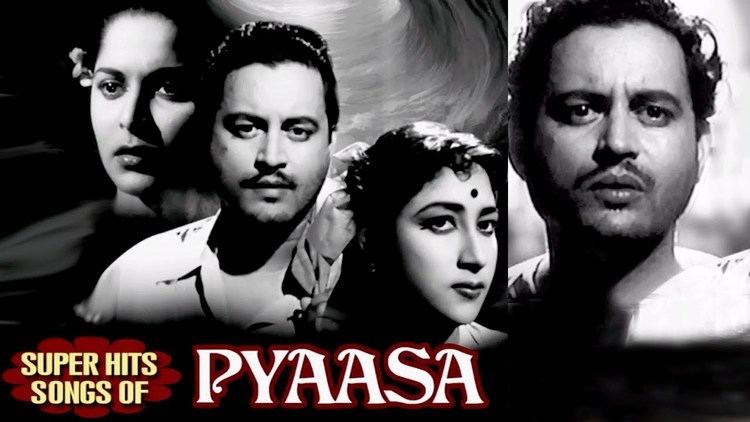 Ghosh and Shyam, Vijay's close friend, refuse to recognise him and he is committed to a mental asylum since he insists he is Vijay and is thought to be mad. Vijay's brothers too are bought off by Ghosh not to recognise him and a memorial is held for the dead poet. Vijay with the help of his friend Abdul Sattar (Johnny Walker) escapes from the mental asylum and reaches the memorial service where he denounces this corrupt and materialistic world. Seeing that Vijay is alive his friend and brothers take side with a rival publisher for more money and declare this is Vijay. At a function to honour him, Vijay becomes sick of all the hypocrisy in the world around him and declares he is not Vijay. He then leaves with Gulabo to start a new life.
In the original ending Guru Dutt wanted to show that Vijay left all alone but on the distributors' insistence the ending was changed. The film was originally titled Pyaas (thirst), but Guru Dutt later changed it to Pyaasa to better describe the film.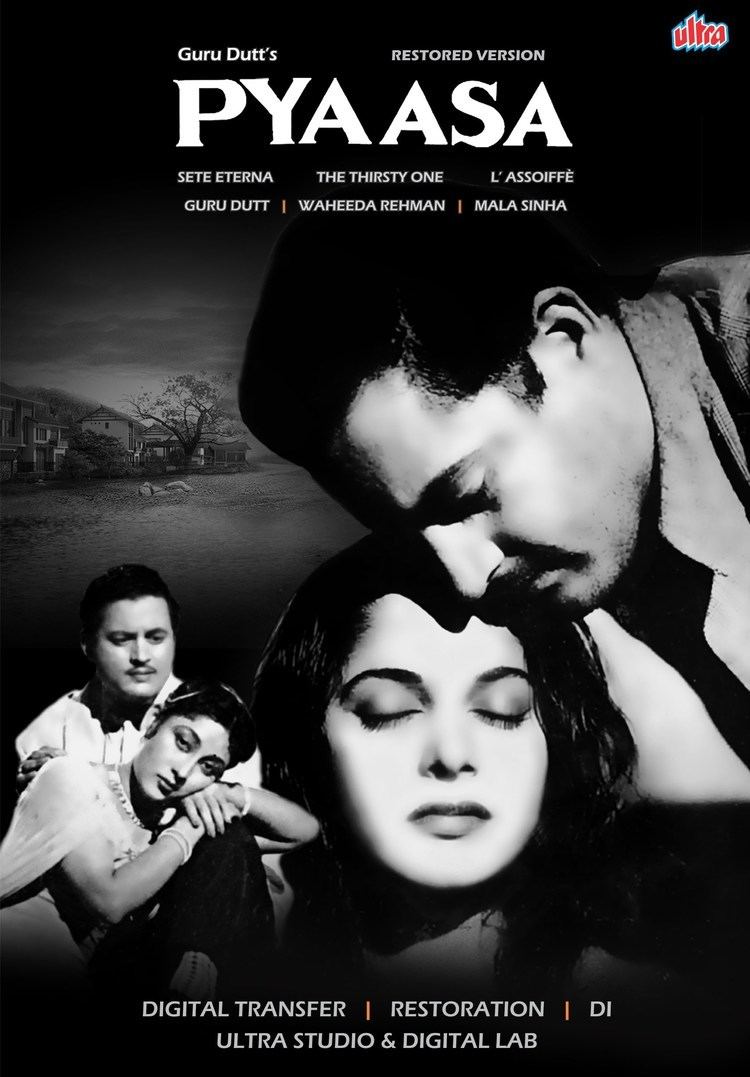 The role of Shyam was originally to be played by Guru Dutt's real life friend, Johny Walker but was then assigned to one of Guru Dutt's assistant directors. Guru Dutt wanted to film red light area scenes on locations in Kolkata (then Calcutta) but the crew was attacked by a group of pimps. Guru Dutt however recreated sets on the basis of photos taken at Kolkata.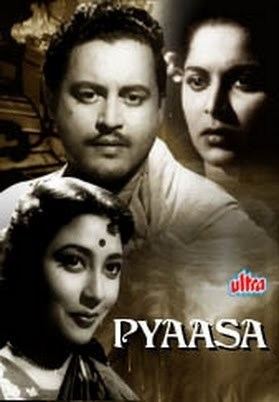 It is also surmised that the story is based on the life of film's lyricist Sahir Ludhianvi who had failed affair with poet and writer Amrita Pritam .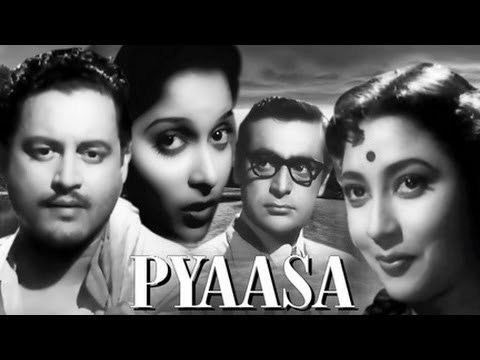 Guru Dutt as Vijay
Mala Sinha as Meena
Waheeda Rehman as Gulab – This was her first major leading role in Hindi cinema.
Rehman as Mr. Ghosh
Johnny Walker as Abdul Sattar
Leela Mishra as Vijay's mother
Kumkum as Juhi
Shyam Kapoor as Shyam
Mehmood as Vijay's brother
Tun Tun as Pushplata
Moni Chatterjee as Chatterjee
Vijay: Apne shauk ke liye pyaar karti hai aur apne aaram ke liye pyaar bechti hai. [She loves for a hobby and trades it for her comfort.]
Vijay: To phir main yahan kya kar raha hun. Main kyon zinda hun, Gulab? [What am I doing here? Why am I alive, Gulab?]
Vijay: These smiling flowers, these fragrant gardens, this world filled... with glorious colours. The nectar intoxicates bees. What little have I to add to this splendor... a few tears, a few sighs.
Vijay: ...I'm not that Vijay
Vijay: Jab Hum Chale Toh Saaya Bhi Apna Na Saath De, Jab Tum Chalo Zameen Chale Aasman Chale, Jab Hum Ruke Toh Saath Ruke Sham-e-bekasi, Jab Tum Ruko Bahaar Ruke Chandni Ruke (When I walk, even my shadow doesn't give me company; when you walk, the earth and the skies stroll with you. When I stop, stays with me the evening of helplessness; when you stop, halts with you both spring and moonlight...)
The movie boasts one of the best performances of S.D. Burman, Sahir Ludhianvi, Geeta Dutt and Mohammed Rafi to produce one of the most lyrical Hindi musicals. Pyaasa marked the last collaboration of the long-lasting team of composer Burman and lyricist Ludhianvi.
In 2004, as part of a Sight & Sound feature "celebrating the relationship between cinema and music", Pyaasa was named by Olivier Assayas as one his favourites, going so far as to say that it was "possibly one of the most remarkable transpositions of poetry on screen".
There was a debate between writer Abrar Alvi and Guru Dutt on film's ending. Abrar wanted the protagonist to accept and compromise with the prevailing material social reality; Guru Dutt insisted otherwise.
Song 'Sar jo tera chakraye' composed by S.D Burman was based on a tune from British Movie 'Harry Black', which was later released in India as 'Harry Black and The Tiger'. S. D. Burman was initially not happy in copying a western tune "but later changed it so well that when the producer of the 'Harry Black and the Tiger' visited India, he heard the song and not only failed to recognize the tune, but commended Dada on it' Abrar laughs."
(Source: 'Ten Years with Guru Dutt – Abrar Alvi's Journey' an authorised biography by Sathya Saran, Pages 71 and 72)
Pyaasa was to be made with actresses, Nargis Dutt and Madhubala in the roles Mala Sinha and Waheeda Rehman played eventually. But the two actresses couldn't decide which role they wanted to play and Guru Dutt eventually opted for two then new actresses, Mala and Waheeda.
Guru Dutt wanted Dilip Kumar to play the leading role in the movie, which the tragedy king declined. Guru Dutt himself played and movie went on to become one of the most commercially successful movies of the year.
The popular song "Hum aapki aankhon mein" was added to the movie on behest of distributors to bring some relief in rather pessimist film. It was never planned in original cut.
After a slow opening, Pyaasa went on to be a major commercial success of the year. This gave Guru Dutt the confidence to make a repeat on a grand scale. However, Kaagaz Ke Phool went on to be a commercial disaster. Ironically, the movie picked up a cult following world over in 1980s much after Guru Dutt died.
Waheeda Rahman's role in Pyaasa was based on a real life character. Abrar Alvi and his friends were visiting Bombay and they decided to visit the red light area. Alvi got talking to a girl who called herself Gulabo. According to Alvi " As I left, she thanked me in a broken voice, saying that it was the first time that she had been treated with respect, in a place where she heard only abuses. I used-her exact words in the film"
Guru Dutt and his movies, including Pyaasa, have a large cult following in France and Germany. It was a huge commercial success during its 1984 French Premiere, ironically something Guru Dutt never witnessed during his lifetime. Since then, the movie has been screened to huge mass appeal world over, like the recent screening at The 9th International Festival of Asian Cinema held in Vesoul, in February 2003,
Is a Time top 100 movie of all times
Is a Time readers choice top 10 movie of all times
This film is restored & digitized by Mumbai-based Ultra Media & Entertainment. As per the report, the original camera negative had come to them from the archives completely melted, with parts damaged or lost. Their biggest challenge was the flickering. Every frame was at a different angle and there was no stability. After several clean-ups, they managed to retrieve the actual content from the original camera negative but it lacked clarity and depth. 45 restoration experts worked for almost 4 months over 2 lac frames. The original monaural soundtrack remastered at 24-bit from the 35 mm optical soundtrack. The company sent it to the 72nd Venice International Film Festival held in 2015 where it competed with 20 other films and was selected to be screened as part of the Venice Classics section aongwith 11 other films from all over the world.
The theme of the film is similar to Kishore Sahu's 1943 film Raja.
The 1961 Kannada movie Kantheredu Nodu by A. K. Velan had a similar storyline.
The film was remade in Malayalam as Kavyamela (1965).
The film was remade in Tamil as Devi (1968). Starring Muthuraman and Devika, it was directed by A. K. Velan.
Pyaasa was also remade in Telugu as Mallepoovu (1975).