Genre

Biography, Drama, History




Initial DVD release

July 27, 1999




Language

English






Director

Franklin J. Schaffner


Adapted from

Nicholas and Alexandra


Duration




Country

United Kingdom







Writer

James Goldman, Robert K. Massie


Release date

13 December 1971 (1971-12-13)




Cast

Michael Jayston (Nicholas), Janet Suzman (Alexandra), Roderic Noble (Alexis), Ania Marson (Olga), Lynne Frederick (Tatiana),

Candance Glendenning

(Marie)


Similar movies

Interstellar

,

Titanic

,

Kingdom of Heaven

,

Ben-Hur

,

Independence Day

,

Pompeii



Nicholas and alexandra trailer
Nicholas and Alexandra is a 1971 British biographical film directed by Franklin J. Schaffner and written by James Goldman, based on Robert K. Massie's book of the same name, which partly tells the story of the last ruling Russian monarch, Tsar Nicholas II of Russia, and his wife, Tsarina Alexandra.
Contents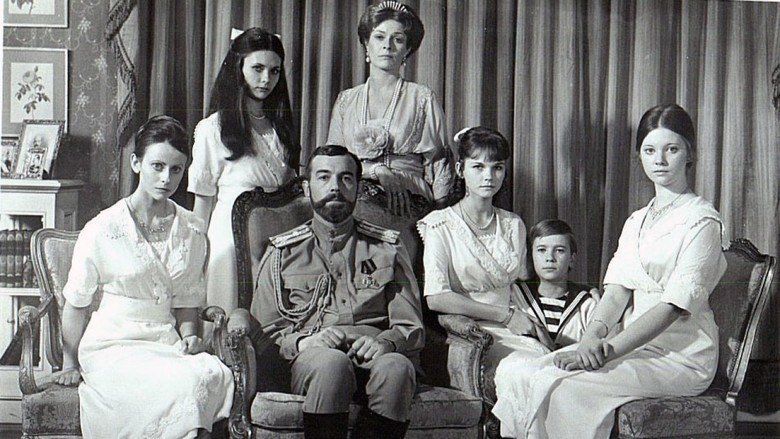 The film won Academy Awards for Best Art Direction-Set Decoration (Art Direction: John Box, Ernest Archer, Jack Maxsted and Gil Parrondo; Set Decoration: Vernon Dixon) and Best Costume Design (Yvonne Blake and Antonio Castillo), and was nominated for Best Actress in a Leading Role (Janet Suzman), Best Cinematography, Best Music, Original Dramatic Score and Best Picture.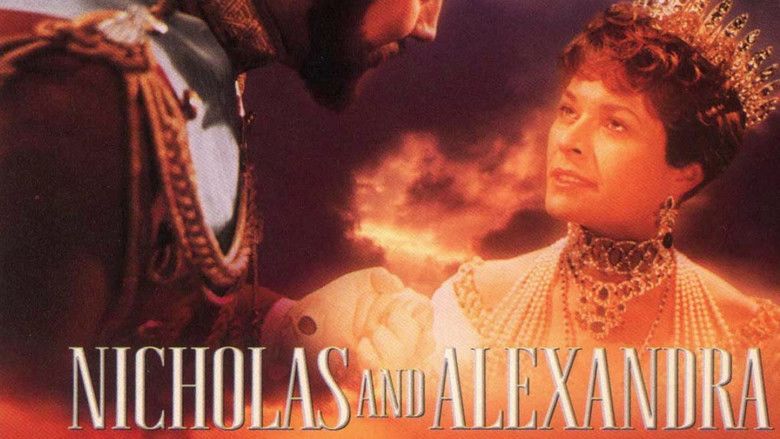 Nicholas and alexandra behind the scenes with lynne frederick
Plot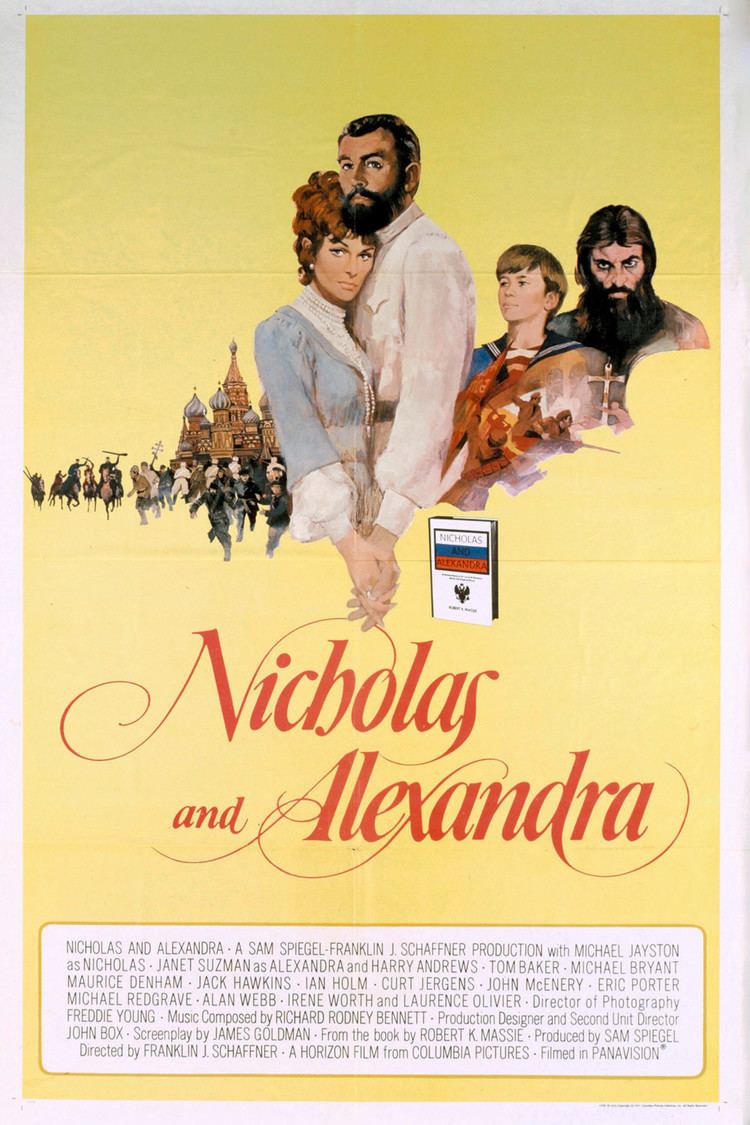 Tsarevich Alexei is born in 1904 during the Russo-Japanese War. Tsar Nicholas is warned by the Prime Minister Count Witte and his cousin Grand Duke Nicholas that the war is futile and costing too many lives. They tell him the Russian people want representative government, health care, voting and workers' rights, but Nicholas wants to maintain the autocracy. Meanwhile, underground political parties led by Vladimir Lenin, Joseph Stalin and Leon Trotsky have formed.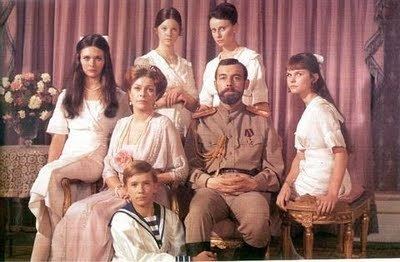 Alexei is diagnosed with hemophilia. The Tsarina Alexandra, a German princess, is disliked by the Russian royal court. She befriends Rasputin, a Siberian peasant passing as a holy man, hoping he will heal Alexei.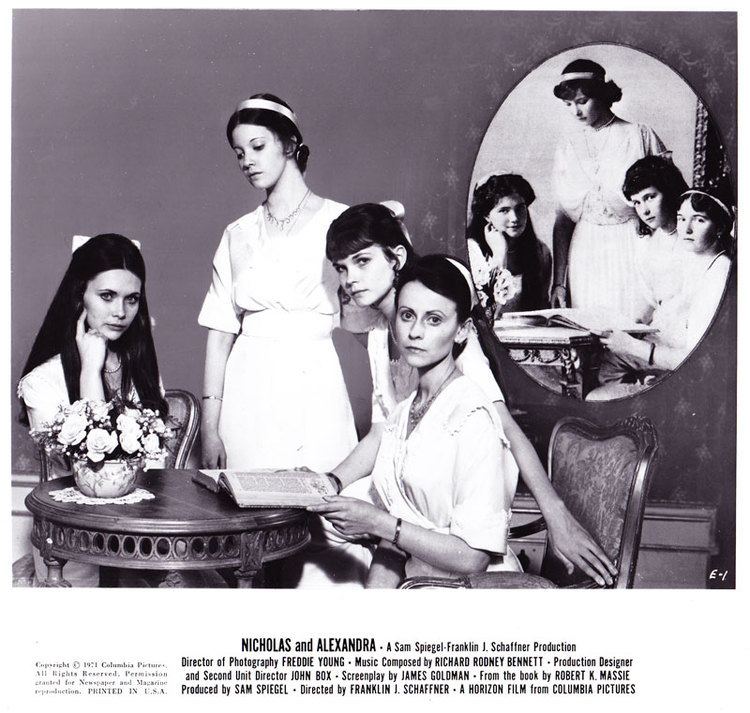 Working under appalling conditions, the factory workers are encouraged by Father Georgy Gapon to take part in a peaceful procession to the Winter Palace to present a petition to the Tsar. However, hundreds of soldiers standing in front of the palace fire into the crowd. Nicholas hears of the Bloody Sunday massacre and is horrified.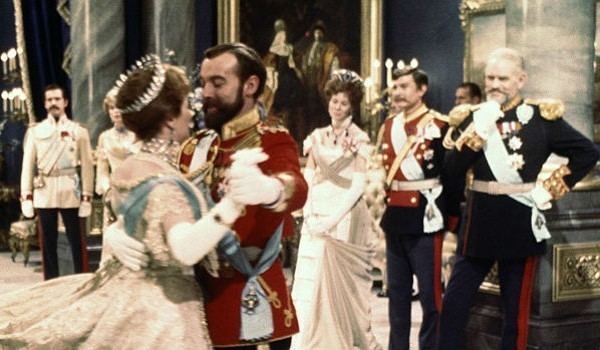 In 1913 the family holidays at the Livadia Palace in the Crimea. Prime Minister Pyotr Stolypin has preserved the Russian Empire. He presents Nicholas with police reports about Rasputin's dissolute behaviour, which is damaging the Tsar's reputation. Nicholas dismisses Rasputin from the court. Alexandra demands his return, as she believes only Rasputin can stop the bleeding attacks, but Nicholas stands firm in his decision.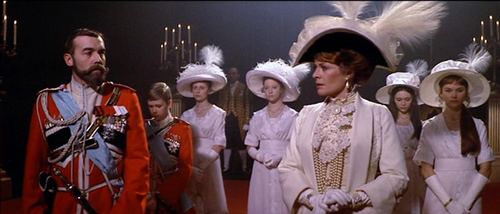 The Tercentenary celebrations occur and a lavish Royal Tour across Imperial Russia ensues, but crowds are thin. Other national festivities and Church celebrations go ahead, but an event at the Kiev Opera House ends horribly when Prime Minister Stolypin is assassinated. Nicholas executes the killers and closes the Duma, allowing police to terrorise the peasants.
Alexei falls at the Spała Hunting Lodge, which leads to another bleeding attack. It is presumed he will die. The Tsarina writes to Rasputin, who responds with words of comfort. The Tsarevich recovers and Rasputin returns.
World War I begins a few weeks after the assassination of Archduke Franz Ferdinand of Austria in Sarajevo, Bosnia and Herzegovina, part of Austria-Hungary. Nicholas orders a full mobilization of the Russian army on the German border and as a result Germany declares war, activating a series of alliances that enlarges the war. He decides to command the troops in 1915 and leaves for the front, taking over from the experienced Grand Duke Nicholas. Meanwhile Alexandra is left charge at home, and under Rasputin's influence, she makes poor decisions. The Tsarina is losing control and Rasputin's behavior has not changed. Nicholas is visited by his mother Dowager Empress Maria Feodorovna, who is critical of his incompetence. She scolds him about avoiding domestic issues and implores him to eliminate Rasputin and to send Alexandra to Livadia in the Crimea. Concerned about Rasputin's influence, Grand Duke Dmitri and Prince Felix Yusupov, invite Rasputin to a party and murder him in December, 1916.
Despite Rasputin's death, Alexandra continues her misrule. The army is ill supplied, and starving and freezing workers revolt in St. Petersburg in March 1917. Nicholas decides to return to Tsarskoye Selo too late and is forced to abdicate in his train at Mogilev.
The family with Dr. Botkin and attendants leave Tsarskoye Selo and are exiled by Kerensky to Tobolsk in Siberia in August 1917. They live guarded under less grand conditions. In October 1917, Russia falls to the Bolsheviks. The family is transferred to the Ipatiev House in Yekaterinburg. Under harsher conditions they are guarded by the cold-blooded Yakov Yurovsky. One of the guards attempts to steal Alexei's gold chain and Nagorny leaps to his defence. Nagorny is taken away and shot. In a near-final scene, the family are laughing as they read withheld letters from friends and relatives. In the early hours of 17 July 1918, the Bolsheviks awaken the Romanov family and Dr. Botkin telling them they must leave. They wait in the cellar. Yurovsky and his assistants enter the room and open fire.
Production
Producer Spiegel tackled Nicholas and Alexandra when he was shut out from working with director David Lean on Doctor Zhivago, which was also set against the backdrop of revolutionary Russia. Spiegel had alienated Lean when the two worked together constantly dogging the perfectionist director in order to get the film Lawrence of Arabia finished on time. Spiegel initially tried to make Nicholas and Alexandra without buying the rights to the book by Robert K. Massie's claiming the story was in public domain but, eventually, Spiegel purchased the rights and hired writer James Goldman to do the adaptation of Massie's book.
Goldman, who had written the popular play and film The Lion in Winter, labored on draft after draft as directors came and went (George Stevens, Anthony Harvey, Joseph Mankiewicz and Charles Jarrot were all attached to the project at one point). After seeing Patton, Goldman recommended Franklin J. Schaffner (who would go on to win his Best Director Academy Award while working on Nicholas and Alexandra).
Spiegel turned to former collaborators John Box to do the production design and cinematographer Freddie Young (Lawrence of Arabia) to work on the film so as to give the production the epic touch he felt it needed.
Principal photography took place in Spain and Yugoslavia.
Spiegel had to work with stricter budget constraints from Columbia than before, preventing him from achieving his first choices for the leads (Peter O'Toole as Rasputin and Vanessa Redgrave as Alexandra) and, while well-known actors such as Laurence Olivier and Jack Hawkins appeared in the film, actor Rex Harrison turned down a supporting role because he felt it was too small.
Tom Baker was a member of the Royal National Theatre who was recommended to the producer and director by Laurence Olivier, then director of the company, for the role of Rasputin.
Despite the detailed production design, photography and strong performances from the cast, Nicholas and Alexandra failed to find the large audience it needed to be a financial success.
Awards
Nicholas and Alexandra was nominated for three Golden Globes including Best Supporting Actor and Most Promising Newcomer for Baker and Most Promising Newcomer for Suzman.
The film received three nominations from BAFTA including Most Promising Newcomer for Janet Suzman, Best Art Direction and Best Costume Design.
Nicholas and Alexandra was recognised by the National Board of Review as one of the Top 10 Films of 1972.
The score by Richard Rodney Bennett was nominated for a Grammy.
The film was nominated six Academy Awards including Best Actress, Best Cinematography, Best Original Score, Best Costume Design and Best Art Direction, and won two, Best Costume Design and Best Art Direction.
Home media
Nicholas and Alexandra received a home video release on VHS in 1987 by RCA/Columbia Pictures Home Video and reissued in the 1990s by Columbia Tristar Home Video.
Its DVD release was on 27 July 1999 from Sony Pictures Home Entertainment. The DVD featured a vintage 14-minute featurette on the production of the film and six more minutes of scenes and dialogue not found on previous VHS tapes.
The film received a Blu-ray release in February 2013 from Twilight Time. The Blu-ray featured three featurettes on the production of the film covering the makeup, costume designs and actresses playing the Tsar's daughters in the film. It also contained the original theatrical trailer as well as an isolated music score. The latter was presented in stereo even though the sound on the Blu-ray was presented in mono. The Blu-ray release was limited to only 3,000 copies. This film is also available for sale or rent as a video online download through both Amazon and Apple's iTunes Store, with Amazon's online file containing the six more minutes of scenes and dialogue that Apple's iTunes file doesn't.
Soundtrack
This soundtrack was written by Richard Rodney Bennett.
Nicholas and alexandra nicholas e alexandra 1971 trailer
References
Nicholas and Alexandra Wikipedia
(Text) CC BY-SA
Nicholas and Alexandra IMDb
Nicholas and Alexandra Rotten Tomatoes
Nicholas and Alexandra themoviedb.org