6.8

/

10

Alchetron

8.2

Rate This




Director

Baldev Raj Chopra

Music director

O. P. Nayyar




Genre

Musical, Drama, Family




Songs

Aana Hai To Aa




Cast



Naya Daur (English: New Era) is a 1957 Indian drama film starring Dilip Kumar, Vyjayanthimala, Ajit and Jeevan. Originally filmed in black and white, the film was colourized and re-released on 3 August 2007. The film was later dubbed in Tamil as Pattalyin Sabatham in 1958.Dilip Kumar won the Filmfare Award for Best Actor the third time in a row, being his fourth overall.
Contents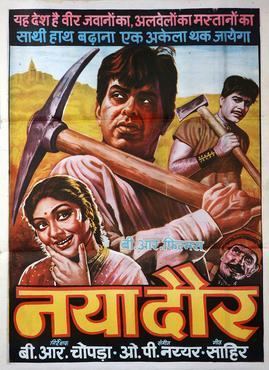 Bhangra scene from naya daur 1957 clip 2
Plot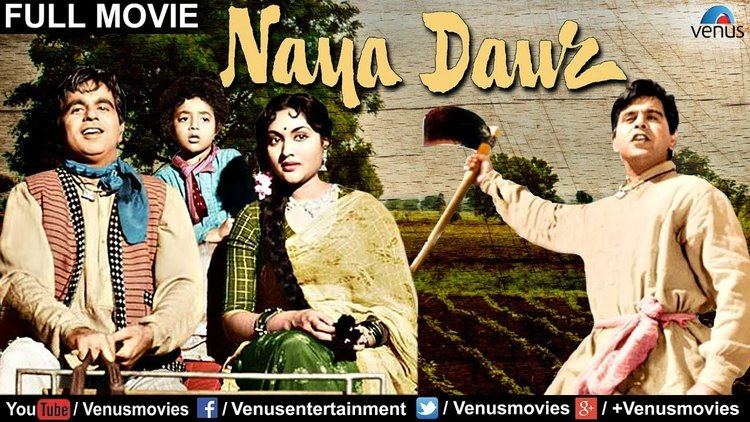 The film is set in post-independence India, where industrialization is slowly creeping in. The focus is on tongawallahs who earn their living transporting people on tongas (horse carts). Their livelihood is threatened when the son of a rich landlord (Jeevan) begins operating a bus service in the town, which he subsidizes heavily with the sole intention of first driving the tongawallahs out of the town and then making profits.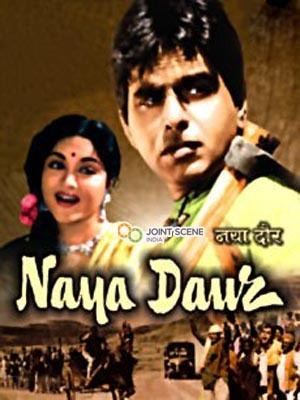 Dilip Kumar plays one of the tongawallahs, who petitions the landlord over this injustice. Jeevan's character proposes a competition to decide which service is the best: The bus or the tonga? It is decided that there will be a race between the vehicles. If the bus wins, the tongawallahs will not complain further. If the Tonga wins, the bus service will stop. This competition was a farce from the start since nobody could dream that a horse cart could beat a machine. Kumar, however, accepts the challenge to everybody's surprise. His logic is that they would be driven to starvation if the bus service continues. This race at least gives them an opportunity to try to do something.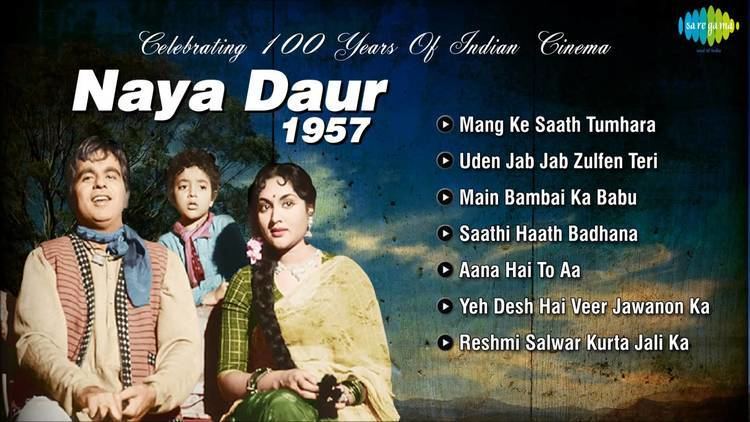 The rest of the tongawallahs do not share his hope. They blame him for his foolishness. In the end, he is left alone with nobody's support except his sweetheart, played by Vyjayanthimala. As the movie unfolds, a hopeless situation begins to turn around because of the way the people come together. Mishap after mishap occurs, but nothing can deter the determined. The highlight of the film is definitely the heart-stopping final race where the underdog wins.
Cast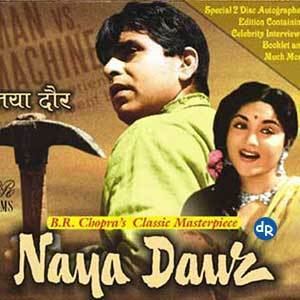 Dilip Kumar as Shankar
Vyjayantimala as Rajni
Ajit as Krishna
Jeevan (actor) as Kundan
Chand Usmani as Manju
Johnny Walker as Journalist
Nazir Hussain as Seth Ji
Manmohan Krishna as Jumman Dada
Leela Chitnis as Shankar's Mother
Kumkum as Dancer in song "Reshmi Salwar Kurta Jali Ka" (as Kum Kum)
Minoo Mumtaz as Dancer in song "Reshmi Salwar Kurta Jali Ka"
Controversies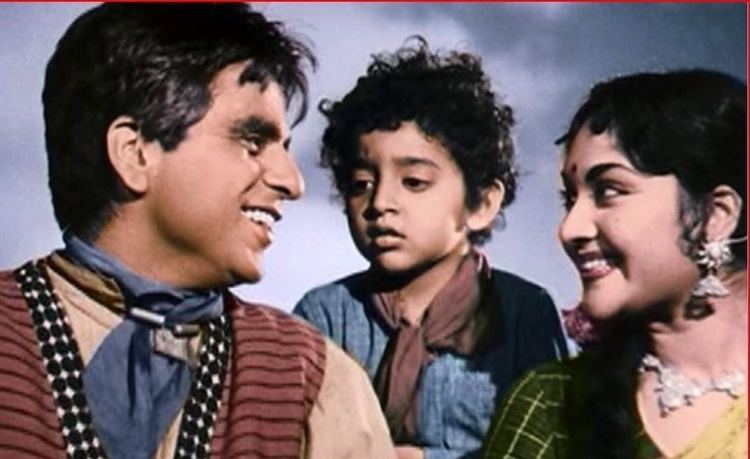 During filming, the Naya Daur production was involved in a highly controversial and widely publicized court case. Initially the actress Madhubala was cast as the female lead. An advance payment was given to her and shooting began and continued smoothly for 15 days. B.R. Chopra, the director, wanted the unit to travel to Bhopal for an extended outdoor shooting. Ataullah Khan, the father of Madhubala, objected to this and claimed that the entire Bhopal schedule was a ruse to give Dilip Kumar the opportunity to romance his daughter (Kumar and Madhubala were in a relationship at the time). Finally, Chopra sued Madhubala for the cash advance she received from him for a film she now had no intention of completing.
He replaced her with the South Indian actress Vyjayanthimala who acted with Kumar in Devdas. Madhubala obediently supported her father despite her commitment to Dilip Kumar. Kumar testified against Madhubala and Ataullah Khan in favor of the director B.R. Chopra in open court. The case was lost by Madhubala and her father amid much negative publicity. During the case, the film was released and declared a success. Chopra dropped the case and saved Madhubala from the humiliation of a possible prison sentence.
Box office
By the end of its theatrical run, Naya Daur collected around ₹ 5,40,00,000 thus becoming the second highest grossing film of 1957 behind Mother India.
Music
Hindi Songs
All the songs in Hindi were composed by O P Nayyar and lyrics were penned by Sahir Ludhianvi. Playback singers are Mohammed Rafi, Balbir, Asha Bhosle & Shamshad Begum.
Tamil Songs
All the songs in Tamil were composed by O P Nayyar and lyrics were penned by Kannadasan. Playback singers are T. M. Soundararajan, Seerkazhi Govindarajan, P. Suseela & T. V. Rathinam.
Re-release
Naya Daur was colourized and re-released in 2007, along with the re-release of another film starring Dilip Kumar Mughal-e-Azam. However, this re-release failed commercially.
References
Naya Daur (1957 film) Wikipedia
(Text) CC BY-SA
Naya Daur (1957 film) IMDb
Naya Daur (1957 film) themoviedb.org