Occupation

Actor


Siblings

Wahid Ali Khan




Parents

Bashir Ali Khan




Role

Film actor




Name

Ajit Khan








Full Name

Hamid Ali Khan(حامد علی خان)




Born

27 January 1922 (

1922-01-27

) Golkonda, Hyderabad State


Children

Shehzad Khan, Arbaaz Ali Khan, Shahid Ali Khan, Abid Ali Khan, Zahid Ali Khan


Movies

Kalicharan, Bara‑Dari, Zanjeer, Naya Daur, Mughal‑E‑Azam



Died

October 21, 1998 (aged 76), Hyderabad




Similar

Shehzad Khan, Arbaaz Ali Khan, Subhash Ghai
Ajit Khan Biography | Dialogues | Films | Indian Film History
Hamid Ali Khan (27 January 1922 – 21 October 1998), better known by his stage name Ajit, was an Indian actor active in Hindi films. He acted in over two hundred movies in almost four decades. Ajit is also credited for starring as a lead actor in popular Bollywood movies such as Nastik, Bada Bhai, Milan, Bara Dari, and later as a second lead in Mughal-e-Azam and Naya Daur.
Contents
Agar Main Poochhoon Jawaab Doge - Shikari
Early life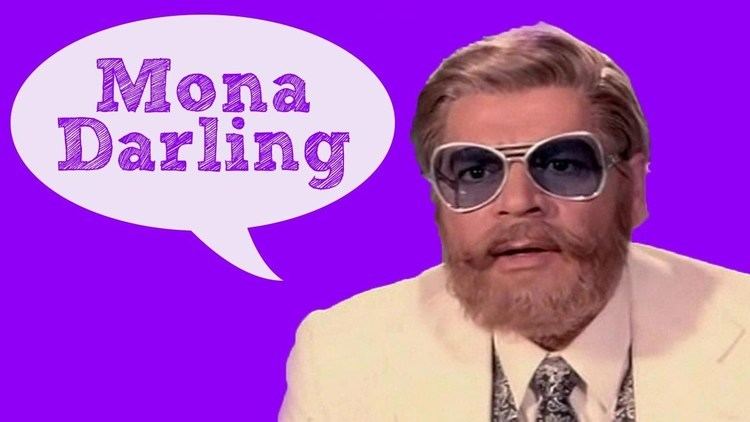 Born Hamid Ali Khan, near the historic place Golconda, Hyderabad, Ajit had his early education in Warangal, studied in Govt. Junior College, Hanamkonda, Warangal district of Telangana. Hamid was the son of Bashir Ali Khan, who was in the Nizam's army, and had a younger brother, Wahid Ali Khan and 2 sisters. Hamid entered the film industry to become a hero and did quite a few creditable films as lead artiste in Nastik, Bada Bhai, Milan, Baradari, Dholak and later as a second lead in Mughal-e-Azam and Naya Daur. Film director K. Amarnath, who directed him in Beqasoor, suggested that the actor change his long name of Hamid Ali Khan to something shorter, and Hamid zeroed in on "Ajit".
Career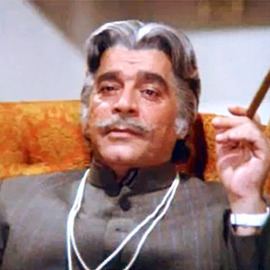 Ajit, who ran away from home to Mumbai after selling his college books, started his career in films in the 1940s. Luck did not favour him in the initial stages. He began with the 1946 movie Shahe Misra, acting opposite Geeta Bose, and also did films such as Sikander (with Van Mala), Hatimtai (1947), Aap Beeti (with Khursheed), Sone Ki Chidiya (with Leela Kumari), Dholak (with Meena Shori) and Chanda Ki Chandni (with Monica Desai) as leading hero, but flopped. He did the most films (15) with Nalini Jaywant. Ajit switched over to play the villain. His first movie as a villain was Suraj, followed by films such as Zanjeer and Yaadon Ki Baaraat.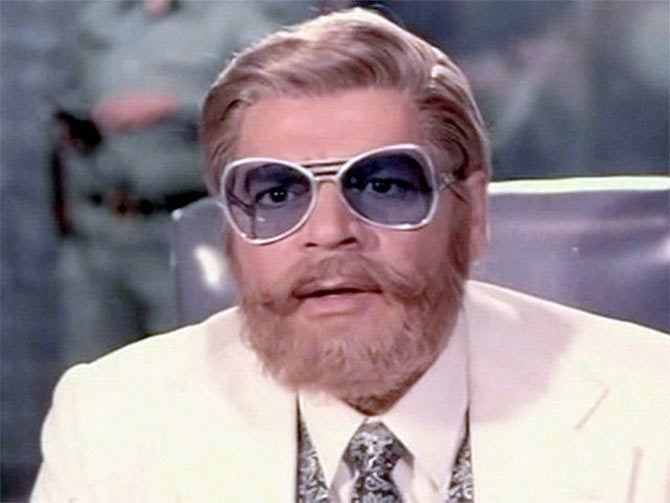 His famous dialogues included the "Mona darling" bit in Yaadon Ki Baraat, "Lily don't be silly" in Zanjeer and the one about a "Lion" in Kallicharan. Ajit's other well known films were Naya Daur, Nastik and Shikari to name only a few. In his four decades of film career, Ajit had acted along with the legendary Prithviraj Kapoor, Sohrab Modi, Amitabh Bachchan, I S Johar, Dilip Kumar, Dev Anand, Shammi Kapoor, Dharmendra and many actresses, both young and old.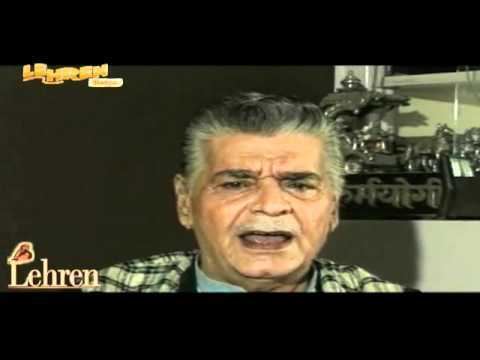 In the mid-seventies he had acted in over 57 films, mostly as a villain. His dialogue delivery remains popular even to this date. His colleagues in the film industry — leading personalities who have acted with him, grown up seeing him in Mumbai — have expressed deep sorrow over the death of the legendary actor.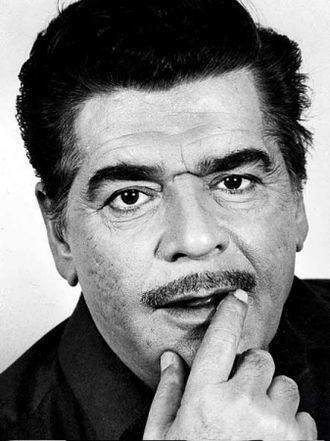 Writer Javed Akhtar, who scripted Zanjeer, said: "Like Bachchan, Ajit found a new image as villain after Zanjeer. He started a new innings in his career though he was an established hero in the fifties. His villainy started a new trend. Here was a new villain who was soft-spoken yet forceful. We wanted to give a different image to villainy which matched the hero."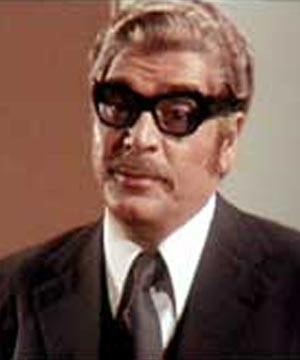 Family
He has two sons who are also in the film industry, Zahid Ali Khan and Abid Ali Khan.
Reactions to Ajit's death
Another "villain" Amrish Puri said Ajit's death is a sad loss to films. "Ajit developed his own style of acting and delivery of dialogue. We still remember his style of acting which is guidance to the new generation of actors." Prem Chopra, who starred with Ajit in many films including Jugnu, Chupa Rustom and Ram Balram as a father and son team, said Ajit was devoted in his work. "He had a subtle sense of humour. He was a cultured man. We had a common interest - reciting Urdu shairi."
New-generation villain Kiran Kumar was shocked to hear that "his Ajit uncle" had died. "Our relationship was more personal than professional. I must have been hardly eight or ten years when my father (veteran character actor Jeevan) used to take me to Paradise Bakery opposite which was Ajit's residence. Father would call him by his first name Hamid, and would call him down. Ajit would come down, wearing lungi and jaali banian to chat with my father."
Acting style
Ajit almost always portrayed the sophisticated, educated, well groomed evil mastermind, albeit heartless villain. Ajit was presented in striking western attire, the "bold" checked suits, matching overcoats, white leather shoes, wide sunglasses, jewellery accessories etc. Given his stature as a senior artist, Ajit was usually the gang leader to second tier villains (such as Jeevan (actor), Prem Chopra, Ranjeet, Kader Khan and Sujit Kumar). He was rarely portrayed (in movie roles) doing any "dirty work" himself, rather relaying on his army of henchmen for the task, with zero tolerance for any failures. He always had a savvy female accomplice, usually named "Mona." Acting in over 200 films, he specialized in playing suave villains with memorable catch-phrases delivered in now iconic Ajit style nasal drawls such as "Mona, darling". Ajit also brought to fame the smuggler as the villain. In his movies, he is generally seen smuggling gold biscuits in or out of the country. It has also been noted that most of his gang members had Christian names like Robert, Michael, Peter etc. This also has been used for comic purposes in parodies.
It was the menacing voice he was most famous for. He is still remembered for bringing the most famous villains in the history of Indian cinema to life. His contemporaries include veteran actors like Amrish Puri, Pran, Prem Chopra and Amjad Khan. Some of his popularity in the present time is due to the innumerable jokes and parodies made on his famous lines by comedians.
Famous catch-phrases
Mona, darling,
Lilly, don't be silly,
Sara shehar mujhe Loyan (Lion) ke naam se janata hai,
"What's your problem?"
" I lost my glasses"
" Smart Boy"
" How very interesting..."
" O Come on"
"London mein log mujhe Loyan (Lion) ke naam se jante hain, aur bharat mein black jackal..."
"Raabert ise liquid oxygen mein daal do, liquid ise jeene nahin dega, oxygen ise marne nahin dega..."(Robert, immerse him in liquid oxygen, liquid shall not let him live, oxygen shall not let him die")
References
Ajit Khan Wikipedia
(Text) CC BY-SA