Other names

Manmohan Krishan

Occupation

actor, director







Similar People

Madan Puri, I S Johar,

Vijay

Bhatt, Nitin Manmohan, Baldev Raj Chopra
Afsar 1950 two songs by manmohan krishna
Manmohan Krishna (26 February 1922 – 3 November 1990), often credited as Manmohan, was a popular Indian film actor and director, who worked in Hindi films for four decades, mostly as a character actor. Anchored radio show Cadbury's Phulwari, a singing contest. He was favourite with the Chopra brothers and played small or big roles in movies, directed and/or produced by them. 'Deewar', 'Trishul', 'Daag', 'Humraz', 'Joshila', 'Kanoon', 'Kala Patthar', 'Dhool Ka Phool', 'Waqt', 'Naya Daur' etc., are the examples to prove this.
Contents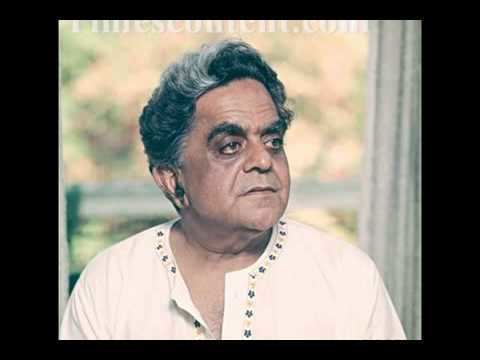 He worked in nearly 250 films, notably Naya Daur (1957), Sadhana (1958), Waqt (1965) and Hamraaz (1967) He won acclaim for his work in Bees Saal Baad (1962) and won the Filmfare Award for Best Supporting Actor for his role as Abdul Rasheed in Dhool Ka Phool (1960), where the song epitomizing Nehruvian secularism, Tu Hindu banega na Musalman banega, insaan ki aulaad hai, insaan banega was picturized on him. Besides this, he also acted in 12 Punjabi films, played a pivotal role in, K. A. Abbas's Shehar Aur Sapna (1963), which won the National Film Award for Best Feature Film, and acted in the first Indo-Soviet co-production, Pardesi (1957), which was nominated for the Golden Palm at 1958 Cannes Film Festival.
Towards his later career he directed, hit film for Yash Raj Films, Noorie (1980) for which he was also nominated for Filmfare Award for Best Director.
He died at Lokmanya Tilak Hospital, Mumbai at the age of 68 in 1990.
Pyar ko aaj nayi - Shehar aur Sapna - Manmohan Krishna
Filmography
Actor
1992
Waqt Ka Badshah
as
Dr. Anand
1989
Touhean
as
Song "Pyar Karo Pyar Karo"
1988
The Deceivers
as
Old Rajput
1987
Raahee
as
Dr. Fernandez (as Manmohan Krishan)
1986
Aisa Pyar Kahan
as
Money-lender
1985
Ek Chitthi Pyar Bhari
as
Dudhwala
1985
Pyar Jhukta Nahin
as
Mr. Mathur
1984
Dhokebaaz
as
Jagat kaka Murlidhar
1984
Ranjhan Mera Yaar
as
College Principal
1984
Zindagi Jeene Ke Liye
1984
Dharm Aur Qanoon
as
Shanta's dad
1983
Ek Din Bahu Ka
as
Masterji
1983
Sweekar Kiya Maine
as
Dindayal Sharma
1983
Justice Chaudhury
as
Deewanji
1982
Sawaal
as
Lala Dinanath Malhotra (Ravi's dad)
1982
Gopichand Jasoos
as
Girdhari Lal (Bank Manager)
1981
Khoon Ki Takkar
as
Rahim chacha
1981
Meri Aawaz Suno
as
Dawood
1980
Sau Din Saas Ke
as
Sukhlal Kaka
1980
Lahu Pukarega
as
Sandeep's Father
1979
Dera Aashqan Da
as
Dhaniram (as Manmohan Krishan)
1979
Sukhi Pariwar
as
Driver Kartar Singh
1979
Ranjha Ikk Tey Heeran Do
as
Nihal Singh
1979
Kaala Patthar
as
Crippled hotel owner
1979
Noorie
as
Saiji - Storyteller (uncredited)
1978
Muqaddar Ka Sikandar
as
Piano Instructor
1978
Trishul
as
Seth Din Dayal
1978
Tumhari Kassam
as
Ram Prasad (uncredited)
1977
Ab Kya Hoga
as
Chitralekha's Father (uncredited)
1977
Agar... If
as
Police Commissioner
1977
Daku Aur Mahatma
as
Panditji (as Manmohan Krishan)
1977
Shirdi Ke Sai Baba
as
Ganpat Rao
1977
Guru Manio Granth
as
Giani Gurmeet Singh
1977
Karm
as
Chintamani Shastri
1977
Alaap
as
Maharaj Dinanath
1977
Dhoop Chhaon
as
Blind poojari (as Manmohan Krishan)
1977
Paapi
as
Neighbour Chacha (cameo, in song "Bolo Re Bhaiyya, Ram Ka Naam") (as Manmohan Krishan)
1977
Sher Puttar
as
Thanedaar Gopal Das
1976
Aaj Ka Mahaatma
as
Khanna
1976
Mazdoor Zindabaad
as
Chunilal
1976
Santo Banto
as
Kartar Chand- Santo's father
1976
Udhar Ka Sindur
as
Durgaprasad (as Manmohan Krishan)
1976
Sacha Mera Roop Hai
as
Baba Ji
1976
Mehbooba
as
Bandhe Ali Khan (as Manmohan Krishan)
1976
Sharafat Chhod Di Main Ne
as
RamPrasad
1976
Charas
as
Sudha's Father (as Manmohan Krishen)
1976
Change Mande Tere Bande
1975
Do Jasoos
as
V.N. Sinha (uncredited)
1975
Mittar Pyare Nu
as
Baba Ji
1975
Yeh Sach Hai
as
Thakur Rajnath Singh
1974
Dukh Bhanjan Tera Naam
as
Sadha
1974
Jagg Chaana Hoya
as
Bhai Laalo
1973
Charitra
as
Shikha's Father
1973
Dur Naheen Manzil
as
Doctor
1973
Mehmaan
as
Manmohan / Vijay Singh
1973
Naya Nasha
as
Reena's dad (as M.M. Krishna)
1973
Joshila
as
Jailor (as Manmohan Krishan)
1973
Daag: A Poem of Love
as
Deewan
1972
Apna Desh
as
Dinanath Chandra
1972
Babul Ki Galiyan
as
Manoharlal
1972
Joroo Ka Ghulam
as
Mohanlal (as M.M. Krishna)
1972
Ek Nazar
as
Judge Kailashnath
1972
Raampur Ka Lakshman
as
Kedarnath Bhargav
1972
Dastaan
as
Meena's Father
1972
Ek Hasina Do Diwane
as
Barrister
1972
Manavata
as
Seth Dhaniram(Rangili's Father)
1971
Man Tera Tan Mera
as
Atmaram
1970
Bhai Bhai
as
Raja Maheshwari Prasad
1970
Devi
as
Dharam Das (Kaka)
1970
Man Ki Aankhen
as
Master Dinanath
1970
Pagla Kahin Ka
as
Dr. Shah
1970
Pushpanjali
as
Maharaj (cook)
1970
Saas Bhi Kabhi Bahu Thi
as
Chamanlal (as Man Mohan Krishna)
1970
Samaj Ko Badal Dalo
as
Kashinath Shukla
1970
Umang
as
Nawaab Saheb (uncredited)
1970
Suhana Safar
as
Mohan - bus passenger
1969
Insaf Ka Mandir
as
Shambhu Shanker
1969
Jeene Ki Raah
as
Kamalrai Mansukhlal
1969
Shatranj
as
Mr. Thakur (as Manmohan Krishin)
1969
Pyasi Sham
as
Ishwarprasad Sinha
1969
Aadmi Aur Insaan
as
Mr. Khanna (Meena's father)
1968
Aulad
as
Kanta Prasad Gupta
1967
Maya (TV Series)
as
Habib Khan, an Aristocrat / Ananda's Guardian Udai
- The Ranson of Raji (1968) - Habib Khan, an Aristocrat
- Will the Real Prince Please Get Lost (1967) - Ananda's Guardian Udai
1968
Haseena Maan Jayegi
as
Professor
1967
Upkar
as
Kishan (as Manmohankrishan)
1967
Dil Ne Pukara
as
Asha's dad
1966
Chaddian Di Doli
as
Father
1966
Phool Aur Patthar
as
Police Inspector
1966
Johar in Kashmir
as
Ahmed (as Manmohan)
1965
Khandan
as
Shankar Ramswaroop Lal
1964
The Fog
as
Kamal's Advocate
1964
Shehar Aur Sapna
as
Deewana, the poet
1963
Mere Arman Mere Sapne
as
Neelu
1962
Bees Saal Baad
as
Ramlal / Radheshyam
1962
Dil Tera Diwana
as
Meena's dad
1962
Jhoola
as
Head Constable Sundarlal
1962
Hariyali Aur Rasta
as
Shivnath
1962
Maa Beta
as
Budhva / Charandas - Muniya's Husband
1961
Char Diwari
as
Makhtul 'Masterji'
1961
Dharmputra
as
Dr. Amrit Rai
1960
Manzil
as
Dwarka - Pushpa's Dad (as Manmohan Krishan)
1960
Masoom
as
Madhavlal Sharma
1960
Kanoon
as
Mr. Khanna - Prosecuting Attorney
1959
Goonj Uthi Shehnai
as
Gangaram
1959
Dhool Ka Phool
as
Abdul Rasheed
1958
Sitaron Se Aage
as
Shambhulal
1957
Hum Panchhi Ek Daal Ke
as
Narrator
1957
Pardesi
as
Champa's Father
1956
Basant Bahar
as
Sadanand 'Lehri Baba'
1955
Dev Anand in Goa (Alias Farar)
as
Dr. Pillay
1955
Railway Platform
as
Kavi (as Manmohan Krishna)
1954
Chandni Chowk
as
Mirza Saab
1953
Anarkali
as
Parvez (as Manmohan Krishan)
1952
Baiju Bawra
as
Shankar Anand
1951
Hum Log
as
Mamaji (as Manmohan)
1949
Apna Desh
as
Seth Dhaniram
1947
Andhon Ki Duniya
as
Manohar
Director
Writer
1955
Railway Platform (assistant writer)
Assistant Director
1949
Apna Desh (assistant director)
Music Department
1949
Apna Desh (playback singer)
Soundtrack
1951
Aaram (performer: "Yeh Zindagi Hai Yo-Yo")
Miscellaneous
1956
Ek-Hi-Rasta (production executive)
References
Manmohan Krishna Wikipedia
(Text) CC BY-SA