5.8

/

10

Alchetron

8

Rate This





Genre

Action, Comedy, Drama$


Duration




Country

India






Director

K. S. Ravikumar




Release date

October 23, 1995 (India)




Language

Tamil





Writer

K.S. Ravikumar (screenplay)




Release date

October 23, 1995 (1995-10-23) (India)April 3, 1998 (1998-04-03) (Japan)




Songs

Kuluvalilae




Cast

Rajnikanth

(Muthu and Maharaja-Muthu's Father), Meena (Ranganayaki), Sarath Babu (Raghuvaran's Son-zamindar),

Raghuvaran

(Maharaja Step-Brother Devaan), Radha Ravi (Zamindar's Uncle),

Senthil

(Thennappan)

Muthu (Tamil: முத்து) is a 1995 Indian Tamil-language romantic drama film directed by K. S. Ravikumar. The film stars Rajinikanth, Meena, and Sarath Babu. The film's score and soundtrack is composed by A. R. Rahman. The film released on 23 October 1995 amid much fanfare and hype and became the highest-grossing Tamil film at the time, running for over 175 days in theaters across Tamil Nadu. The film also released in Japanese in 1998 and became a commercial success in Japan, earning Rajinikanth a large fan following there as well.
Contents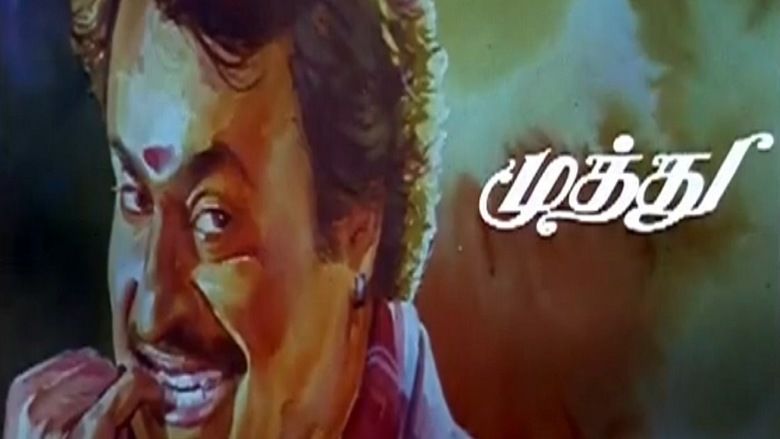 Plot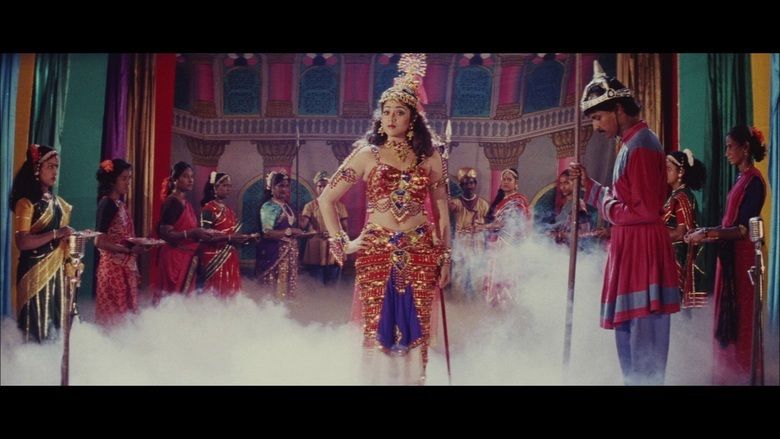 Muthu (Rajinikanth) is a kind-hearted man working in the zamin of Sivakami Ammal (Jayabharathi) taking care of the chariot and the horses used by her son Raja Malayasimman (Sarath Babu). Muthu is very loyal to the zamin family and in the meantime Muthu and Raja encounter Ranganayaki (Meena), a stage artist during their visit to a show and Raja immediately falls in love with Ranganayaki. Ambalathar (Radha Ravi) is the maternal uncle of Raja and he has plans of getting his daughter Padmini (Subhashri) married to Raja.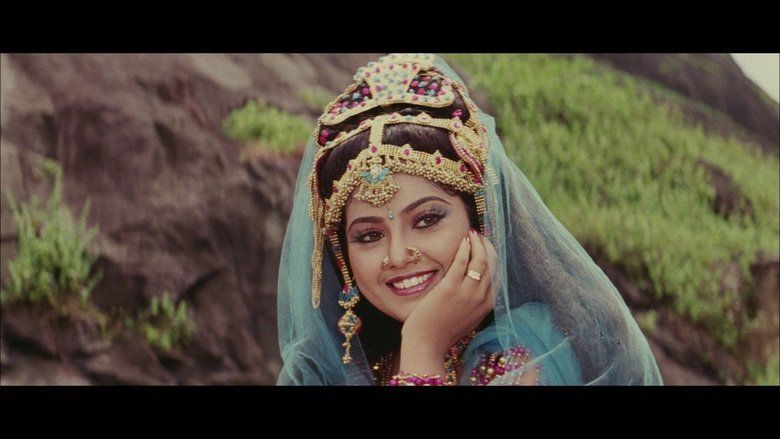 Ranganayaki's drama troupe faces financial issues and Raja offers jobs to the entire troupe in his zamin. Now Muthu and Ranganayaki fall in love with each other and Sivakami gets to know about this. Kaali (Ponnambalam) is a spy for Ambalathar working in the zamin and keeps informing him about the happenings in the zamin. Kaali lies to Raja that Muthu is forcing Ranganayaki to marry him. This angers Raja and he has Kaali beat up Muthu, then orders him to leave the zamin. Sivakami gets angry on hearing about her son's behaviour and informs him the truth that both Muthu and Ranganayaki are in love which shocks Raja.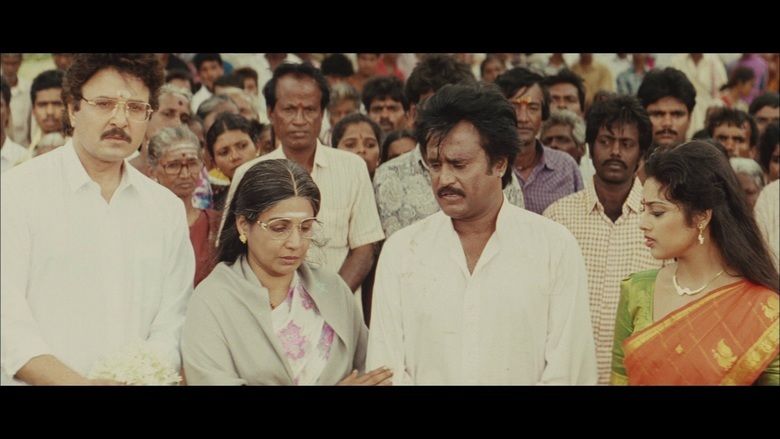 The story moves to flashback where it is shown that Muthu's father (Rajinikanth) is the zamindar and real owner of all the properties. Rajasekhar (Raghuvaran) is the cousin of zamindar. Sivakami is married to Rajasekhar and their son Raja is adopted by the zamindar as he did not have children. Later the zamindar's wife gives birth to a child and dies. Rajasekhar and Amabalathar plan to grab the zamindar's properties by forging false documents. The zamindar on knowing these worries about the nature of people around him and decides to give all the properties to Rajasekhar and his family and also to leave the place along with his son Muthu. But Sivakami pleads for guilty of her husband and asks to at least give his son so that she will raise him. The zamindar hands over Muthu to Sivakami but says that he should be brought up as an ordinary man and not as a zamindar for which Sivakami agrees. Rajasekhar feels bad about his cruel activities and upon seeing the generous behaviour of the zamindar, commits suicide. The zamindar leaves the place and Sivakami moves to another town. She informs everyone that the zamindar's child is dead as she has been asked to raise the child as a normal man by the zamindar.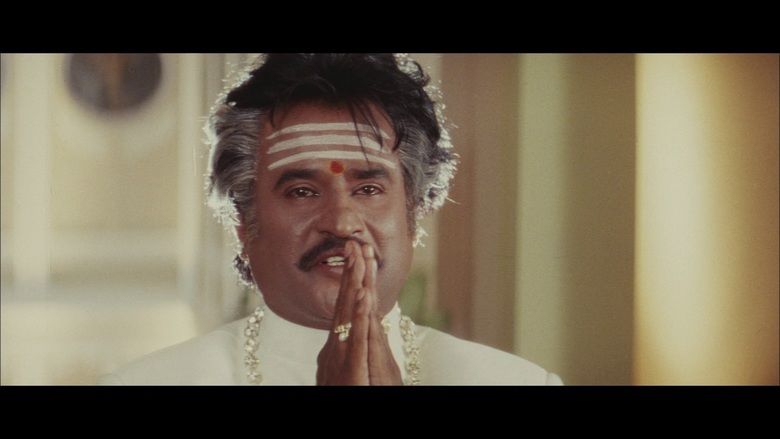 Sivakami says that the zamindar currently lives in a nearby place as a nomad and Raja, realising his mistake, decides to go and meet zamindar and bring him back. Kaali overhears the conversation made between Sivakami and Raja and informs to Ambalathar. Now Ambalathar decides to murder Raja and frame Muthu so that he can take over all the zamin properties. But he is saved by zamindar and is married to Padmini. Finally Muthu comes to know all the truth and wishes to see his father but he leaves the place before Muthu could reach there. Muthu becomes the new zamindar, but prefers to see himself as a worker.
Cast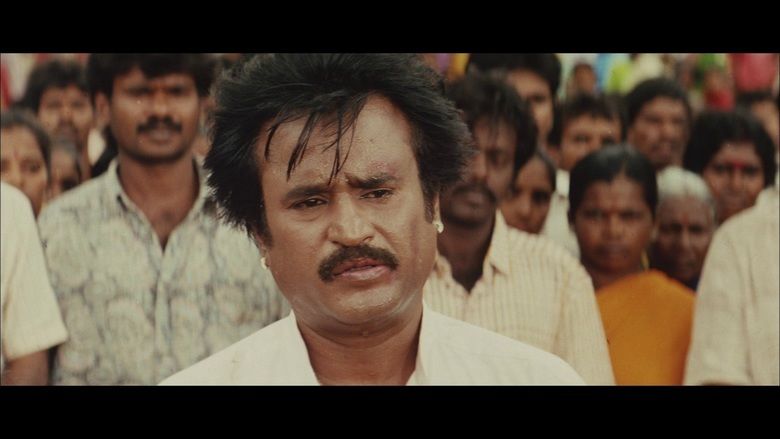 Rajinikanth as Muthuvel (Muthu) and Zamindar, Muthu's father
Meena as Ranganayaki
Raghuvaran as Zamindar's cousin, Rajasekhar
Sarath Babu as Rajasekhar's son, Zamindar Malayasimman
Jayabharathi as Sivakamiyammal, Malayasimman's Mother
Senthil as Thennappan
Vadivelu as Valayapathy
Kanthimathi as Poongavanam
Radha Ravi as Ambalarathar, Zamindar's uncle
Subhashri as Ambalarathar's daughter, Padmini
Ponnambalam as Kaali
Jyothi Lakshmi as Old Lady Dancer in Kokku Saiva Kokku song
Vichithra as Rathidevi
Pandu as Pallavarayan
Kumarimuthu as Kamalakannan
Tiger Prabhakar as S. P. Pratap Rayudu, Ranganayakis' brother in law (extended cameo appearance)
K. S. Ravikumar as Kerala Village President (Special Appearance)
Crane Manohar as Tea vendor in Kerala
Kulappulli Leela as Kerala mother
Production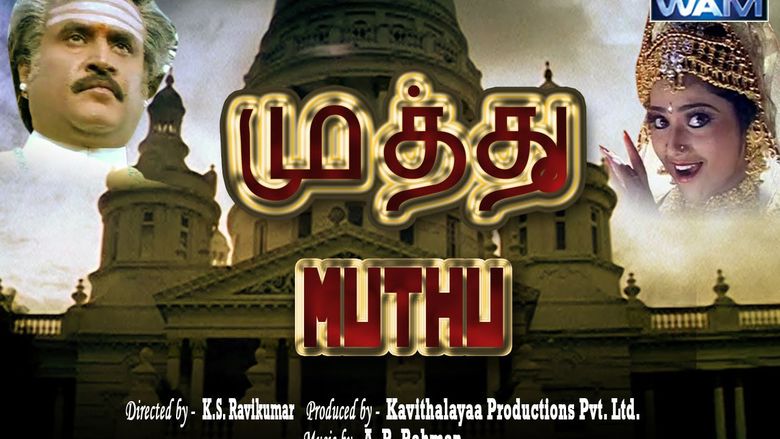 The film was first reported in March 1995, when it was mentioned that K. S. Ravikumar would direct Rajinikanth in a film titled Velan, to be produced by K. Balachander. The title was later changed to Muthu. The film is characterised by location shots in Kerala and was shot in numerous palaces. The Zamindar's palace in which the movie was shot is the Lalitha Mahal Palace in Mysore.
Reception
The film was a blockbuster and completed a 175-day run at the box office. It was dubbed into Telugu under the same title. It was also dubbed in Hindi as Muthu Maharaja and was distributed by Eros Labs. In 1998, the film was dubbed in Japanese, by the distributor Xanadoux, as Muthu Odoru Maharaja (ムトゥ 踊るマハラジャ) which means Muthu - The Dancing Maharaja) and completed a 182-day run grossing ¥200 million at the box office. Indian Prime Minister Manmohan Singh made a special note about the reach of this film among the Japanese in his speech at the National Diet of Japan on 14 December 2006.
Soundtrack
The soundtrack was composed by A. R. Rahman, with lyrics by Vairamuthu. Muthu is the first Rajinikanth film for which Rahman composed music. The soundtrack for this movie turned out to be a major hit and Rahman gained popularity in Japan when the movie was released in Japanese. The Hindi version is titled Muthu Maharaja and had lyrics penned by P. K. Mishra. The "Omanathinkal Kidavo" portion of "Kuluvalilae" is written and tuned by the famous Malayalam poet Irayimman Thampi.
The video for the hit song "Thillana Thillana" became famous for the belly dance of Meena featuring a lot of closeup shots of her navel. Rahman sampled African humming in the song; French group Deep Forest had earlier sampled the same in their song Night Bird. Thillana Thillana was later adapted by Nadeem-Shravan as Deewana Deewana for the 1996 film Jung.
This soundtrack was selected as the most popular foreign soundtrack in Japan.
Telugu version
The soundtrack features six songs composed by A. R. Rahman, with lyrics Penned by Bhuvanachandra.
Awards
Won
Rajinikanth - Tamil Nadu State Film Award for Best Actor in 1996
Nominated
Rajinikanth - Filmfare Best Actor Award (Tamil) in 1996
Legacy
The quote from the film "Naan eppo varuven eppadi varuvennu yarukkum theriyathu. Eppo varunumo appo correctaa varuven" (English: Nobody knows when or how I will come, but I will come when the time is right) became popular.
In popular culture
Various scenes and songs from the film have been parodied in films such as Unnidathil Ennai Koduthen (1998), Aethiree (2004), Thiruvannamalai (2008).
Footage from the film has been used in French film Prete Moi Ta Main (Lend Me Your Hand).
The title sequence of (Zoku) Sayonara, Zetsubou-Sensei features a parody of the dance scene in the song Oruvan Oruvan.
References
Muthu (1995 film) Wikipedia
(Text) CC BY-SA
Muthu (film) IMDb
Muthu (film) Rotten Tomatoes
Muthu (1995 film) themoviedb.org