Director

Vikraman


Release date

August 15, 1998 (India)




Country

India






Genre

Drama




Duration




Language

Tamil





Release date

August 14, 1998




Songs

Etho Oru Pattu




Cast

Ajith Kumar (Sanjay), Karthik (Selvam), Roja (Radha),

Ramesh Khanna

,

T S B K Moulee

(Radhas father)

Unnidathil ennai koduthen ajith karthik roja superhit tamil movie hd
Unnidathil Ennai Koduthen (English: I Gave Myself to You) is a 1998 Tamil film directed by Vikraman, starring Karthik and Roja in the lead roles, with Ajith Kumar in a guest appearance. Ramesh Khanna, Moulee and Madhan Bob played other supporting roles. The film won critical acclaim and was a commercial successful at the box office. Following the film's box office success it was remade in Telugu, Kannada, Bengali and Oriya languages.
Contents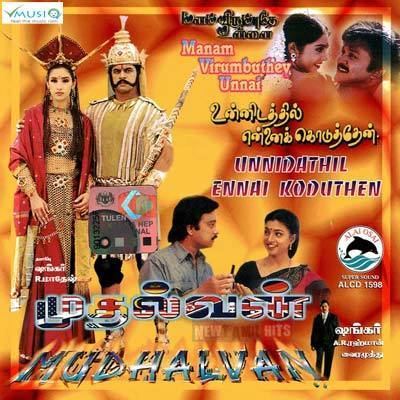 Plot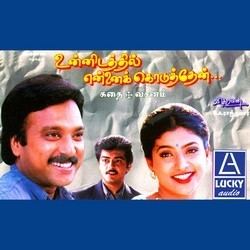 Selvam (Karthik) lives with his friend Bhaskar (Ramesh Khanna) doing small jobs. One day they both decide to steal a Ganesh idol from a temple believing that having a stolen Ganesh idol at home will bring prosperity. They are spotted by the local people around the temple and the two hide in Radha's (Roja) home. Radha works in Viswanthan's (Mouli) home as maid after her mother's death. But actually Radha is the illegitimate daughter of Viswanathan which both of them alone know about.
Viswanthan along with his wife has gone to attend a function while Radha alone stays in the home along with Viswanathan's grandchildren. Radha spots Selvam and Ramesh Khanna and locks them in a room mistaking them as thieves. But later realizes their good nature and releases them. One day, Viswanathan's wife Sathyapriya raises an issue that her diamond necklace is missing and accuses Radha for stealing it and sends her out of home. Radha does not want Viswanathan to reveal her true identity and instead leaves the home.
Now Selvam meets Radha and gets to know her situation. Selvam joins Radha in a women's hostel and helps her. One day Selvam hears Radha singing and understands her singing talent. Selvam helps music director Gangai Amaren during midnight when his car was repaired. Gangai Amaren thanks Selvam and offers him help. But Selvam informs Gangai Amaren about Radha and her beautiful voice and requests him to provide her a chance for singing in movies.
Gangai Amaren agrees and calls Radha to sing in chorus along with others. But he is impressed with her singing ability and offers her a solo song. Radha gets popular as a singer and receives so much fame and prosperity. She moves to a big bungalow along with Selvam and Ramesh Khanna. In the meantime, Viswanathan also reveals that Radha is his daughter and wants to reunite with her. Viswanathan's wife also accepts Radha as her step daughter. Everyone now lives in the same bungalow. But Sathyapriya and her sister hate Selvam and Ramesh Khanna staying along with them.
Radha's family members plan her wedding with Sanjay (Ajith Kumar), brother of Sathyapriya who lives abroad. Sanjay comes to India on a visit. Radha leaves to New Delhi to receive a national award and in the meantime, Sathyapriya accuses Selvam for stealing money and sends him out of home while Radha is away. When Radha returns she gets shocked knowing that Selvam and Ramesh Khanna has already left somewhere. She finds a diary in Selvam's room where Selvam has expressed his desire to marry Radha and thereby understands his love.
Meanwhile an event has been organized in Chennai for congratulating Radha on her achievement of winning a national award. Selvam is an auto driver now and comes to drop a customer to Radha's function. On getting to know that the function is for Radha, Selvam decides to watch it along with the crowd. On the stage, Radha speaks emotionally about the hardships faced by her during early days and praises that it was Selvam who stood by her during her tough days. She dedicates all her fame and glory to Selvam and says that he is somewhere in the crowd watching the program and requests him to come on stage. Selvam comes to the stage amid huge applause from the crowd. In front of everyone, Radha expresses her wish to marry Selvam for which he agrees happily. A small flashback is shown where Radha has already informed her wish of marrying Selvam to Sanjay for which he agreed immediately and wished her good luck. Selvam and Radha get united in the end.
Production
After having a 1996 success with the Karthik film Gokulathil Seethai, Lakshmi Movie Makers began their sixth production and launched a film with director Vikraman in February 1997. Unnidathil Ennai Koduthen was set to feature Vijay in the lead role, but production delays meant that the actor was replaced by Karthik. Meena also had to reject an offer to star in the leading female role due to date problems. Swathi was initially approached to appear in a single song sequence for the film, but her refusal led to Anusha being chosen.
Ajith Kumar later revealed that his role in the film was initially supposed to be a full length role but the character underwent changes after the film started. He continued to play his part in the film due to his admiration for his co-actor, Karthik. The success of Unnidathil Ennai Koduthen later led to Karthik making a guest appearance in the Ajith film Anantha Poongathe.
Soundtrack
The Soundtrack of the film was composed by S. A. Rajkumar, who also played a cameo as himself in the film alongside the music directors Gangai Amaren and Deva. All songs, especially "Edho Oru Paatu", became chartbusters, and are still popular in Tamil Nadu and Kerala.
Release
The film was a commercial successful for the producers, Lakshmi Movie Makers. Unnidathil Ennai Koduthen won five Tamil Nadu State Film Awards including that for Third Best Film as well as securing Vikraman the Best Storywriter award and Annadurai the Best Cinematographer award. Karthik won a Special Prize for his performances, while Roja was adjudged Best Actress in 1998. The film won three Cinema Express Awards for Best Film, Best Actor and Best Actress. The film gave a fresh lease in their careers to the lead pair, while Vikraman's work won him further recognition. Ramesh Khanna, after his new gained recognition, was able to find a financier to make his first film as a director, Thodarum. Indolink.com rated the film amongst the "best of 1998", reporting that the film ran over 200 days in theatres across Tamil Nadu.
Indolink.com gave the film an above average review mentioning that "All the actors perform their part well. The story places the characters in situations where they behave predictably or in some cases where they are not true to themselves. Other than that minor snitch, the movie is quite entertaining".
Remakes
The film's success led to a Telugu remake titled Raja with Venkatesh and Soundarya in the lead roles, where it enjoyed a similar reception. It was remade in Kannada as Kanasugara with V. Ravichandran. It was also remade in Bengali as Shakal Sandhya and in Oriya as Mo Duniya Tu Hi Tu.
References
Unnidathil Ennai Koduthen Wikipedia
(Text) CC BY-SA
Unnidathil Ennai Koduthen IMDb