Top speed

670 km/h




Introduced

1999




Manufacturer

Lockheed Martin




Wingspan

40 m




Engine type

Turboprop




First flight

April 5, 1996







Unit cost

70,370,000–70,370,000 USD (1996)
Lockheed martin c 130j super hercules
The Lockheed Martin C-130J Super Hercules is a four-engine turboprop military transport aircraft. The C-130J is a comprehensive update of the Lockheed C-130 Hercules, with new engines, flight deck, and other systems. The Hercules family has the longest continuous production run of any military aircraft in history. During more than 60 years of service, the family has participated in military, civilian, and humanitarian aid operations. The Hercules has outlived several planned successor designs, most notably the Advanced Medium STOL Transport contestants. Fifteen nations have placed orders for a total of 300 C-130Js, of which 250 aircraft have been delivered as of February 2012.
Contents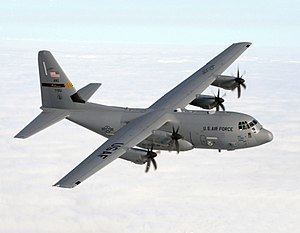 Lockheed martin c 130j super hercules hd 1280x720
Design and development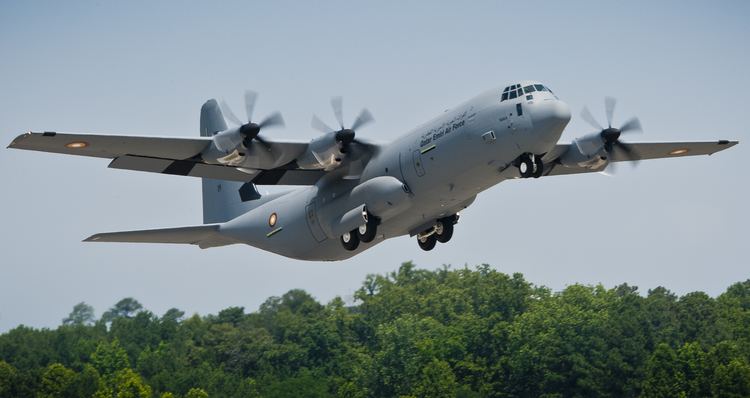 The C-130J is the newest version of the Hercules and the only model still in production. Externally similar to the classic Hercules in general appearance, the J-model features considerably updated technology. These differences include new Rolls-Royce AE 2100 D3 turboprop engines with Dowty R391 composite scimitar propellers, digital avionics (including head-up displays (HUDs) for each pilot), and reduced crew requirements. These changes have improved performance over its C-130E/H predecessors, such as 40% greater range, 21% higher maximum speed, and 41% shorter takeoff distance. The J-model is available in a standard-length or stretched -30 variant.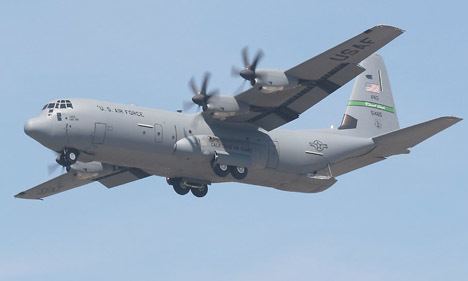 As a cargo and airlift aircraft, the C-130J's crew includes two pilots and one loadmaster (no navigator or flight engineer), while specialized USAF variants (e.g., AC-130J, EC-130J, MC-130J, HC-130J, WC-130J) may have larger crews, such as navigators/Combat Systems Officers or other specialized officer and enlisted air crew. The U.S. Marine Corps KC-130J uses a crew chief for expeditionary operations. The C-130J's cargo compartment is approximately 41 feet (12.5 m) long, 9 feet (2.74 m) high, and 10 feet (3.05 m) wide, and loading is from the rear of the fuselage. The aircraft can also be configured with the "enhanced cargo handling system". The system consists of a computerized loadmaster's station from which the user can remotely control the under-floor winch and also configure the flip-floor system to palletized roller or flat-floor cargo handling. Initially developed for the USAF, this system enables rapid role changes to be carried out and so extends the C-130J's time available to complete taskings.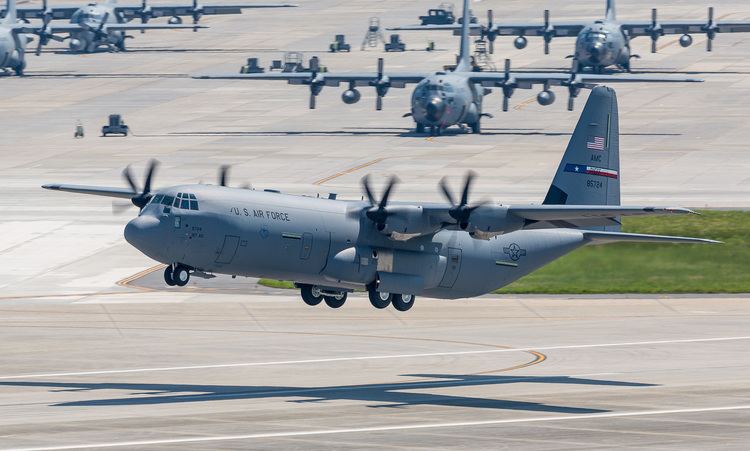 Lockheed Martin received the launch order for the J-model from the RAF, which ordered 25 aircraft, with first deliveries beginning in 1999 as Hercules C4 (C-130J-30) and Hercules C5 (C-130J). The standard C-130J had a flyaway cost of US$62 million in 2008.
In mid-June 2008, the United States Air Force awarded a $470 million contract to Lockheed Martin for six modified KC-130J aircraft for use by the Air Force and Special Operations Command. The contract led to C-130J variants that will replace aging HC-130s and MC-130s. The HC-130J Combat King II personnel recovery aircraft completed developmental testing on 14 March 2011. The final test point was air-to-air refueling, and was the first ever boom refueling of a C-130 where the aircraft's refueling receiver was installed during aircraft production. This test procedure also applied to the MC-130J Combat Shadow II aircraft in production for Air Force Special Operations Command.
Harvest HAWK
With the addition of the Marine Corps's ISR / Weapon Mission Kit, the KC-130J tanker variant will be able to serve as an overwatch aircraft and can deliver ground support fire in the form of Hellfire or Griffin missiles, precision-guided bombs, and eventually 30mm cannon fire in a later upgrade. This capability, designated as "Harvest HAWK" (Hercules Airborne Weapons Kit), can be used in scenarios where precision is not a requisite, such as area denial. The aircraft retains its original capabilities in refueling and transportation. The entire system can be removed within a day if necessary.
Operational history
The Super Hercules has been used extensively by the USAF and USMC in Iraq and Afghanistan. Canada has also deployed its CC-130J aircraft to Afghanistan.
C-130Js from several countries have been deployed in support of the US Operation Odyssey Dawn and NATO's Operation Unified Protector during the 2011 Libyan civil war.
From the first flight on 5 April 1996 to 30 April 2013, 290 C-130J Super Hercules aircraft operated by 13 nations surpassed 1 million flight hours.
In January 2013, it was reported that some of Canada's C-130J transports had counterfeit Chinese microchips in their cockpit displays. These parts are more likely to fail and result in failures such as blank instrument screens during flight. A 14-month investigation by the U.S Senate armed services committee concluded that counterfeit parts in the Hercules and other American-made military equipment are prone to failure with potentially "catastrophic consequences." The U.S. congressional investigation reported the fake Hercules microchips were originally made by the Korean electronics giant Samsung in the 1990s, and more than a decade later, had been recycled, refurbished and remarked to appear genuine by a company in China. Samsung later stated that "it is not possible to project the reliability" of the altered parts. The U.S. investigation reported that the problems on the Hercules first came to light in 2010 when the instrument panel failed on a USAF aircraft during active duty.
On 20 August 2013, the Indian Air Force performed the highest landing of a C-130J at the Daulat Beg Oldi airstrip in Ladakh at the height of 16,614 ft (5,064 m).
Civilian use
The Modular Airborne FireFighting System (MAFFS) is a self-contained unit used for aerial firefighting that can be loaded onto a C-130 Hercules, which then allows the aircraft to be used as an air tanker against wildfires. This allows the U.S. Forest Service (USFS) to utilize military aircraft from the Air National Guard and Air Force Reserve to serve as an emergency backup resource to the civilian air tanker fleet. The latest generation MAFFS II system was used for the first time on a fire in July 2010, using the C-130J Super Hercules. The 146th Airlift Wing was the first to transition to the MAFFS II system in 2008, and it remains the only unit flying the new system on the C-130J aircraft.
Orders and deliveries
The largest operator of the new model is the U.S. Air Force, which has ordered the aircraft in increasing numbers. Current operators of the C-130J are the USAF (including the Air Force Reserve Command and the Air National Guard), United States Marine Corps (being their fourth variant after KC-130F, KC-130R and KC-130T,) United States Coast Guard, Royal Air Force, Indian Air Force, Royal Canadian Air Force, Royal Australian Air Force, Royal Danish Air Force, Royal Norwegian Air Force, Israeli Air Force, and the Italian Air Force. As of July 2010, a total of 200 units have been produced of the 284 on order at that time.
International orders
Australia was the second international customer for the C-130J-30, with an initial order of twelve aircraft. An additional order for two more aircraft was planned, but canceled with the purchase of a fifth Boeing C-17 Globemaster III.
The Royal Norwegian Air Force ordered four C-130J-30s in 2007 to replace six aging C-130Hs in need of additional repairs. Aircraft were delivered from November 2008 to 2010. One of these was lost in March 2012.
The Canadian Forces signed a US$1.4 billion contract with Lockheed Martin for seventeen new C-130J-30s on 16 January 2008, as part of the procurement process to replace the existing C-130E and H models. The C-130J will be officially designated CC-130J Hercules in Canadian service. The first C-130J was delivered to CFB Trenton on 4 June 2010. The final C-130J was delivered on 11 May 2012.
The Indian Air Force purchased six C-130J-30s in early 2008 at a cost of up to US$1.059 billion for its special operations forces in a package deal with the US government under its Foreign Military Sales (FMS) program. India has options to buy six more aircraft. The Indian government decided not to sign the Communications Interoperability and Security Memorandum of Agreement (CISMOA), which resulted in the exclusion of high precision GPS and other sensitive equipment. However the IAF added similar equipment produced indigenously to the aircraft after delivery. In October 2011, India announced its intent to exercise the option for the six additional aircraft, following the C-130J's favorable performance in the 2011 Sikkim earthquake relief operations. In July 2012, the U.S. accepted India's request for the six more C-130Js through the FMS program. On 20 December 2013, India's CCS approved the order for 6 more aircraft.
The Iraqi Air Force ordered six C-130J-30s in July 2008.
Qatar ordered four C-130Js in October 2008, along with spare parts and training for the Qatar Emiri Air Force. The contract is worth a total of US$393.6 million and deliveries are scheduled to begin in 2011.
The United Arab Emirates Air Force announced an order for twelve C-130J transports at the 2009 IDEX, with an announced value of US$1.3 billion. The United Arab Emirates requested 12 C-130Js through a Direct Commercial Sale in December 2009, with logistics support, training and related systems to be provided through a Foreign Military Sales program. A contract with Lockheed Martin has not been signed.
The Israeli Air Force is seeking to purchase nine C-130J-30s. In April 2010 Israel ordered one C-130J-30 with delivery in 2013, and was in contract talks for two more aircraft in June 2010. An option for a second C-130J-30 was exercised on 8 April 2011, along with planning and advance long lead procurement of aircraft components to support the third C-130J Israeli aircraft. The first Israeli C-130J was delivered on 26 June 2013 and was modified with Israeli-unique systems in the United States prior to its arrival in Israel on 9 April 2014. Israel ordered a fourth C-130J-30 on 25 July 2013. The C-130J's local name is "Shimshon".
The Kuwait Air Force signed a contract for three KC-130J air refueling tankers in May 2010, with deliveries to begin in late 2013. The KC-130Js will refuel its F-18s and augment its fleet of three militarized L-100s.
Oman increased its C-130J order in August 2010 by adding two C-130Js to the single C-130J-30 ordered in 2009. Deliveries are to be completed by early 2014. The Royal Saudi Air Force has purchased two KC-130Js to be delivered in 2016.
The Mexican Government has requested 2 C-130J-30s.
The Mongolian Air Force is planning to buy 3 C-130Js.
On 7 June 2013, U.S. Congress was notified of a possible foreign military sale of two C-130J-30s for the Free Libyan Air Force. The deal would include 10 Rolls-Royce AE 2100D3 engines, support and test equipment, and radios. The deal would be worth $588 million.
In July 2013, the C-130J became part of a competition in the Peruvian Air Force for a medium transport aircraft. The Super Hercules was a candidate along with the EADS CASA C-295, the Alenia C-27J Spartan, the Antonov An-70, and the upgraded Antonov An-32. The Peruvian Air Force selected the C-27J in November 2013.
In 2015, the French Air Force ordered 4 Super Hercules to supplement existing capabilities due to the ongoing problems and delays of the ordered Airbus A400M, through FMS the French will get 2 C-130J in 2017/2018 and 2 KC-130J in 2018/2019 (helicopter refueling capability), especially supporting French overseas operations in Africa.
In January 2017, German defence minister announced the intention to purchase up to 6 C-130J Hercules to acquire tactical airlift capabilities due to the delayed deliveries of the Airbus A400M. Together with the C-130J of the French Air Force this will form a joint air transport squadron.
Variants
C-130J Super Hercules
Tactical airlifter
C-130J-30
Lockheed Martin designation for its 15 ft (4.6 m) extended fuselage variant.
CC-130J Super Hercules
Official USAF and Royal Canadian Air Force designation for the C-130J-30
EC-130J Commando Solo III
Variant for the Air Force Special Operations Command, operated by the Pennsylvania Air National Guard.
HC-130J Combat King II
Long range patrol and air-sea rescue variant for the United States Coast Guard. USAF HC-130J version has changes for in-flight refueling.
KC-130J
Aerial refueling tanker and tactical airlifter version for United States Marine Corps.
MC-130J Commando II
Designed for Air Force Special Operations Command. Originally named Combat Shadow II.
WC-130J
Weather reconnaissance ("Hurricane Hunter") version for the Air Force Reserve Command.
Hercules C4
Royal Air Force designation for the C-130J-30
Hercules C5
Royal Air Force designation for the C-130J
LM-100J
A civilian version of the C-130J-30
SC-130J Sea Hercules
Proposed maritime patrol version of the C-130J, designed for coastal surveillance and anti-submarine warfare.
Operators
Australia
Royal Australian Air Force – 12 C-130J-30s in service as of January 2014
Canada
Royal Canadian Air Force – 17 C-130J-30s in operation as of January 2014
436 Transport Squadron
Denmark
Royal Danish Air Force – four C-130J-30s in service as of January 2014
Egypt
Egyptian Air Force – two C-130Js on order for delivery in 2019.
France
French Air Force – two C-130Js and two KC-130Js on order for delivery in 2017–2018.
India
Indian Air Force – five C-130J-30s in service as of January 2014. A total of 12 C-130J-30s had been ordered by December 2013; one crashed in 2014.
Iraq
Iraqi Air Force – three C-130J-30s in service as of January 2014, with a total of six C-130J-30s on order.
Israel
Israeli Air Force – six C-130J-30s on order with deliveries planned to begin in spring 2013. It planned to acquire a total of nine C-130J-30s in 2008.
Italy
Italian Air Force – 20 aircraft (nine C-130Js, 10 C-130J-30s, and one KC-130J) in service as of January 2014
Kuwait
Kuwait Air Force – three KC-130Js on order, with an option to purchase three more
Libya
Libyan Air Force – 2 C-130J-30 on order
Norway
Royal Norwegian Air Force – four C-130J-30s in service as of January 2014
Oman
Royal Air Force of Oman – one C-130J-30 in use as of January 2014. Two more C-130Js on order with delivery in 2014.
Saudi Arabia
Royal Saudi Air Force – two KC-130J tankers on order for delivery in 2016
South Korea
Republic of Korea Air Force – four C-130J-30s ordered with for delivery in 2014. Two of four aircraft were delivered to Republic of Korea Air Force in 2014.
Tunisia
Tunisian Air Force – two C-130J-30 received as of December 2014
Qatar
Qatar Emiri Air Force – four C-130J-30s in use as of January 2014
United Kingdom
Royal Air Force – 24 aircraft (10 C-130Js, and 14 C-130J-30s) in service as of January 2014
United States of America
United States Air Force – 125 aircraft (10 C-130Js, 76 C-130J-30s, three EC-130Js, 11 HC-130Js, 15 MC-130Js, and 10 WC-130Js) in service as of January 2014
United States Marine Corps – 46 KC-130Js in use as of January 2014
United States Coast Guard – six HC-130Js in service as of January 2014
Accidents
C-130Js have been involved in the following notable accidents.
On 12 February 2007, RAF Hercules C.4 C-130J-30 ZH876, c/n 5460, seriously damaged during landing, no casualties.
On 15 March 2012, Royal Norwegian Air Force C-130J-30, 10-5630, c/n 5630, on a flight from Evenes, Norway to Kiruna, Sweden, impacted the side of Kebnekaise mountain, and disintegrated. All five aboard were killed. The aircraft was to collect soldiers and fly back to the Norwegian base for the NATO exercise "Cold Response".
On 28 March 2014, Indian Air Force C-130J-30 KC-3803 crashed near Gwalior, India, killing all 5 personnel aboard. The aircraft was conducting low level penetration training by flying at around 300 ft when it ran into wake turbulence from another aircraft in the formation, which caused it to crash.
On 2 October 2015, a U.S. Air Force C-130J assigned to the 774th Expeditionary Airlift Squadron, part of the 455th Air Expeditionary Wing crashed shortly after takeoff from Jalalabad Airfield, Afghanistan.
Specifications (C-130J)
Specifications are for basic J-model; data for C-130J-30 noted.
Data from USAF C-130 Hercules fact sheet, International Directory of Military Aircraft, Encyclopedia of Modern Military Aircraft
General characteristics
Crew: 3 (two pilots, and one loadmaster are minimum crew)
Capacity:
92 passengers (128 for C-130J-30) or
64 airborne troops (92 for C-130J-30) or
6 pallets (8 pallets for C-130J-30) or
74 litter patients with 2 medical personnel (97 litters for C-130J-30)
2–3 Humvees, or 1 LAV III (with turret removed) or an M113 armored personnel carrier
Payload: 42,000 lb (19,050 kg) ; for C-130J-30: 44,000 lb (19,958 kg)
Length: 97 ft 9 in/ 29.79 m for C-130J (112 ft 9 in/ 34.36 m for C-130J-30)
Wingspan: 132 ft 7 in (40.41 m)
Height: 38 ft 10 in (11.84 m)
Wing area: 1,745 ft² (162.1 m²)
Empty weight: 75,562 lb (34,274 kg)
Useful load: 72,000 lb (33,000 kg)
Max. takeoff weight: 164,000 lb (74,393 kg) for C-130J-30; 155,000 lb (70,305 kg) for C-130J
Powerplant: 4 × Rolls-Royce AE 2100D3 turboprop, 4,637 shp (3,458 kW) each
Propellers: Dowty R391 6-blade composite propeller, 1 per engine
Performance
Maximum speed: 362 knots (417 mph, 671 km/h)
Cruise speed: 348 knots (400 mph, 643 km/h)
Range: 1,800 nmi (2,071 mi, 3,334 km) at max normal payload (34,000 lb or 15,400 kg)
Service ceiling: 28,000 ft (8,615 m) with 42,000 lb (19,090 kg) payload
Absolute altitude 40,386 ft (12,310 m)

Takeoff distance: 3,127 ft (953 m) at 155,000 lb (70,300 kg) gross weight
References
Lockheed Martin C-130J Super Hercules Wikipedia
(Text) CC BY-SA