Hutton was born Mary Laurence Hutton in Charleston, South Carolina, United States. Her parents divorced when she was young. After her mother remarried, her last name was changed to her stepfather's name, "Hall", although he never formally adopted her. She graduated from Chamberlain High School in Tampa, Florida in 1961, and was among the first students to attend the University of South Florida in 1961.
Hutton later relocated with former Tampa disc jockey Pat Chamburs, 19 years her senior, to New York City, where she worked at the Playboy Club. The pair later moved to New Orleans, where she attended Newcomb College, then a coordinate college within Tulane University, and graduated with a Bachelor of Arts degree in 1964.
Hutton returned to New York, changed her name to "Lauren Hutton", and became a popular fashion model, "cover girl" (appearing on the front cover of Vogue magazine a record 41 times) and commercial spokesperson. She was advised to correct the slight gap in her teeth and tried using morticians' wax to cover the gap, cutting a line in the middle of it; this was followed by the use of a cap, which she would often swallow, laugh out or misplace. Hutton eventually retained this "imperfection" and the All Movie Guide stated that it "gave her on-camera persona a down-home sensibility that other, more ethereal models lacked."
In 1973, Hutton signed a contract with Revlon cosmetics, worth US$250,000 a year for 20 days' work, a professional relationship that lasted for ten years. Hutton's initial contract with Revlon involved representation of the Ultima II brand. Twenty years later, she signed a new contract with Revlon to be the spokeswoman for Results, a collection of corrective moisturizing treatments.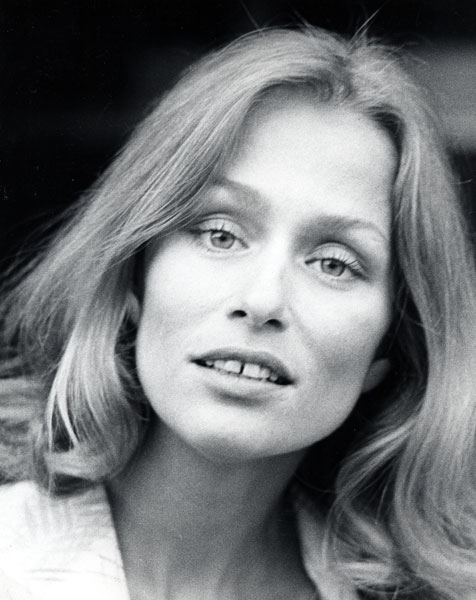 In 1993, Hutton performed as a runway model for designer Calvin Klein and The New York Times responded by publishing an article in Hutton was "just as good as the current flock of fledglings."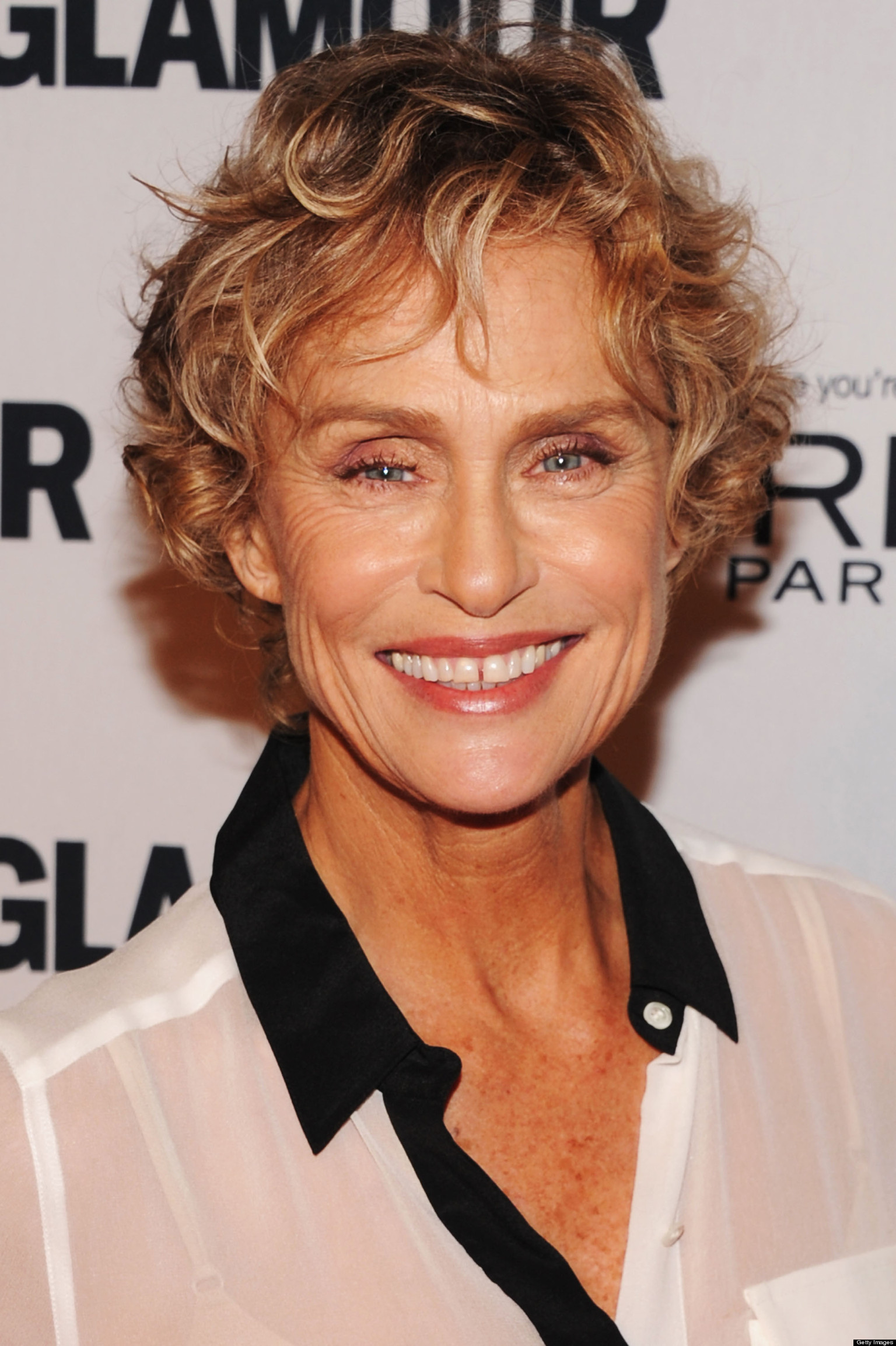 In 1997, Hutton became a brand ambassador and appeared in multiple advertising campaigns for the Australian department store David Jones; in 2001, she was replaced by Megan Gale.
Hutton was presented on the November 1999 Millennium cover of American Vogue as one of the "Modern Muses".
Following her recovery from a motorcycle accident in 2000, she became the spokeswoman for her own signature brand of cosmetics, "Lauren Hutton's Good Stuff", a line of cosmetic products for mature women. The brand was sold primarily in the USA, but was also available through secondary distribution channels throughout Europe and South America.
In October 2005, Hutton was interviewed on ABC's Good Morning America program in relation to the future release of an edition of Big magazine that was entirely dedicated to Hutton's career and included eight pages of nude photos. Hutton agreed to pose nude for the feature, titled "Lauren Hutton: The Beautiful Persists", when she was 61 years old, and explained to GMA:
I want them [women] not to be ashamed of who they are when they're in bed. Society has told us to be ashamed ... The really important [thing] is that women understand not to listen to a 2,000-year-old patriarchal society.
Hutton, who is supposedly one of four women offered US$1 million by Larry Flynt to pose nude, also explained that she first sought permission from her 14 godchildren, who told her the photographs would be "inspirational".
In 2008, Hutton accepted an offer from Mary-Kate and Ashley Olsen to appear in the lookbook for their clothing line The Row, and explained in 2010: "I saw the clothes, and they were wonderful, real simple, minimalist designs... Ash had a place on the beach, so we did it at her place... And they would dance on the deck, and I would do what they were doing. And it was good." During the same year, retailer Mango launched a fashion collection inspired by Hutton's personal style.
Alongside celebrity models such as Iman and Paulina Porizkova, Hutton was one of the panel members in a roundtable discussion for the "Model as Muse: Embodying Fashion" gala, an annual event organized by the Metropolitan Museum's Costume Institute. Held in May 2009, the discussion occurred at New York's Minetta Tavern. Photographs of Hutton were also displayed as part of a historical fashion exhibition that acknowledged the significance of models.
A third-party licensing brand of the Jim Henson Company, Henson Independent Properties (HIP), entered into an agreement with Hutton in November 2010 to act as the global licensing agent for her merchandising program. Targeted at women over 40 years of age, the brand launched products such as eyewear, handbags, and luggage, and home decor, globally in 2012. HIP's senior vice president at the time referred to Hutton as a "trailblazer" in the press release.
Hutton was also a guest judge on the fashion designer reality television show Project Runway in 2010.
In terms of fashion work, 2011 was also a fairly busy year for Hutton, as it commenced with her selection as the house model for the Alexis Bittar jewelry brand in February. Designer Alexis Bittar, a recipient of the CFDA Accessory Designer of the Year award, personally selected Hutton after choosing Joan Collins for the previous year. Hutton stated that Bittar's jewelry is "like art and still doesn't look like anything I have ever seen." Hutton then appeared alongside people such as actress Shuya Chang and Annie Lennox's daughter Tali Lennox in the spring 2011 ad campaign for the Club Monaco retail brand. The lookbook was photographed by Ryan McGinley, the youngest photographer to be featured in the Whitney Museum of American Art at the time of the Club Monaco shoot.
As of March 2014, Hutton is represented by the IMG Models agency and is one of their "Special Bookings" models. Julianne Moore and Liv Tyler are also represented by IMG under the same category.
As an actress, Hutton made her film debut in the Paper Lion (1968), and she won notices for her performances in James Toback's The Gambler (1974), opposite James Caan. She also starred in John Carpenter's TV movie Someone's Watching Me! (1978) and played the wealthy adventurous adulteress in American Gigolo (1980). Important roles in major films were relatively few, however, and her acting career diminished during the 1980s, with most of her appearances being in minor European features or American films that fizzled at the box office, such as Lassiter (1984), Once Bitten (1985), and Guilty as Charged (1992).
In 1984, she was offered a role for a TV series, Paper Dolls. MGM decided to produce a weekly series based on the TV movie for ABC, recasting several of the original roles from the 1982 production. However, the series was short-lived and was canceled after 13 episodes. In 1986, she starred opposite Stacy Keach in The Return Of Mike Hammer. In the spring of 1987, Hutton had a starring role opposite William Devane in a sci-fi themed ABC Movie of the Week titled Timestalkers, that did well with both the critics' reviews and the TV ratings.
In 1995, Hutton was cast in the CBS soap opera Central Park West, playing the wealthy socialite Linda Fairchild until the show was canceled the following year.
The following year, Hutton's late-night talk show for Turner Original Production, Lauren Hutton and..., debuted and ran until 1997. Hutton's partner at the time, Luca Babini, was the director, set designer and post-production supervisor of the talk show, and the couple founded Lula Productions as part of their arrangement with the Turner media company.
Hutton appeared in her first feature film in two decades with the 2009 release of The Joneses, in which she starred alongside David Duchovny and Demi Moore. When asked about her decision to play the head of a marketing company, Hutton explained:
I thought it was an extraordinary script, and a great idea, this stealth marketing. My character had worked with Demi [Moore] when Demi was an 18-year-old, having her sitting on bar stools at expensive bars and ordering certain champagnes and certain cigarettes. And now she has little pods of these families all over the country, and she's got them in rented houses for a year at a whack to heist all the neighbors. And I thought that capitalism could be as vicious as anything they ever came up with in the U.S.S.R. And certainly to some degree, we do seem to be involved in that, don't we? All these people who do double jobs of acting were on red carpets wearing diamonds and $20,000 dresses, and that's a full-time job. I never did that.
Hutton met Luca Babini on a film set in 1991 and he said of the relationship's development in 1996: "I was coming out of a divorce, and she became like a sister to me. Then I fell in love with her. And I loved her feet, which say so much about a person." Babini also referred to Hutton as "accessible and down to earth," and described her as a person with "very clear opinions" that she was willing to express.
In October 2000, Hutton joined a motorbike group, which included actors Dennis Hopper, Laurence Fishburne and Jeremy Irons, to celebrate "The Art of the Motorcycle" exhibit at the Hermitage-Guggenheim museum in Las Vegas, Nevada. Prior to the journey, Hutton informed the Las Vegas Review-Journal: "I love the feeling of being a naked egg atop that throbbing steel. You feel vulnerable — but so alive." En route, Hutton crashed near Hoover Dam, on the border between the US states of Arizona and Nevada, going over 100 miles (160 km) per hour, and suffered multiple leg fractures, a fractured arm, broken ribs and sternum, and a punctured lung. Hopper later recalled from before the start of the ride: "She had on a little helmet, sort of tied under her chin. It was cute. And Jeremy [Irons] came up to her and said, 'You got to be kidding.' He took it off her and gave her a proper helmet."
Hutton is the original vice-president of the Guggenheim Museum Motorcycle Club, and, in 2003, was a board member of the National Museum of Women in Arts in Washington, D.C., US.
As of 2014, Hutton has never married, but was involved in a 27-year-long relationship with her manager Bob Williamson, who squandered some US$13 million of her money. Hutton later explained that he had saved her life on five occasions and made sure that she "didn't get seduced by the work." She spoke of a void that Williamson filled:
I didn't have a father, and I wanted to be a child with a protector. I'd never seen a shrink, and there was a psychological situation that clearly needed to be addressed. But, you know, I wanted to see the world and how people lived and think about who are we, how are we, why is the world? And Bob did that for me.
In July 2013, Hutton revealed that she was in the process of writing her memoir, which may be titled Smile, and also explained the value of traveling and exploration in her life thus far: "whenever I came back from Africa or the Antarctic, head swelling with the beauty of it all, I found I was loving life again. You look different because of everything that has gone on inside of you..."
"We have to be able to grow up. Our wrinkles are our medals of the passage of life. They are what we have been through and who we want to be. I don't think I will ever cut my face, because once I cut it, I'll never know where I've been." – Lauren Hutton
"People say you're flirting with death but really you're flirting with life." – Lauren Hutton
"Life is what we do when we're on the way to live it." – Lauren Hutton
"Finding your look isn't complicated if you go in without being frightened. Notice what people are complimenting you on. Experiment with new things once in a while, but have your tried-and-true pieces that work." – Lauren Hutton
"The doctors told me I'd be fine if I play only golf and tennis doubles for the rest of my life. But I dive. I dogsled. I trek. I guess I'll have surgery." – Lauren Hutton
"She's not phony. She's not a model. She's the real thing." – Photographer Francesco Scavullo
"The fashion magazines showed the new kind of woman who was emerging in the '60s. Women were in motion. And Lauren illustrated that, literally. Actually, her whole career is an excellent example of this new kind of independent woman." Hutton's wit and will are revealed in her "mischievous, kind of Tom Sawyer smile. She creates this mental space around her, and she sweeps everyone around her into her orbit." – Camille Paglia (author, iconoclastic feminist and friend)
"Lauren is anything but a classical beauty. Her nose flies west, her mouth flies north, she can cross her left eye at will. She made herself beautiful by learning, watching, willing—not by surgically altering her defects." – Harper's Bazaar's 1973 profile on Hutton
"She's got a lot of balls, she's got a lot of heart. But it sure is fun being with her." – Dennis Hopper