Years active

1981–present







Born

November 11, 1962 (age 58) (

1962-11-11

)

Occupation

Actress , filmmaker , model , songwriter

Children

Rumer

Willis, Tallulah Belle Willis, Scout LaRue Willis

Parents

Charles Harmon, Virginia King

Movies




Similar People




Profiles



The life and career of actress demi moore
Demi Gene Guynes ( ; born November 11, 1962), professionally known as Demi Moore, is an American actress, former songwriter, and model. Moore dropped out of high school at age 16 to pursue an acting career and appeared in the men's magazine Oui in 1981. After making her film debut later that year, she appeared on the soap opera General Hospital and subsequently gained recognition for her work in Blame It on Rio (1984) and St. Elmo's Fire (1985). Her first film to become both a critical and commercial hit was About Last Night... (1986), which established her as a Hollywood star.
Contents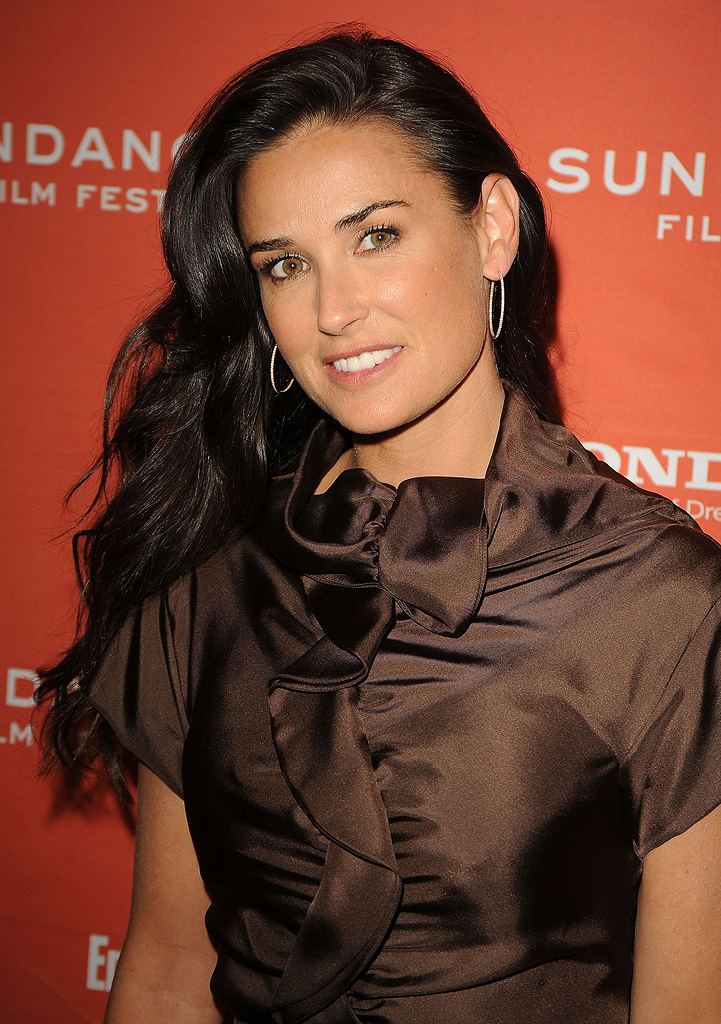 In 1990, Moore starred in Ghost the highest-grossing film of that year, for which she received a Golden Globe nomination. She had a string of additional box-office successes in the early 1990s, including A Few Good Men (1992), Indecent Proposal (1993), and Disclosure (1994). In 1996, Moore became the highest-paid actress in film history when she was paid a then-unprecedented fee of $12.5 million to star in Striptease, a film that was a high-profile disappointment. Her next major role, G.I. Jane (1997), for which she famously shaved her head, was followed by a lengthy break and significant downturn in Moore's career, although she has remained a subject of substantial media interest during the years since.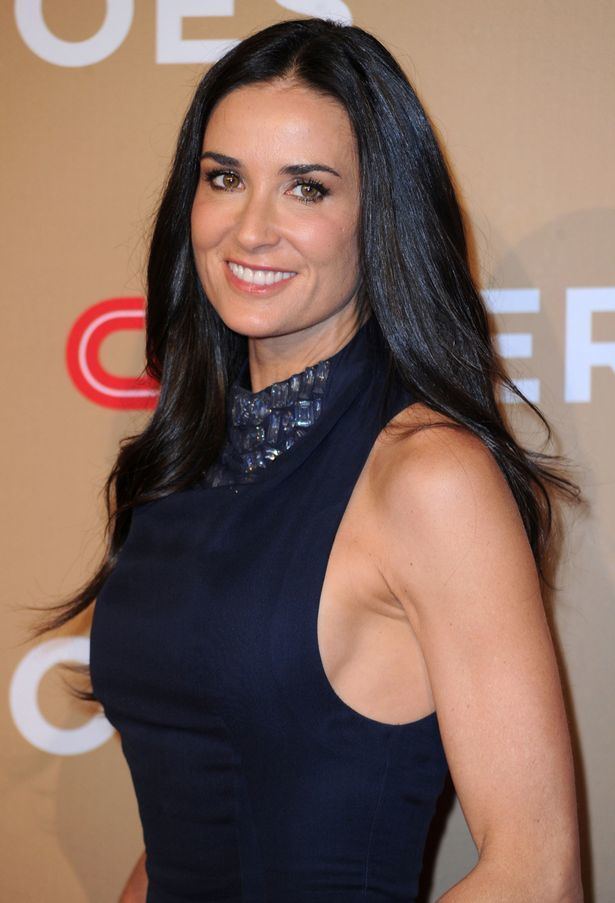 Demi moore documental bio parte 1
Early life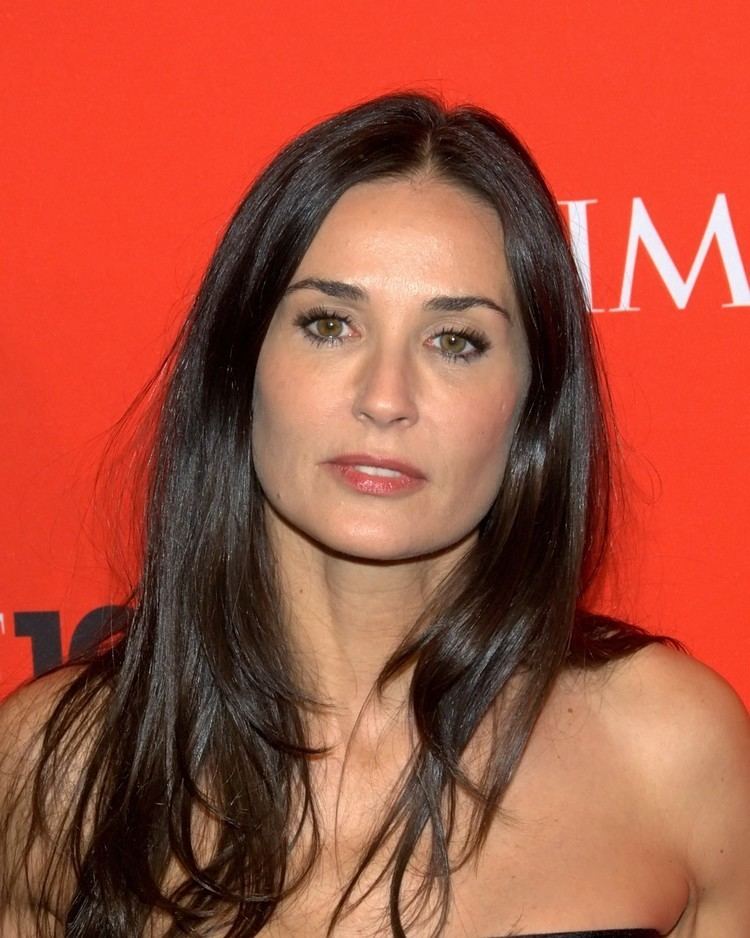 Moore was born on November 11, 1962, in Roswell, New Mexico. Her biological father, Air Force airman Charles Harmon, Sr., left her mother, Virginia (née King), after a two-month marriage, before Moore was born. When Moore was three months old, her mother married Dan Guynes, a newspaper advertising salesman who frequently changed jobs; as a result, the family moved many times. Moore said in 1991, "My dad was Dan Guynes. He raised me. There is a man who would be considered my biological father who I don't really have a relationship with." Moore learned of him at age 13, when she found her mother and stepfather's marriage certificate and inquired about the circumstances since "I saw my parents were married in February 1963. I was born in '62." Dan Guynes committed suicide in October 1980 at age 37, two years after he separated from Moore's mother. Charles Harmon appeared on Inside Edition in 1995, making an appeal to see his grandchildren. Virginia Guynes had a long record of arrests for crimes, including drunk driving and arson. Moore broke off contact with her in 1990, when Guynes walked away from a rehab stay Moore had paid for at the Hazelden Foundation in Minnesota. Guynes posed nude for the magazine High Society in 1993, where she spoofed Moore's Vanity Fair pregnancy and bodypaint covers and parodied her love scene from the film Ghost. Moore and Guynes briefly reconciled shortly before Guynes died of cancer in July 1998 at age 54.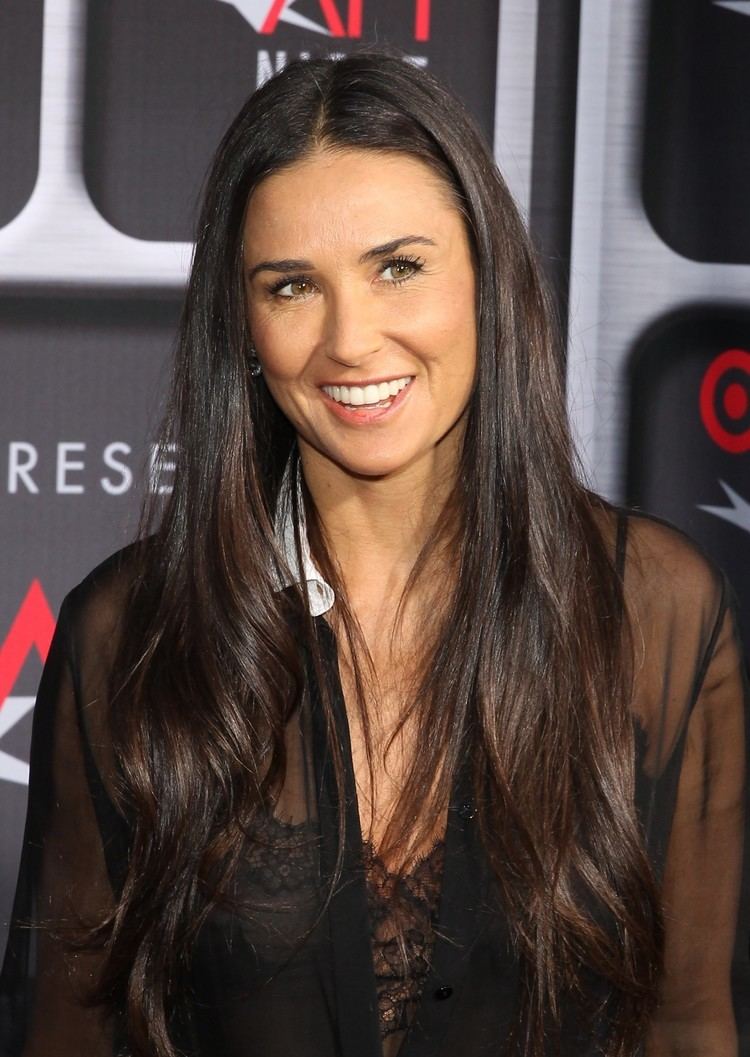 Moore was cross-eyed as a child. This was ultimately corrected by two operations. She also suffered from kidney dysfunction. At age 15, Moore moved to West Hollywood, California, where her mother worked for a magazine-distribution company. Moore attended Fairfax High School there, and recalled, "I moved out of my family's house when I was 16 and left high school in my junior year." She signed with the Elite Modeling Agency and went to Europe to work as a pin-up girl, then enrolled in drama classes after being inspired by her next-door neighbor, 17-year-old German actress Nastassja Kinski. In August 1979, three months before her 17th birthday, Moore met musician Freddy Moore who was married and at the time leader of the band Boy, at the Los Angeles nightclub The Troubadour. They lived in an apartment in West Hollywood.
Career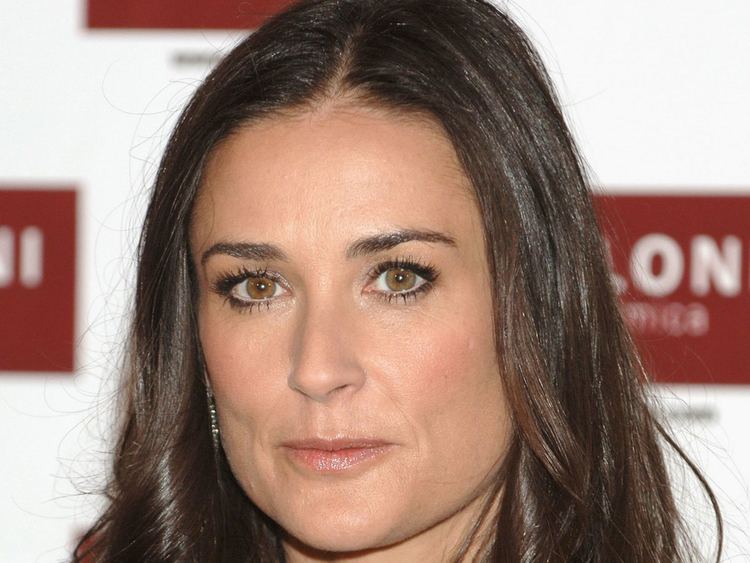 Demi Moore co-wrote three songs with Freddy Moore and appeared in the music video for their "It's Not a Rumor," performed by his band The Nu Kats. She continues to receive royalty checks from her brief songwriting career (1980-1981).
Moore also appeared on the cover of the January 1981 issue of the adult magazine Oui, taken from a photo session in which she had posed nude. In a 1988 Interview, Moore claimed she "only posed for the cover of Oui—I was 16; I told them I was 18". Interviewer Alan Carter said, "However, some peekaboo shots did appear inside. And later, nude shots of her turned up in Celebrity Sleuth—photos that she once said 'were for a European fashion magazine'." In 1990, she told another interviewer, "I was 17 years old. I was underage. It was just the cover."
Moore made her film debut with a small supporting role in the 1981 deaf-teen drama Choices, directed by Silvio Narizzano. Her second feature was the 3-D science fiction/horror film Parasite (1982), for which director Charles Band had instructed casting director Johanna Ray to "find me the next Karen Allen." Moore then joined the cast of the ABC soap opera General Hospital, playing the role of investigative reporter Jackie Templeton until 1983. During her tenure on the series, she made an uncredited cameo appearance in the 1982 spoof Young Doctors in Love.
Moore's film career took off in 1984 following her appearance in the sex comedy Blame It on Rio. That same year, she played the lead role in No Small Affair. Her commercial breakthrough came in Joel Schumacher's yuppie drama St. Elmo's Fire (1985), which received negative reviews, but was a box office success and brought Moore to international recognition. Because of her association with that film, Moore was often listed as part of the Brat Pack, a label she felt was "demeaning". She progressed to more serious material with About Last Night... (1986), co-starring Rob Lowe, which marked a positive turning point in her career, as Moore noted that, following its release, she began seeing better scripts. Film critic Roger Ebert gave the film four out of four stars and praised her performance, writing, "There isn't a romantic note she isn't required to play in this movie, and she plays them all flawlessly." The success of About Last Night... was unrivaled by Moore's other two 1986 releases, One Crazy Summer and Wisdom, the last youth-oriented films in which she would star.
Moore made her professional stage debut in an off-Broadway production of The Early Girl, which ran at the Circle Repertory Company in fall 1986. In 1988, Moore starred as a prophecy-bearing mother in the apocalyptic drama The Seventh Sign—her first outing as a solo film star. The following year, she played the quick-witted local laundress and prostitute in Neil Jordan's Depression-era allegory We're No Angels (1989) opposite Robert De Niro.
Her most successful film to date was the supernatural romantic melodrama Ghost, a sleeper hit that grossed over $505 million at the box office and was the highest-grossing film of 1990. The love scene between Moore and Patrick Swayze that starts in front of a potter's wheel to the sound of "Unchained Melody" has become an iconic moment in cinema history. Ghost was nominated for the Academy Award for Best Picture, and Moore's performance as Molly Jensen earned her a Golden Globe Award nomination.
In 1991, Moore had a supporting role in the comedy Nothing but Trouble. It was one of the biggest box office disasters of the year, but most of the blame went to Dan Aykroyd, who wrote and directed the film, as well as starring in it. That same year, she co-produced and starred in the mystery thriller Mortal Thoughts, and appeared as a blonde for the first time in the romantic comedy The Butcher's Wife, with Roger Ebert's review describing her as "warm and cuddly". Both films were box-office disappointments, but Moore sustained her A-list status with her starring roles in Rob Reiner's A Few Good Men (1992), Adrian Lyne's Indecent Proposal (1993), and Barry Levinson's Disclosure (1994)—all of which opened at #1 at the box office and were blockbuster hits.
By 1995, Moore was the highest-paid actress in Hollywood. However, she subsequently had a string of unsuccessful films starting with The Scarlet Letter, a "freely adapted" version of the historical romance novel by Nathaniel Hawthorne, in which her portrayal of Hester Prynne was met with harsh criticism. Her follow-up releases, Now and Then and The Juror, were not box-office successes. Moore was paid a record-breaking salary of $12.5 million in 1996 to star in Striptease. Much hype was made about Moore's willingness to dance topless for the part, though this was the sixth time she had shown her breasts on film. Although the film was actually a financial success—grossing over $113 million worldwide—it failed to reach expectations and was widely considered a flop. That same year she provided the speaking voice of the beautiful Esmeralda in Disney's animated adaptation of The Hunchback of Notre Dame. Meanwhile, she also produced and starred in a controversial miniseries for HBO called If These Walls Could Talk, a three-part anthology about abortion. Its screenwriter, Nancy Savoca, directed two segments, including one in which Moore played a widowed nurse in the early 1950s seeking a back-alley abortion. For that role, Moore received a second Golden Globe nomination as Best Actress.
Moore famously shaved her head to play a Navy SEAL recruit in Ridley Scott's G.I. Jane (1997). The film was a moderate box-office success, but its domestic gross was only slightly more than it cost to make. During the film's production, it was reported that Moore had ordered studio chiefs to charter two planes for her entourage and her, which reinforced her negative reputation for being a diva—she had previously turned down the Sandra Bullock role in While You Were Sleeping because the studio refused to meet her salary demands, and was dubbed "Gimme Moore" by the media.
After G.I. Jane, Moore took the role of an ultrapious psychiatrist in Woody Allen's Deconstructing Harry, then retreated from the spotlight and moved to Hailey, Idaho, on a full-time basis to devote herself to raising her three daughters. She was off screen for three years before re-emerging in the arthouse drama Passion of Mind (2000), the first English-language film from Belgian director Alain Berliner. Her performance was well received, but the film itself garnered mixed reviews and was deemed "naggingly slow" by some critics. Moore then resumed her self-imposed career hiatus and continued to turn down film offers. Producer Irwin Winkler said in 2001, "I had a project about a year and a half ago, and we made an inquiry about her—a real good commercial picture. She wasn't interested."
Another three years passed before Moore acted again. She returned to the screen, playing a villain in the 2003 film Charlie's Angels: Full Throttle, but that was followed by yet another three-year absence. In the interim, Moore signed on as the face of the Versace fashion brand and the Helena Rubinstein brand of cosmetics. In 2006, she appeared in Bobby, which featured an all-star cast, including her husband Ashton Kutcher, although they did not appear in any scenes together.
Moore reunited with Blame It on Rio co-star Michael Caine for the British crime drama Flawless, which came out in a limited release in 2008 with generally positive reviews. As of 2014, her last appearance in a widely released film was in 2007's Mr. Brooks with Kevin Costner. Moore has since acted in a number of independent films, the most notable of which have been The Joneses (2010) with David Duchovny and the critically acclaimed corporate drama Margin Call (2011), where she was part of an Ensemble Cast that included Kevin Spacey, Simon Baker, and Paul Bettany.
Moore had been cast to play feminist activist Gloria Steinem in the Linda Lovelace biographical film Lovelace, but within a month of being announced for the role, she dropped out of the production in the wake of a January 23, 2012, hospitalization and what her representative called "professional assistance to treat her exhaustion and improve her overall health." Sarah Jessica Parker took over the role.
Moore starred in Wild Oats with Shirley MacLaine and Jessica Lange, which is currently playing on Netflix since May of 2017. In February 2017, Moore joined the cast of Empire in a recurring role.
Vanity Fair cover
In August 1991, Moore appeared nude on the cover of Vanity Fair under the title More Demi Moore. Annie Leibovitz shot the picture while Moore was seven months pregnant with her daughter Scout LaRue, intending to portray "anti-Hollywood, anti-glitz" attitude. The cover drew a lot of attention, being discussed on television, radio, and in newspaper articles. The frankness of Leibovitz's portrayal of a pregnant sex symbol led to divided opinions, ranging from suggestions of sexual objectification to celebrations of the photograph as a symbol of empowerment.
The photograph was subject to numerous parodies, including the Spy magazine version which placed Moore's then-husband Bruce Willis' head on her body. In Leibovitz v. Paramount Pictures Corp., Leibovitz sued over one parody featuring Leslie Nielsen, made to promote the 1994 film Naked Gun 33⅓: The Final Insult. In the parody, the model's body was attached to what is described as "the guilty and smirking face" of Nielsen. The teaser said "Due this March". The case was dismissed in 1996 because the parody relied "for its comic effect on the contrast between the original". In November 2009, the Moroccan magazine Femmes du Maroc emulated the infamous pose with Moroccan news reporter Nadia Larguet, causing controversy in the majority Muslim nation.
In August 1992, Moore again appeared nude on the cover of Vanity Fair, modeling for body painting artist Joanne Gair in Demi's Birthday Suit.
Business ventures
Moore was an investor in the Planet Hollywood chain of theme restaurants, along with Sylvester Stallone, Arnold Schwarzenegger, and former husband Bruce Willis. She was an executive producer of all three films in the Austin Powers franchise, as well as the interview series The Conversation for the Lifetime network.
Marriages and relationships
On February 8, 1980, at the age of 17, she married singer Freddy Moore, 12 years her senior and recently divorced from his first wife, Lucy. During their marriage, Demi began using Freddy's surname as her stage name. She filed for divorce in September 1984; it was finalized on August 7, 1985.
Next, Moore was engaged to actor Emilio Estevez. The pair planned to marry in December 1986, but called off the engagement.
On November 21, 1987, Moore married her second husband, actor Bruce Willis. She and Willis have three daughters together: Rumer (born August 16, 1988), Scout (born July 20, 1991), and Tallulah (born February 3, 1994). They announced their separation on June 24, 1998, and filed for divorce on October 18, 2000.
Moore had a longstanding relationship with martial arts instructor Oliver Whitcomb, whom she dated from 1999 to 2002.
In 2003, Moore began dating actor Ashton Kutcher, who is 16 years younger. They married on September 24, 2005. The wedding was attended by about 150 close friends and family of the couple, including Willis. In November 2011, after months of media speculation about the state of the couple's marriage, Moore announced her decision to end her marriage to Kutcher. After over a year of separation, Kutcher filed for divorce from Moore on December 21, 2012, in Los Angeles Superior Court, citing irreconcilable differences. Moore filed her response papers in March 2013, requesting spousal support and payment of legal fees from Kutcher. On November 27, 2013, their divorce was finalized.
Interests
She is a follower of Philip Berg's Kabbalah Centre religion, and initiated Kutcher into the faith, having said that she "didn't grow up Jewish, but ... would say that [she has] been more exposed to the deeper meanings of particular rituals than any of [her] friends that did."
According to The New York Times, Moore is "the world's most high-profile doll collector," and among her favorites is the Gene Marshall fashion doll. At one point, Moore kept a separate residence to house her 2,000 dolls.
While she landed on PETA's Worst-Dressed List in 2009 for wearing fur, two years later she supported the group's efforts to ban circus workers' use of bullhooks on elephants.
Charity work
In 2009, Moore and Kutcher launched The Demi and Ashton Foundation (DNA), a nonprofit, non-governmental organization directed towards fighting child sexual slavery. Its first campaign was "Real Men Don't Buy Girls." In November 2012, the foundation said it was announcing "a new name and refined mission" as Thorn: Digital Defenders of Children, which aimed "to disrupt and deflate the predatory behavior of those who abuse and traffic children, solicit sex with children or create and share child pornography".
Filmography
Actress
-
The Substance (post-production)
2024
Feud (TV Mini Series)
as
Ann Woodward
- Pilot (2024) - Ann Woodward
2022
The Unbearable Weight of Massive Talent
as
Movie Actress Olivia
2022
Please Baby Please
as
Maureen
2020
Songbird
as
Piper Griffin
2020
Brave New World (TV Series)
as
Linda
- Want & Consequence (2020) - Linda
- Everybody Happy Now! (2020) - Linda
- Pilot (2020) - Linda
2019
Corporate Animals
as
Lucy
2018
Animals. (TV Series)
as
General
- Roachella (2018) - General
- So You Think You Won't Treason!? (2018) - General
- The Democratic People's Republic of Kitty City (2018) - General
- Horses (2018) - General
- Rats (2018) - General
2017
Empire (TV Series)
as
Claudia / Nurse
- Birds in the Cage (2018) - Claudia
- Slave to Memory (2017) - Claudia
- The Fool (2017) - Claudia
- Bleeding War (2017) - Claudia
- Full Circle (2017) - Claudia
- Noble Memory (2017) - Claudia
- Toil and Trouble, Part 2 (2017) - Nurse
2016
Blind
as
Suzanne Dutchman
2015
Forsaken
as
Mary Alice Watson
2011
Margin Call
as
Sarah Robertson
2011
Another Happy Day
as
Patty
2009
The Joneses
as
Kate Jones
2009
The Magic 7 (TV Movie)
as
U-Z-Onesa (voice)
2007
Mr. Brooks
as
Det. Tracy Atwood
2006
Half Light
as
Rachel Carlson
2005
Sci-Fi Slaughter (Video)
as
Patricia Welles (uncredited)
2003
Charlie's Angels: Full Throttle
as
Madison Lee
2003
Will & Grace (TV Series)
as
Sissy Palmer-Ginsburg
- Women and Children First (2003) - Sissy Palmer-Ginsburg
2002
The Hunchback of Notre Dame II (Video)
as
Esmeralda (voice)
2000
Passion of Mind
as
Marie / Marty
1997
Deconstructing Harry
as
Helen
1997
G.I. Jane
as
Jordan O'Neill
1997
Destination Anywhere (Video)
as
Janie
1997
Ellen (TV Series)
as
The Sample Lady
- The Puppy Episode (1997) - The Sample Lady (uncredited)
1996
Beavis and Butt-Head Do America
as
Dallas (voice)
1996
Disney's Animated Storybook: The Hunchback of Notre Dame (Video Game)
as
Esmeralda (voice)
1996
If These Walls Could Talk (TV Movie)
as
Claire Donnelly (segment "1952")
1996
The Hunchback of Notre Dame
as
Esmeralda (voice)
1995
The Scarlet Letter
as
Hester Prynne
1995
Your Studio and You (Short)
as
Demi Moore (uncredited)
1994
The Muppets: She Drives Me Crazy (Music Video short)
as
Demi Moore
1994
Disclosure
as
Meredith Johnson
1993
Indecent Proposal
as
Diana Murphy
1992
A Few Good Men
as
Lt. Cdr. JoAnne Galloway
1991
The Butcher's Wife
as
Marina Lemke
1991
Mortal Thoughts
as
Cynthia Kellogg
1991
Nothing But Trouble
as
Diane Lightson
1990
Tales from the Crypt (TV Series)
as
Cathy Marno
- Dead Right (1990) - Cathy Marno
1989
The New Homeowner's Guide to Happiness (Video)
as
Sandy Darden
1989
Moonlighting (TV Series)
as
Woman in Elevator
- When Girls Collide (1989) - Woman in Elevator (uncredited)
1988
The Seventh Sign
as
Abby Quinn
1986
One Crazy Summer
as
Cassandra Eldridge
1986
About Last Night
as
Debbie
1985
John Parr: St. Elmo's Fire (Man in Motion) (Music Video)
as
Jules
1982
General Hospital (TV Series)
as
Jackie Templeton / Laura Templeton
1984
Blame It on Rio
as
Nicole Hollis
1984
Bedrooms (TV Movie)
as
Nancy
1984
The Master (TV Series)
as
Holly Trumbull
- Max (1984) - Holly Trumbull
1982
Young Doctors in Love
as
New Intern (uncredited)
1982
Parasite
as
Patricia Welles
Producer
2020
Dirty Diana (Podcast Series documentary) (executive producer - 6 episodes)
- Amanda & Erika (2020) - (executive producer)
- Jada (2020) - (executive producer)
- Evie (2020) - (executive producer)
- Carrie (2020) - (executive producer)
- Lux (2020) - (executive producer)
- Liz (2020) - (executive producer)
2012
The Conversation (TV Series) (executive producer - 8 episodes)
- Parenting & Perseverance (2012) - (executive producer)
- Living Deliberately (2012) - (executive producer)
- Breaking Through to Me (2012) - (executive producer)
- Acceptance, Evolution and Becoming Whole (2012) - (executive producer)
- Transformation (2012) - (executive producer)
- Facing What's Next (2012) - (executive producer)
- Be Fearless (2012) - (executive producer)
- Love & Loss (2012) - (executive producer)
2002
Austin Powers in Goldmember (producer - produced by)
1999
Austin Powers: The Spy Who Shagged Me (producer - produced by)
1997
Austin Powers: International Man of Mystery (producer - produced by)
1996
If These Walls Could Talk (TV Movie) (executive producer)
1995
Now and Then (producer - produced by)
1991
Mortal Thoughts (co-producer)
Director
2011
Five (TV Movie) (segment "Charlotte")
Soundtrack
2006
Bobby (performer: "Louie Louie")
1990
An Evening with Friends of the Environment (TV Movie) ("What a Wonderful World")
1986
One Crazy Summer (performer: "Don't Look Back")
Thanks
2022
Bunu Koymasak mi? (Podcast Series) (acknowledgment - 1 episode)
- Kafada Intel Etiketiyle Kütüphane Turlamak, Will Smith'in Oscar Gevrekligi, Alain Delon'un Ötenazi Talebi (2022) - (acknowledgment)
2021
Kid 90 (Documentary) (special thanks)
2018
Comedy Central Roasts (TV Series) (special thanks - 1 episode)
- Comedy Central Roast of Bruce Willis (2018) - (special thanks)
2015
The Better Half (grateful thanks)
2008
My Best Friend's Girl (special thanks)
2007
Ghost Stories: The Making of a Classic (Video documentary short) (special thanks)
2006
Ghost: Alchemy of a Love Scene (Video documentary short) (special thanks)
2003
Grand Theft Parsons (special thanks)
2001
A Few Good Men: Code of Conduct (Video documentary short) (special thanks)
1995
The Crypt Keeper Presents: A Spine-Tingling Look at Tales from the Crypt (Documentary short) (special thanks)
Self
2023
Volles Haus (TV Series)
as
Self - former Wife of Bruce Willis
- S1E5 (2023) - Self - former Wife of Bruce Willis
2022
CNN Heroes: Sharing the Spotlight 2022 (TV Special)
as
Self
2022
CNN Heroes Salutes (TV Special)
as
Self
2021
Hollywood Insider (TV Series)
as
Self
- Behind the Scenes of 'The Unbearable Weight of Massive Talent' - Nicolas Cage, Demi Moore (2022) - Self
- Full Commentary on 'The Unbearable Weight of Massive Talent' Reactions, Nicolas Cage, Demi Moore (2022) - Self
- Unbearable Weight of Massive Talent - Nicolas Cage (2022) - Self
- The Unbearable Weight of Massive Talent' Rendezvous at Premiere Reactions, Nicolas Cage, Demi Moore (2022) - Self
- A Tribute to Jack Nicholson: One of the Greatest Actors of Any Generation (2021) - Self
2022
Superstar (TV Mini Series documentary)
as
Self
- Superstar Patrick Swayze (2022) - Self
2022
BILD LIVE (TV Series)
as
Self
- S1E156 (2022) - Self
1990
Entertainment Tonight (TV Series)
as
Self
- ET's Celine Dion Exclusive (2019) - Self
2021
Fendi: Haute Couture Spring/Summer 2021 (Video short)
as
Self - Model
2020
Savage X Fenty Show Vol. 2 (Documentary)
as
Self
2020
Dirty Diana (Podcast Series documentary)
as
Diana
- Amanda & Erika (2020) - Diana (voice)
- Jada (2020) - Diana (voice)
- Evie (2020) - Diana (voice)
- Carrie (2020) - Diana (voice)
- Lux (2020) - Diana (voice)
- Liz (2020) - Diana (voice)
2020
Unqualified (Podcast Series)
as
Self - Guest
- Demi Moore & Shana Feste (2020) - Self - Guest
2020
Literally! with Rob Lowe (Podcast Series)
as
Self
- Hair Magician (2020) - Self
2020
Late Night with Seth Meyers (TV Series)
as
Self
- Demi Moore/Paul Scheer/Kaleo (2020) - Self
2020
AFI Movie Club (TV Series documentary)
as
Self
- Demi Moore announces What a Way to Go! (2020) - Self
2020
Hollywood Entertainment News TV Show (TV Series)
as
Self
- Hollywood Entertainment News (2020) - Self
2019
Red Table Talk (TV Series)
as
Self
- Demi Moore and Her Daughters (2019) - Self
2019
The Late Late Show with James Corden (TV Series)
as
Self - Guest
- Demi Moore/Maggie Gyllenhaal/Jay Larson (2019) - Self - Guest
2019
Dish Nation (TV Series)
as
Self
- Episode #8.19 (2019) - Self
2019
Access Hollywood (TV Series)
as
Self
- Episode #24.15 (2019) - Self
- Episode #24.10 (2019) - Self
1985
Good Morning America (TV Series)
as
Self - Guest / Self
- Episode dated 25 September 2019 (2019) - Self - Guest
- Episode dated 24 September 2019 (2019) - Self - Guest
- Episode dated 23 September 2019 (2019) - Self - Guest
- Episode dated 6 October 2011 (2011) - Self - Guest
- Episode dated 7 December 1994 (1994) - Self - Guest
- Dated 25 June 1985 (1985) - Self
2007
The Ellen DeGeneres Show (TV Series)
as
Self - Guest
- Demi Moore/Lenny Kravitz/Of Monsters and Men/Kalen Allen (2019) - Self - Guest
- Episode #7.124 (2010) - Self - Guest
- Episode #7.101 (2010) - Self - Guest
- Episode #4.176 (2007) - Self - Guest
2017
The Tonight Show Starring Jimmy Fallon (TV Series)
as
Self - Guest
- Demi Moore/Justin Hartley/Mark Ronson/Yebba (2019) - Self - Guest
- Demi Moore/Demetrius Shipp Jr./Nathaniel Rateliff, Charles Berry Jr. & Charles Berry III (2017) - Self - Guest
2019
I Am Patrick Swayze (Documentary)
as
Self
2017
Ok! TV (TV Series)
as
Self
- Episode #4.92 (2019) - Self
- Episode #4.75 (2018) - Self
- Episode #2.221 (2017) - Self
- Episode #2.220 (2017) - Self
- Episode #2.214 (2017) - Self
2018
Comedy Central Roasts (TV Series)
as
Self
- Comedy Central Roast of Bruce Willis (2018) - Self
2003
Extra (TV Series)
as
Self
- Episode #24.271 (2018) - Self
- Episode #24.19 (2017) - Self
- Episode #23.291 (2017) - Self
- Episode #23.254 (2017) - Self
- Episode #23.242 (2017) - Self
- Episode #21.137 (2015) - Self
- Episode dated 10 October 2003 (2003) - Self
2008
Live with Kelly and Mark (TV Series)
as
Self - Guest
- Do It Week - Day 2 (2017) - Self - Guest
- Episode dated 25 March 2008 (2008) - Self - Guest
2017
Made in Hollywood (TV Series)
as
Self
- War for the Planet of the Apes/Wish Upon/Blind/To the Bone (2017) - Self
2016
The Fashion Fund (TV Series)
as
Self
- Winner Announced (2016) - Self
2016
22nd Annual Screen Actors Guild Awards (TV Special)
as
Self - Presenter
2015
Dancing with the Stars (TV Series)
as
Self - Audience
- Semi-Finals (2015) - Self - Audience
2014
2014 MTV Movie Awards (TV Special)
as
Self - Cameo #33
2013
Jimmy Kimmel Live! (TV Series)
as
Self - Guest
- Jimmy Kimmel Sucks (2013) - Self - Guest
2012
Close Up (TV Series documentary)
as
Self - Interviewee
- Demi Moore (2012) - Self - Interviewee
2012
LOL: Like Mother, Like Daughter (Video short)
as
Self
2012
LOL: Lots of Love for Lisa Azuelos (Video short)
as
Self
2011
Icon News (TV Series)
as
Self - Around the town
- I'm Not Pedro (2011) - Self - Around the town
2003
taff (TV Series)
as
Self
- Episode dated 29 September 2011 (2011) - Self
- Episode dated 30 August 2010 (2010) - Self
- Episode dated 11 June 2003 (2003) - Self
2011
Nepal's Stolen Children (TV Movie documentary)
as
Narrator / Anchor
2011
Piers Morgan Live (TV Series)
as
Self - Guest
- Episode dated 22 April 2011 (2011) - Self - Guest
- Episode dated 14 April 2011 (2011) - Self - Guest
2011
In the House with Peter Bart & Peter Guber (TV Series)
as
Self - Guest
- Greg Kinnear/Ellen Barkin/Demi Moore/Jim Sturgess/Peter & Bobby Farrelly (2011) - Self - Guest
2010
The 4th Annual CNN Heroes: An All-Star Tribute (TV Special)
as
Self - Presenter
2010
The Marriage Ref (TV Series)
as
Self - Panelist
- Demi Moore/Jim Breuer/Kelly Ripa (2010) - Self - Panelist
2010
A Night of 140 Tweets: A Celebrity Tweet-A-Thon for Haiti (Video short)
as
Self
2010
Friday Night with Jonathan Ross (TV Series)
as
Self - Guest
- Episode #18.13 (2010) - Self - Guest
2010
Up Close with Carrie Keagan (TV Series)
as
Self - Guest
- Episode dated 21 April 2010 (2010) - Self - Guest
1993
Late Show with David Letterman (TV Series)
as
Self - Guest
- Demi Moore/Chef David Chang/Justin Nozuka (2010) - Self - Guest
- Episode #15.86 (2008) - Self - Guest
- Episode dated 23 June 2003 (2003) - Self - Guest
- Episode dated 8 August 1997 (1997) - Self - Guest
- Episode dated 18 January 1997 (1997) - Self - Guest
- Episode dated 2 July 1996 (1996) - Self - Guest
- Episode dated 8 November 1995 (1995) - Self - Guest
- Episode dated 16 December 1994 (1994) - Self - Guest
- Episode dated 20 January 1994 (1994) - Self - Guest
- Episode #1.3 (1993) - Self - Guest
1992
The Tonight Show with Jay Leno (TV Series)
as
Self - Guest
- Episode #18.28 (2010) - Self - Guest
- Episode #15.96 (2007) - Self - Guest
- Episode #14.209 (2006) - Self - Guest
- Episode #5.148 (1997) - Self - Guest
- Episode #1.139 (1992) - Self - Guest
2010
The 82nd Annual Academy Awards (TV Special)
as
Self - Presenter
2009
The Fabulous Picture Show (TV Series)
as
Self - Guest
- Pomegranates & Myrrh (2009) - Self - Guest
2009
Golden Globe Awards (TV Special)
as
Self - Presenter
2008
Xposé (TV Series)
as
Self
- Episode #3.58 (2008) - Self
2008
2008 MTV Video Music Awards (TV Special)
as
Self - Presenter
2008
Tellement People (TV Series documentary)
as
Self
- Episode #2.6 (2008) - Self
1988
Saturday Night Live (TV Series)
as
Self / Self - Host / Various
- Ashton Kutcher/Gnarls Barkley (2008) - Self (uncredited)
- Ashton Kutcher/Gwen Stefani (2005) - Self (uncredited)
- Demi Moore/Johnny Clegg & Savuka (1988) - Self - Host / Various
2008
Imagine (TV Series)
as
Self
- Annie Leibovitz: Life Through a Lens (2008) - Self
2008
Speechless (TV Movie documentary)
as
Self
2007
Bobby: The Making of an American Epic (Video documentary short)
as
Self
2007
Cartelera (TV Series documentary)
as
Self - Interviewee
- Episode dated 6 October 2007 (2007) - Self - Interviewee
2007
Caiga quien caiga (TV Series)
as
Self
- Episode dated 2 October 2007 (2007) - Self
2007
Ceremonia de clausura - 55º festival internacional de cine de San Sebastián (TV Special)
as
Self
2007
Marc Jacobs & Louis Vuitton (TV Movie documentary)
as
Self
2007
Happy Birthday Elton! From Madison Square Garden, New York (TV Special)
as
Self
2007
13th Annual Screen Actors Guild Awards (TV Special)
as
Self - Nominee
2005
Corazón de... (TV Series)
as
Self
- Episode dated 6 November 2006 (2006) - Self
- Episode dated 13 October 2005 (2005) - Self
- Episode dated 12 October 2005 (2005) - Self
- Episode dated 10 October 2005 (2005) - Self
2006
American Masters (TV Series documentary)
as
Self
- Annie Leibovitz: Life Through a Lens (2006) - Self
2005
La Marató 2005 (TV Special)
as
Self
2003
I Love the '70s (TV Mini Series documentary)
as
Self
2003
HBO First Look (TV Series documentary short)
as
Self
- The Making of 'Charlie's Angels: Full Throttle' (2003) - Self
2003
The Making of 'Charlie's Angels: Full Throttle' (TV Short documentary)
as
Self
2003
2003 MTV Movie Awards (TV Special)
as
Self - Presenter
2003
E! True Hollywood Story (TV Series documentary)
as
Self
- Demi Moore (2003) - Self
2003
Hollywood's Hottest (Video documentary)
2001
A Few Good Men: Code of Conduct (Video documentary short)
as
Self
2001
Ghost: Remembering the Magic (Video short)
as
Self
2000
Comme au cinéma (TV Series documentary)
as
Self
- Episode dated 18 May 2000 (2000) - Self
1998
Bravo Profiles: The Entertainment Business (TV Mini Series documentary)
as
Self
1997
The 49th Annual Primetime Emmy Awards (TV Special)
as
Self - Nominee & Presenter
1997
Clive Anderson All Talk (TV Series)
as
Self
- Episode #2.6 (1997) - Self
1997
1997 VH1 Fashion Awards (TV Special)
as
Self
1997
Lo + plus (TV Series)
as
Self - Guest
- Episode dated 14 October 1997 (1997) - Self - Guest
1997
Dennis Pennis R.I.P. (Video)
as
Self
1997
I Think I Cannes
as
Self (uncredited)
1996
The Rosie O'Donnell Show (TV Series)
as
Self - Guest
- Episode #1.240 (1997) - Self - Guest
- Episode #1.75 (1996) - Self - Guest
1996
Very Important Pennis (TV Series)
as
Self
- Very Important Pennis: Part 3 (1997) - Self
- Very Important Pennis: Part 2 (1996) - Self
1997
The 69th Annual Academy Awards (TV Special)
as
Self (uncredited)
1997
54th Golden Globe Awards (TV Special)
as
Self - Nominee
1996
Most Unlikely Heroes (TV Special)
as
Self
1996
The Making of Disney's 'The Hunchback of Notre Dame' (TV Movie documentary)
as
Self / Esmeralda
1996
Very Important Pennis: Uncut (Video)
as
Self
1996
Atlanta 1996: Games of the XXVI Olympiad (TV Mini Series)
as
Self - American Actress
- Opening Ceremony (1996) - Self - American Actress
1995
Hollywood's Most Powerful Women (TV Movie documentary)
as
Self
1995
The Crypt Keeper Presents: A Spine-Tingling Look at Tales from the Crypt (Documentary short)
as
Self
1995
The Annual 1995 ShoWest Awards (TV Special)
as
Self - Winner
1994
A Century of Cinema (Documentary)
as
Self
1994
The South Bank Show (TV Series documentary)
as
Self - Guest
- Annie Leibovitz (1994) - Self - Guest
1993
Larry King Live (TV Series)
as
Self - Guest
- Live from Planet Hollywood (1993) - Self - Guest
1993
Aspel & Company (TV Series)
as
Self - Guest
- Episode #10.7 (1993) - Self - Guest
1991
The Arsenio Hall Show (TV Series)
as
Self - Guest
- Episode dated 26 April 1993 (1993) - Self - Guest
- Episode dated 18 April 1991 (1991) - Self - Guest
1993
The 19th Annual People's Choice Awards (TV Special)
as
Self - Winner & Accepting Award for Favourite Motion Picture
1992
1992 MTV Movie Awards (TV Special)
as
Self - Presenter
1992
The 64th Annual Academy Awards (TV Special)
as
Self - Presenter
1992
The Word (TV Series)
as
Self
- Episode #2.21 (1992) - Self
1991
E.T. - Entretenimento Total (TV Series)
as
Self
1990
Late Night with David Letterman (TV Series)
as
Self - Guest
- Episode dated 10 April 1991 (1991) - Self - Guest
- Episode dated 27 July 1990 (1990) - Self - Guest
1991
First Person with Maria Shriver (TV Series)
as
Self
- Episode dated 28 February 1991 (1991) - Self
1991
The 48th Annual Golden Globe Awards 1991 (TV Special)
as
Self - Nominee
1990
An Evening with Friends of the Environment (TV Movie)
as
Self - Singer
1990
Warner Bros. Celebration of Tradition, June 2, 1990 (TV Movie documentary)
as
Self
1986
Today (TV Series)
as
Self - Actress / Self - Guest
- Episode dated 13 November 1990 (1990) - Self - Guest
- Dated 31 December 1986 (1986) - Self - Actress
- Dated 29 December 1986 (1986) - Self - Actress
1990
Wogan (TV Series)
as
Self
- Wogan with Sue Lawley (1990) - Self
1990
The 47th Annual Golden Globe Awards 1990 (TV Special)
as
Self - Audience Member
1989
Yours to Keep (Documentary)
as
Self
1989
The 61st Annual Academy Awards (TV Special)
as
Self - Presenter
1987
Not Necessarily the News (TV Series)
as
Self
- Inside Entertainment (1987) - Self
1987
The 39th Annual Primetime Emmy Awards (TV Special)
as
Self - Audience Member (uncredited)
1986
About Last Night... - Featurette (Video documentary short)
as
Self
1985
Making 'St Elmo's Fire' (TV Short documentary)
as
Self
1984
The 41st Annual Golden Globe Awards (TV Special)
as
Self
1982
Hour Magazine (TV Series)
as
Self
- Episode dated 7 July 1982 (1982) - Self
1982
The American Music Awards (TV Special)
as
Self
Archive Footage
2023
You Must Remember This (Podcast Series)
as
Self - Reading from the 'Inside Out' Audiobook
- Indecent Proposal (Erotic 90s, Part 11) (2023) - Self - Reading from the 'Inside Out' Audiobook
2005
Entertainment Tonight (TV Series)
as
Self
- Blake Shelton, John Legend, Kelly Clarkson (2021) - Self
- Bindi Irwin Exclusive (2021) - Self
- The Return of Valley Girl (2020) - Self
- Real Housewives of Beverly Hills Secrets (2020) - Self
- "The Voice" Coaches Tell All! (2020) - Self
- ET Valentine's Day Extravaganza! Katy Perry (2020) - Self
- ET Bahamas Week - Day 1 (2019) - Self
- Halloween Week - Day 5 (2019) - Self
- Demi Moore: New Book Bombshells (2019) - Self
- ET's at the Emmys! (2019) - Self
- ET's Cooking Up the Comedy with Tiffany Haddish, Melissa McCarthy, and Elisabeth Moss (2019) - Self
- ET in Vegas: Exclusive with Reba McEntire! (2019) - Self
2015
Inside Edition (TV Series documentary)
as
Self
- Episode #35.115 (2023) - Self
- Woman Wearing Just a Towel Handcuffed at Home (2015) - Self
- Episode #26.157 (2015) - Self
2022
Letterman (TV Series)
as
Self
- Staff Favorite Moments: Zoe Friedman (2022) - Self
2021
The Movies That Made Us (TV Series documentary)
as
Self - Potential Actor 'Vivian Ward'
- Pretty Woman (2021) - Self - Potential Actor 'Vivian Ward'
2020
Ok! TV (TV Series)
as
Self
- Episode #7.188 (2020) - Self
2019
Good Morning Britain (TV Series)
as
Self
- Episode dated 26 September 2019 (2019) - Self (uncredited)
2019
Access Hollywood (TV Series)
as
Self
- Episode #24.12 (2019) - Self
2019
The Movies (TV Mini Series documentary)
as
Molly Jensen
- The Nineties (2019) - Molly Jensen
2015
Extra (TV Series)
as
Self
- Episode #25.258 (2019) - Self
- Episode #24.42 (2017) - Self
- Episode #23.147 (2017) - Self
- Episode #22.107 (2016) - Self
- Episode #21.182 (2015) - Self
- Episode dated 2 May 2015 (2015) - Self
2018
Nunca es tarde (TV Series)
as
Self
- Episode dated 29 March 2018 (2018) - Self
2016
Do They Know It? (TV Series)
- Do Teens Know 90's Romance Movies? (2016)
2016
Boots on the Ground in Haiti (Documentary)
as
Self
2014
Running Man (TV Series)
as
Molly Jensen
- Romeo and Juliet (2014) - Molly Jensen
2012
American Greed (TV Series documentary)
as
Self
- Kenneth Starr: Naked Greed: Celebrity Scam Artist (2012) - Self
2011
Celebrity Naked Ambition (TV Movie documentary)
as
Self
2006
Larry King Live (TV Series)
as
Self
- Sharon Stone, Sandra Cantu and Melissa Huckaby (2009) - Self
- Sharon Stone (2006) - Self
2008
Ceremonia de inauguración - 56º Festival internacional de cine de San Sebastián (TV Special)
as
Self (uncredited)
2008
The Factor (TV Series)
as
Self - 'Pinhead' (segment "Pinheads & Patriots")
- Episode dated 25 March 2008 (2008) - Self - 'Pinhead' (segment "Pinheads & Patriots")
2007
Biography (TV Series documentary)
as
Self
- Brat Pack (2007) - Self
- Demi Moore (2007) - Self
2006
20 to 1 (TV Series documentary)
as
Molly Jensen
- Sexiest Movie Moments (2007) - Molly Jensen (uncredited)
- World's Best Love Songs (2006) - Molly Jensen
2007
Apparitions: The Visual Effects of Ghost (Video documentary short)
as
Self / Molly Jensen
2007
Ghost Stories: The Making of a Classic (Video documentary short)
as
Self / Molly Jensen
2006
Apparitions: The Visual Effects of Ghost (Video documentary short)
as
Self / Molly Jensen
2006
Ghost: Alchemy of a Love Scene (Video documentary short)
as
Self / Molly Jensen
2006
Rodney Carrington: Show Them to Me Fan Music Video (Music Video short)
as
Self
2006
La rentadora (TV Series)
as
Self
- El Nadal (2006) - Self
2006
The Curse of Superman (TV Movie documentary)
as
Self (uncredited)
2006
E! True Hollywood Story (TV Series documentary)
as
Self
- That '70s Show (2006) - Self
2005
... A Father... A Son... Once Upon a Time in Hollywood (TV Movie documentary)
as
Meredith Johnson
2005
101 Sexiest Celebrity Bodies (TV Movie documentary)
as
Self - Place #59
2005
Tvist (TV Series)
as
Self
- Episode dated 17 October 2005 (2005) - Self
2005
Corazón de... (TV Series)
as
Self
- Episode dated 29 September 2005 (2005) - Self
- Episode dated 26 September 2005 (2005) - Self
2005
Saturday Night Live: The Best of Jon Lovitz (TV Special)
as
Jennifer (uncredited)
2005
VH1 News Presents (TV Series documentary)
as
Self
- Plastic Surgery Obsession (2005) - Self
2004
E! 101 Most Starlicious Makeovers (TV Movie documentary)
as
Self
2003
Celebrities Uncensored (TV Series)
as
Self
- Episode #2.6 (2004) - Self
- Sex (2004) - Self
- Episode #1.9 (2003) - Self
- Episode #1.5 (2003) - Self
- Episode #1.4 (2003) - Self
2004
Die Geschichte des erotischen Films (TV Movie documentary)
2003
Love Chain (TV Series)
as
Self
- Ashton Kutcher - Self
2003
VH1: All Access (TV Series)
as
Self
- Awesomely Wacky Celebrity Baby Names (2003) - Self
2003
Celebrity Naked Ambition (TV Movie documentary)
2003
MTV Bash: Carson Daly (TV Special)
as
Self
2001
A Few Good Men: From Stage to Screen (Video documentary short)
as
Lt. Cdr. JoAnne Galloway (uncredited)
2001
Hollywood Couples (TV Series documentary)
as
Self
- Bruce Willis & Demi Moore (2001) - Self
1995
House of Style (TV Series)
as
Self
- Fall Edition (1995) - Self
1991
The 63rd Annual Academy Awards (TV Special)
as
Molly Jensen
References
Demi Moore Wikipedia
(Text) CC BY-SA