The film is notable for establishing Gere as a leading man, and was one of the first mainstream Hollywood films to include frontal male nudity from its main star. It is also notable for its Golden Globe Award-nominated musical score, composed by Giorgio Moroder, and number-one hit single "Call Me" by Blondie.
Schrader considers it one of four similar films, which he calls "double bookends": Taxi Driver, bookended by Light Sleeper, and American Gigolo bookended by The Walker.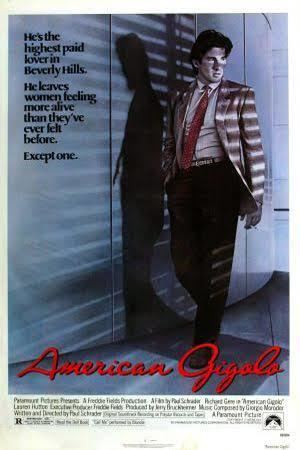 Julian Kaye (Richard Gere) is a male escort in Los Angeles whose job supports and requires an expensive taste in cars and clothes, and affords him a luxury Westwood apartment. He is blatantly materialistic, narcissistic and superficial. However, he takes pleasure in his work from being able to sexually satisfy women, particularly older women.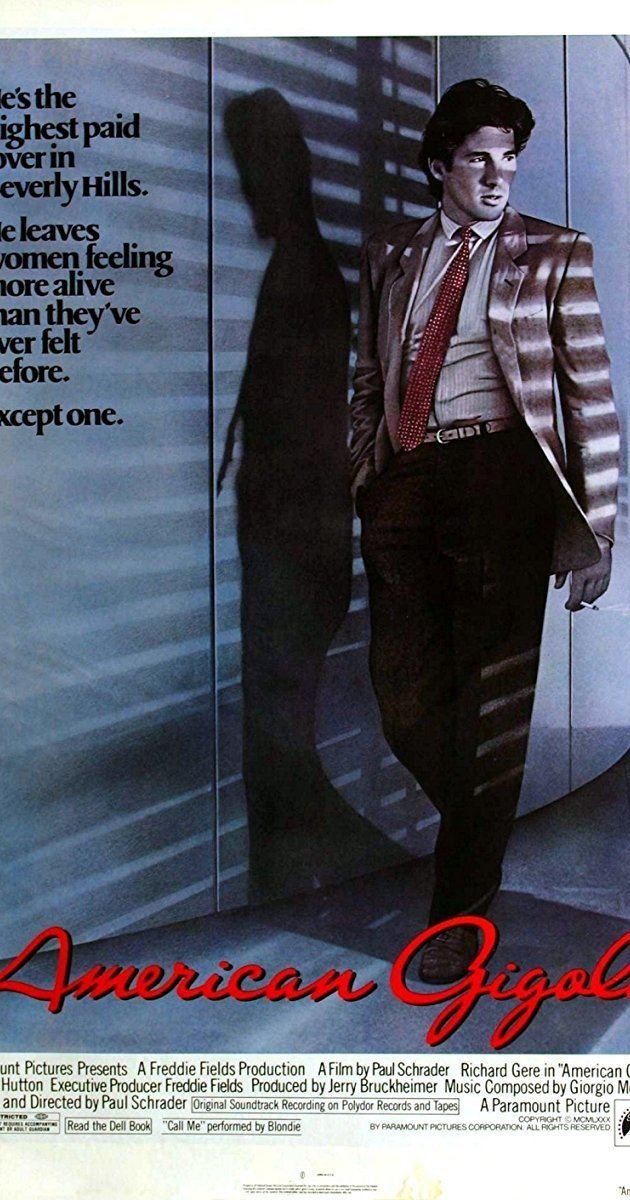 Julian's procuress, Anne (Nina Van Pallandt), sends him on an assignment with a wealthy old widow, Mrs. Dobrun (Carole Cook), who is visiting town. Afterwards, he goes to the hotel bar and meets Michelle Stratton (Lauren Hutton), a senator's beautiful but unhappy wife, who becomes obsessed with him. Meanwhile, another pimp, Leon (Bill Duke), sends him to Palm Springs on a "substitute" assignment to the house of Mr. Rheiman (Tom Stewart), a wealthy financier. Rheiman asks Julian to have violent sex with his wife Judy (Patricia Carr) while he watches them. The next day, Julian berates Leon for sending him to a "rough trick" and makes it clear he does not do kinky or gay assignments. Leon in turn warns Julian that the wealthy, older women he serves will turn on him and discard him without a second thought.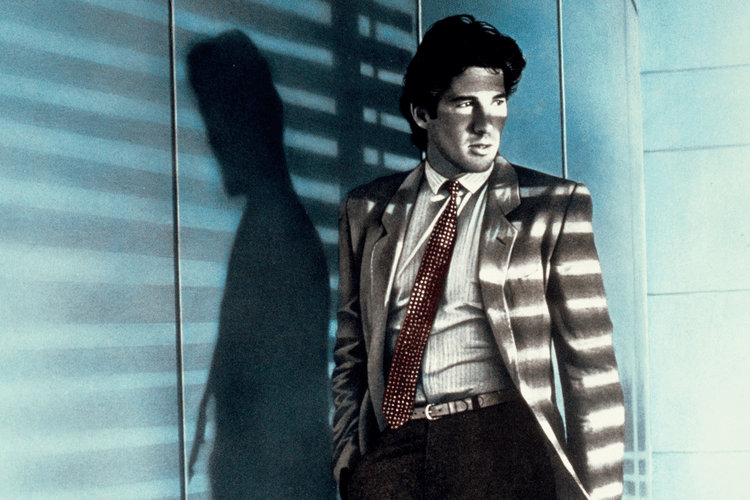 As Julian begins to get to know Michelle, he learns that Judy Rheiman has been murdered. Los Angeles Police Department Detective Sunday (Hector Elizondo) investigates Julian as a primary suspect. Though Julian was with another client, Lisa Williams (K Callan), on the night of the murder, she refuses to give Julian an alibi in order to protect her and her husband's reputations.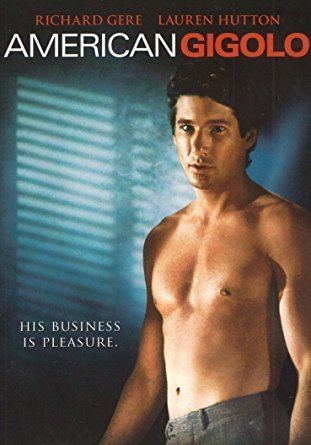 As Julian's relationship with Michelle deepens, evidence implicating him in the murder mounts. He realizes that he is being framed and grows increasingly desperate. His mounting anguish is visually represented by a degeneration in style; his clothes become rumpled, he goes unshaven, and drives a cheap rental car (after ruining his Mercedes to find Judy Rheiman's jewelry planted in it). He neglects to pick up an important client for Anne that he's been scheduled to escort, and she shuns him. Meeting Michelle, he warns her that he is in trouble, and tells her to stay away from him.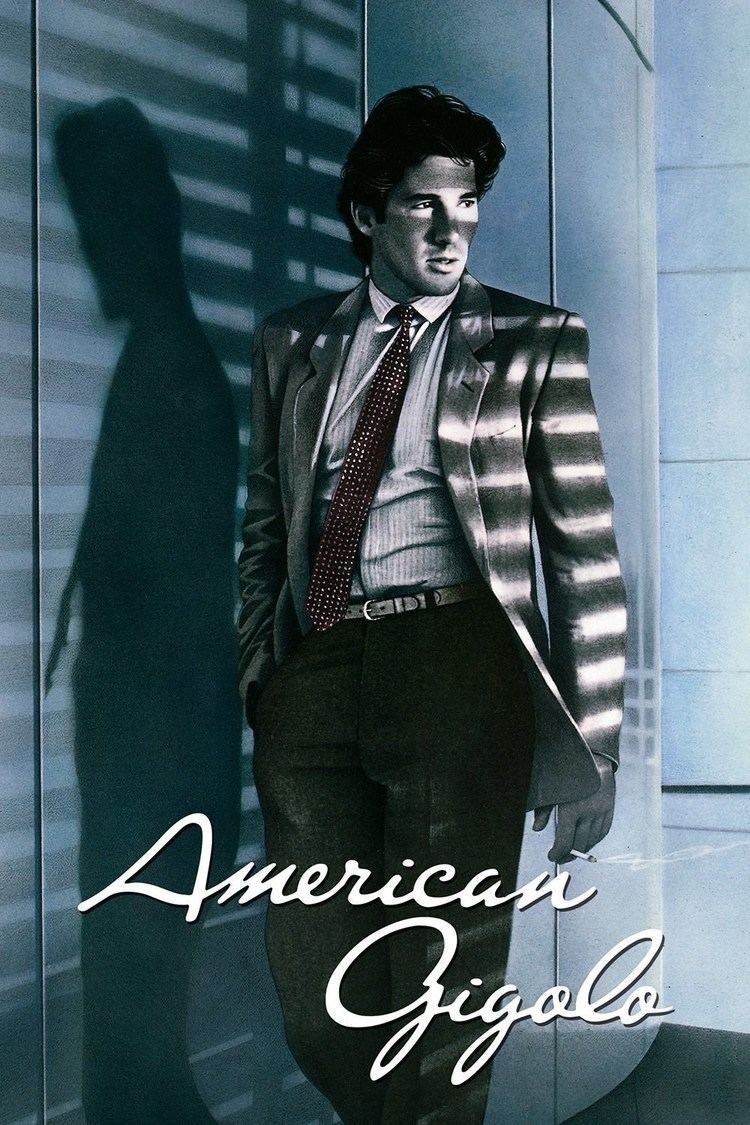 Julian concludes that Leon and Rheiman are the ones trying to frame him, and that one of Leon's other gigolos was the murderer. He goes to confront Leon, telling him he knows everything, but Leon refuses to help him. Julian pleads with Leon to clear his name, even offering to work exclusively for him and do kink and gay assignments, but Leon remains implacable. Julian accidentally pushes Leon over the apartment balcony to his death.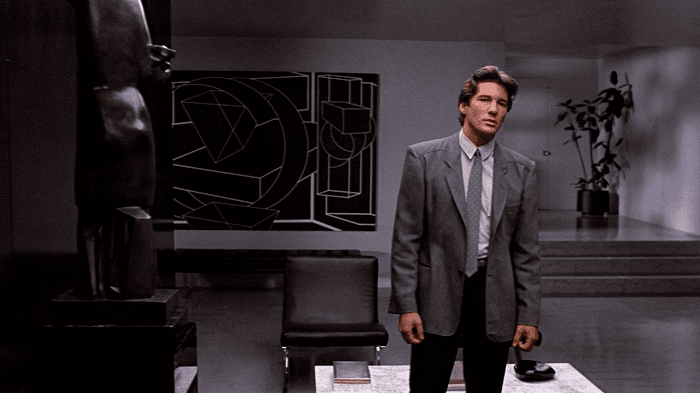 With no one to help him, Julian ends up in jail, hopelessly awaiting trial for the Rheiman murder. However, Michelle sacrifices her reputation and her marriage to provide Julian with the alibi that can save him from prison.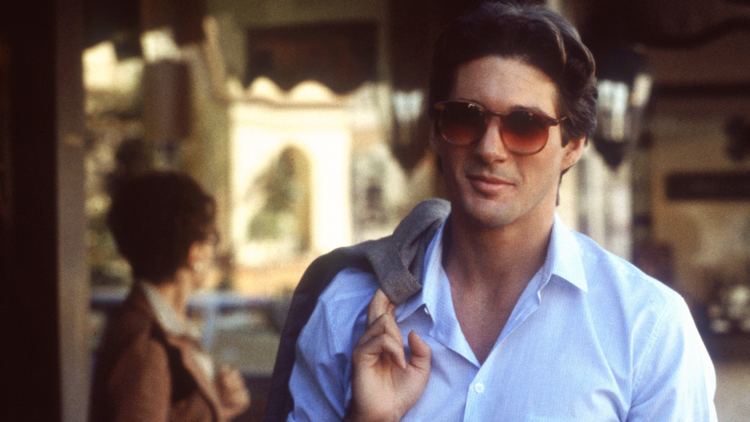 Richard Gere as Julian Kaye
Lauren Hutton as Michelle Stratton
Hector Elizondo as Detective Joe Sunday
Nina van Pallandt as Anne
Bill Duke as Leon
Carole Cook as Mrs. Dobrun
K Callan as Lisa Williams
Tom Stewart as Mr. Rheiman
Patricia Carr as Judy Rheiman
Christopher Reeve reportedly turned down the part of Julian Kaye despite being offered a million-dollar fee, before Richard Gere became attached to the role. Reeve was offered the role by the studio, namely Barry Diller at Paramount Pictures, but writer/director Paul Schrader didn't want to cast him and telephoned Reeves's agent trying to persuade him not to read the script. Gere said in 2012 that he was drawn to the role because of its gay subtext.
"I read it and I thought, 'This is a character I don't know very well. I don't own a suit. He speaks languages; I don't speak any languages. There's kind of a gay thing that's flirting through it and I didn't know the gay community at all.' I wanted to immerse myself in all of that and I had literally two weeks. So I just dove in."
John Travolta became interested in the part and briefly acted in it before getting "cold feet" and being replaced by Gere. This is not the only role that Travolta has turned down only to be taken by Gere: it had previously happened with Days of Heaven (1978) and occurred again when Travolta was offered the lead in both An Officer and a Gentleman (1982) and Chicago (2002). Paul Schrader had threatened to sue Travolta if Richard Gere wasn't cast in the film knowing full well that Travolta had his eye on the script of another Paramount production Urban Cowboy (1980). Gere's very brief nude scenes marked the first time a major Hollywood actor was frontally nude in a film. According to Gere, the nudity was not in the original script.
"It was just in the natural process of making the movie. I certainly felt vulnerable, but I think it's different for men than women."
Julie Christie was originally cast in the role of Michelle Stratton, but her departure was precipitated by Gere's replacement of Travolta. By the time Gere had returned to the project, Lauren Hutton had already been hired. Meryl Streep was also offered the part of Michelle, but declined because she did not like the tone of the film.
Schrader acknowledges that Pickpocket (1959) by the French director Robert Bresson was a direct influence on the film; the composition of the final shot draws heavily from the film, as does the final dialogue. Schrader later provided an introduction to the Criterion Collection DVD of Pickpocket. Schrader re-visited many of the themes of American Gigolo in his 2007 film, The Walker, and says the idea for that film came about while wondering what would have become of the Julian Kaye character.
The film is widely credited to have established Giorgio Armani in Hollywood, since the Italian designer's clothes are featured prominently in Julian Kaye's wardrobe. When John Travolta agreed to star in the film, Armani provided him with many outfits to wear as Julian Kay. When Travolta walked off the project, Schrader hired Richard Gere; Travolta was a svelte six-footer, whereas Gere was much shorter and more muscular, so Armani's wardrobe did not fit Gere. The designer's team had to make new clothing for the smaller actor.
The film's musical score was composed by Giorgio Moroder, who was nominated for the Golden Globe Award for Best Original Score. The main theme song of the film is "Call Me" performed by Blondie. The song was written by Moroder and Blondie vocalist Debbie Harry, and became a huge worldwide hit in 1980. It peaked at number one in various countries including the US and the UK, and became the highest selling single of 1980 in the United States. In 1981, the song was also nominated for a Grammy Award for Best Rock Performance by a Duo or Group with Vocal. Moroder and Harry further shared a nomination for the Golden Globe Award for Best Original Song.
The film received mixed to positive reviews from critics, as the film holds a 67% rating on Rotten Tomatoes based on 21 reviews.
In October 2014, Jerry Bruckheimer announced plans to adapt the movie into a television series. In October 2016, Neil Labute will write the series for Showtime.