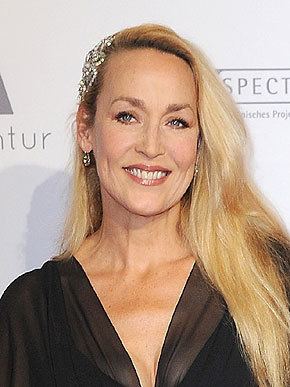 Hall was born in Gonzales, Texas, to Marjorie (née Sheffield; 1924–2013), a medical records librarian, and John P. Hall, a truck driver. She is of English, Irish, and Dutch descent. She was raised in the Dallas suburb of Mesquite, Texas, where she graduated from North Mesquite High School. She also attended the Kim Dawson Modeling Agency. She has a twin sister, Terry, a real estate broker (Terry and Jerry were given these names by their father, who was disappointed that they were not boys) and three older sisters, including actress Cyndy Hall. She moved to France on her own before getting modeling work, bringing a trunk of clothes she purchased from Frederick's of Hollywood with insurance money she received after a car accident.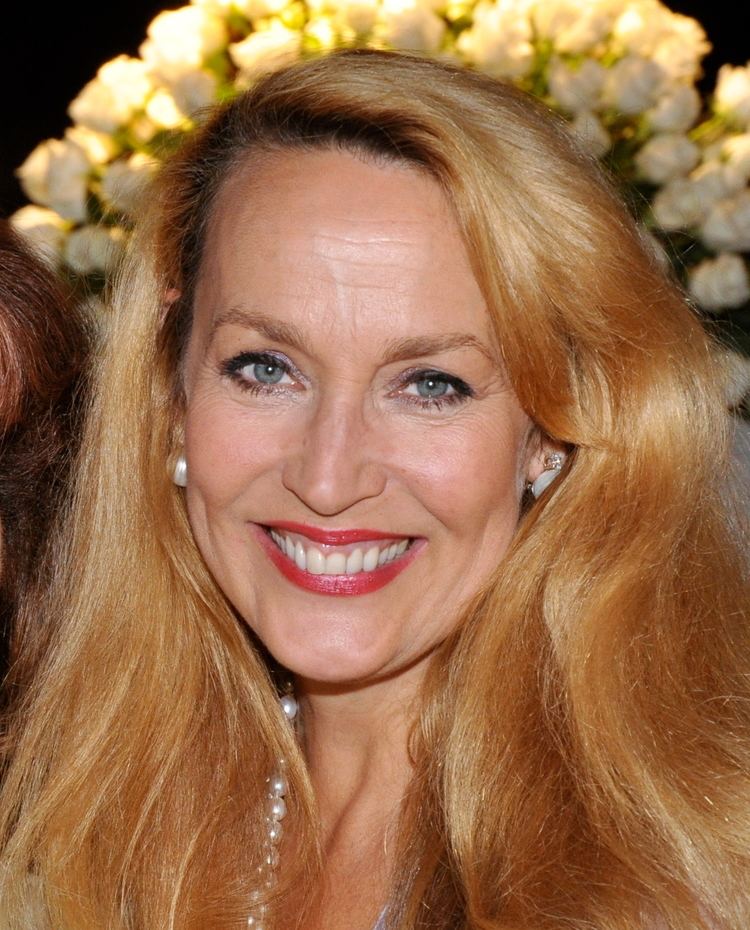 Hall was staying at a hostel on the French Riviera when she was discovered sunbathing on a Saint Tropez beach by fashion agent Claude Haddad. She moved to Paris where she shared an apartment with singer Grace Jones (who at that time was also a model) and Jessica Lange (also modeling) and immersed herself in the Parisian nightlife, often performing risqué cabaret acts in clubs and parties with Jones. Soon after, she moved in with fashion illustrator Antonio Lopez and her modelling career began. She appeared, in the guise of a mermaid, on the cover of Roxy Music's album Siren (1975). A few months later, the group's lead singer, Bryan Ferry, gave her an engagement ring. Her relationship with Ferry continued and she also appeared in the promotional film for his solo hit "Let's Stick Together" (1976).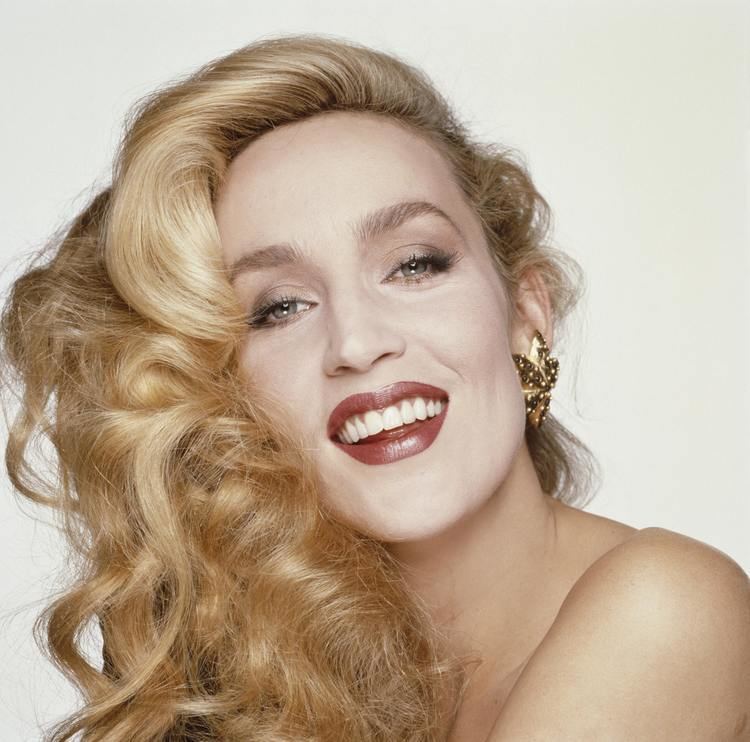 By 1977, Hall had been on 40 magazine covers including Italian Vogue and Cosmopolitan. She was earning modelling fees in excess of $1,000 per day. Her long blonde hair and height of six feet quickly made her one of the most visible and photographed models of the day. That year she met Rolling Stones lead singer Mick Jagger, for whom she would eventually leave Bryan Ferry, at a dinner party in Manhattan. Hall and Jagger were often seen together around New York, frequenting high-profile nightspots of the era such as Studio 54 and 21 Club. The Rolling Stones' song "Miss You", released as a single in May 1978, was written by Jagger for Hall. Many years later, Hall was also the subject of the Bryan Ferry song "Kiss and Tell" (1988) following the publishing of her autobiography, Tall Tales (1985), that included details of their relationship. Bianca Jagger began divorce proceedings as a result of her husband's involvement with Hall.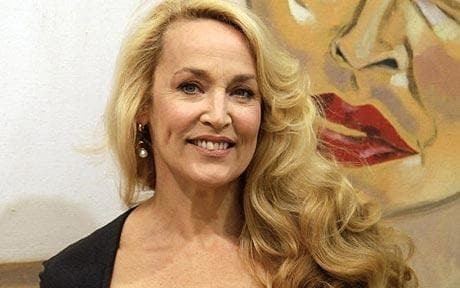 With the large fees Hall commanded as a top model, she was able to buy an 8.1 km2 ranch in Lone Oak, Texas. She continued her modelling career and later moved into acting and television work. She also modeled for artists Francesco Clemente, Ed Ruscha and Lucian Freud.
Hall started dating Mick Jagger in 1977, despite the fact he was already married, after first meeting the previous year. They held an unofficial, private, marriage-like ceremony on November 21, 1990, in Bali, Indonesia. The putative marriage was later declared invalid (i.e. void ab initio) by the High Court of England and Wales in London in 1999. They have four children together: Elizabeth Scarlett (born 1984), James Leroy (born 1985), Georgia May (born 1992), and Gabriel Luke (born 1997). The couple lived together at Downe House, Richmond Hill, in Greater London, which Jagger purchased in the early 1990s. The couple split in 1999. Hall cited Jagger's infidelity as the cause of the break-up.
On October 25, 2015, Hall was reported to be dating business magnate Rupert Murdoch. The couple were seen in public together at the Rugby World Cup final on November 1, 2015. Hall and Murdoch announced their engagement with a listing in Murdoch's The Times newspaper on January 11, 2016. The couple married on March 4, 2016, and were seen together on the final show of American Idol on April 7, 2016.
Hall had a very small role in Urban Cowboy, released in 1980. She appeared in director Tim Burton's Batman (1989), in a supporting role as Alicia Hunt, a gangster's moll who is disfigured by The Joker (played by Jack Nicholson). Her 1990 London West End stage début was playing Cherie in a revival of Bus Stop (a role played by Marilyn Monroe in the film adaption) at the Lyric Theatre in Shaftesbury Avenue.
In 1990, she joined many other guests for Roger Waters' massive performance of The Wall in Berlin. She featured in commercials for Bovril, and played the role of Miss Scarlett in the British television show Cluedo (1993), and in (1993) the (TV series) The Detectives. In the early 2000s, she appeared as Mrs. Robinson in a Broadway production of The Graduate which included a nude scene on stage. Reviewing a preview of the show at London's Gielgud Theatre, Daily Mail critic Quentin Letts described Hall's acting as "wooden as a toothpick" and the performance as "Two fried eggs in the gloaming". She also guest starred on the 23rd episode of season 4 of the sitcom Just Shoot Me!.
Hall appeared as herself in the documentary Being Mick (2001) and appeared in Brighton in the play Picasso's Women in 2002. She starred in a new reality series on VH1 called Kept (2005), revolving around her search for a "boytoy". The 12 American contestants were asked to transform from boys to refined gentlemen through a series of challenges, and mastering skills like arts, sports, cooking, and fitting into high society. According to an interview with the winner, he never saw Hall again following the show.
Also in 2005, Hall appeared on the West End stage playing Mother Lord in the first London production of Cole Porter's High Society, and also provided the voice for Sister Penelope in the British cartoon Popetown. In 2007 she guest-starred on the British TV show Hotel Babylon. She has also appeared in the BBC comedy series French and Saunders. Her autobiography, Jerry Hall: My Life in Pictures, was published in 2010.
In June 2012, Hall made a one-week appearance with David Soul at the Gaiety Theatre, Dublin, in a reprise of the Pulitzer Prize nominated play by A. R. Gurney, Love Letters.
On September 10, 2012, Hall was announced as a contestant for the tenth series of the British dance show Strictly Come Dancing. Her professional partner was Anton du Beke. She was the second celebrity to be eliminated from the competition.
In the TV series Who Do You Think You Are?, Hall discovered that she was descended from Humphrey Best, an associate of American patriot and icon Daniel Boone.