Other names

Raj Kumar, Annavru

Died

April 12, 2006, Bengaluru

Name

Singanalluru Muthuraju

Monuments

Kanteerava Studios

Height

5 ft 7 in (170 cm)







Full Name

Singanalluru Puttaswamayya Muthuraju

Born

24 April 1929 (

1929-04-24

)

Gajanur, Madras Presidency, British India

Children

Puneeth Rajkumar

,

Shiva Rajkumar

,

Raghavendra Rajkumar,

Poornima,

Lakshmi

Movies

Babruvahana

,

Chalisuva Modagalu

,

Haalu Jenu

,

Hosa Belaku

,

Anuraga Aralithu




Similar People

Puneeth Rajkumar

,

Shiva Rajkumar

,

Parvathamma Rajkumar

,

Raghavendra Rajkumar

,

Veerappan
Tribute to dr rajkumar actor singer kannada film naanobba kalla jukebox
Singanalluru Puttaswamayya Muthuraju (24 April 1929 – 12 April 2006), known mononymously by his stage name Rajkumar, was an Indian actor and singer in the Kannada cinema. Widely acclaimed as one of the finest actors in the history of Indian Cinema, he is considered a cultural icon, and holds a matinée idol status in the Kannada diaspora, among who, he is popularly adulated as Nata Saarvabhouma (Emperor of Actors), Bangarada Manushya (Man of Gold), Vara Nata (Gifted Actor) and Rajanna (Brother Raj).
Contents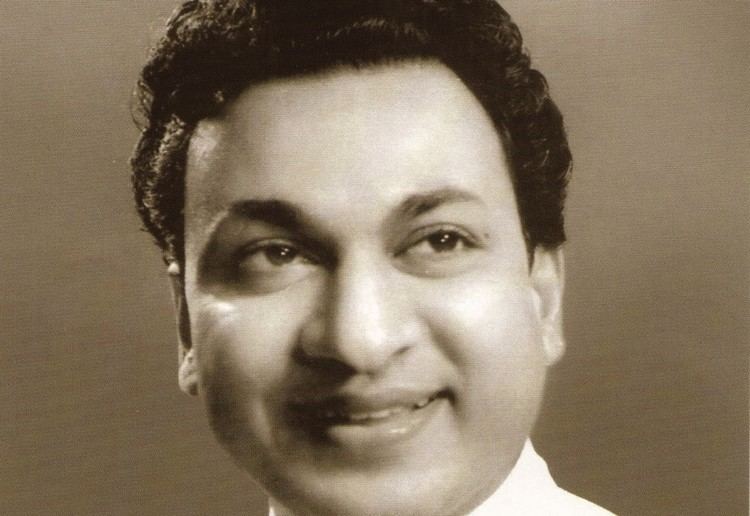 A method actor, Rajkumar entered the film industry after his long stint as a dramatist with Gubbi Veeranna's Gubbi Drama Company, which he joined at the age of eight, and got his first break as a lead in the 1954 film Bedara Kannappa. He went on to work in over 220 films essaying a variety of roles, and excelling in portraying mythological and historical characters in films such as Bhakta Kanakadasa (1960), Ranadheera Kanteerava (1960), Satya Harishchandra (1965), Immadi Pulikeshi (1967), Sri Krishnadevaraya (1970), Bhakta Kumbara (1974), Mayura (1975) and Babruvahana (1977) and Bhakta Prahlada (1983). Trained in classical music during his theatre days, Rajkumar also became an accomplished singer in Kannada cinema and despite imperfections in Shruti and pitch, he came to be known for his diction in the language. He mostly sang for his own films since 1974. The songs "Yaare Koogadali", "Huttidare Kannada", "Hey Dinakara" and "Naadamaya" became widely popular. For his rendition of the latter song, he was awarded the National Film Award for Best Male Playback Singer. Well known for his highly disciplined and simple lifestyle in both personal and professional fronts, Rajkumar was also an avid Yoga, Pranayama and Carnatic music performer. In 2000, he was kidnapped from his farm house at Gajanur by Veerappan and was released after 108 days. His final screen appearance came in Jogi in 2005. He died of cardiac arrest at his residence in Bangalore on 12 April 2006 at the age of 77.
In his film career, Rajkumar received eleven Karnataka State Film Awards, Eight South Filmfare Awards, one National Film Award. He received the NTR National Award in 2002. He was awarded an honorary doctorate from the University of Mysore, and is a recipient of the Padma Bhushan in 1983 and the Dadasaheb Phalke Award in 1995 for the lifetime contribution to Indian Cinema.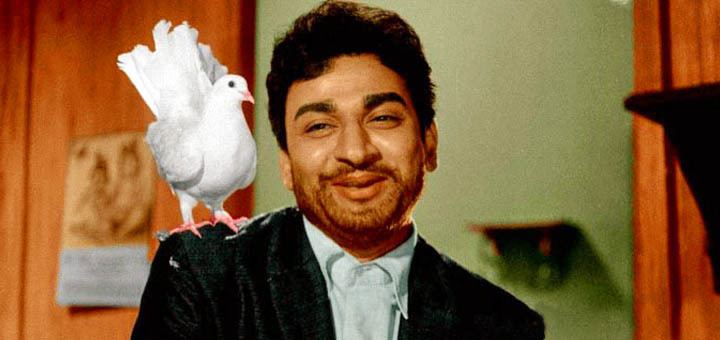 Kannada actor puneeth rajkumar family pictures
Early life
Rajkumar was born on 24 April 1929 in Gajanur, a hamlet in a predominantly Kannada-speaking Talavadi taluk in the erstwhile Madras Presidency (in present-day Erode district, Tamil Nadu). His father, Puttaswamayya and mother, Lakshmamma were impoverished theatre artists from Singanallur. Puttaswamayya was good at playing roles like Kamsa, Ravana and Hiranyakashipu. Rajkumar left school at eight and was later discovered by film producers, who cast him in bit roles that he played till he was 25. Originally, he was named Mutturaja, after the Muthaththii Raya (a name for the Hindu deity Hanuman), which is a temple deity located in Muthathi, a settlement on the banks of river Kaveri in present-day Karnataka.
Before acting in what would become his first film as a lead, Bedara Kannappa in 1954, he appeared in Sri Srinivasa Kalyana in 1952, as one of the seven Saptarishi (sages). It was an insignificant role, he remembered the scene was over before he recognized himself in the scene.
As actor
Rajkumar started his career with his father in a troupe led by Gubbi Veeranna. In 1953, he was spotted by film director H. L. N. Simha who was on lookout for well-built, pleasant-faced Bedara Kannappa. Simha eventually signed him for the film and christened him "Rajkumar".
He acted only in Kannada apart from Sri Kalahastiswara Mahatyam in Telugu, a remake of Bedara Kannappa. He acted in 206 movies, excluding his guest appearance. He owned production company called Vajreshwari Production under banner Dakshayani Combines. Bhaagyada Baagilu was his 100th film, Devataa Manushya was 200th film, and Shabdavedhi was last film.
His character depictions ranged from love to double and triple roles, from action and mythological characters to portrayals of contemporary social causes in spanning over five decades. Rajkumar along with his contemporaries Udaya Kumar and Kalyan Kumar were "Kumara Thrayaru" of the Kannada cinema. He acted in 36 films with Udaya Kumar and in 5 films with Kalyan Kumar. The films presented a populist version of Karnataka's history, focusing on the southern kingdoms from the Vijayanagara Empire and later to the intrigue and mystery of the Mysore royalty.
He made historical movies like Ranadheera Kanteerava, Kaviratna Kalidasa. He made movies from Kannada novels and made movies against perceived social evils like Shabdavedhi on drug abuse. He acted with heroines of southern cinema such as Jayanti (36 films), Pandaribai (18 films), Leelavathi (28 films), Bharati (28 films), Kalpana (19 films), Aarathi (13 films), B. Saroja Devi (10 films), Harini (11 films), Krishna Kumari (8 films), Madhavi (6 films), Manjula (7 films), Jayamala (6 films), Lakshmi (5 films), Geetha (5 films), Saritha (5 films), Jayaprada (4 films). Bollywood actress Rekha made her debut in Operation Jackpotnalli CID 999 with him. He acted for south Indian directors from B.R. Pantulu and Puttanna Kanagal to Shankar Nag and T. S. Nagabharana. Chi. Udaya Shankar has written dialogues and songs for his 85 movies.
Rajkumar is the first Indian artist to enact a role of James Bond in Jedara Bale. Later, in Operation Jackpotnalli CID 999, Goadalli CID 999, and Operation Diamond Racket where he played roles chronicling the adventures of Prakash aka Agent CID 999, a James Bondesque superspy. Much of these films was made from the directors pair of Dorai and Bhagwan who began making spy flicks relatively later in their career, including Operation Diamond Racket.
As singer
Rajkumar trained in classical music when he was with Gubbi Veeranna's theatre troupe. The song "Om Namaha Shivaya" from the 1956 film Ohileshwara, that he also starred in, was his first in a film. He subsequently sang "Thumbithu Manava" for Mahishasura Mardini (1959). However, he became a full-fledged singer only in 1974 when he sung in place of P. B. Sreenivas for Sampathige Savaal, who had till then sung for most songs picturised on Rajkumar, fell ill. Rajkumar sang the "energetic" song "Yaare Koogadali" for the film which became widely popular during the time and is considered one of his best songs.
Rajkumar has been credited for having sung songs of various genres and each rendition according to the mood of the scene in the film. In "Yaaru Tiliyaru Ninna" for Babruvahana (1977), a prosodic form of Kannada poetry, that required the tone to be a combination of sarcasm and anger, he blended the "twin skills of theatrics and music". For Nee Nanna Gellalare (1981), he sang two songs — "Jeeva Hoovagide" and "Anuraga Enaytu" — beginning both with the refrain "I love you", that is "full of Carnatic gamakas". After the same tone in the refrain, they "take on a life of their own", with the form according to "love and happiness" in the scene and the latter when there is "love, but a discord" in the scene. He is known widely for his rendition of "Nadamaya" for Jeevana Chaitra (1992), a song based on raga of Todi, and "with ... complex graces, and strings other ragas as it progresses. He switches ragas with ease, and sings complex swara patterns like a professional classical artiste." For the rendition, he was awarded the National Film Award for Best Male Playback Singer. His frequent collaboration with the composer duo of Rajan–Nagendra gave musical hits such as Bangarada Hoovu (1967), Nyayave Devaru (1971), Swayamvara (1973), Sri Srinivasa Kalyana (1974), Chalisuva Modagalu (1982).
Rajkumar has sung and enacted for songs about Kannadigas, Kannada language and culture, such as "Jenina Holeyo" from Chalisuva Modagalu, "Maanavanagi Huttidmele" from Jeevana chaitra and "Huttidare Kannada Naadal Huttabeku" from the film Aakasmika. He sang a complete English song called "If You Come Today" ("Tick Tick Tick") in one of his Bond films – Operation Diamond Racket in 1978. This song became an internet meme in India following Rajkumar's demise in 2006.
In later years, he lent his voice to few actors and sang background solos. For the song Kannappa Kottanu, from Muddina Maava he provided playback to S. P. Balasubrahmanyam. This was a rare occasion. He sang Kalidasa shlokas like "Maanikya Veena" and ghazal based songs like "Sadaa Kannale", "Kanneera Dhaare" and "Yaava Kaviyu".
Devotional songs
Rajkumar recorded many devotional songs beginning 1970s for Columbia Recording Company starting with "Mantralayakke Hogona" in 1972. His widely popular LP record "Guruvara Bantamma" was also recorded during the time. In 1979, Sangeetha Cassettes became India's first licensed pre-recorded cassettes. Rajkumar sang for the record producers devotional songs glorifying the saint Raghavendra and the Hindu deity Hanuman.
Family
Rajkumar married a 14-year-old Parvathamma Gowda, his cousin, on 25 June 1953 in Nanjangud. It went ahead in accordance to the agreement that their fathers made following the latter's birth. Together, they had five children; sons Shiva, Raghavendra and Puneeth, and daughters Lakshmi and Poornima. Having lived a "hand to mouth existence" post marriage in a joint family that included 24 children in Madras, the family moved to Bangalore in 1972, after Rajkumar began getting multiple film offers.
Abduction
On 30 July 2000, Rajkumar, his son-in-law Govindaraju, and two others were abducted by Veerappan from the actor's palatial house at Gajanur (Erode district of Tamil Nadu). Veerappan demanded the release of his gang members who were being held in jail under a defunct anti-terrorism law. The event prompted a massive manhunt and threw the Karnataka government into crisis. The Supreme Court of India opined that it was "unpardonable" on the part of the government of Tamil Nadu for not providing security to Rajkumar, although they had information a year earlier that he faced a threat of being kidnapped by Veerappan. A Special Task Force (STF) set up to capture Veerapan had earlier warned Rajkumar against visiting the farmhouse, but his son Raghavendra later acknowledged that his father had not taken the threat seriously.
After a total of 108 days in captivity, Rajkumar was released unharmed on 15 November 2000. His abduction and the manner in which his release was secured are a mystery.
Death and memorial
On 12 April 2006, Rajkumar returned to his Sadashivanagar residence after his regular 20-minute walk and had a general medical check-up by 11:30 a.m. (IST). At 1:50 pm (IST), as he sat on a sofa, he asked a member of his family to slow the fan down and immediately collapsed. His personal physician Ramana Rao was called for, who rushed within three minutes, and performed external cardiac massage and mouth-to-mouth resuscitation. Rajkumar was then taken to MS Ramaiah Memorial Hospital and was administered intracardiac injections. Efforts to revive him failed and was pronounced dead at 2:05 pm (IST).
Rajkumar's death triggered an outpouring of grief. There was major shutdown in the city of Bengaluru. An unofficial bandh (closure of all shops and other establishments) was observed. Several people attempted suicide after hearing the news; most of them were rescued. The funeral cortège the next day started from Sree Kanteerava Stadium to Kanteerava Studios a few minutes before 12:30 pm (IST), a distance of 14 kilometres (8.7 mi). Around two million people followed his remains. However, the entire cortège was marked with violence with mourners attacking public property and police, who resorted to lathicharge and tear gas. Passing through Krishna Raja Circle, Palace Road, T. Chowdiah Road, Sadashivanagar, Yeswanthpur and Goraguntepalya localities, the cortège reached the Studios at 4:45 pm (IST). His body was buried with State honors at 5:45 p.m (IST) at the premises of the Studios. The last rites were performed by his eldest son Shiva guided by priests from the city's ISKCON and the Gayathri Temples. His eyes were donated to two visually impaired persons the same day.
On 19 April, the government of Karnataka announced that a memorial would be made in Rajkumar's honor at Kanteerava Studios in association with the Karnataka Film Chamber of Commerce at the cost ₹100 million. The blueprint of the memorial was constituted by a panel comprising members of Rajkumar's family, representatives of the Kannada film industry and the state government. After delay over allocation of funds and land, it was finally opened in November 2014, after a sum of ₹70 million was used in developing it over an area of 2.5 acres (1.0 ha). It included "an open-air auditorium, mini-water body, landscaping, and a bust" of Rajkumar. 40 photographs of selected films of Rajkumar were kept on display at the inauguration. A permanent exhibition on the history of Rajkumar's films that included his photographs, trophies and souvenirs, alongside a stock of dialogue, scripts, songs and other memorabilia associated with him were put on display. An annual calendar for 2012 was released containing photographs of Rajkumar and stills from his films.
Personality
Rajkumar was best regarded for being a highly disciplined man in both his personal and professional lives. He practised Carnatic music for an hour each in the morning and in the evening. His punctuality is another noted aspect. Waking up every morning at 4 am, he performed Yoga and Pranayama, which is said to be the reason behind his physical and mental fitness. His Yoga performances can be seen in the first clips of his film Kaamana Billu. Rajkumar is the first actor of the world cinema who had mastered Yoga.
He shunned smoking and drinking both on screen and off. To avoid setting a precedent among his fans, he made sure that the roles he accepted did not require him to smoke or drink or utter swear words, and extended this decision to real life. His dress code always consisted of simple white dhoti and shirt. He spent most of his vacations in his hometown, Gajanur, near the forest area where he was later abducted.
He estimated producers as "Anna Daataru" (food providers) and adored fans as "Abhimaani Devarugalu"(Fan Gods).
He was a devotee of Raghavendra Swami.
Kannada language movement
Although Rajkumar rejected numerous offers to don the political mantle, he was able to influence the State's political fortunes without ever being officially in politics. However, his apolitical outlook did not prevent him from protecting and espousing the cause of Kannada and Karnataka. He had time and again advocated the cause of seeking primacy to Kannada, and hence was asked to lead a movement about making Kannada a compulsory language for primary education based on the "Gokak report," popularly known as Gokak varadhi. He became actively involved in the movement and soon became the force behind the Gokak movement. He took a rally from Belagavi to Bengaluru and gave speeches about the importance of Kannada. Millions of people gathered only to have a glimpse of Rajkumar and listen to his speech. The movement became such a rage that the government relented and made Kannada a compulsory language of education in Karnataka.
Awards and honours
Rajkumar was awarded numerous State, National & International awards. He was a recipient of the Padma Bhushan, a doctorate from Mysore University, and the Karnataka Ratna, the highest civilian honour of the State of Karnataka, recognising him as a "Jewel of Karnataka State".In 1985, he was honored by a famous Kentucky colonel award by the then-governor of Kentucky, United States. By this he became the only Indian actor to receive this prestigious from the Kentucky state, United States of America. In 1995 he received the prestigious Dadasaheb Phalke Award for his outstanding contributions to the Kannada film industry. In 2011, during the 83rd birth anniversary of Rajkumar, the Chief Minister of Karnataka announced that the state government is recommending Rajkumar for a Bharat Ratna, the highest civilian award of the country for his outstanding contribution to the film industry.
National Film Awards
1992 – Best Male Playback Singer for the song "Naadamaya Ee Lokavella" from the movie Jeevana Chaitra
1995 – Dadasaheb Phalke Award
2002 – NTR National Award
Filmfare Awards South
Rajkumar holds the record of winning Eight South Filmfare Awards in the Best Actor category in Kannada cinema. Below is the films for which he received Best Actor awards include:
Gandhada Gudi in 1973
Mayura in 1975
Shankar Guru in 1978
Keralida Simha in 1981
Shravana Banthu – 1984
Ade Kannu – 1985
Bhagyada Lakshmi Baramma – 1986
Aakasmika in 1993
Total of 8 filmfare awards for best actor category.
Karnataka State Film Awards
Rajkumar has won 13 Karnataka State Film Awards (9 for best actor, 2 for best singer, 1 lifetime achievement)
Best Actor:
1967–68 – Bangaarada Hoovu
1970–71 – Kula Gourava
1974–75 – Bhakta Kumbara
1976–77 – Babruvaahana
1981–82 – Hosa Belaku
1982–83 – Haalu Jenu
1988–89 – Devatha Manushya
1992–93 – Jeevana Chaitra
1993–94 – Odahuttidavaru
Best Singer:
1993–94 -Aakasmika – Huttidare Kannada Naadal Huttabeku
1994–95 – Thayi Illada Thavaru – Arishina kunkuma
Other Awards and Honours
Padma Bhushan in 1983.
Karnataka Ratna in 1992 and Title: Nata Saarvabhouma in 1967 from the Government of Karnataka.
An honorary Doctorate from the Mysore University in 1976.
Kentucky colonel, an honorary order from the governor of Kentucky, United States in 1985.
Postal Stamps and Gold coins having the actor's face were issued in 2009 by Central Government of India.
More than 1100 statues of Rajkumar are placed in Karnataka. A statue in the Mayura touch placed in Basaveshwaranagar worth 10 million rupees.
The Nadoja Award, an honorary Doctorate from Hampi University in 1999.
Nine Karnataka State Film Awards in the Best Actor category.
Two Karnataka State Film Awards in the Best Male Playback Singer category.
"Vishwa Maanava" named by Kannada poet Kuvempu.
Etv Kannadiga of the Year Award in 2003.
A 6-kilometre (3.7 mi) road is named Dr. Rajkumar road. The road stretches from government soap factory in Yeshwanthpur to Prasanna theater, Magadi road in Bangalore.
On 24 April 2017, Rajkumar's 88th birth anniversary, Google India dedicated a Google Doodle in his honor.
Sarthaka Suvarna
On July 2005, government of Karnataka captioned by N. Dharam Singh, the Chief Minister of Karnataka conducted a felicitation ceremony for honoring Rajkumar for his (50 years of) services to Karnataka at Bangalore Palace named Sarthaka Suvarna (Significant Gold). This ceremony was attended by the entire Kannada film industry marking respect and tribute to the legend, and could be called as an official celebration of Golden Jubilee of Rajkumar's works and services to Kannada film industry.
Filmography
Actor
2000
Shabdavedi
as
Inspector Sandeep
1994
Gandhada Gudi Part 2
as
Kumar
1994
Odahuttidavaru
as
Ramanna
1993
Akasmika
as
Narasimha Murthy
1992
Jeevana Chaitra
as
Vishwanathaiah
1988
Devatha Manushya
as
Krishna Murthy
1988
Shiva Mecchida Kannappa
as
Shiva
1987
Ondu Muthina Kathe
as
Aithu
1987
Shruti Seridaga
as
Murthy
1986
Anuraaga Aralithu
as
Shankar
1986
Bhagyada Lakshmi Baramma
as
Panduranga
1985
Ade Kannu
as
Jagannatha Rao / Gopi
1985
Jwalamukhi
as
R. Jayasimha
1984
Apoorva Sangama
as
Santosh / Gopi
1984
Samayada Gombe
as
Anil / Gurumurthy
1983
Kamana Billu
as
Suryanarayana
1983
Eradu Nakshatragalu
as
Vijaya
1983
Bhakta Prahlada
as
Hiranyakashipu
1983
Kavirathna Kaalidaasa
as
Kaalidaasa / Dushyantha
1982
Chelisuva Modagalu
as
Mohan
1981
Havina Hede
as
Mutthanna / Raj
1981
Keralida Simha
as
Shankar
1981
Nee Nanna Gellalare
as
Srikanth
1980
Ravichandra
as
Ravi / Chandra
1980
Vasantha Geetha
as
Vasantha
1979
Nanobba Kalla
as
Gopi / Chandrasekhar / Self
1979
Huliya Halina Mevu
as
Chengumani
1978
Operation Diamond Racket
as
Prakash
1978
Thayige Takka Maga
as
Kumar
1978
Shankar Guru
as
Rajashekhar / Shankar / Gurumurthy
1977
Veer Arjun
as
Arjun / Babruvahan
1977
Sanadhi Appanna
as
Appanna
1977
Babruvahana
as
Arjun / Babruvahana
1976
Badavara Bandhu
as
Ranganatha
1976
Na Ninna Mareyalare
as
Anand
1976
Premada Kanike
as
Manohar
1975
Trimurthi
as
Sridhar / Vijay / Shekhar / ...
1975
Daari Tappida Maga
as
Prakash 'Prashanth' / Prasad
1974
Eradu Kanasu
as
Ramachandraraya
1974
Shri Srinivasa Kalyana
as
Lord Srinivasa
1974
Sampathige Saval
as
Veerabhadra
1973
Bangaarada Panjara
as
Beera
1973
Devaru Kotta Thangi
as
Raghu
1973
Mooruvare Vajragalu
as
Narada / Krishna
1972
Hrudaya Sangama
as
Rajanna / Kumar
1972
Jaga Mechida Maga
as
Aaditya
1972
Bangarada Manushya
as
Rajiv
1971
Kula Gourava
as
Raghunath Rao / Ravi 'Chandrashekharaiah' / Shankar
1971
Shri Krishna Rukmini Satyabhama
as
Krishna
1970
C.I.D. Rajanna
as
Rajanna / Kumar
1970
Karulinakare
as
Parameshi
1970
Mr. Rajkumar
as
Raj / Kumar / Farooq Baba
1970
Paropakari
as
Mohan / Ramanna
1970
Kasturi Nivasa
as
Ravi Varma
1970
Baalu Belagithu
as
Shankar / Papanna
1970
Bhale Jodi
as
Ramesh / Suresh
1970
Bhoopathiranga
as
Bhaskar / Bhoopathi Ranga
1970
Sri Krishna Deva Raya
as
Krishnadeva Raya
1969
Gandondu Hennaru
as
Anand
1969
Malammana Pavada
as
Chandrakantha
1969
Mayor Muthanna
as
Muthanna
1969
Operation Jackpot Nalli C.I.D 999
as
Prakash
1969
Churi Chikanna
as
Chikkanna
1968
Bangalore Mail
as
Shyamsundar
1968
Goa Dalli CID 999
as
Prakash
1968
Hannele Chiguridaga
as
Prasad
1968
Mahasati Arundhati
as
Vasishtha
1968
Operation Jackpot
as
Prakash
1967
Beedhi Basavanna
as
Gopal Rao
1967
Chakra Teertha
as
Damodara
1967
Devara Gedda Manava
as
Vijaya
1967
Immadi Pulakesi
as
Pulakeshi
1967
Parvathi Kalyanam
as
Bhagwan Sri Shiva
1967
Rajasekara
as
Shekharavarma
1967
Sati Sukanya
as
Chyavana Maharshi
1966
Emmay Thammanna
as
Thammanna / Murali
1966
Kiladi Ranga
as
Sanjaya / Ranga
1966
Madhu Malathi
as
Trivikramasena
1966
Mantralaya Mahatme
as
Raghavendra Swami
1966
Mohini Bhasmasura
as
Bhasmasura
1966
Shri Kannika Parameshwari Kathe
as
Dinna
1966
Sandhya Raga
as
Lakshmana
1966
Balanagamma
as
Karyavardhiraju
1965
Chandrahasa
as
Chandrahasa
1965
Madhuve Madi Nodu
as
Vasu
1965
Mahasati Ansuya
as
Narada
1965
Satya Harishchandra
as
Harishchandra
1965
Sarvagna Murthy
as
Sarvajna
1964
Chandavalliya Tota
as
Hanuma
1964
Navakoti Narayana
as
Purandara Dasa
1964
Shivarathri Mahatme
as
Vijaya
1964
Tumbidakoda
as
Ramachandra
1964
Shivagange Mahatme
as
Sukumara
1963
Chandrakumara
as
Prachanda
1963
Malli Madhuve
as
Ananda / Paramananda
1963
Sati Shakthi
as
Virupaksha / Rakthaksha
1963
Shri Ramanjaneya Yuddha
as
Rama
1963
Veera Kesari
as
Shurasena / Narasimha Nayaka
1962
Devasundari
as
Shankhapala
1962
Kittur Chennamma
as
Mallasarja
1962
Mana Mechhida Madadi
as
Ramesh
1962
Rani Chanamma
as
Raja Mallasarja
1962
Tejaswini
as
Shivappa Nayaka
1962
Karuneye Kutumbada Kannu
as
Kumar
1961
Kantheredu Nodu
as
Bopanna
1961
Kaivara Mahatme
as
Narayanappa
1960
Ashasundari
as
Gunasheela
1960
Bhakta Kanakadasa
as
Kanakadasa
1960
Dashavtara
as
Hiranyakashipu / Ravana / Shishupala
1960
Ranadheera Kanteerava
as
Kanteerava
1959
Dharma Vijaya
as
Saradara Vijaya
1959
Jagajyothi Basaveshwara
as
Bijjala
1959
Mahishasura Mardini
as
Mahishasura
1958
Shri Krishna Garudi
as
Arjuna
1957
Sati Nalayini
as
Kaushikha
1957
Rayara Sose
as
Dr. Govind
1956
Hari Bhakta
as
Hari / Pundarika
1956
Tenali Ramakrishna
as
Tenali Ramakrishna
1956
Bhaktha Vijaya
as
Santoba Pavar
1954
Sri Kalahastiswara Mahatyam
as
Thinnayya / Kannappa
1952
Shri Srinivas Kalyana
as
Agasthya Maharshi
Music Department
2008
Vamshi (playback singer)
2007
Jeevana Dhaare (playback singer)
2003
Meese Chiguridaga (playback singer)
2003
Chigurida Kanasu (playback singer)
2003
Abhi (playback singer)
2002
Appu (playback singer)
2000
Devara Maga (playback singer)
2000
Indradhanush (playback singer)
2000
Hagalu Vesha (playback singer)
2000
Shabdavedi (playback singer)
1999
Idhu Entha Premavayya (playback singer)
1999
Vishwa (playback singer)
1999
Hrudaya Hrudaya (playback singer)
1999
Hoomale (playback singer)
1999
Tuvvi Tuvvi Tuvvi (playback singer)
1999
Janumadatha (playback singer)
1998
Gadibidi Krishna (playback singer)
1998
Swasthik (playback singer)
1998
Bhoomi Thayiya Chochchala Maga (playback singer)
1998
Baaro Nanna Muddina Krishna (playback singer)
1998
Kurubana Rani (playback singer)
1997
Janani Janma Bhoomi (playback singer)
1997
Raaja (playback singer)
1997
Maduve (playback singer)
1997
Simhada Mari (playback singer)
1997
Ellaranthalla Nanna Ganda (playback singer)
1997
Enoondre (playback singer)
1996
Hetthavaru (playback singer)
1996
Janumada Jodi (playback singer)
1996
Mouna Raga (playback singer)
1996
Soothradhara (playback singer)
1996
Minugu Thare (playback singer)
1996
Baalida Mane (playback singer)
1996
Aadithya (playback singer)
1996
Arishina Kumkuma (playback singer)
1996
Dhani (playback singer)
1996
Circle Inspector (playback singer)
1996
Geluvina Saradara (playback singer)
1996
Shreemathi Kalyana (playback singer)
1996
Gajanura Gandu (playback singer)
1995
Sangeetha Sagara Ganayogi Panchakshara Gavai (playback singer)
1995
Shravana Sanje (playback singer)
1995
Dore (playback singer)
1995
Thaliya Sowbhagya (playback singer)
1995
Thayi Illada Thavaru (playback singer)
1994
Sagara Deepa (playback singer)
1994
Gandhada Gudi Part 2 (playback singer)
1994
Odahuttidavaru (playback singer)
1993
Munjaneya Manju (playback singer)
1993
Akasmika (playback singer)
1993
Jaga Mechida Huduga (playback singer)
1992
Jeevana Chaitra (playback singer)
1992
Purushotthama (playback singer)
1991
Hrudaya Haadithu (playback singer)
1991
Kalyana Mantapa (playback singer)
1991
Modada Mareyalli (playback singer)
1990
Aasegobba Meesegobba (playback singer)
1989
Parashuram (playback singer)
1989
Nanjundi Kalyana (playback singer)
1988
Devatha Manushya (playback singer)
1988
Ranaranga (playback singer)
1988
Shiva Mecchida Kannappa (playback singer)
1987
Ondu Muthina Kathe (playback singer)
1987
Shruti Seridaga (playback singer)
1986
Guri (playback singer)
1986
Anuraaga Aralithu (playback singer)
1986
Bhagyada Lakshmi Baramma (playback singer)
1985
Ade Kannu (playback singer)
1985
Dhruva Tare (playback singer)
1985
Jwalamukhi (playback singer)
1984
Apoorva Sangama (playback singer)
1984
Samayada Gombe (playback singer)
1984
Yarivanu? (playback singer)
1984
Shravana Banthu (playback singer)
1983
Kamana Billu (playback singer)
1983
Eradu Nakshatragalu (playback singer)
1983
Bhakta Prahlada (playback singer)
1983
Kavirathna Kaalidaasa (playback singer)
1982
Halu Jenu (playback singer)
1982
Hosa Belaku (playback singer)
1982
Chelisuva Modagalu (playback singer)
1981
Bhagyavantha (playback singer)
1981
Havina Hede (playback singer)
1981
Keralida Simha (playback singer)
1981
Nee Nanna Gellalare (playback singer)
1980
Ravichandra (playback singer)
1980
Vasantha Geetha (playback singer)
1979
Nanobba Kalla (playback singer)
1979
Huliya Halina Mevu (playback singer)
1978
Operation Diamond Racket (playback singer)
1978
Thayige Takka Maga (playback singer)
1978
Shankar Guru (playback singer)
1977
Bhagyavantharu (playback singer)
1977
Giri Kanye (playback singer)
1977
Olavu Geluvu (playback singer)
1977
Sanadhi Appanna (playback singer)
1977
Babruvahana (playback singer)
1976
Badavara Bandhu (playback singer)
1976
Bahaddur Gandu (playback singer)
1976
Na Ninna Mareyalare (playback singer)
1976
Premada Kanike (playback singer)
1976
Raja Nanna Raja (playback singer)
1975
Trimurthi (playback singer)
1975
Daari Tappida Maga (playback singer)
1975
Mayura (playback singer)
1974
Shri Srinivasa Kalyana (playback singer)
1974
Sampathige Saval (playback singer)
1973
Bangaarada Panjara (playback singer)
1972
Krantiveera (playback singer)
1962
Devasundari (playback singer)
1959
Mahishasura Mardini (playback singer)
Producer
1960
Ranadheera Kanteerava (producer)
Soundtrack
2000
Sudhandhiram (music: "Ennammo Matram") / (writer: "Ennammo Matram")
Self
1990
Shiv Putra Swami Ayappa
as
Self
References
Rajkumar (actor) Wikipedia
(Text) CC BY-SA