Birth name

Salil Chowdhury




Born

19 November 192524 Parganas,

West Bengal

, India (

1925-11-19

)

Occupation(s)

Music director, composer, poet,

lyricist

& story-writer

Children

Antara Chowdhury, Sanjoy Chowdhury, Sanchari Chowdhury, Bobby Chowdhury
Music composer Salil Chowdhury was greatly influenced by western music
Salil Chowdhury (Bengali: সলিল চৌধুরী; 'Sholil Choudhuri' in phonetic Wiki-Bengali; 19 November 1923 – 5 September 1995) was an Indian music composer, who mainly composed for Bengali, Hindi and Malayalam films. He was also a poet and a playwright. He is affectionately called Salilda by his admirers.
Contents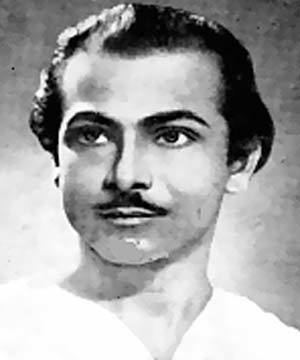 His musical ability was widely recognised and acknowledged in the Indian film industry. He was an accomplished composer and arranger who was proficient in several musical instruments, including flute, the piano, and the esraj. He was also widely acclaimed and admired for his inspirational and original poetry in Bengali language.
Early influences
Salil Chowdhury was born on 19 November 1923 in a village called Harinavi in West Bengal. Salil's childhood was spent in the tea gardens region of Assam. From an early age he listened to the Western Classical collection of his father. His father was reputed to stage plays with coolies and other low-paid workers of the tea-gardens. He studied in Harinavi D.V.A.S High School and there after graduated from Bangabasi College, affiliated to the University of Calcutta in Kolkata, and during this period his political ideas were formulated along with a considerable maturity in his musical ideas.
In 1944, a young Salil came to Calcutta for his graduate studies. He joined the IPTA (Indian Peoples Theater Association) the cultural wing of the Communist Party of India. He started writing songs and setting tunes for them. The IPTA theatrical outfit travelled through the villages and the cities bringing these songs to the common man. Songs like Bicharpati, Runner and Abak prithibi became extremely popular with the general population at the time.
Songs like Gaayer bodhu, which he composed at the age of 20, brought about a new wave of Bengali music. Almost every notable singer at the time from West Bengal had sung at least one of his songs. A few examples are Debabrata Biswas, Hemanta Mukherjee, Shyamal Mitra, Sandhya Mukherjee, Manabendra Mukherjee, Subir Sen and Pratima Banerjee.
Film career
His first Bengali film "Paribortan" ("Transformation") was released in 1949.The singer of his debut song was Debabrata Biswas. "Mahabharati" released in 1994 was the last of his 41 Bengali films.
Salil da's debut in the Hindi Film Industry came in 1953 as the Music Director for Do Bigha Zamin (based on Tagore's poem/narrative by the same name, but the story was different, story was written by Salil Chowdhury himself) Directed by Bimal Roy It also took his career to new heights when it became the first film to win the Filmfare Best Movie Award and won the international Prize at the Cannes Film Festival.
After about 20 years in Bengali and Hindi films, Salil da entered Malayalam films in 1964 with Chemmeen.
He went on to compose for over 75 Hindi films, over 40 Bengali films, around 27 Malayalam films, and a few Marathi, Tamil, Telugu, Kannada, Gujarati, Oriya and Assamese films.
Family
Salil Chowdhury was married to Jyoti Chowdhury (who lives at Bandra in Mumbai, with whom he had two daughters) and later he married to Sabita Chowdhury also, with whom he has two daughters Antara, Sanchari and son Sanjoy Chowdhury who is a successful music composer himself and scored music for over a 100 feature films. Sabita Chaowdhury was a singer and their daughter, Antare is currently a performing artist. She recently sang for Music Director Shantanu Moitra's hit movie Khoya Khoya Chand in a duet with Sonu Nigam. Hindi and Bengali singles from the album have been released on the iTunes Music Store worldwide. These include in Hindi, "kyon beheke hain / stranger" and "chale ayona / so far away" with lyrics by Yogesh and music by Sanjoy Chowdhury and in Bengali, "esho boshona / sit beside me" and "dur ojanate / far away" with lyrics by Salil Chowdhury and Tarun respectively and music by Sanjoy Chowdhury.
Legacy
Salil's music was a blending of Eastern and the Western music traditions. He had once said: "I want to create a style which shall transcend borders – a genre which is emphatic and polished, but never predictable". He dabbled in a lot of things and it was his ambition to achieve greatness in everything he did. But at times, his confusion was fairly evident: "I do not know what to opt for: poetry, story writing, orchestration or composing for films. I just try to be creative with what fits the moment and my temperament", he once told a journalist.
Salil's love for Western classical music started when he was a young boy growing up in an Assam tea garden where his father worked as a doctor. His father inherited a large number of western classical records and a gramophone from a departing Irish doctor. While Salil listened to Mozart, Beethoven, Tchaikovsky, Chopin, and others everyday, his daily life was surrounded by the sound of the forest, chirping of the birds, sound of the flute and the local folk-music of Assam. This left a lasting impression in young Salil. He became an self-taught flute player and his favourite composer was Mozart. His compositions often used folk melodies or melodies based on Indian classical ragas but the orchestration was very much western in its construction. He developed a style which was immediately identifiable.According to his daughter Antara, (Ref.: Ek Fankar @ Vividbharati Radio Programme at 10.00 pm on 19 November 2013), Salil himself joked that he was Mozart, reborn.
Salil being a composing exponent, he even sensed the talent of a guitarist who played in his orchestra and uttered that, "I think he's going to be the best composer in India". The guitarist eventually turned out to be Maestro Ilaiyaraaja.
Awards and recognitions
1958 – Filmfare Best Music Director Award for Madhumati
1988 – Sangeet Natak Akademi Award
Songs
Kahin Door Jab Din Dhal Jaye
Na Jiya Lage Na
Rajnigandha Phool Tumhare
Raat Ne Kya Kya Khwab Dikhaye
Suhana Safar Aur Yeh Mausam
Maine Tere Liye
Sapath
Tasveer Teri Dil Mein
Aaha Rim Jhim Ke Ye Pyare Pyare
Zindagi Kaisi Hai Paheli
Ei Roko
Zindagi Khwab Hai
Koi Hota Jisko Apna
Keli Nalinam
Chand Raat Tum Ho Saath
Bagh Mein Kali Khili
Path Harabo Bolei Ebar
Na Jane Kyon Hota Hai
Nandito Nandito Desh Aamr
Kabuliwala
Ganga Aaye Kahan Se - Commentary
Ja Re Ja Re Ud Ja Re Panchhi - Commentary
Neeyum Vidhavayo
Oi Ghum Ghum
Nabarun Rage
Antabihin Kate Na Aar
Oi Je Sabuj Banabithika
Ja Re Ja Re Ud Ja Re Panchhi
Jhir Jhir Badarwa Barse
Amay Prashna Kare
Sainik tule naao haathiyaar
Aage chalo aage chalo

References
Salil Chowdhury Wikipedia
(Text) CC BY-SA