8.8

/

10

Alchetron

8.8

Rate This




Director

Bharathan


Release date

October 25, 1992 (India)




Duration




Country

India






Genre

Drama




Screenplay

Kamal Haasan


Writer

Kamal Haasan


Language

Tamil





Release date

25 October 1992 (India)8 September 1994 (TIFF)




Songs

Potri Paadadi Penne




Cast

Kamal Haasan

(Shaktivelu), Sivaji Ganesan (Peria-Thevar),

Gowthami

(Shaktivelu's Girlfriend), Revathi, Vadivelu (Esaki),

Nasser

(Maya-thevar)

Thevar Magan (English: Son of Thevar) is a 1992 Indian Tamil drama film directed by Bharathan. The film stars Sivaji Ganesan, Kamal Haasan, Revathi, Gouthami and Nassar in pivotal roles. The film's soundtrack album and background score were composed by Ilaiyaraaja while the cinematography was handled by P. C. Sriram. The film's script was written by Kamal Haasan who also produced the film along with his brother Chandra Haasan under the production company Raaj Kamal Films International.
Contents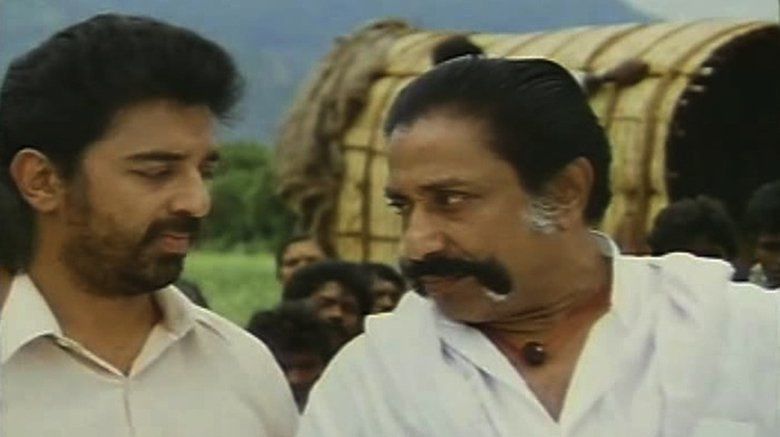 The film tells the story of Sakthivel who returns home to meet his father Periya Thevar who is a respected village chieftain to marry his girlfriend. Sakthivel comes to know that the villagers are facing huge problems due to his father's stepbrother and his nephew. After the death of his father, Sakthivel takes over the duty of his father. Rest of the film is about how Sakthivel solves the problems of villagers.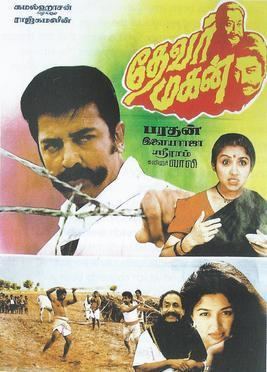 The film was chosen by India as its entry for the Best Foreign Language Film for the 65th Academy Awards, but was not nominated. The film won five National Film Awards, including the Best Tamil Film Award, Best Supporting Actress Award (Revathi), and a Special Jury Award (Sivaji Ganesan).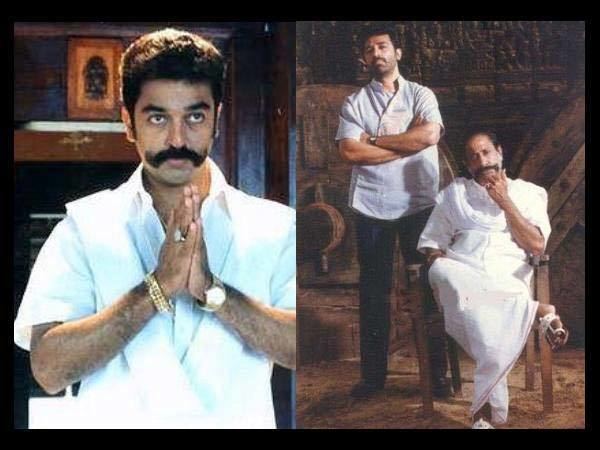 The film was released on 25 October 1992 and became a blockbuster among 1992 Deepavali releases and completed 200-days run at the box office.The film was dubbed into Telugu under the title Kshatriya Putrudu. It was later remade into the Hindi film Virasat (1997) by Priyadarshan and in Kannada as Thandege Thakka Maga (2006) by S. Mahendar.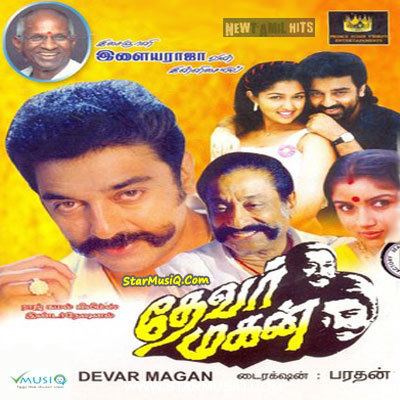 The crucial emotional core of the movie about a reluctant son ascending a throne full of thorns was reported to be inspired by Francis Ford Coppola's 1972 film The Godfather.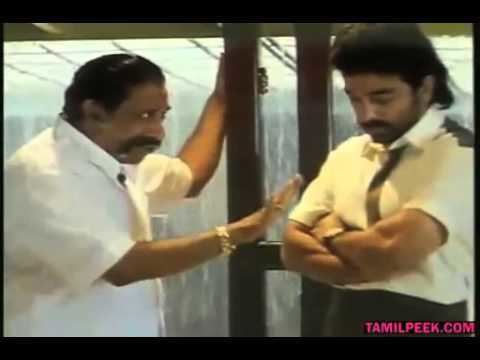 25 Years Of Thevar Magan | Kamal Haasan | Baradwaj Rangan
Plot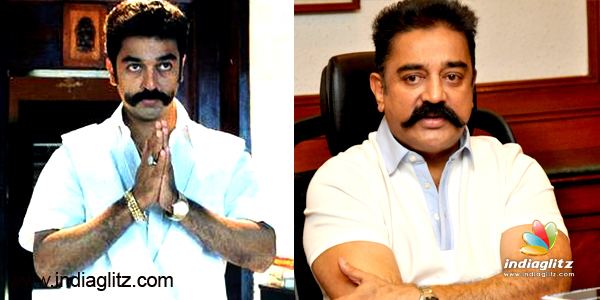 Saktivel (Kamal Haasan) returns home to his father, Periya Thevar's (Sivaji Ganesan) village in Tamil Nadu, after completing his education in London. Much to his father's annoyance, he brings his westernised girlfriend Bhanu (Gautami) with him to meet his family. Periya Thevar is deeply offended since it is tradition that the family elders choose the youngster's spouses. To make things worse, Saktivelu reveals his plans on opening a chain of restaurants in Chennai which saddens Periya Thevar as he wanted his son to help the villagers improve their lifestyle with his level of education.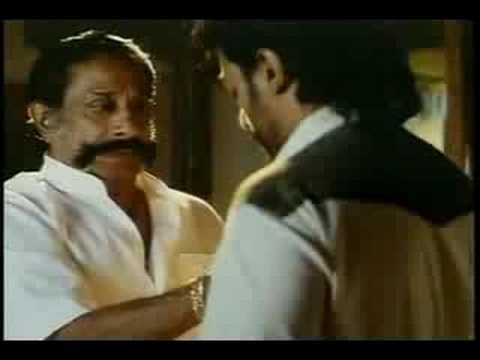 Periya Thevar is a well respected village chief. His younger half-brother Chinna Thevar (Kaka Radhakrishnan) and nephew Maya Thevar (Nassar) hold a huge grudge against him over a falling out. The entire village suffers from a spillover of this longstanding family feud as most of the village and its surrounding areas that fall within its jurisdiction is divided between the brothers. Since Maya Thevar always tries to one up Periya Thevar, it puts them at loggerheads with each other.
Saktivelu spends time in the village with his girlfriend by re-visiting his childhood memories. They come across an old temple which has been closed off on Maya Thevar's instructions. He insists on entering and his friend and servant Esaki (Vadivelu) breaks open the lock for them to look around. Maya Thevar hears of this and a brutal riot is started among the two village factions. Periya Thevar, in order to quell the situation, contemplates on apologising to his opponents. Sakthivelu feels it should be him or Esaki who should apologise. When Saktivelu asks for Esaki, he learns that Maya Thevar has cut off Esaki's hand as punishment for opening the temple. To prevent further escalation of the situation Saktivelu, with permission from his father, enlists the help of his friends in the government and opens the temple for all legally. Slighted by this, Maya Thevar hires goons to break a dam protecting a part of the village faction that supports Periya Thevar. Although one of the villagers spots one of the goons near the dam, he does not think much of it.
The dam is damaged by explosives used by the goons which results in flooding of half the village. This results in numerous deaths including infants which deeply saddens Saktivelu. He spots the goon who placed the explosives again in the village and gives chase. After capturing, he hands the goon over to the police but the goon does not speak of Maya Thevar's involvement due to fear for his own family's safety.
Later Maya Thevar closes a portion of his land, preventing the public from reaching the main road easily. Sakthivelu and his father invite them for talks at village Panchayat to resolve the standoff due the riots and flooding. In the village panchayat, accusations fly from both sides. With no evidence backing up the truth, Maya Thevar accuses Periya Thevar for orchestrating various attacks on his brother's family. Disrespected and broken, Periya Thevar returns to his home and passes away due to a heart attack later that night. Saktivelu takes over his father's duties as the head of the village.
As time passes, this incident dies down. The villagers express concern to Saktivelu about going around the piece of land belonging to Maya Thevar's side of the village everyday to work in their farm which causes a much longer travelling time. Saktivelu reasons with the owner of the land to open it up for all villagers to pass so that their long commute is shortened. Although understanding and willing, the land owner (played by Kallapart Natarajan) who actually is Maya Thevar's maternal uncle, is afraid of Maya Thevar's backlash especially since he has a daughter Panchavarnam (Revathi). Saktivelu assuages his fear by arranging marriage between a well-to-do person from his village to the land owner's daughter. Everybody involved happily agrees and the land owner opens up the land for everyone.
On the day of the wedding, the groom runs away, fearing Maya Thevar. The landowner and his daughter are distraught over this claiming that it is a huge disrespect to his family. He opines that even if someone marries his daughter, they have to live in constant fear. Saktivelu then gets permission from the landowner and weds his daughter. Although Saktivelu still has feelings for his girlfriend and his new bride is very shy, they overcome their awkwardness and move on. Soon, his girlfriend returns and learns the truth. Although saddened by the turn of events, she understands the situation and leaves. Saktivelu, too, closes the chapter about his girlfriend and starts his new life with his wife.
Maya Thevar, agitated by the opening of the land, plants a bomb during the village festival. This results in deaths on both sides of the village. Both factions of the village, wanting revenge, go after Maya Thevar and his family. Saktivelu protects the innocent family and helps them get away from the villagers. Appreciative of Saktivelu's efforts to protect them, they give away Maya Thevar's hiding location.
Saktivelu goes to meet Maya Thevar and asks him to surrender to the police before the villagers kill him. Maya Thevar's rabid hatred for Saktivelu makes him reject his offer of help. Maya Thevar, blaming Saktivelu for all his problems, tries to kill him. In the struggle that follows, Saktivelu accidentally decapitates Maya Thevar. Although other villagers are willing to take the blame for Maya Thevar's murder, Saktivelu gives himself up to the police wanting to put an end to the cycle of violence once and for all.
Development
In 1986, Muktha Srinivasan initially planned to direct a film based on the American film The Godfather with Sivaji Ganesan and Kamal Haasan however the project was dropped after Kamal Haasan's then associate Ananthu felt that it would be a Ganesan-focused film and not a Kamal Haasan film. Kamal Haasan approached Malayalam filmmaker Bharathan to direct Thevar Magan for which he scripted. The film was said to be an adaptation of The Godfather. This was Bharathan's last film in Tamil. According to Kamal Haasan, it was the first film which was written using a screenwriting software called "Movie Magic". Kamal initially thought of naming the film as Nammavar but Ilaiyaraaja suggested him to name the film as Thevar Magan to which Kamal agreed. Lyricist Gangai Amaran claimed in 2016 that he was supposed to direct a film titled Adhi Veerapandian starring Kamal Haasan, but Ilaiyaraaja advised Kamal Haasan against accepting the film, feeling that Amaran was "not a good filmmaker", and the film was shelved. Amaran recalled, "Kamal took the story of Adhi Veerapandian and remade it as Thevar Magan". In 2017, Kamal revealed in an interview that his film was inspired from 1973 Kannada film Kaadu.
Casting
Kamal said that the casting was done against "everyone's suggestion". Vadivelu was recruited to play the character called Isakki. Meena was approached to play the character Panchavarnam and she had acted for few days but due to date problems she was replaced by Revathi. S. N. Lakshmi was chosen to portray Nassar's mother. Gauthami acted as love interest of Kamal in the film. Dubbing voice for Gauthami was provided by K. R. Anuradha. Thalaivasal Vijay portrayed Kamal's elder brother and Ganesan's son in the film. It was Kamal who recommended Vijay for the role. For the character looks in the film, Hassan wore colourful buttoned up shirts and jeans with medium size beard and mullet in the first half of the film and he spotted thick handlebar moustache and wore six yards of village dhoti for the part of village head. The unit had originally wanted to cast either Vijayakumar or S. S. Rajendran for the character of Kamal's father. However Kamal approached Sivaji Ganesan who completed his portions within 7 days.
P. C. Sriram and N. P. Satish took care of cinematography and editing respectively. Cameraman Tirru worked as P. C. Sriram's assistant and actor Tinku worked as assistant photographer respectively.
Filming
The film was entirely shot in Pollachi at 75 days and for few days at Chennai and Ooty. The scenes were shot at palatile bungalow situated at Singanallur. Kamal said that the scene where a truck, with a cargo of steel rods jutting out, reverses and rams into the car in the film was initially written for Nayakan (1987). The unit went for shooting without a final script to Pollachi. The shooting could not proceed as planned due to confusion. Famous screenwriter Kalaignanam came to help and given the concept of "one temple, two locks" which Kamal liked and wrote the script within 7 days even though Kamal said that he had challenged himself to complete the script within 12 days. Some scenes were shot at Mariamman Temple at Sulukkal, Pollachi.
Themes and influences
Rajan Krishnan, PhD scholar in Film Studies from Columbia University, says that it was Kamal Hassan who brought that sickle bearing Genre. He says, "I would like to propose that it is a Kamal Hassan film of high authenticity markers called Thevar Magan that can be said to have inaugurated the era of the south being represented as primarily a sickle bearing space".
Stalin Rajangam, writer, who has extensively written on the 'caste component and narrative structures of Tamil films concurs. He says that "Thevar Magan was first of its kind with stronger idioms of caste and glorification of caste-based practices". Tamil writer S. Ramakrishnan said that Thevar Magan captured "the very essence of the south Tamil Nadu's rural culture".
The film faced controversy for identifying the Thevar community with glorified violence.
Awards and honours
The film was chosen by India as its entry for the Best Foreign Language Film for the 65th Academy Awards, but was not nominated. The film was screened at the Toronto International Film Festival in 1994. Ilaiyaraaja was a strong contender for the National Film Award for Best Music Direction, which he eventually lost to A. R. Rahman.
1993 National Film Awards (India)
Filmfare Awards South
Filmfare Award for Best Actor – Tamil – Kamal Hassan
Filmfare Award for Best Actress – Tamil – Revathi
Tamil Nadu State Film Awards
Tamil Nadu State Film Award for Best Film- Second Prize in 1992
Soundtrack
The soundtrack was composed by Ilaiyaraaja and lyrics were written by Vaali. Telugu lyrics were written by Vennelakanti. Embar Kannan performed the portions of violin. Kamal Haasan's daughter Shruti Haasan made her singing debut at the age of six with this film. "Inji Iduppazhagu" is based on the Hindi song "Yeh Dil Deewana" composed by S. D. Burman for the film Ishq Par Zor Nahin (1970). Kamal wanted Raja to compose on the lines of the Hindi song and Raja completed the song within 10 minutes.
The song "Manamagale Manamagale" is based on Shuddha Saveri Raga. The song "Maasaru Ponne" is based on Mayamalavagowla Raga. The song "Inji Iduppazhagi" is based on Jonpuri raga. The song was later remixed by Smitha in her album called "Kalakkal". The song was reused in its self titled film.
The soundtrack of the film received critical acclaim with "Inji Iduppazhagi" and "Potri Paadadi" being well received. G. Dhananjayan noted that the film had memorable songs which "contributed to the success of the film". Singer Charulatha Mani wrote for The Hindu on "Masaru Ponne" that, "a little piece sung in chorus stole our hearts [sic]". For "Inji Iduppzhagi" she called it "a cheerful enjoyable Jonpuri-based melody".
Release
The length of the film was 4,625 metres (15,174 ft) and the film was certified "U" by Central Board of Film Certification with the duration of 158 minutes. The film's release coincided with Diwali festival and opened alongside four other films including, Rajinikanth starrer Pandiyan and Prabhu starrer Senthamizh Paattu became commercially successful and ran for 200 days. The silver jubilee celebration of the film was attended by Dilip Kumar.
The film was dubbed and released in Telugu under the title Kshatriya Putrudu. Kamal initially planned to remake the film in Hindi with Dilip Kumar portraying the father's character however Dilip found the theme "too violent" and refused to do the film. The film was then remade by Priyadarshan as Virasat (1997). and in Kannada as Thandege Thakka Maga (2006) by S. Mahendar.
Reception
G. Dhananjayan in his book Pride of Tamil cinema – 1931 – 2013 stated "This film is a treat to the eyes not only because of P. C. Sreeram's cinematography, but also because of the presence of some of the best actors from south". Tamil magazine Ananda Vikatan in its review dated 8 November 1992 appreciated the film mentioned "For Kamal, the film is another milestone... The film's naturalism is greatly enhanced by equal opportunity given to all actors in the film..". Behindwoods praised Sivaji Ganesan's performance calling it "one of the finest in Tamil cinema..". Indiaglitz stated "If, 'Nayagan' was epic, 'Devar Magan' is way above all adjectives". Rediff stated "Kamal's story and script, and Bharatan's powerful direction, made this a film to savor".
Legacy
N. Linguswamy, Mysskin Gautham Menon, S. J. Suryah and Karthi called Thevar Magan as their favourite film. A poster of the film designed by Abinav Bhatt from Bangalore depicted moustache. Gauthami listed it as her one of the favourite films she had acted. In 2009, Meera Vasudevan said, "I'd love roles similar to Revathy in Devar Magan". Thevar Magan served as one of the inspirations for Aadukalam (2011) directed by Vetrimaaran. Sify in its review of Sandakozhi (2005) compared Rajkiran's character with Sivaji Ganesan's character from the film. The magazine South Scope included Kamal Haasan's performance in the film in its list of "Kamal's best performances" in its July 2010 edition. Silverscreen in its review of Vetrivel (2016) called the film as "pretty much an unsophisticated copy of Thevar Magan".
The song "Potri Paadadi" is listed by The Hindu among lyricist Vaali's songs in the list "Best of Vaali:From 1964 to 2013". The same song was ranked by Rediff alongside "Madhavi Pon Mayilaal" from Iru Malargal (1967) and "Andha Naal Gnabagam" from Uyarndha Manithan (1968). The song was parodied by Vadivelu in Englishkaran (2005). The song "Inji Iduppazhaga" was listed by Behindwoods among other songs in its list "Kamal's unforgettable songs". In the film Kuruvi (2008), Vetrivel's mother (T. K. Kala) is seen singing the song. 2015 film Inji Iduppazhagi was named after the song of same name. The dialogue "Unakkulla Thoongira Adhe Mirugam Enakkulla Thoongittirukku Thatti Ezhuppidhada" (English: I too possess animal like instincts like you, do not unleash it) became popular. The dialogue was parodied by Vivek in Sandhitha Velai (2000). Naasar titled his directorial Maayan named after his character from the film.
On Kamal Haasan's birthday, 7 November 2015, Latha Srinivasan of Daily News and Analysis considered Thevar Magan to be one of the "films you must watch to grasp the breadth of Kamal Haasan's repertoire". The scene where Kamal's character take over his father's duty as village head was included by Behindwoods in its list "Top 20 Mass Scenes" and also in another list named "10 Mass Interval Blocks". The same site included the film on its list "Superstars show the power of Veshti". On Kamal Haasan's 60th birthday, an agency named Minimal Kollywood Posters designed posters of Kamal Haasan's films. The poster of Thevar Magan featured blood under the lock. Although no print of Thevar Magan has survived, the film is still available on home video.
References
Thevar Magan Wikipedia
(Text) CC BY-SA
Thevar Magan IMDb
Thevar Magan themoviedb.org