Native name

平田 広明




Name

Hiroaki Hirata




Website

hiratahiroaki.com





Years active

1985-present




Occupation

voice actor


Role

voice actor





Born

August 7, 1963 (age 52) (

1963-08-07

) Tokyo, Japan


Notable credit(s)

Tiger & Bunny as Kotetsu T. Kaburagi One Piece as Sanji


Movies and TV shows

Tiger & Bunny, One Piece (JP), Digimon Adventure, One Piece Film: Z, One Piece Film: Strong W


Similar People

Kazuya Nakai, Mayumi Tanaka, Kappei Yamaguchi, Akemi Okamura, Ikue Otani
Sanji hiroaki hirata go go chibang lyrics
Hiroaki Hirata (平田 広明, Hirata Hiroaki, born August 7, 1963) is a Japanese voice actor from Tokyo and the founder of Hirata Production.
Contents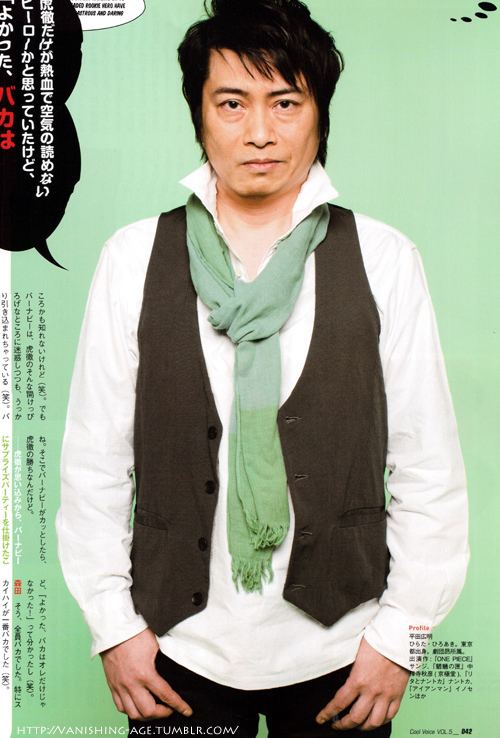 He is most known for the roles of Vinsmoke Sanji (One Piece), Sha Gojyo (Saiyuki), Kotetsu T. Kaburagi (Tiger & Bunny), Mutta Nanba (Space Brothers) and the Narrator of Digimon Adventure. He is also the official Japanese dub-over artist for Johnny Depp.

He won the award for Best Actor in a leading role at the 6th Seiyu Awards for his work on Air Gear, One Piece and Tiger & Bunny.

Same Anime Characters Voice Actor with One Piece's Vinsmoke Sanji
Television animation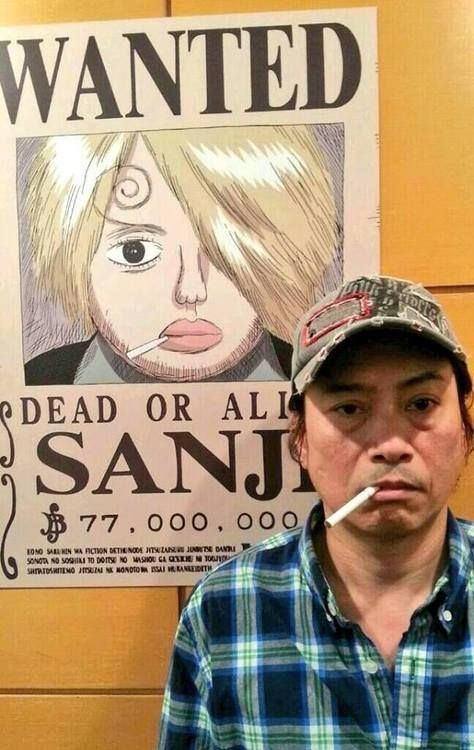 1999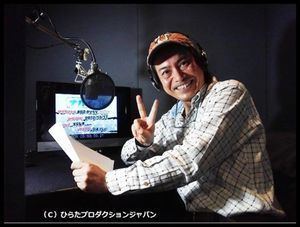 Digimon Adventure (Narrator, Leomon, Hagurumon, Hiroaki Ishida)
Great Teacher Onizuka (Gibayashi)
2000
Digimon Adventure 02 (Narrator, Takeru (adult), Hiroaki Ishida, Gennai)
Saiyuki (Sha Gojyo)
One Piece (Vinsmoke Sanji, Carue, Inuppe, Demalo Black)
2001
Digimon Tamers (Leomon)
Hajime no Ippo: The Fighting! (Okita Keigo)
2003
Ashita no Nadja (Kakuro)
Inuyasha (Suikotsu)
Divergence Eve (Juuzou Kureha)
2004
DearS (Xaki)
Elfen Lied (Professor Kakuzawa Yu)
Monster (Lipsky)
2005
2006
Hanbun no Tsuki ga Noboru Sora (Gorō Natsume)
Air Gear (Aeon Clock)
Ayakashi: Samurai Horror Tales (Iemon Tamiya)
Black Lagoon (Benny)
2007
Claymore (Rubel)
2009
CANAAN (Santana)
Kaidan Restaurant (Ghastly Garçon(Waiter))
Slayers Evolution-R (Dguld)
2010
Digimon Xros Wars (Matadormon)
Marvel Anime: Iron Man (Ho Yinsen)
Senkou no Night Raid (Takachiho Isao)
2011
Tiger & Bunny (Kotetsu T. Kaburagi / Wild Tiger)
Gintama (Terada Tatsugorō)
2012
Another (Tatsuji Chibiki)
Space Brothers (Mutta Namba)
Sword Art Online (Klein / Tsuboi Ryōtarō)
Inazuma Eleven Go (Liu Bei)
2013
Picomon Tamers Duo (Leomon / John Miura)
Gingitsune (Yoshitomo Takami)
2014
Picomon Tamers Tri. (Leomon / John Miura)
2015
Yoru no Yatterman (Boyacky)
God Eater (Lindow Amamiya)
2017
Blue Exorcist (Shiro Fujimoto)
Granblue Fantasy The Animation (Rackam (eps. 3 - ))
Unknown date
Kekkaishi (Kaguro)
Kinnikuman Ni-sei (The Ninja)
Kuuchuu Buranko (Tatsurou Ikeyama)
Kyo Kara Maoh! (Geigen "Hube" Huber)
L/R: Licensed by Royalty (Jack Hofner)
Naruto (Genma Shiranui)
Naruto Shippuden (Genma Shiranui), (Young Jiraiya)
Ojamajo Doremi (Yada's father, Kenzo Asuka (the father), etc.)
Petite Princess Yucie (Frederick)
Picomon Adventure (Leomon)
Picomon Tamers (Leomon), (John Miura)
Shin Sekai Yori (Kiroumaru)
Transformers: Cybertron (Live Convoy, Gasket, Lori's father)
Uchū Kyōdai (Mutta Nanba)
Xenosaga: The Animation (Allen Ridgeley)
Zaion: I Wish You Were Here (Changpuek)
OVA
Saiyuki Requiem (????) (Sha Gojyo)
Hellsing Ultimate OVA (????) (Pip Bernadotte)
Strait Jacket (????) (Falk)
Film animation
Digimon Adventure (2000) (TV announcer, Adult Takeru "T.K." Takaishi)
One Piece series (2001–) (Vinsmoke Sanji)
WXIII: Patlabor the Movie 3 (2002) (Shinichiro Hata)
Ghost in the Shell 2: Innocence (2004) (Koga)
Asura (2012) (Shichiro)
Tiger & Bunny: The Beginning (2012) (Kotetsu T. Kaburagi / Wild Tiger)
Tiger & Bunny: The Rising (2013) (Kotetsu T. Kaburagi / Wild Tiger)
New Initial D: Legend 1 - Awakening (2014) (Bunta Fujiwara)
Saint Seiya: Legend of Sanctuary (2014) (Cancer Deathmask)
Crayon Shin-Chan: My Moving Story! Cactus Large Attack! (2015) (Mayor of Mexico)
Digimon Adventure tri. (2015) (Narrator, Leomon, Gennai)
Sword Art Online The Movie: Ordinal Scale (2017) (Klein / Ryōtarō Tsuboi)
Tokusatsu
2011
Kaizoku Sentai Gokaiger (2011-2012) (Engine Machalcon (eps. 35 - 39, 41 - 44, 46 - 47, 49 - 50))
2012
Unofficial Sentai Akibaranger (Delu Knight (eps. 10 - 12), Senmotorishimayaku Delu Knight (ep. 10))
Kamen Rider Wizard (Narration)
2013
Unofficial Sentai Akibaranger: Season Tsuu (Delu Knight (eps. 10 - 11))
Video games
Final Fantasy XII (2006) (Balthier)
Unknown date
Ace Combat 5: The Unsung War (Albert Genette)
Catherine (video game) (Orlando Haddick)
Chaos Rings Omega (Veig/Olgar)
Devil May Cry 4: Special Edition (Vergil)
Dissidia 012 Final Fantasy (Laguna Loire)
God Eater (Lindow Amamiya)
God Eater 2 (Lindow Amamiya)
Granado Espada (Raven)
Granblue Fantasy (Rackam)
Heavy Rain (Norman Jayden)
Jeanne d'Arc (video game) (Gilles de Rais)
JoJo's Bizarre Adventure: All-Star Battle (Jean Pierre Polnareff)
Kingdom Hearts II (Captain Jack Sparrow)
Metal Gear Rising: Revengeance (Samuel Rodrigues)
Namco × Capcom (Bruce McGivern, Kamuz)
Naruto series (Genma Shiranui)
Ninja Gaiden 3 (Cliff Higgins)
One Piece series (Vinsmoke Sanji)
Project X Zone (Lindow Amamiya)
Sonic and the Black Knight (Caliburn/Excalibur)
Tales of Innocence (Ricardo Soldato, Hypnos)
Time Travelers (Kyugo Shindo)
The 3rd Birthday (Kunihiko Maeda)
Ultimate Marvel vs. Capcom 3 (Vergil)
Xenosaga series (Allen Ridgeley)
Television drama
Toto Neechan (2016)
Live action
Johnny Depp
Don Juan DeMarco (John Arnold DeMarco/Don Juan)
The Brave (Raphael)
Donnie Brasco (Joseph D. 'Joe' Pistone)
Fear and Loathing in Las Vegas (2014 Blu-ray and DVD edition) (Raoul Duke)
L.A. Without a Map (Johnny Depp/William Blake)
The Astronaut's Wife (Spencer Armacost)
The Ninth Gate (Dean Corso)
Sleepy Hollow (Ichabod Crane)
Before Night Falls (Lieutenant Victor)
Chocolat (Roux)
The Man Who Cried (Cesar)
From Hell (Inspector Frederick Abberline)
Once Upon a Time in Mexico (Sands)
Pirates of the Caribbean series (Jack Sparrow)
Finding Neverland (James Matthew Barrie)
The Libertine (John Wilmot)
Secret Window (Mort Rainey)
Public Enemies (John Dillinger)
Alice in Wonderland (Mad Hatter)
The Tourist (Frank Tupelo)
The Rum Diary (Paul Kemp)
The Lone Ranger (Tonto)
Transcendence (Dr. Will Caster)
Tusk (Guy LaPointe)
Mortdecai (Charlie Mortdecai)
Black Mass (James "Whitey" Bulger)
Alice Through the Looking Glass (Mad Hatter)
Fantastic Beasts and Where to Find Them (Gellert Grindelwald)
Yoga Hosers (Guy LaPointe)
Pirates of the Caribbean: Dead Men Tell No Tales (Jack Sparrow)
Matt Damon
Jay and Silent Bob Strike Back (Himself)
The Bourne Supremacy (Jason Bourne)
Saving Private Ryan (James Francis Ryan)
Titan A.E. (Cale Tucker)
Noah Wyle
Enough (Robbie)
The Librarian: Quest for the Spear (Flynn Carsen)
The Librarian: Return to King Solomon's Mines (Flynn Carsen)
Ewan McGregor
Trainspotting (Mark "Rent Boy" Renton)
The Island (Lincoln Six Echo)
Deception (Jonathan McQuarry)
Perfect Sense (Michael)
Matt LeBlanc
Ed (Deuce Cooper)
Lost in Space (Major Don West)
Joey (Joey Tribbiani)
3 Idiots (Rancho (Aamir Khan))
The Batman (The Riddler (Robert Englund))
Big Fish (Will (Billy Crudup))
Black Hawk Down (Matt Eversmann (Josh Hartnett))
Bram Stoker's Dracula (Johnathan Harker (Keanu Reeves))
The Cable Guy (Steven (Matthew Broderick))
CSI: NY (Danny Messer (Carmine Giovinazzo))
Damien (Detective James Shay (David Meunier))
Day Watch (Anton Gorodetsky (Konstantin Khabensky))
Encino Man (Matt (Michael DeLuise))
Fight Club (Narrator (Edward Norton))
Garfield (Sir Roland (Alan Cumming))
Houdini (Harry Houdini (Adrien Brody))
Joseph: King of Dreams (Joseph (Ben Affleck))
Night Watch (Anton Gorodetsky (Konstantin Khabensky))
PK (PK (Aamir Khan))
Saw (Adam (Leigh Whannell))
Spyro x Sparx: Tondemo Tours (Hunter the Cheetah (Gregg Berger))
Star Trek: Enterprise (Michael Rostov (Joseph Will))
Thomas and the Magic Railroad (Mr. C. Junior (Michael E. Rodgers))
X-Men Origins: Wolverine (Gambit (Taylor Kitsch))
Animation
Brother Bear (Denahi)
Hilltop Hospital (Dr. Matthews)
The Pink Panther (Mack)
Rango (Rango)
RWBY (Qrow Branwen)
Transformers: Robots in Disguise (Thunderhoof)
References
Hiroaki Hirata Wikipedia
(Text) CC BY-SA