Genre

Action, Crime, Drama




Songs

Jashn-e-Ishqa




Cast



Gunday (English: Outlaws) is a 2014 Indian action thriller film written and directed by Ali Abbas Zafar and produced by Aditya Chopra. The film featured Ranveer Singh, Arjun Kapoor, Priyanka Chopra and Irrfan Khan in the lead roles. Set between 1971 and 1988 Calcutta, Gunday tells the story about two best friends, the most powerful outlaws of their time, who fall in love with a beautiful cabaret dancer, giving rise to their rivalry and causing misunderstandings between them.
Contents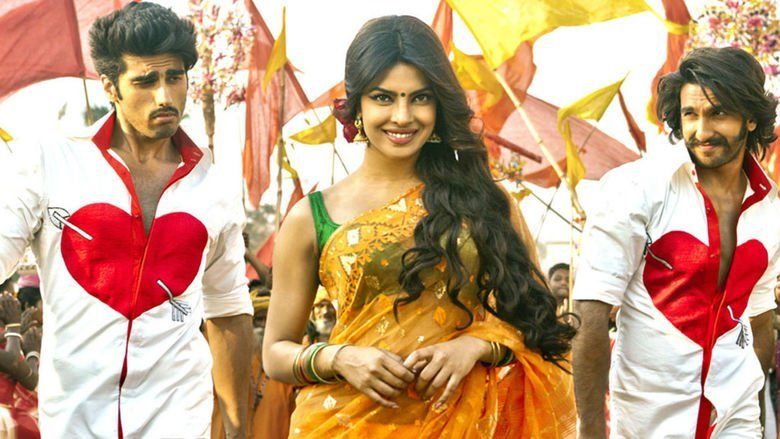 Zafar conceived the film as an amalgamation of stories about the affect of immigration due to war, coal mafia and the illegal marketing of coal, he had heard from his father as a child. He wrote the film as a tale of the consequences of the struggle of two outlaws against the system, using his father's stories as a backdrop for the characters. Principal photography began in Mumbai in December 2012 before moving to Kolkata, where the extensive filming was done. The soundtrack was produced by Sohail Sen and Irshad Kamil, the latter having composed the lyrics.This was the last Yash Raj Film that was narrated to Yash Chopra.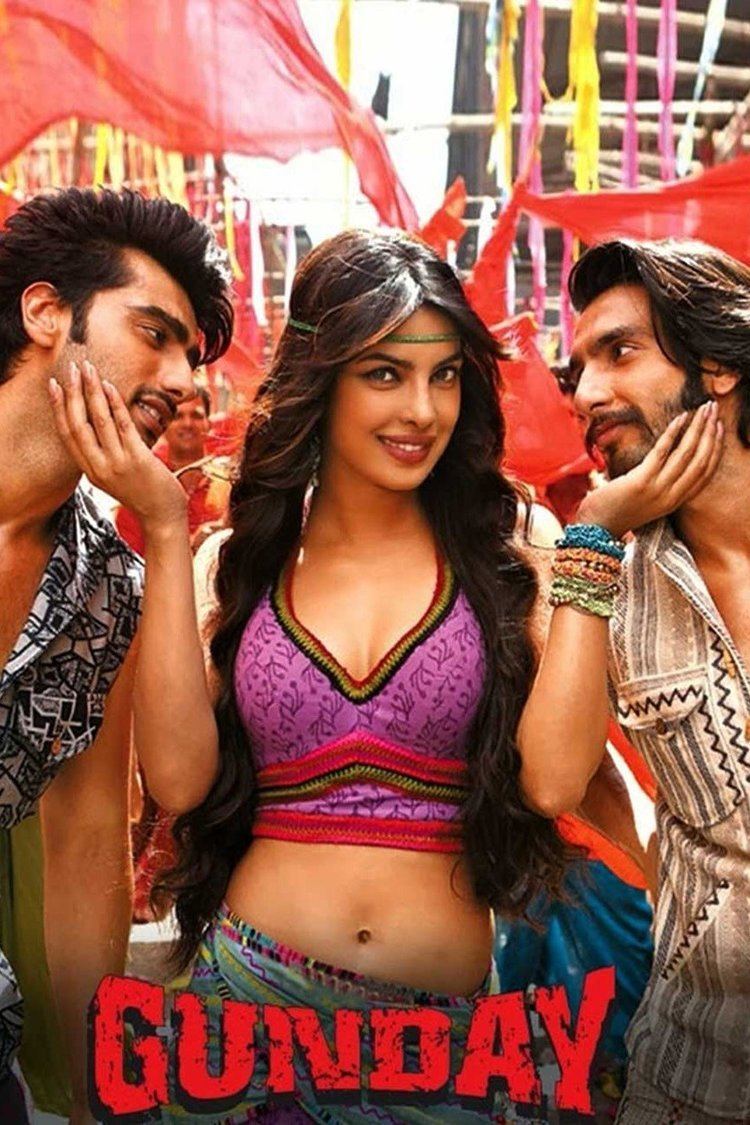 The film was released on 14 February 2014 and received positive reviews. A box office gross of ₹1.2 billion made it the highest-grossing February Bollywood release of all time. It received a number of accolades across various awards ceremonies in India such as two nominations at the 60th Filmfare Awards for Best Choreography for the song "Tune Maari Entriyaan" and Best Action, winning the latter.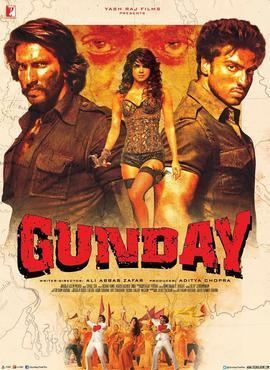 Despite its positive reception from critics, Gunday became a victim of vote brigading on the Internet Movie Database, making it one of the lowest rated films on the site. This was a result of a social media campaign from a certain faction Bangladeshis, who urged their fellow countrymen to "bury the film" because of a historical inaccuracy in the opening narration of the film.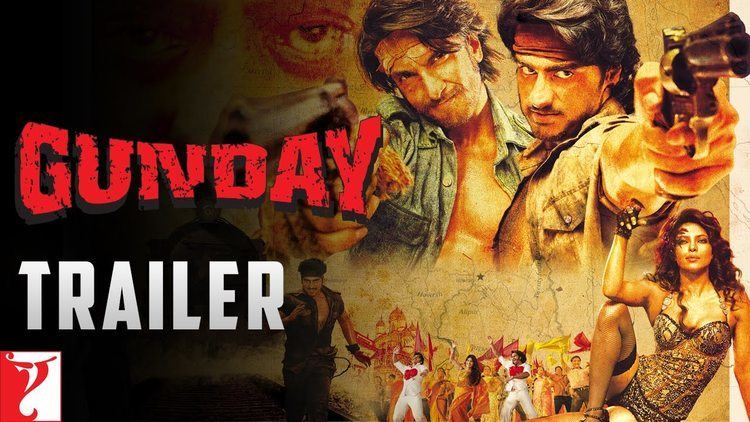 Plot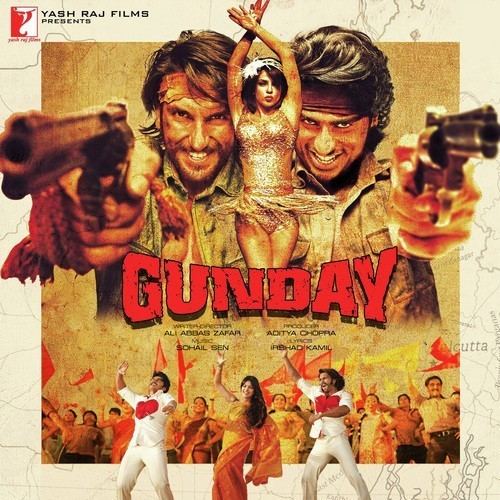 The film opens with the narration of the historic event of the independence of Bangladesh after the third Indo-Pakistani War of 1971. Amongst the desolate people affected by the partition are two orphan kids: Bikram and Bala played by Ranveer Singh and Arjun Kapoor respectively. They meet Lateef (Pankaj Tripathi), who offers them nourishment and employs them in the smuggling of guns in exchange. A chief army officer a customer of Lateef threatens him to present one of the boys as his personal sex slave failing which he would take Lateef daughter. Lateef chooses Bala at first, but on Bikram's insistence agrees to take him. Bala refuses to part with his best friend and comes back to save Bikram from the officer who they kill. In the process they become "partners in crime". As the army chases the duo, Lateef tries to protect them, but is killed by the police .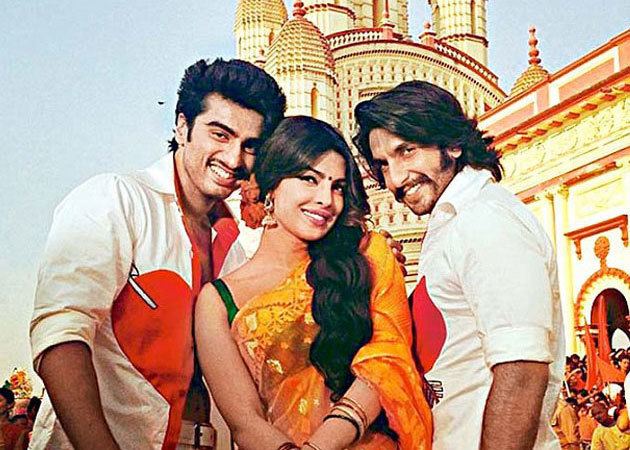 Following this Bikram and Bala flee to Calcutta and begin working at a restaurant. After repeatedly being treated badly and called a "refugee" or a "Bangladeshi", they learn about pilferage of coal and use it to make easy money.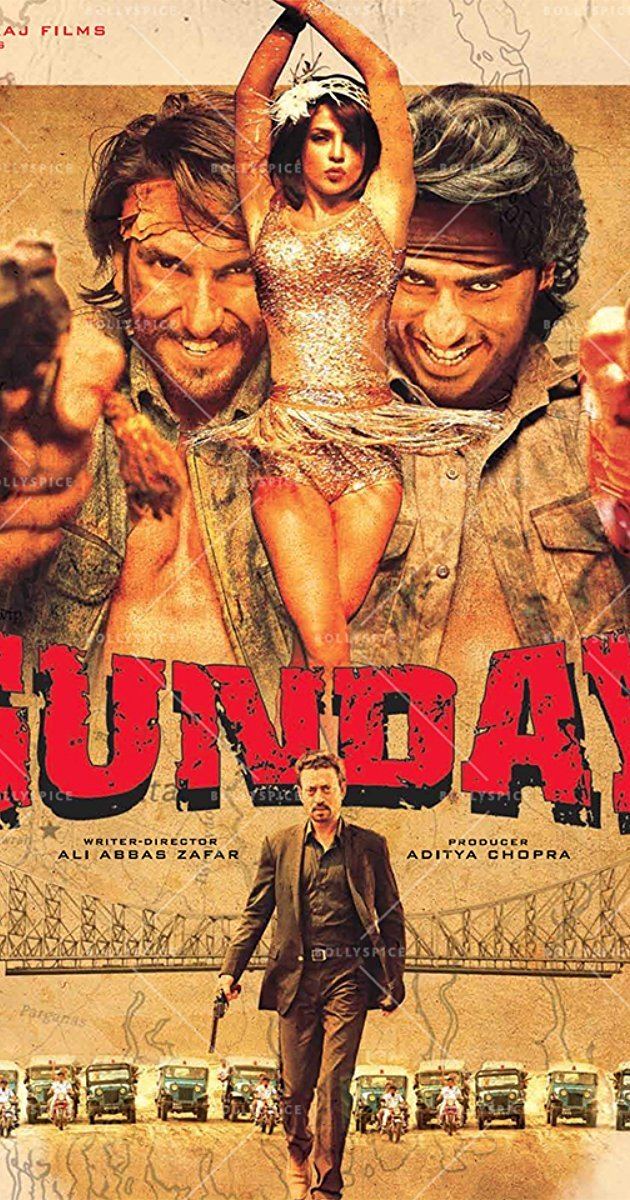 On growing up, Bikram and Bala establish a business by looting entire coal trains and selling the pilfered coal. Their main competitor is Dibakar (Deepraj Rana). When Bikram and Bala loot one of his trains, Dibakar's men unsuccessfully threaten the duo, who promise to loot Dibakar's next cargo as well. When Bikram and Bala, turn up to loot Dibakar's coal-filled train, Dibakar calls them "refugees", a fight breaks out. Before killing Dibakar, Bikram and Bala mention they are not refugees and are Indians as well. The duo, now the undisputed kings of the coal business, start expanding by owning other businesses and become Kings of Calcutta. They convert all their ill-gotten wealth to legal business with the help of Kaali Kaka (Saurabh Shukla) and become town heroes by building hospitals, donating to charities and building schools, even though they're both illiterate. They also provide work and help to the poor, thus becoming white-collared and good-hearted samaritans, but their businesses and dealings make them a target of the law, who call them Gunday. Assistant Commissioner of Police Satyajeet Sarkar (Irrfan Khan) is summoned to Calcutta to apprehend Bikram and Bala and bring them to justice. Sarkar, knowing that Bikram and Bala are able to successfully cover up their tracks using Kaali Kaka, warns the duo that he will arrest them the day he finds a single piece of evidence against them.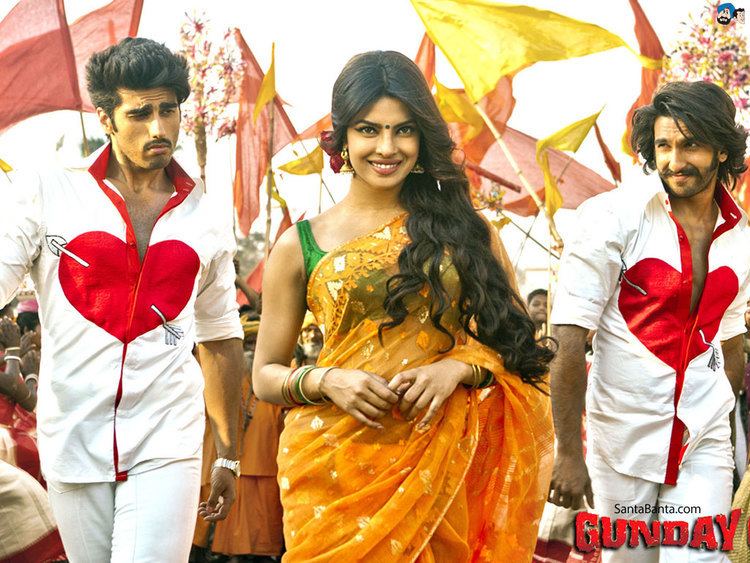 A local businessman invites Bikram and Bala to the inauguration of the new cabaret he wishes to run in Calcutta, which the duo happily accept. The businessman introduces Bikram and Bala to Himanshu (Anant Vidhaat Sharma), and assures the duo that Himanshu will be a competent assistant. At the inauguration, they meet Nandita (Priyanka Chopra), a cabaret dancer, and they both fall in love with her. They decide that whoever manages to win her heart will marry her. After some persistent wooing, Nandita calls both of them to a theater to reveal whom she loves. While Nandita performs onstage on the sensual song "Kaate Nahi Katte Ye Din Ye Raat" from Mr. India, Bala gets into a quarrel with a person over a lewd comment the guy passes on Nandita, and in the subsequent brawl shoots the man. Bikram asks Bala to run away for the time being as Sarkar is searching for Bala, and promises not to meet Nandita until Bala returns. ACP Sarkar advices Bikram to tell Bala not to return to Calcutta or he (Bala) will be killed. Nandita tells Bikram that she's in love with him and if he does not come to Durga Puja, she will never see him again. Bikram agrees to meet her and they perform Durga Puja together. Bala finds out about this through Himanshu, and returns to Calcutta during Durga Puja. On seeing Bikram and Nandita happy together, an enraged Bala shoots at Bikram after blaming him of breaking his promise, but misses and hits Nandita instead. She is rushed to hospital and survives, but Bikram and Bala's friendship is damaged in the process.
Bala then finds out that all business they both owned are in Bikram's name, hence he angrily calls Bikram and asks for an equal partition of the business. Bikram agrees, and transfers half the business to Bala, even the ration card which is a proof of their Indian nationality. Bala then talks about dividing Nandita between them as well. Bikram becomes livid, and a fight erupts. Bikram wins, but he spares Bala, remembering how Bala once saved Bikram's life when they were kids, thus making them "even". Bikram warns Bala not to bother Nandita or he will kill him.
Bikram asks Nandita to marry him, but Nandita tells him that she cannot marry him unless he leaves his criminal life behind. Bikram agrees, and they decide to get married. To exact revenge on Bikram, Bala blows up Bikram's coal mines and kidnaps Nandita. As Bikram readies to end the feud once and for all, Sarkar asks Bikram to turn state's evidence and implicate Bala so that Bikram and Nandita can live happily.
Bala threatens Nandita that if she won't leave Bikram, he will kill her. Nandita tells him that she still loves Bikram, explaining why she chose Bikram, and not him. She also reveals the truth: that Bikram did not wish to break his promise to Bala, and it was she who asked Bikram to come to Durga Puja. Bala, heartbroken, realizes his mistakes, and drops Nandita off to let her go back to Bikram and apologizes to her before he leaves. Nandita is then revealed to be an undercover police officer working for Sarkar, who is helping Sarkar to get Bikram and Bala separated and arrested.
Meanwhile, as Bikram gets ready to work together with Sarkar to implicate Bala, he runs into the man who Bala supposedly "killed", and finds out that the man is actually a police officer. Nandita tries to convince Bikram that upon surrendering he will be treated leniently by the law, but Bikram truly believes that the police and the system were responsible for destroying his and Bala's innocence and childhood. Nandita reveals her identity to Bikram, and the bewildered Bikram realizes that Nandita was a part of the trap Sarkar set up to divide Bikram and Bala. When she requests him to surrender, he refuses and goes to reunite himself with Bala.
Himanshu takes Bala deep in the coal mine under the guise of having to meet Dutta, thereby trapping Bala. Himanshu then reveals his true identity: he is the brother of Dibakar, and he had witnessed the murder of his brother at the hands of Bikram and Bala. Himanshu also reveals Nandita's true identity and attempts to kill Bala, but Bikram shows up to rescue Bala, after which Bala kills Himanshu by impaling him. The duo get reunited at last, and Bala asks Bikram for forgiveness. The duo find themselves surrounded by police, spearheaded by Sarkar and Nandita, and decide to make a run for it. After a long chase, Bala and Bikram get cornered by Sarkar and Nandita. Nandita confesses once again to Bikram that she truly loves him and he should surrender, whilst Sarkar also tries to convince Bala to surrender and to begin life anew. But, to their surprise, Bikram and Bala spot a train passing by and start running towards it to catch it. Sarkar and Nandita fire bullets at them, as the film ends with the death of Bikram and Bala and their narrative.
Cast
Ranveer Singh as Bikram Bose
Darshan Gurjar as Young Bikram Bose
Arjun Kapoor as Bala Bhattacharya
Jayesh Vijay Kardak as Young Bala Bhattacharya
Priyanka Chopra as Nandita Sengupta
Irrfan Khan as A.C.P. Satyajeet Sarkar
Karan Aanand as Dutta
Saurabh Shukla as Kaali Kaka
Pankaj Tripathi as Lateef
Victor Banerjee as DCP of Calcutta
Anant Vidhaat Sharma as Himanshu
Deepraj Rana as Dibakar
Development
Gunday was announced in August 2012 by Yash Raj Films, with Ali Abbas Zafar attached to direct about two outlaws in 1970s who grow up to be famous goons of Calcutta. In an interview with Reuters, Zafar revealed that the idea for the film came because of his fascination with history. His father, a 1971 war veteran, used to tell him stories about the war and the immigration caused by it across the border and about the coal mafia. His father also used to tell the stories about the illegal coal trading in Calcutta, where the illegal practice of wagon-breaking where trains carrying coal were robbed by the unemployed youth. Since in the 1970s and 1980s, coal was a huge tool for the black marketing, he used it as a plot device. These stories inspired him to create the backdrop of the story as he based his characters around these consequences. While writing script he made a conscious decision to set the film in Kolkata as he felt it suited the political climate of the city.
Zafar also revealed that the films of that era such as Deewaar (1975) and Kaala Patthar (1979) also influenced the storyline. He believed that these films' portrayal of the conflict between the right and the wrong gave him an understanding of life as a child, which he used in the script. Zafar in an interview said the film held up the consequence of the struggle of two outlaws against the system and said "If someone is deprived of basic rights, there will certain youth who will be disillusioned and go over to the dark side. In a way, the system creates its own enemy." Gunday's script was also the last script that Yash Chopra was narrated and Zafar dedicated the film to him, saying "It is a special film for all four of us. He loved the script and believed in it. It is somewhere in lot of what inspired by his films Kaala Patthar, Deewaar, it is set in the time when he was making films".
Since majority of films of the 1970s and 80s were high on "bromance", Zafar also wanted to showcase friendship through his film, saying he wanted to "catch that spirit" of friendship such that between "Jai-Veeru" from Sholay (1975), which he said was a "definite reference point" along with Yaraana (1985), when it came to portraying bromance between two characters. Zafar made the friendship between his characters an integral part of the plot, where the characters believed in the deep rooted friendship, who can do anything for each other. He said "The whole idea while making Gunday was to bring the right feel of friendship. The idea about friendship which used to be in the earlier times, especially in the heartland of India was something else."
Casting and characters
In August 2012, Ranveer Singh and Arjun Kapoor, who both had made their film debut with the same production house, were cast as the protagonists Bikram and Bala. Zafar gave a joint narration to both the actors: Bikram to Kapoor and Bala to Singh. After hearing the narration, both the actors felt that they could play their respective characters as the identified the similarities between their characters and personality. However, the director switched the roles as a surprise giving the part of Bikram to Singh and Bala to Singh. Although they initially wanted to play the roles which they were narrated, feeling their respective characters were within their comfort zone, they later agreed to play the opposite roles. Priyanka Chopra later joined the cast as the lead actress in October 2012. The following month, Irrfan Khan was cast for the role of a Police officer in the film. Subarna Ray Chaudhuri designed the costumes while Rameshwar S Bhagat edited the film.
Chopra described her character Nandita, the cabaret dancer, as a girl next door, who acts as the main catalyst for driving the story further and igniting the conflict between Bikram and Bala, after they both fall in love with her. She admired the qualities shown her character saying "she's very righteous and believes in black and white, which is very like me. She is a no-nonsense person and has this superior air about her, even though she is a very normal girl. I think women should carry themselves like her." Khan described his character of the intelligence police officer as "larger than life". For Khan, who had mostly performed in the niche dramatic films, Zafar made his character a lot more flamboyant and mainstream. His character was highly stylised to suit the mainstream popcorn Genre of the film.
Singh described his and Kapoor's character as "two outlaws with a bold attitude". They described the friendship between the inseparable characters as the "two sides of the same coin". Kapoor further explained that Singh's character Bikram is essentially equilibrium to his character Bala, saying "He (Bikram) is more in control and aware of his surroundings. Bala, on the other hand, is temperamental and acts in the heat of the moment." Singh revealed that he had always intended to be a part of a "mass entertainer" and the reasons behind doing the film was the script, his character and the dialogues. Both the actors found their characters to be very engaging, adding that "Quintessentially, Bala is a little more hot-headed and emotional, also a little more extreme. Vikram is the level-headed fellow. He thinks with his head and not his heart. He is more controlled."
Filming
Rajat Poddar handled the production design while Aseem Mishra did the cinematography. Principal photography began on 14 December 2012 in Mumbai. It was shot at the Chandivali Studio, where the scenes between Singh, Kapoor and Chopra were filmed . The first schedule ended by December 2012. While filming a song sequence, Singh injured himself after falling from a height; he suffered a gash on his cheek. He was rushed to the nearest hospital and had to get a few stitches. The second schedule of the film started in January 2013 in Mumbai, where the streets of Howrah was created on the outskirts of the city. The filming moved to Kolkata in mid February, where the major portion of the film was filmed on-location. One of the early filmed scenes included a dramatic Durga Puja sequence under the Howrah Bridge with a crowd of 1000 people, for which a huge pandal was created. For building the pandal, one of the very old native professionals were hired to give it an authentic look of the 1980s.
The opening song "Jash-e-Ishqa" was filmed at the Howrah Bridge. Several scenes were filmed at the Jagannath Ghat and Maniktala fish market. The Dhapa area was recreated as the refugee camp, standing in for a refugee camp in Bangladesh. Other locations included the Victoria Memorial and Belbad Colliery, where the opening train sequences were filmed. The song "Tune Maari Entriyaan" was shot across various location which included scenes at the streets of Calcutta High Court, Dalhousie and Dakshineswar Kali Temple. Additionally, a small part of Calcutta was recreated at the Film City in Mumbai, which included places with signboards in Bangla, CPM flags, yellow taxis and the iconic Metro Cinema. Filming in Kolkata continued till the end of March.
Bosco–Caesar choreographed all the songs in the film. The cabaret dance number "Aslaam-E-Ishqum" featuring Chopra was filmed in early July over six days on a set created in Mumbai. The set for the cabaret number was modelled after Kolkata's once very popular bar "Trinka's", known for cabaret, where troupes from Russia and Europe used to come and perform. A huge coal mine set was erected at the Yash Raj Studio, where the four principal actors filmed the action scenes in July. In early September 2013, Zafar informed the media via tweeting that he was scouting locations for the film in Muscat, Oman, where the song "Jiya" was filmed on location as a part of the last schedule. Zafar also revealed that a fifteen days worth of shooting was left for the film, which was scheduled to occur in Kolkata and Raniganj. Filming resumed in the late September 2013 in Durgapur, where a huge climatic action sequence for was filmed in the coal mine area. While filming a huge crowd had gathered to watched the stars and the shoot. The filming was done over a period of over one hundred and ten days and was completed on 25 September 2013.
Soundtrack
The Soundtrack album was composed by Sohail Sen, with lyrics written by Irshad Kamil, except for one ("Gunday") which was written by Zafar. The lyrics for Bengali version of "Tune Maari Entriyaan" was written by Bappi Lahiri and Gautam Susmit. The album contains ten compositions including seven original songs, a theme and a different versions of two original songs. The vocals were performed by Javed Ali, Shadab Faridi, Lahiri, K. K., Neeti Mohan, Vishal Dadlani, Arijit Singh, Neha Bhasin, Shahid Mallya, Altamash Faridi, Sen, Kinga Rhymes and Monali Thakur. The album was released on 7 January 2014 by YRF Music. A Bengali version of the soundtrack, composed by Sen and lyrics by Sanjay, was also released on 19 January 2014.
The soundtrack album received positive reviews from music critics. The Times of India gave a rating of 4 out of 5 writing that the album succeeds in transporting the listener to the period where the film is set in but had its fair share of highs and lows. Planet Bollywood gave a rating of 7.5 out of 10 noting the variety in each compositions and wrote "Sohail Sen makes sure that there is everything for each segment of listeners". This is one soundtrack which should find a place in the playlist of every listener!" Bollywood Hungama gave the album a rating of 3.5 out of 5 writing "Sohail Sen seems to have finally got his act right. His songs have immense popular appeal, substance and the right blend of melody and contemporary styles." Writing for Rediff.com, Joginder Tuteja from also gave it 3.5 out of 5 stars noting the musical variety in the soundtrack and the "entertaining songs". The Indo-Asian News Service published on NDTV gave 3.5 out of 5 pointing out Sen's versatility as a music composer and wrote that the album had "songs for every mood and music lovers couldn't have asked for more."
The album was one of the most successful Indian music albums of 2014, with songs "Tune Maari Entriyaan", "Jashn-E-Ishqa" and "Asalaam-E-Ishqum" topping various charts in India across various platforms.
Release
The first teaser poster was released in mid December 2012, when the film began its production for a 2013 release. In April 2013, it was announced that the film was scheduled to release on the Valentines Day on 14 February 2014. The teaser trailer of the film was released on 21 November 2013 and had positive response, with India Today calling it "action-packed" and "promising". In what appeared to be a promotional strategy, the character played Priyanka Chopra did not appear in the teaser, which led to a lot of media buzz .She asked the audiences to wait for the release. On 12 December 2013, one day before the theatrical trailer release, the makers released the first look of Chopra, which was revealed to be of a cabaret dancer, her character was kept under wraps while the production. The theatrical trailer followed the next day, receiving a positive reception.
The film was promoted by its stars in major cities across India. The studio also released a range of merchandises partnering with several known brands to promote the film. The film's music and trailers aided its marketing. The premiere of the film was held in Dubai on 12 February 2014 with the full cast in attendance. The film was released on 14 February 2014 in 2700 screens. A Bengali dubbed version of the film was also released in West Bengal's small towns, where only Bengali films are shown. The film was not released in Pakistan, where it was highly awaited, after the country stopped giving No-Objection Certificates to Indian films in early 2014 due to pending legislative changes.
After the release of the film, Bangladeshis started a protest on the social media over the introductory narration in the film which says that Bangladesh was created through the Indo-Pakistani War of 1971 and that India's participation brought the independence to Bangladesh. People from Bangladeshi asked the production house to apologize for its inaccurate representation of its history. On the contrary to the film's depiction, the country was created after the Bangladesh Liberation War and India joined an already ongoing war of independence and was not the sole reason for the independence as told in the film. An article published in The Wall Street Journal wrote that "Bangladesh was born because Bangladeshi fighters had been battling the larger and better equipped Pakistani military for months. India's participation only quickened the war's end. It is the people of Bangladesh who liberated themselves from Pakistan. But to claim that Indi's participation alone brought about independence, as the film does, is incorrect." Bangladeshis were also offended for a scene in the film where the swaths of Bangladeshis called themselves Indians and spoke Hindi. A week later, Yash Raj Films made an official apology saying "This was and is meant to be a fictional work and does not in any way project or disrespect any particular segment of society or persons or a nation".
Irate Bangladeshis launched a social media campaign with the hashtag "GundayHumiliatedHistoryOfBangladesh" on Twitter by asking people supporting the campaign by burying the film on the Internat Movie Database. Facebook groups were formed to boycott and down vote the film. As a result, the film suffered from vote brigading on the IMDb, where it was the lowest rated film at the time of its release with 1.4/10 rating based on more than 44,000 votes, out of which 91 percent of the reviewers gave it one star. As of 2 August 2017, it holds a rating of 2.1/10.
Distributed by Yash Raj Home Video, the film was released on DVDs on 30 April 2014 across all regions in a two-disc pack in Anamorphic format, with several bonus content such as making of the film, deleted scenes and making of the songs. The VCD version was also released at the same time. A two-disc special edition DVD pack was also released later. The Blu-ray version was released on 2 May 2014. The world television premiere of the film happened on Sony MAX on 17 August 2014.
Critical reception
Gunday received positive reviews from critics. Review aggregator Rotten Tomatoes gave the film an approval rating of 86 percent based on 7 reviews, with an average rating of 7 out of 10. Taran Adarsh of Bollywood Hungama gave a rating of 4 out of 5 calling it an "entertainer" and wrote that the film "has an attention-grabbing premise, well-etched-out characters, high-octane drama, is generously peppered with vibrant songs and energetic action pieces, boasts of defining performances from the principal cast." However, Adarsh felt that the film was bloated in length and could have been shorter. Srijana Mitra Das from Times of India gave 3.5 out of 5 calling it an "Oliver Twist with a Bollwood twist", writing that "Gunday pays loving homage to Bollywood classics Sholay, Kaala Patthar and other brothers-in-arms films while offering more." Mohar Basu of Koimoi also gave a 3.5 out of 5 calling it a "must watch" for "the oomph and bombastic dialogues", and praised Zafar's direction writing that "the execution is what makes the fast depleting story hold its ground. The trajectories he builds are shaky but his screenplay is engrossing enough to not let you slip even in the slack moments."
Mint gave a highly positive review, calling it a "spectacular tribute to 1970s' Hindi cinema" and wrote that it "moves at a satisfying clip from the beginning to the end. It's formula food for the present day, spiced with flamboyance, a fair sense of rhythm that occasionally slackens during the 153-minute running time, and a clear understanding of the meaning of popular entertainment, Hindi movie style." However, it added that neither Singh nor Kapoor were "particularly convincing as dangerous gangsters. Rohit Khilnani from India Today gave the film a rating of 3.5 out of 5 terming it an "entertaining film" and wrote "It's old wine in a new bottle and it tastes awesome! It's packed with action, emotions, friendship, drama and some terrific performances." Writing for Hindustan Times, Anupama Chopra gave 3 out of 5, calling it an "an unabashed love letter to the 1970s" and wrote "Though the story is set in the 1980s, Zafar recreates a classic '70s vibe with punchy dialogue-baazi, scenes designed to make you applaud and a relentless background score by Julius Packiam that underlines every beat just in case you missed a high note. Gunday is all slow-motion and swagger, with nods to Deewaar, Sholay, Kaala Patthar, Kabhie Kabhie and sprinkles of John Woo's doves and Butch Cassidy and the Sundance Kid."
Sonia Chopra of Sify also gave 3 out of 5 praising the cast, calling the strongest point of the film and wrote "The film is watchable, yes, but less for the unimpressive story and mainly for the Ranveer-Priyanka-Arjun combo. And it's well worth the effort!" On the contrary, Rajeev Masand gave it a rating of 2 out of 5 terming it "derivative and tediously boring" and wrote "For a while, the film succeeds in grabbing your attention too with its striking period detail and some nicely mounted scenes. But rolling out at 2 hours and 34 minutes, it can't help feeling like a slog.". Daily News and Analysis gave 2 out of 5 noting that every critical conflicts in the story were flaky and the bromance was a letdown. Sukanya Verma of Rediff also gave 2 out of 5 criticising the script, which she thought was full of "silly loopholes, annoying clichés and glaring superficiality", writing that "No matter how hard Zafar tries to create an action hero [...] he fails to substantiate it with charisma that goes beyond surface value." Shubhra Gupta of The Indian Express gave 1.5 out of 5 calling it a "mash-up of popular blockbusters".
Box office
The film opened to very good opening at the box office. It also registered excellent collections at Multiplexes, which is rare for an action film in India. It grossed ₹150 million on its opening day, breaking opening records in several regions for the year, at the time of its release. The film went on to collect over ₹111 million on Saturday and ₹140 million on Sunday for an opening domestic weekend of over ₹402 million. The film grossed over $2 million from the overseas for the worldwide opening weekend of ₹670 million. Gunday grossed a decent ₹60 million (US$940,000), dropping sixty percent on its first Monday. The film had done good to reasonable business in all over, grossing ₹590 million in its first week domestically. During its theatrical run, the film grossed over ₹980 million at the Indian box office, with an additional $3.4 million from overseas, for a worldwide total of ₹1.2 billion. A commercial success, Gunday is the highest-grossing February Bollywood release of all time.
References
Gunday Wikipedia
(Text) CC BY-SA
Gunday IMDb
Gunday themoviedb.org