Birth name

Alokesh Lahiri




Spouse

Chitrani Lahiri (m. 1977)




Name

Bappi Lahiri




Years active

1972–present








Born

27 November 1952 (

1952-11-27

)


Origin

Kolkata, West Bengal, India


Genres

Film score, Disco, Rock, Pop, Theatre, Classical


Occupation(s)

Composer, Music director, Singer, Performer, Actor & Producer


Instruments

Tabla, Piano, Drums, Guitar, Saxophone, Bongos, Dholak


Role

Music composer · bappilahiri.com




Movies and TV shows

Main Aurr Mrs Khanna, Sa Re Ga Ma Pa L'il Champs, Badhti Ka Naam Dadhi, The Film LoveCom The Ultim



Children

Bappa Lahiri, Rema Lahiri



Singer Bappi Lahiri Special TABLA Performance At His Home Guinness World Records
Alokesh "Bappi" Lahiri (born 27 November 1952) is an Indian music composer, music director, singer, actor, and record producer. He popularized the use of synthesized disco music in Indian cinema and sang some of his own compositions. He was popular in the 1980s and 1990s with filmi soundtracks like Wardat, Disco Dancer, Namak Halaal, Dance Dance, Commando, Gang Leader, Sailaab and Sharaabi among others.
Contents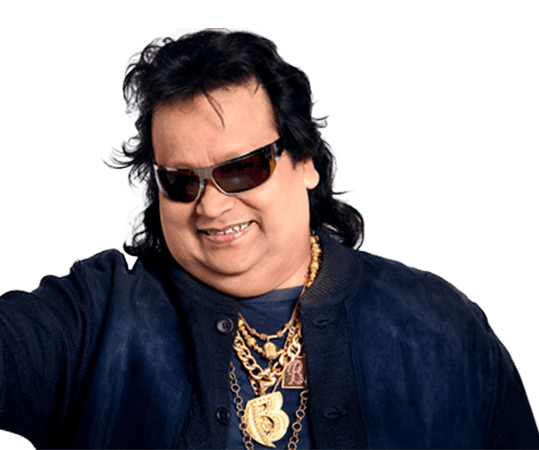 Lahiri joined BJP in 2014. He was declared a BJP candidate from Srirampur in West Bengal for the Indian general election, 2014 and lost.
Bappi Lahiri, an Indian music composer on Hindi film music
Early years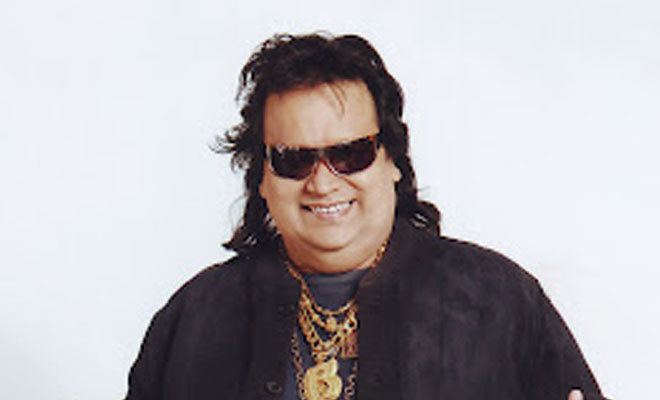 Lahiri was born in Jalpaiguri, West Bengal. His parents, Aparesh Lahiri and Bansari Lahiri both from Jalpaiguri, West Bengal were famous Bengali singer and musician in classical music and Shyama Sangeet. He is their only child.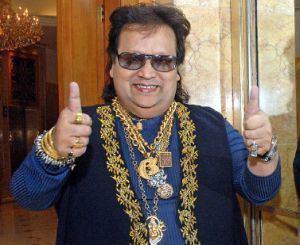 He began to play tabla at the age of 3. His maternal relatives include legendary singer Kishore Kumar who was his maternal uncle. Initially he was trained by his parents.
Hindi films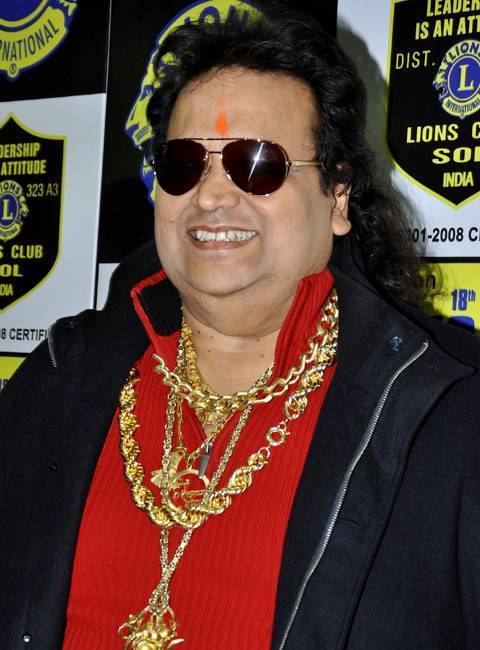 He moved to Mumbai when he was 19. He received his first opportunity in a Bengali film, Daadu (1972) and the first Hindi film for which he composed music was Nanha Shikari (1973). The first turning point of his career was Tahir Husain's Hindi film, Zakhmee (1975), for which he composed music and doubled as a playback singer. He sang a duet with Mohammed Rafi and Kishore Kumar called "Nothing Is Impossible" for the same film.
His first popular film was Chalte Chalte (1976), whose songs became hits thus bringing him recognition as a music director. With Ravikant Nagaich's Surakksha 1979 his singing and music became even more popular. In the early 80s, he added an element of the then popular disco music to his compositions, in movies such as Wardat 1981, Sahhas 1981, Laparwah 1981, Pyara Dushman 1980 song Hari Om Hari, Armaan 1981 song Ramba Ho Samba Ho .
Mithun Chakraborty and Bappi Lahiri became synonyms of Indian disco culture in the 1980s, largely due to movies such as Disco Dancer. Bappi Lahiri is the first Music Director to get the China Award in Beijing, China for the film Disco Dancer in 1982. His song "Jimmy Jimmy" was a success in the early 1980s and is said to have achieved some fame in other countries such as Russia.
Some in the media have called him the "Disco King" of India
He has also composed music for some ghazals namely Kisi nazar ko tera intezaar aaj bhi hai and Aawaz di hai for the 1985 film Aitbaar .
Lahiri entered the Guinness Book of World Records for recording over 180 songs for 33 films in 1986. He used fusion music in a feature film Namak Halaal in the song "Pagh Ghungroo Bandh Meera Nache Te", a song 12 minutes long. Lahiri has composed over 5,000 songs in over 500 films. He has also composed music for three films made in Bangladesh. Bappi Lahiri composed the background score for a 1989 Hollywood Film "Eye Witness to Murder" which was produced by Vijay Amritraj and Directed by Jagmohan Mundra. He also gave the music for an Indian English language film Divine Lovers which was produced and directed by B.Subhash (Babbar Subhash) in 1997.
Bappi Lahiri has cut two private English albums "Moving Away" in 1986 and "Snake Dance" in 1990 with songs sung by himself. In 1982, he cut a private Hindi pop Album titled, "Superuna", with songs sung by the Bangladesh singer Runa Laila. This was followed by a private Hindi pop album for Polygram called "Dance Dance Music Lover" with Padmini Kolhapure. In 1986, he released "Welcome" in London with Anil Kapoor and Salma Agha, and "Dancing City" which featured songs by the Hindi actress Mandakini.
Bappi Lahiri introduced his daughter Rema Lahiri in 1987, then 9 years old in a disco version of children's nursery rhymes called "Little Star", marketed by HMV. The platinum disc song had an unbroken record for best sales among children section. Based on Michael Jackson's Thriller, Lahiri released a video-pop album titled "Bappi Lahiri's thriller live" consisting of eight Hindi songs. He also released albums like "Dance Party" sung by his daughter Rema Lahiri in 1990, "Jawani Jawani" released by Venus Records & Tapes, "Night Lovers" 1992, "Heatrave" 1993, "Yamma Yamma Dance " with Usha Uthup in 1995, and "Nine Below Zero" in 1997. In 2014, he composed two songs for the album Women's Day Special: Spreading Melodies Everywhere, along with Sunil Jha and Shakir Ali. The tracks were penned by Meenu Singh and sung by Sunidhi Chauhan and Rekha Raj respectively.
BL Sound Sanirema Pvt Ltd
In November 1994 Lahiri started his music company, BL Sound (now called B9 Digital Studios Mumbai). He released several CDs under his banner like "Ala-li-la" 1995, "Jungle Boy", "Super Rema" sung by his daughter Rema Lahiri, "Purono jeans" (Bengali),"Agnee Prem, "Hum Hai Khalnayak", "Saajan Ke Liye", "Sraddhanjali amar maa – a tribute to Bansari Lahiri" (1997) and "Get on the dance floor" (a compilation of 8 songs by international singers like Tony Di Bart and Sabrina Johnston).
Discovering singers
Bappi Lahiri is also a singer and performer of repute on stage. He introduced Disco Songs to Hindi cinema and introduced several Pop Singers like Usha Uthup, Sharon Prabhakar, Alisha Chinai, Parvati Khan, Bali Brahmabhatt, Vijay Benedict, Nandu Bhende, Remo Fernandes, Salma Agha, and film star Anil Kapoor, Amrish Puri, Padmini Kolhapure, Mandakini, and Amjad Khan to sing under his baton. Many prominent singers like Lata Mangeshkar, P.Susheela, Asha Bhosle, Kishore Kumar, Mohammed Rafi, Mukesh, Manna Dey, Yesudas, S. Janaki and the newer generation singers like K.S.Chitra, Kavita Krishnamurthy, Amit Kumar, Kumar Sanu, Udit Narayan, Suresh Wadkar, Sadhana Sargam, Sonu Nigam, Abhijeet Bhattacharya, S.P.Balasubramaniam, Alka Yagnik, Anuradha Paudwal, Shailender Singh, Shabbir Kumar, Vinod Rathod Mohammad Aziz, Sudesh Bhosle along with Gazal singers Jagjit Singh, Bhupinder Singh and Pankaj Udhas have sung songs composed by Bappi Lahiri in a career spanning for 40 years in over 600 films in over 5000 songs. Bappi Lahiri received an award in 1990 from the then Indian President Giani Zail Singh for the best musical score in the film "Thanedaar". He was invited by Ex-Prime Minister of India, H.D. Deve Gowda, to compose a song for the World Football Tournament in Calcutta at Salt Lake. It was sung by Bappi Lahiri, Udit Narayan, and Rema Lahiri.
Lahiri's wife Chitrani Lahiri produced her first feature film Lal Darja (The Red Door) and which won the 1997 Gloden Lotus award during the 44th National Awards of India. The film, directed by Buddhadev Dasgupta, got the award for being the Best Feature Film of India.
Style of music
Along with Biddu, Bappi popularized the use of synthesized disco music in Indian cinema with an Indian flavour. Most of his songs werer rendered by singers such as Kishore Kumar and Asha Bhosle as well as new singers like Vijay Benedict and Sharon Prabhakar. He also used Alisha Chinoy and Usha Uthup extensively for his compositions. He created a few hits with the South Indian singer S. Janaki as well.
Some of his music has been sampled by international musicians, such as Dr. Dre, Truth Hurts, and Prodigy, among others. His Disco Dancer (1982) soundtrack is said to have influenced songs by artists such as Charanjit Singh, Devo, Ruki Vverh! Russian Group, and MIA. His most widely sampled song is "Come Closer" from Kasam Paida Karne Wale Ki (1984), which has been sampled by various musicians in recent years, including Dabrye, AG, Planet Asia, "Zooby Zooby" Dance Dance KutMasta Kurt, Masta Ace, eMC, Edu Kehäkettunen, Stig Dogg, and Onra.
Allegations of plagiarism
Throughout his career Lahiri has been accused of plagiarizing music produced by other composers without giving them any credit or royalties.
Conversely, in one instance, portions of his song "Thoda Resham Lagta Hai" were included in a 2002 "Addictive" by American R&B singer Truth Hurts. Copyright holders Saregama India, Ltd. sued Interscope Records and its parent company, Universal Music Group to the tune of more than $500 million. A Los Angeles federal judge subsequently barred further sales of the CD unless and until Lahiri was listed on the song's credits.
Career Post 1990s
Lahiri disappeared from the Indian film industry in the 1990s though he tried a brief comeback in the Prakash Mehra produced Dalal starring Mithun Chakraborty with the song "Gutur Gutur" which was a big hit although it had its share of controversies due to its suggestive lyrics. Thereafter he focussed on bringing out albums with remixes of his earlier songs, such as the 2004 album Bappi Magic – The Asli Baap Mix.
In 2005, he composed the background score for the Jahnu Barua film, Maine Gandhi Ko Nahin Maara, thus reaffirming his identity as a versatile composer. He subsequently lent his svoice to occasional songs such as "Boombai Nagariya" for the Vishal-Shekhar movie Taxi Number 9211 and the title track of the Mani Ratnam film Guru.
In 2006, he appeared as a judge on the first season of Sa Re Ga Ma Pa L'il Champs on Zee TV with singers Alka Yagnik and Abhijeet. He was also a judge on Sa Re Ga Ma Pa Challenge 2007 and Sony Entertainment Television's K For Kishore. In 2010 Lahiri was back with "I am a disco dancer" in Golmaal 3 in his own voice. The track was from his previous film Disco Dancer. In 2011, he sang the song Ooo la la Ooo la lain the movie The Dirty Picture for Vishal-Shekhar. He also released an album Walking on Love Street featuring the American Idol contestant Shaun Barrows. The album featured on CMJ's New Music Report Magazine charts, Week World Chart and the WONY Oneonta, New York – Top Ten Jazz Playlist.
Acting
Bappi Lahiri has made guest appearances in several movies. These include the 1974 Kishore Kumar film Badhti Ka Naam Dadhi as Bappu Gipsyan. Later he appeared in P. Sambasiva Rao's movie "Kalakaar" 1983 with Kunal Goswami, Sridevi. in 1986 Kirayadar as a musician. In 1988 in Bengali movie "Nayan Mony", 1990 Marathi film Dokyala Taap Nahi as a singer. in 1992 in Parto Ghosh Geet with Divya Bharti and Avinash Wadhavan, then in 1993 in Deepak Balraj Vij "Bomb Blast" as a singer. Dharma Karma 1997, with Jeetendra. As a friendly appearance in "Main Hoon Qatil Jaadugarni" 1998, in 2001 Bappi Lahiri appears in "Bombay Girls" as a music director. In Om Shanti Om 2007 Bappi Lahiri as himself. In 2009 Main Aurr Mrs Khanna as Victor with Salman Khan and Kareena Kapoor. Hangover 2010 Bengali movie as a stage performer. Bappi Lahiri also acted in Love.Com... The Ultimate Killing Site (2010) as a singer. In 2012 Bappi Lahiri acted as a Disco composer named DK in "It's Rocking Dard-E-Disco" which was produced by Dhumketu..
In late 2016, Bappi Lahiri lent his voice to the character of Tamatoa in the Hindi-dubbed version of Disney's 3D computer-animated fantasy adventure film Moana; he himself also composed and sang a song in the film.
Personal life
Bappi Lahiri is married to Chitrani since 24 January 1977. They have two children- daughter Rema Lahiri who is also a singer, she got married to a businessman Govind Bansal in February 2009, they have child name Swastik (Rego) Bansal, and son Bappa Lahiri who also became a music director, got married to Tanisha Varma in April 2012. Bappi Lahiri is very fond of jewellery and is usually seen wearing ornaments and dark glasses with a tracksuit.
Private albums
1982 "Superuna" with Runa Laila was recorded in London
1985 "Music Lover Dance Dance" with Padmini Kolhapuri
1986 "K Bappi Bappi Moving Away" With Krish recorded in London
"Dancing City" with Mandakini
"Welcome" with Anil Kapur, and Salma Agha
1987 "Little Star" with Rema Lahiri
1989 "Habiba" (sung by Bappi Lahiri and his daughter Rema Lahiri)
1990 "Jawani Jawani"
"Snake Dance"
1992 "Night Lovers"
1993 "Shake Your Body
"Heatrave"
1995 "Ala-Li-La"
"Saajan Ke Liye"
"Superema" with Rema Lahiri
"Jungle Boy"
"Bappi's Bollywood Hungama Mix with Rema Lahiri and Bappa Lahiri
"Yamma Yamma Dance" with Usha Uthup and Rema Lahiri
1996 "Wallah Wallah with Runa Laila
"Bappi With Love Remix
1997 "One Foot in Heaven, One Foot in Hell" Feat. Nine Below Zero
1998 "Mother of the Nation", dedicated to Mother Teresa, which was blessed by Mother Teresa.
"Love Story 98", Feat. Boy George, Apache Indian, Rema Lahiri, Bappa Lahiri, Udit Narayan, Kumar Sanu
1999 "Will To Live" with MC Hammer title and singers like Sharon Prabhakar, Asha Bhosle, Kumar Sanu, Rema Lahiri.
2001 "Festival of light" released in London
"Time 2 Dance" recorded in London
2003 "Bappiwood remix"
"Bikram's lounge" released in USA with Sherrie Payne Freda Payne, Gina Malfatti, with international stars
2004 "Janta Ki Maang Soniyaji" for Congress party
"Ghungta"
2005 "Hand to Hand" dedicating the album to the tsunami victims.
"Yaadein Kaifi"
2006 "V Mobile Singer"
2007 "Kavita Emotional Journey" with Rajashree was recorded in USA
2008 "Ishq Deewana"
2009 "My Love"
2010 "Tribute to The King of Pop" dedicated to Michael Jackson, recorded in Hollywood
"World Peace Love & Harmony" was recorded and released in Hollywood
2011 "Walking on the Love Street" with Diana Williamson, recorded in Hollywood
2012 "Jhoom Jhoom Jhoom Baba" Single was recorded in Hollywood
2013 "Global Legends" recorded and released in Hollywood
"Justice for Widows" Single
2014 "Bappi's Lounge" recorded and released in Hollywood
"God Is One" Gospel album recorded and released in Hollywood
2015 "Slumstars" with slum children, dedicated to slum children
"Taal Tarang" was recorded in Hollywood with guest singer Julia Price
"Indian Melody" was recorded in Hollywood
Selected discography
Some of the movies for which he composed music are:
Regional films
Rowdy Inspector [Telugu]
State Rowdy [Telugu]
Rowdy Alludu [Telugu]
Gang Leader [Telugu] Filmfare Award for Best Music Director - Telugu
Bramha [Telugu]
Simhasanam [Telugu]
Nippu Ravva [Telugu]
Rowdy Gari Pellam [Telugu]
Kizhakku Africavil Sheela [Tamil]
Krishna Nee Begane Baro – 1986 Kannada Film
Africadalli Sheela – 1986 Kannada Film
Police Matthu Dada – 1999 Kannada Film
The Good Boys – 1995 Malayalam Film
Bappi Lahiri has also done playback singing for his compositions. Some of the notable songs that he has sung include:
"Rahi Hu Mein" (Wanted: Dead or Alive)
"Bombai Se Aaya Mera Dost" (Aap Ki Khatir)
"Mausam Hai Gaane Ka" (Surakshaa)
"Dil Tha Akela Akela" (Surakshaa)
"Tum Jo Bhi Ho" (Surakshaa)
"Tu Mujhe Jaan Se Bhi Pyaraa hai" (Wardat)
"Yaad Aa Raha Hai" (Disco Dancer)
"Super Dancer" (Dance Dance)
"Jeena Bhi Kya Hai Jeena" (Kasam Paida Karne Wale Ki)
"Tera Mera Pehla Yaarana" (Shart)
"Pyar Chahiye Mujhe Jeene Ke Liye" (Manokamna)
"Raat Baaki" (Namak Halal)
"Yaar Bina Chain Kahan Re" (Saaheb)
"Tamma Tamma Loge" (Thaneedar)
"Pyar Kabhi Kam Nahi Karna" (Prem Pratigya)
"Dekha Hai Maine Tumhe Phir Se Palatke" (Wardat)
"Dil Main Ho Tum"
"Ji Le Le" (Adventures of Tarzan)
"Bambai Nagariya" (Taxi No 9211)
"Oh la la la" (The Dirty Picture)
"To Do Deewar" (Nirnayak – The Decider)ll
References
Bappi Lahiri Wikipedia
(Text) CC BY-SA