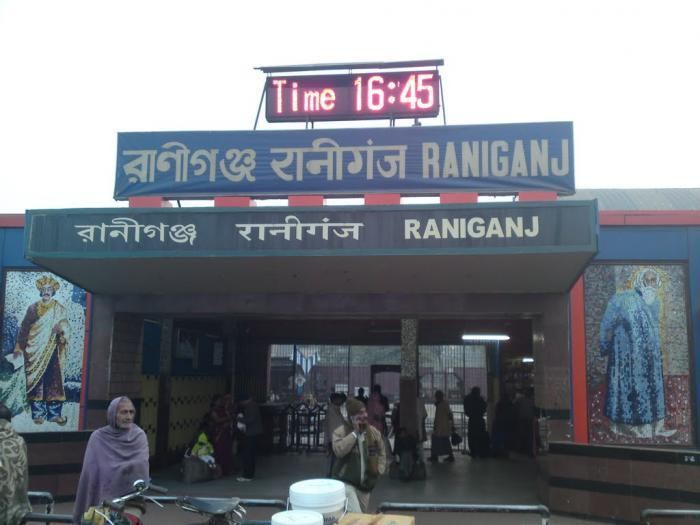 Raniganj is located at 23.62°N 87.13°E / 23.62; 87.13. It has an average elevation of 91 metres (298 feet).
The discovery of coal led to industrialisation of the area and most of the forests have been cleared.
Nunia, a small stream about 40 km (25 mi) long has its origin near Adra village in the Salanpur area, flows through the Barabani area and joins the Damodar in the Raniganj area.
Gram panchayats under Raniganj Panchayat Samiti are: Ratibati, Tirat, Egra, Amrasota, Jemari and Ballavpur.
According to the Kolkata Gazette notification of 3 June 2015, the municipal areas of Kulti, Raniganj and Jamuria were included within the jurisdiction of Asansol Municipal Corporation.
Raniganj police station has jurisdiction over parts of Asansol municipal corporation/ Raniganj municipality. The area covered is 113.05 km2 and the population covered is 249,618.
The headquarters of Raniganj CD Block are located at Raniganj.
As per the 2011 Census of India Raniganj municipal area had a total population of 129,441, of which 65,578 (52%) were males and 61,863 (48%) were females. Population below 6 years was 15,721. The total number of literates in Raniganj was 88,299 (87.85% of the population over 6 years).
As of 2001 India census, Raniganj had a population of 122,891. Males constitute 53% of the population and females 47%. Raniganj has an average literacy rate of 64%, higher than the national average of 59.5%: male literacy is 72%, and female literacy is 56%. In Raniganj, 11% of the population is under 6 years of age.
Triveni Devi Bhalotia College was established in 1957 at Raniganj. It is affiliated with Kazi Nazrul Uinversity.
Raniganj Girls' College was established in 1980 at Raniganj. It is affiliated with Kazi Nazrul University. Marwari Sanatan Vidyalaya was established in 1912 at Raniganj. It is affiliated with WBBSE.
There is a block primary health centre at Ranigunj. Other hopitals at Raniganj include Marwari Relief Society Hospital and Anandlok Hospital.