Interview with president gloria macapagal arroyo
Gloria Macapagal Arroyo (born April 5, 1947) is a Filipina politician who served as the 14th President of the Philippines from 2001 until 2010, as the 10th Vice President of the Philippines from 1998 to 2001, as the deputy speaker of the 17th Congress and a member of the House of Representatives representing the 2nd District of Pampanga since 2010. She was the country's second female president (after Corazon Aquino), and the daughter of former President Diosdado Macapagal. Arroyo is also the first duly elected female Vice President of the Philippines.
Contents
Arroyo was a former professor of economics at Ateneo de Manila University where Benigno Aquino III was one of her students. She entered government in 1987, serving as assistant secretary and undersecretary of the Department of Trade and Industry upon the invitation of President Corazon Aquino. After serving as a senator from 1992 to 1998, she was elected to the vice presidency under President Joseph Estrada, despite having run on an opposing ticket.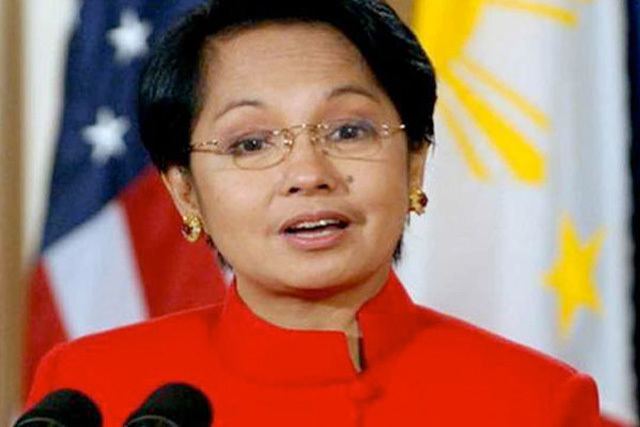 After Estrada was accused of corruption, she resigned her cabinet position as Secretary of Social Welfare and Development and joined the growing opposition to the president, who faced impeachment. Estrada was soon forced from office by the EDSA Revolution of 2001, and Arroyo was sworn into the presidency by Chief Justice Hilario Davide, Jr. on January 20, 2001. She was elected to a full six-year presidential term in the controversial May 2004 Philippine elections, and was sworn in on June 30, 2004. Following her presidency, she was elected to the House of Representatives, making her the second Philippine president—after Jose P. Laurel—to pursue a lower office after their presidency.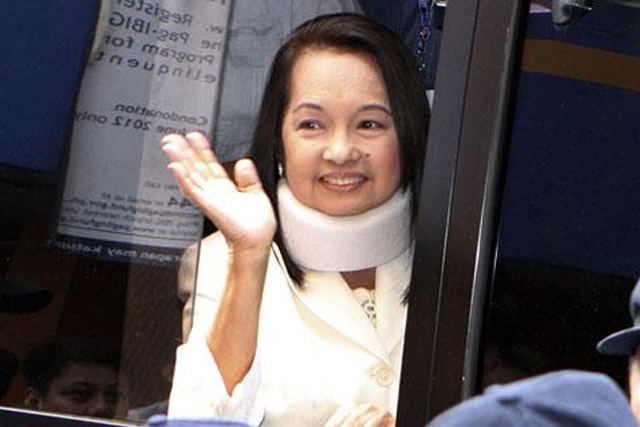 On November 18, 2011, Arroyo was arrested following the filing of criminal charges against her for electoral fraud. She was held at the Veterans Memorial Medical Center in Quezon City under charges of electoral sabotage but released on bail in July 2012. She was rearrested while in the hospital on charges of misuse of $8.8 million in state lottery funds in October 2012. On July 19, 2016, she was acquitted by the Supreme Court by a vote of 11-4. She is a member of the Philippine Academy of the Spanish Language.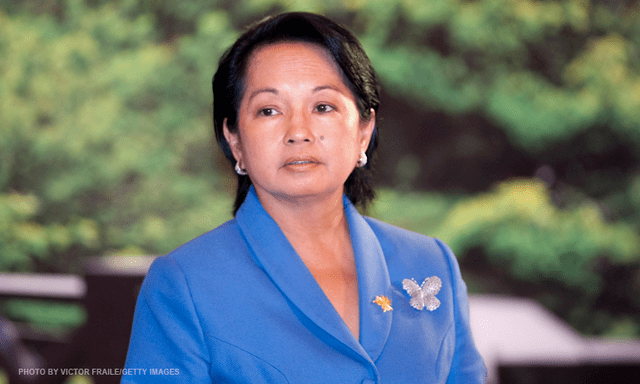 Ang pangulo ko gloria macapagal arroyo
Early life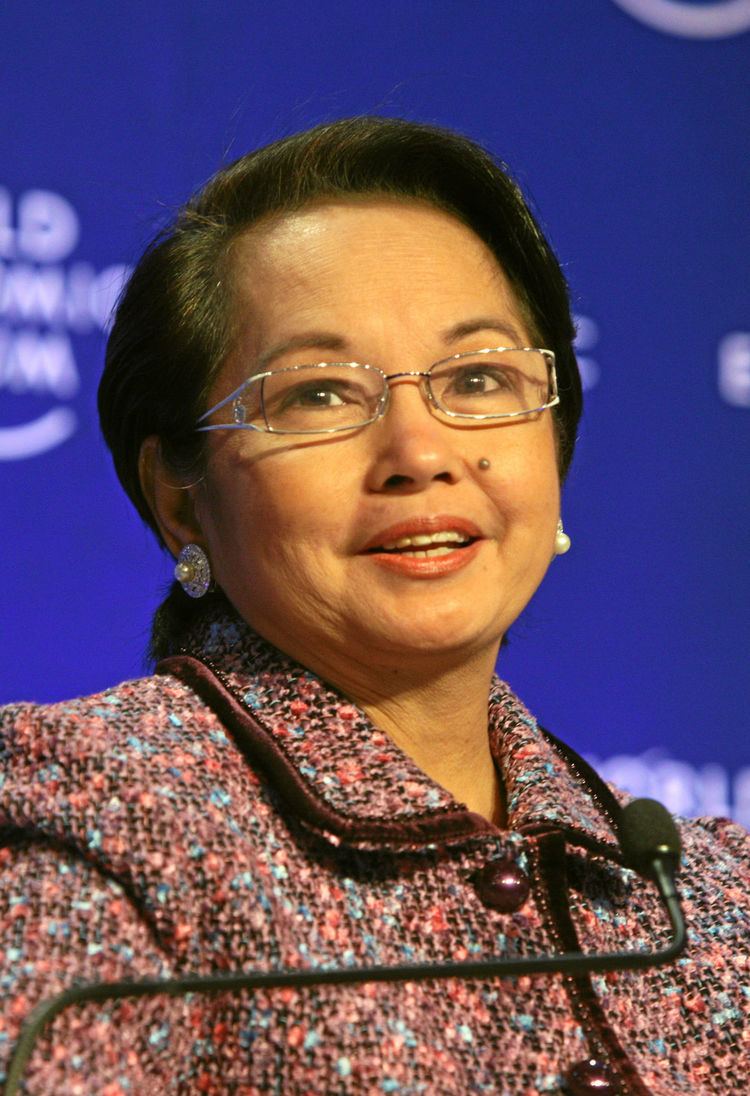 She was born as Maria Gloria Macaraeg Macapagal to politician Diosdado Macapagal and his wife, Evangelina Macaraeg Macapagal. She is the sister of Dr. Diosdado "Boboy" Macapagal, Jr. and Cielo Macapagal Salgado. She spent the first years of her life in Lubao, Pampanga, with her two older siblings from her father's first marriage. At the age of four, she chose to live with her maternal grandmother in Iligan City. She stayed there for three years, then split her time between Mindanao and Manila until the age of 11. She is a skilled polyglot. She is fluent in English, Tagalog, Spanish, French, and several other Philippine languages, such as Kapampangan, Ilokano, Hiligaynon, Pangasinense, Bikolano, and Cebuano.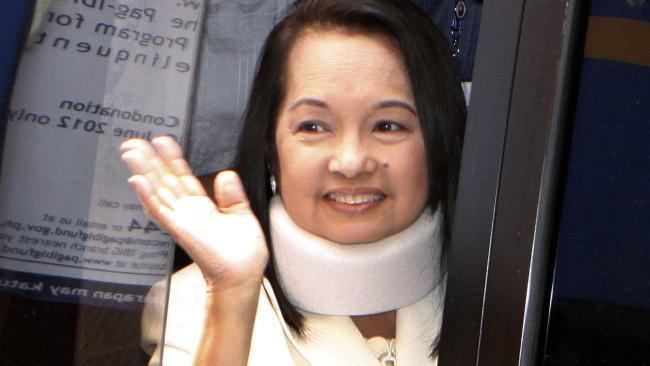 In 1961, when Arroyo was just 14 years old, her father was elected as president. She moved with her family into Malacañang Palace in Manila. A municipality was named in her honor, Gloria, Oriental Mindoro. She attended Assumption Convent for her elementary and high school education, graduating valedictorian in 1964. Arroyo then studied for two years at Georgetown University's Walsh School of Foreign Service in Washington, D.C. where she was a classmate of future United States President Bill Clinton and achieved consistent Dean's list status. She then earned her Bachelor of Arts degree in Economics from Assumption College, graduating magna cum laude in 1968.
In 1968, Arroyo married lawyer and businessman Jose Miguel Arroyo of Binalbagan, Negros Occidental, whom she had met while still a teenager. They had three children, Juan Miguel (born 1969), Evangelina Lourdes (born 1971) and Diosdado Ignacio Jose Maria (born in 1974). She pursued a master's degree in Economics at the Ateneo de Manila University (1978) and a Ph.D. in Economics from the University of the Philippines Diliman (1985). From 1977 to 1987, she held teaching positions in several schools, notably the University of the Philippines and the Ateneo de Manila University. She became chairperson of the Economics Department at Assumption College.
In 1987, she was invited by President Corazon Aquino to join the government as Assistant Secretary of the Department of Trade and Industry. She was promoted to Undersecretary two years later. In her concurrent position as Executive Director of the Garments and Textile Export Board, Arroyo oversaw the rapid growth of the garment industry in the late 1980s.
Senator
Arroyo entered politics in the 1992 election, running for senator. At the first general election under the 1987 Constitution, the top twelve vote-getting senatorial candidates would win a six-year term, and the next twelve candidates would win a three-year term. Arroyo ranked 13th in the elections, earning a three-year term. She was re-elected in 1995, topping the senatorial election with nearly 16 million votes.
As a legislator, Arroyo filed over 400 bills and authored or sponsored 55 laws during her tenure as senator, including the Anti-Sexual Harassment Law, the Indigenous People's Rights Law, and the Export Development Act.
The 1995 Mining Act, which allows 100% foreign ownership of Philippine mines, has come under fire from left-wing political groups.
Vice Presidency
Arroyo considered a run for the presidency in the 1998 election, but was persuaded by President Fidel V. Ramos and leaders of the administration party Lakas-Christian Muslim Democrats to instead seek the vice-presidency as the running mate of its presidential candidate, House Speaker Jose de Venecia, Jr. Though the latter lost to popular former actor Joseph Estrada, Arroyo won the vice presidency by a large margin, garnering more than twice the votes of her closest opponent, Estrada's running mate Senator Edgardo Angara.
Arroyo began her term as Vice President on June 30, 1998. She was appointed by Estrada to a concurrent position in the cabinet as Secretary of Social Welfare and Development.
Arroyo resigned from the Cabinet in October 2000, distancing herself from Estrada, who was accused of corruption by a former political supporter, Chavit Singson, Governor from Ilocos Sur. She had initially resisted pressure from allies to speak out against Estrada, but eventually joined calls for Estrada's resignation.
Succession
The last quarter of 2000 up to the first week of January 2001 was a period of political and economic uncertainty for the Philippines. On January 16, 2001, the impeachment trial also took a new direction. Private prosecutors walked out of the trial when pro-Estrada senators prevented the opening of an evidence (a brown envelope) containing bank records allegedly owned by President Estrada. With the walkout, the impeachment trial was not completed and Filipinos eventually took to the streets in masses to continue the clamor for President Estrada's resignation. From January 17 to 20, 2001, hundreds of thousands of Filipinos gathered at Epifanio de los Santos Avenue (EDSA), the site of the original People Power Revolution. The clamor for a change in the presidency gained momentum as various sectors of Philippine society – professionals, students, artists, politicians, leftist and rightist groups – joined what became known as EDSA II. Officials of the administration, the Armed Forces of the Philippines (AFP), and the Philippine National Police (PNP) also withdrew their support for President Estrada.
Days after leaving Malacañang Palace, President Estrada's lawyers questioned the legitimacy of Arroyo's presidency before the Supreme Court. He reiterated that he had not resigned as president and that at most, Arroyo was just serving in an acting capacity. The high court, however, voted unanimously to uphold the legitimacy of Arroyo's succession. As a consequence, Estrada no longer enjoys immunity from charges being filed against him.
In the last week of April 2001, the Sandiganbayan ordered the arrest of Estrada and his son, then mayor Jinggoy Estrada, for plunder charges. A few days later, Estrada supporters protested his arrest, gathered at the EDSA Shrine, and staged what they called, EDSA III – comparing their actions to the People Power revolution of 1986 and January 2001.
Thousands of protesters demanded the release of Estrada. Eventually, they also called for the ouster of Arroyo and the reinstatement of the former. On May 1, 2001, they marched towards Malacañang to force Arroyo to give in to their demands. Violence erupted when the protesters attempted to storm the presidential palace and the military and police were ordered to use their arms to drive them back. Arroyo declared a state of rebellion because of the violence and prominent political personalities affiliated with Estrada were charged and arrested. The so-called EDSA III was the first serious political challenge to the Arroyo presidency.
Corruption charges and Oakwood Mutiny
The Oakwood mutiny occurred in the Philippines on July 27, 2003. A group of 321 armed soldiers who called themselves "Bagong Katipuneros" led by Army Capt. Gerardo Gambala and Lt. Antonio Trillanes IV of the Philippine Navy took over the Oakwood Premier Ayala Center (now Ascott Makati) serviced apartment tower in Makati City to show the Filipino people the alleged corruption of the Gloria Macapagal-Arroyo administration. They also stated that they saw signs suggesting that the President was going to declare martial law.
Later in 2011, after being ousted from presidency, Arroyo was charged withelectoral fraud and corruption.
2004 Presidential Election
Article VII Section 4 of the 1987 Constitution explicitly states that the president of the Philippines can only serve for one term. However, the same provision also implicitly states that a president's successor who has not served for more than four years can still seek a full term for the presidency. Although Arroyo fell under this category, she initially announced on December 30, 2002 that she would not seek the presidency in 2004. She emphasized that she would devote her remaining months in office to serving the people and improving the economy of the Philippines.
In October 2003, Arroyo changed her mind and announced that she would contest the May 2004 presidential elections and seek a direct mandate from the people. She explained, "There is a higher cause to change society...in a way that nourishes our future". With her decision, the initial criticisms hurled against Arroyo centered on her lack of word of honor.
As predicted by SWS exit polls, Arroyo won the election by a margin of over one million votes against Poe. However, the congressional canvassing was quite contentious as opposition lawmakers in the National Board of Canvassers argued that there were many discrepancies in the election returns and that insinuations of cheating were raised. On June 23, 2004, Congress proclaimed Arroyo and Noli de Castro as president and vice president, respectively.
2004 Presidential Election rigging allegations
On June 30, 2004, in a break with tradition, Arroyo first delivered her inaugural speech at the Quirino Grandstand in Manila. She then departed for Cebu City for her oath taking, the first time that a Philippine president took the oath of office outside of Luzon.
Allegations of cheating against Arroyo gained momentum one year after the May 2004 elections. In a press conference held on June 10, 2005, Samuel Ong, former deputy director of the National Bureau of Investigation (NBI) claimed to have audio recordings of wiretapped conversations between Arroyo and an official of the Commission on Elections (COMELEC). Virgilio Garcillano, a former COMELEC commissioner, would later be identified as the official talking to Arroyo. According to Ong, the recordings allegedly proved that Arroyo ordered the rigging of the national elections for her to win by around one million votes against Poe.
The recordings of Ong became known as the Hello Garci controversy and triggered massive protests against Arroyo. Key members of her cabinet resigned from their respective posts and urged Arroyo to do the same. On June 27, 2005, Arroyo admitted to inappropriately speaking to a COMELEC official, claiming it was a "lapse in judgement". She, however, denied influencing the outcome of the elections and declared that she won the elections fairly. Arroyo did not resign despite the pressures coming from various sectors of society.
The Hello Garci controversy became the basis of the impeachment case filed against Arroyo in 2005. Attempts to impeach Arroyo failed later that year. Another impeachment case was filed against Arroyo in 2006 but was also defeated at the House of Representatives.
In October 2007, lawyer Alan Paguia filed an impeachment complaint against Arroyo in connection with the issue of bribery. Paguia's complaint was based on the revelation of Pampanga Governor Ed Panlilio that various governors received half a million pesos from Malacañang. The impeachment case, as of the middle of October 2007, has already been referred to the House of Representatives Committee on Justice.
State of Emergency
On February 24, 2006, a plot to take over the government was uncovered by authorities, allegedly headed by Gen. Danilo Lim and other rightist military adventurists. General Lim and some of his men were arrested. To face the threat posed by enemies of the state, Arroyo issued Presidential Proclamation 1017 (PP 1017) and used it as basis in declaring a state of emergency throughout the Philippines. According to Arroyo, this declaration was done to quell the military rebellion, stop lawless violence, and promote peace and stability. PP 1017 also empowered the government to enforce warrantless arrests and take over strategic private utilities companies.
On February 25, 2006, the police raided the office of the Daily Tribune, a newspaper known as a critic of the Arroyo administration. The government then issued a journalism guidelines to address the threat posed by critics in the media. Presidential Management Staff chief Michael Defensor said that the guidelines were necessary in order to cope with the emergency situation.
The state of emergency existed for about one week with the purpose of curbing further violence, illegal rallies, and public disturbance throughout the Philippines. The police and the military dispersed demonstrators and protesters, especially those along Epifanio de los Santos Avenue (EDSA). Aside from General Lim, prominent personalities were also arrested in connection with their alleged participation in the attempt to overthrow the government. Among those arrested were:
Col. Ariel Querubin – leader of a group of Philippine Marines who engaged the government in a political stand-off at Fort Bonifacio on February 25, 2005
Randy David – led a protest rally without securing the necessary permit
Crispin Beltran – party-list representative of Anakpawis charged with inciting to sedition and rebellion
Batasan Five – party-list representatives charged with rebellion and were placed under the custody of the House of Representatives; Bayan Muna's Teodoro Casiño, Satur Ocampo, and Joel Virador; Gabriela's Liza Maza, and Anakpawis' Rafael Mariano
PP 1017 was lifted on March 3, 2006 but members of the opposition, private lawyers, and concerned citizens challenged its constitutionality before the Supreme Court. On May 4, the high court declared the proclamation constitutional. However, it also said that it was illegal for the government to implement warrantless arrests and seize private institutions and companies.
Charter Change
Arroyo currently spearheads a controversial plan for an overhaul of the constitution to transform the present unitary and presidential republic with a bicameral legislature into a federal parliamentary government with a unicameral legislature.
Economy
Arroyo, who earned a master's degree and doctorate in economics, made the Philippine economy the focus of her presidency. Annual economic growth in the Philippines averaged 4.5% during the Arroyo administration, expanding every quarter of her presidency. This is higher than in the administrations of her three immediate predecessors, Corazon Aquino (3.8%), Fidel Ramos (3.7%), and Joseph Estrada (3.7%). The Philippine economy grew at its fastest pace in three decades in 2007, with real GDP growth exceeding 7%. The economy was one of the few to avoid contraction during the 2008 global financial crisis, faring better than its regional peers due to minimal exposure to troubled international securities, lower dependence on exports, relatively resilient domestic consumption, large remittances from four-to five-million overseas Filipino workers, and a growing business process outsourcing industry. Arroyo's handling of the economy has earned praise from former US President Bill Clinton, who cited her "tough decisions" that put the Philippine economy back in shape. Despite this growth, the poverty rate remained stagnant due to a high population growth rate and uneven distribution of income.
A controversial expanded value added tax (e-VAT) law, considered the centerpiece of the Arroyo administration's economic reform agenda, was implemented in November 2005, aiming to complement revenue-raising efforts that could plug the country's large budget deficit. Her administration originally set a target to balance the national budget by 2010. The tax measure boosted confidence in the government's fiscal capacity and helped to strengthen the Philippine peso, making it East Asia's best performing currency in 2005–06. The peso strengthened by nearly 20% in 2007, making it one of Asia's better performing currencies for that year, a fact attributed to a combination of increased remittances from overseas Filipino workers and a strong domestic economy.
Early in her presidency, Arroyo implemented a controversial policy of holiday economics, adjusting holidays to form longer weekends with the purpose of boosting domestic tourism and allowing Filipinos more time with their families.
The rate of inflation during the later portion of Arroyo's administration was so high. Common consumer goods became prohibitive in cost. There was a marked decrease in the number of students in universities. Privately owned universities closed in numbers.
Public perception
The Social Weather Stations public opinion group has conducted quarterly surveys tracking the net satisfaction rating ("satisfied" rating minus "dissatisfied" rating") of President Arroyo. She began her presidency in the first quarter of 2001 with a net satisfaction rating of +24. Her rating first dipped into the negative in the first quarter of 2003, making Arroyo the only president to achieve a negative net satisfaction rating in SWS opinion polling. Her rating rebounded well into the positive in 2004, in time for the presidential election where she won election to a new six-year term. However, net satisfaction sunk back into negative territory in the fourth quarter of 2004, and has remained negative since, dipping as low as −38 in the second quarter of 2008. Her net satisfaction rating in the first quarter of 2009 was −32.
2009 biopsy
On July 3, 2009, it was announced that Arroyo had undergone a biopsy to examine lumps discovered in her breast and groin. Press Secretary Cerge Remonde stated that the results of the biopsy were negative. Remonde also denied reports published in the July 3, 2009 editions of the Manila Bulletin and the Philippine Star that Arroyo had undergone surgery for the removal or repair of breast silicone implants.
2010 election to House of Representatives
In November 2009, Arroyo formally declared her intention to run for a seat in the House of Representatives representing the 2nd District of Pampanga, making her the second Philippine President – after Jose P. Laurel – to pursue a lower office after the expiration of their presidency. A petition seeking to disqualify Arroyo from the race was dismissed by the Comelec for lack of merit, a decision which was later affirmed by the Supreme Court. With little serious competition, she was elected to congress in May 2010 with a landslide victory. After receiving final military honors at the inauguration ceremony of incoming President Benigno Aquino III, she headed straight to Pampanga for her own oath-taking as congresswoman.
Despite being considered the strongest contender for Speaker of the House, Arroyo declined to seek the position, hoping instead to take on a role similar to Sonia Gandhi, who was influential as merely the head of her party. On her first day as a lawmaker, Arroyo and her son Dato filed a resolution calling for Congress to call a constitutional convention to propose amendments to the existing constitution.
2011 Spinal surgery
In early 2011 she was diagnosed with cervical spondylosis or cervical radiculopathy. She was rushed to the St. Luke's Medical Center in Global City Taguig July 25, 2011, minutes after the State of the Nation Address by Benigno Aquino III. Doctors performed a 5-hour spine surgery on July 29, 2011 Two more surgeries occurred in August 2011 which aggravated her hypoparathyroidism. The House of Representatives under the leadership of Speaker Feliciano Belmonte, Jr. issued a travel permit allowing her to have treatment in Germany despite the Department of Justice hold departure order.
2011 hospital arrest
Arroyo was arrested on November 18, 2011 after a Pasay court issued a warrant of arrest against her, following the filing of a complaint for electoral sabotage by the Commission on Elections. The arrest warrant was served at a St. Luke's Medical Center at Taguig where Arroyo had been confined. Days earlier, the Supreme Court had issued a Resolution enjoining attempts by the Department of Justice to prevent her departure from the Philippines to seek medical treatment overseas.
She was transferred to the Veterans Memorial Medical Center in Quezon City on December 9, 2011. Arroyo was released from hospital arrest on bail on July 25, 2012.
On October 29, 2012, she refused to enter any plea on charges she misused $8.8 million in state lottery funds during her term in office. As of December 2013, she was still in custody at the Veterans Memorial Medical Center. On July 19, 2016 the Supreme Court dismissed the corruption charges and ordered her release from the hospital where she had been detained since 2012.
2013 reelection to House of Representatives
While still confined in the Veterans Medical Center, Arroyo successfully earned a second term as congresswoman for Pampanga's second legislative district at the conclusion of the 2013 Philippine mid-term elections on 13 May 2013, defeating the ruling Liberal Party's Vivian Dabu who was the provincial administrator under priest-turned-politician former Governor Among Ed Panlilio.
2014 medical problems and reapplication for bail
Arroyo was transported to St. Luke's Medical Center for tests and treatment and returned to confinement at the Veteran's Medical Center after medical incidents in May and June 2014. In June, after the second of these incidents, her attorneys renewed application for bail. In September, a third medical incident caused her to again be rushed to St. Luke's for treatment and returned to confinement at the Veteran's Medical Center.
2016 Supreme Court acquittal
On July 19, 2016, the Supreme Court ruled in favor of the dismissal of plunder case against Arroyo, gathering a vote of 11-4 which was read by spokesperson Theodore Te. Seven of the 11 judges who voted for acquittal were appointed by Arroyo and three of the four justices who voted against Arroyo's acquittal were appointees of former President Benigno Aquino III, including Chief Justice Maria Lourdes Sereno.
Scouting
Arroyo is the Chief Girl Scout of the Girl Scouts of the Philippines.
Government and political titles
Undersecretary of Trade and Industry (1987–1992)
Senator (1992–1998)
Secretary of Social Welfare and Development (1998–2000)
Vice President of the Philippines (1998–2001)
President of the Philippines (2001–2010)
Representative (2010–present)
Foreign Honours
Brunei: Knight Grand Cross with Collar of the Royal Family Order of Laila Utama of Brunei, 1st Class
Dominican Republic: Grand Cross of the Order of Merit of Duarte, Sanchez and Mella, Special Class
Equatorial Guinea: Grand Cross of the Order of Independence
Vatican
Holy See: Knight of the Decoration of Honour
Japan: Knight Grand Cordon of the Order of the Chrysanthemum
Romania: Grand Cross with Collar of the Order of the Star of Romania
Spain: Knight Grand Cross with Collar of the Order of Isabella the Catholic
Honorary Degrees
Honorary Doctor of Laws degree from Japan's Waseda University (2002)
Honorary Doctor of Laws degree from Old Dominion University (2003) in Virginia, United States.
Honorary Doctor of Laws degree from Kyungsung University in Pusan, South Korea. (2005)
Honorary doctorate degree from University of San Francisco in California, United States (2004).
Honorary Doctor of Humanities degree from Mapua Institute of Technology in Manila, Philippines (2004)
Honorary Doctor of Laws degree from Fordham University (2003)
Honorary Doctor of Laws degree from Chulalongkorn University in Bangkok, Thailand.
Doctor of Laws, La Trobe University in Australia (2000)
Recognitions
Outstanding Senator by Philippine Reporter Magazine, Weekly Graphic Magazine, Public Eye Magazine, Trade Union Congress of the Philippines, and by Emil Jurado (Manila Standard Columnist)
Woman of the Year, Catholic Education Association of the Philippines
Ulirang Ina, Ulirang Ina Awards Committee, 13 May 2001 One of Asia's Most Powerful Women, Asiaweek
Making a Difference for Women – Women of Distinction Award, Soroptimist International of the Philippines Region, 30 May 2003
Most Distinguished Alumna, University of the Philippines Alumni Association (UPAA), 16 June 2001
Time magazine's "People Who Mattered" list for 2005
Forbes magazine's 100 Most Powerful Woman in the World (from 2004 to 2009) – she ranked 4th in the 2005 list
Member, Council of Women World Leaders
Don Quijote International Award (category: mejor labor institucional – Best institutional work) from Spain's King Juan Carlos (April 15, 2010)
References
Gloria Macapagal Arroyo Wikipedia
(Text) CC BY-SA