8.6

/

10

Alchetron

8.6

Rate This





Final episode date

15 May 2007




Country of origin

United States




Starring

Lauren GrahamAlexis BledelMelissa McCarthyKeiko AgenaYanic TruesdaleScott PattersonKelly BishopEdward HerrmannLiza WeilJared PadaleckiMilo VentimigliaSean GunnDavid SutcliffeChris EigemanMatt Czuchry

Cast




Profiles



Gilmore Girls is an American comedy-drama television series created by Amy Sherman-Palladino starring Lauren Graham and Alexis Bledel. Sherman-Palladino, her husband Daniel Palladino, David S. Rosenthal, and Gavin Polone served as the executive producers. The series debuted on October 5, 2000, on The WB and remained a tent-pole to the network until its move to The CW on September 26, 2006. The series originally ran for seven seasons and ended its run on May 15, 2007.
Contents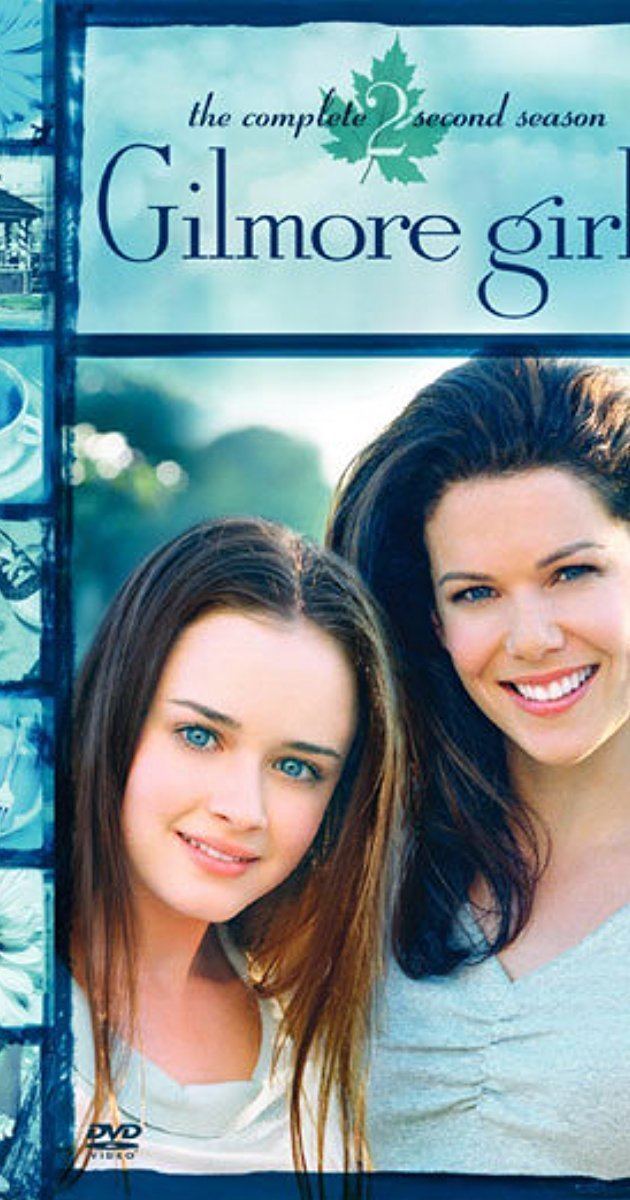 The show follows single mother Lorelai Gilmore (Graham) and her daughter Rory (Bledel), living in the fictional town of Stars Hollow, Connecticut. The town is filled with colorful characters and is located approximately 30 minutes from Hartford, Connecticut. The series explores issues of family, friendship and romance, as well as generational divides and social class. Ambition, education, work, love, family, and questions of class constitute some of the series' central concerns. The show's social commentary manifests most clearly in Lorelai's difficult relationship with her wealthy, appearance-obsessed parents, Emily and Richard Gilmore, and in Rory's interactions with the students at the Chilton Academy, and later, Yale University.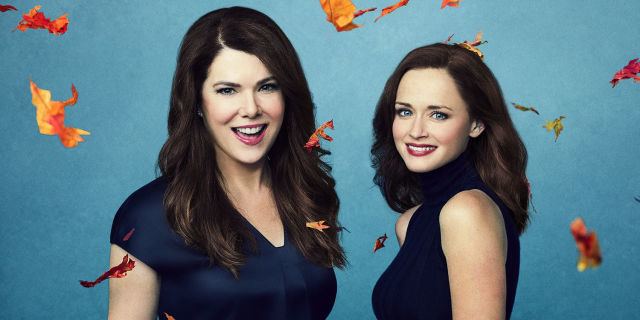 Gilmore Girls was released to critical acclaim. It featured fast-paced dialogue filled with pop-culture references. It won one Emmy Award for makeup in 2004. The show placed No. 32 on Entertainment Weekly's "New TV Classics" list, and was listed as one of Time magazine's "All-TIME 100 TV Shows" in 2007.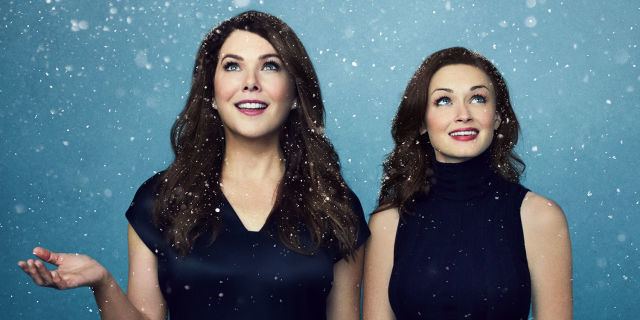 In 2016, the main cast and Sherman-Palladino returned for a four-part miniseries revival titled Gilmore Girls: A Year in the Life, which streamed on Netflix.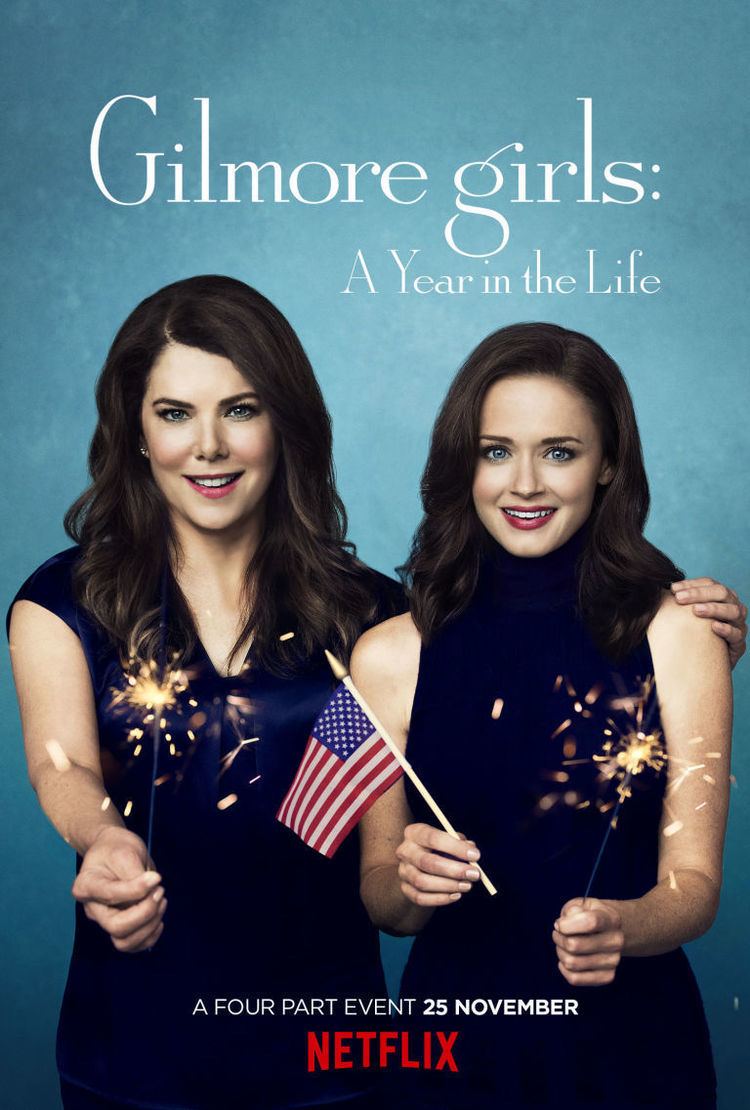 Gilmore girls a year in the life review lauren graham alexis bledel
Premise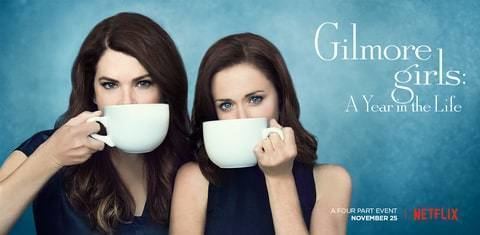 Lorelai Gilmore grew up with her old money parents, Richard and Emily, in Hartford, Connecticut, but always felt stifled by this environment. At age sixteen she accidentally became pregnant, and a year later left home to raise her daughter Rory in the close-knit town of Stars Hollow. Later episodes reveal that Lorelai and infant Rory were taken in by Mia, owner of the Independence Inn, where Lorelai eventually progressed from maid to executive manager. Lorelai and Rory develop a very close relationship, akin to best friends, and Lorelai is proud of the independent life she has formed away from her parents.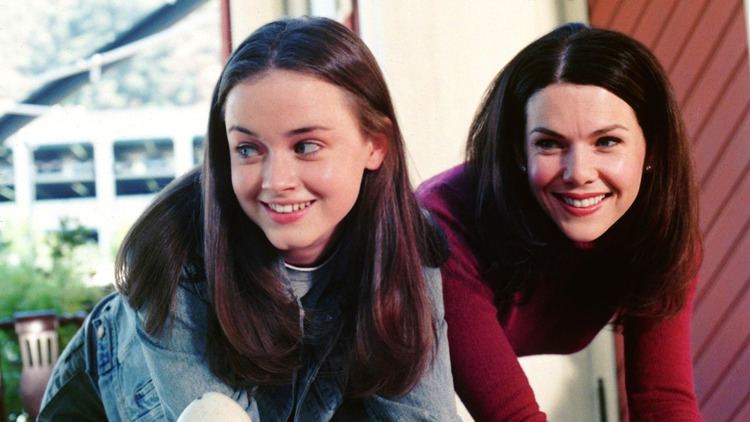 In the pilot episode, Rory, who is about to turn sixteen, has been accepted to Chilton Preparatory School in order to pursue her dream of studying at Harvard University - but the tuition fees pose a problem. Desperation and determination lead Lorelai to approach her parents, who she has seen only once or twice a year since leaving home, where she strikes a bargain. Emily and Richard provide her with a loan in exchange for an agreement that every Friday night she and Rory will join them for dinner.
The contrasting mother–daughter relationships of Emily–Lorelai and Lorelai–Rory become a defining theme of the show. The series also focuses on both girls' ambition: Rory to become a journalist, and Lorelai to open an inn with her best friend Sookie St James. The romantic relationships of the protagonists are another key feature; throughout the series Lorelai has a "will-they-won't-they" dynamic with both Rory's father, Christopher Hayden, and her friend, local diner owner Luke Danes. Rory has three boyfriends during the run of the show - local boy Dean Forrester, bad boy Jess Mariano, and wealthy Logan Huntzberger. The quirky townspeople of Stars Hollow are a constant presence in the show. Along with series-long and season-long arcs, Gilmore Girls is also episodic in nature, with mini-plots within each episode - such as a town festival, an issue at Lorelai's inn, or a school project of Rory's.
Season 1
Rory has a difficult time settling in at Chilton, struggling to match the demands of private school and attracting the fury of classmate Paris Geller. She meets her first boyfriend, Dean, but the pair break up when Rory doesn't reciprocate his "I love you". She is also pursued by arrogant Chilton student Tristan, but she has little interest. Lorelai begins dating Rory's English teacher, Max Medina, though their relationship is complicated by the situation. At the same time, she has a close friendship with the local diner owner, Luke Danes, and several people comment on their mutual attraction - but Lorelai is in denial and Luke doesn't act on it. Rory's father, Christopher Hayden, returns and also wants Lorelai but she tells him he is too immature for a family. All the while, Lorelai struggles to adjust to having her parents in her life on a regular basis. Emily and Richard enjoy developing a relationship with their granddaughter, but also realise how much they have missed. The season ends with Rory reuniting with Dean and Max proposing to Lorelai.
Season 2
Lorelai accepts Max's proposal, but realises shortly before the wedding that it isn't right and they break up. She and Sookie get excited about opening their own inn at the dilapidated Dragonfly Hotel but the owner refuses to sell. Sookie gets engaged to Jackson Belleville, a local farmer. Luke's teenage nephew, Jess Mariano, comes to live under his care. Jess is sullen and angry with everyone apart from Rory. The two strike up a friendship, causing jealousy in Dean. Lorelai is disapproving, especially when they are in a car accident, which leads to a blow-up with Luke. Richard announces that he has retired but soon becomes bored and sets up his own insurance company. Christopher appears to have his life together and Lorelai decides to reunite with him. But at Sookie's wedding Christopher learns that his recently estranged fiance is pregnant and decides to return to her, leaving Lorelai heartbroken. At the same time, Rory impulsively kisses Jess.
Season 3
Rory's attraction to Jess grows stronger, and she gets jealous when he teases her with a new girlfriend. Dean can't ignore what is going on, and eventually ends their relationship. Rory and Jess immediately become a couple. Meanwhile, she and Paris spend the year as Student Body Presidents at Chilton and both submit applications to Harvard University. Paris is devastated when she doesn't get in. Rory is accepted but decides to attend Yale University instead, much to Emily and Richard's delight. The Independence Inn is badly damaged in a fire, but Lorelai and Sookie are able to buy the Dragonfly when its elderly owner dies. Luke begins dating a lawyer named Nicole. Lane Kim, Rory's best friend, starts a band called Hep Alien and tries to convince her strict mother to let her date the guitarist, Dave, while keeping the band secret. As the season ends, Jess abruptly leaves Stars Hollow to track down his estranged father in California, and Rory graduates High School as valedictorian.
Season 4
Rory starts her college education at Yale, with Paris - now a friend - as her roommate. Both start working for the Yale Daily News. Rory is surprised when Dean quickly marries his new girlfriend. The pair grow closer again over the season, leading Rory to turn down Jess when he returns and declares his love. Lorelai spends the season renovating the Dragonfly Inn in preparation for its open, along with Sookie and their colleague Michel. She also begins a relationship with Richard's new business partner, Jason Stiles, which she keeps secret from her parents. Lane's mother learns about Hep Alien and throws her out of the house. Sookie has a son. Emily feels neglected by Richard and the two separate, with Richard moving into the poolhouse. Luke and Nicole elope during a cruise, but quickly decide to divorce. Towards the end of the season, Luke accepts that he is in love with Lorelai and begins wooing her. The pair finally kiss on the Dragonfly's opening night, while Rory loses her virginity to a married Dean.
Season 5
Lorelai and Luke start a relationship. Emily and Richard - who reunite and renew their wedding vows - disapprove, and Emily interferes by telling Christopher to try and win her back. Luke feels overwhelmed, resulting in a brief separation between him and Lorelai and a rift between Lorelai and Emily. Rory tries to have another relationship with Dean, now separated from his wife, but it soon ends when he realizes how different their lives are. She falls for Logan Huntzberger, a wealthy playboy Yale student whose parents think she is beneath him. Lane and Paris both start relationships: the former with her bandmate Zack, the latter with Yale Daily News editor Doyle. Sookie has a daughter. Rory gets an internship at Logan's father's newspaper but is deflated when he tells her she "doesn't have it." She and Logan are arrested for stealing a boat, after which Rory announces that she is quitting Yale and moves in with Emily and Richard. When Lorelai sees how supportive Luke is over the situation, she asks him to marry her.
Season 6
Lorelai is devastated by Rory's actions but insists that she can't force her back to Yale: it's a decision Rory must make for herself. Mother and daughter don't speak for several months. Rory has to complete community service and Emily gets her a job with the DAR. Eventually she returns to Yale and reunites with Lorelai. She replaces Paris as editor of the Yale Daily News, which causes issues in their friendship, and after a short separation from Logan the relationship get serious. Rory is crushed when Logan's father sends him to work in London. Hep Alien disband then come back together; Lane and Zack get married. Lorelai plans a wedding with Luke, but things get difficult when Luke learns that he has a 12-year-old daughter named April. He starts building a relationship with her but keeps Lorelai separate. Lorelai tries to accept this but eventually snaps and issues him an ultimatum. When he doesn't agree to elope, Lorelai goes to Christopher.
Season 7
Lorelai and Luke officially split when she tells him she slept with Christopher. Before much time has passed, Christopher convinces Lorelai to try a relationship. The pair spontaneously marry during a trip in Paris, but Lorelai soon accepts that it isn't right and they split amicably. Luke has a custody battle over April, whose mother moves her to New Mexico, and wins the right to see her during holidays. Rory completes her final year of college. She and Logan spend half the season in a long-distance relationship until he eventually moves back to Connecticut. He proposes, but Rory says that she wants to keep her options open, which leads to their separation. She panics about what she will do after graduating; following some rejection, she gets a job reporting on the Barack Obama campaign trail. Stars Hollow throws a surprise goodbye party for Rory. When Lorelai finds out that Luke organized it, the pair reconcile with a kiss. Lorelai promises Emily that she will continue attending Friday Night Dinners. Before Lorelai and Rory have to say goodbye, they have one last breakfast at Luke's Diner.
A Year in the Life
Nine years after the end of the original series, Rory is struggling in her journalism career and having a no-strings-attached relationship with Logan in London, while technically having a boyfriend named Paul that she forgets about. Lorelai and Luke live together but are still having communication problems. Richard has recently died of a heart attack, which causes tension between Lorelai and Emily and they end up in joint therapy. Lorelai starts to questions her life, so travels to California where she has an epiphany: she fixes the rift with Emily by recounting a happy story about Richard, and goes home to propose to Luke. Emily decides to sell the Gilmore mansion and move to Nantucket, where she starts working in a museum. Rory decides to write a book about her life called "Gilmore Girls". After Luke and Lorelai marry, Rory tells her mom that she is pregnant but the father is left ambiguous.
Development
Amy Sherman-Palladino, the show's creator, drew inspiration for the show's setting of "Stars Hollow, Connecticut" after making a trip to Washington Depot, Connecticut, where she stayed at the Mayflower Inn, which she found beautiful. She was amazed at how the people of the town knew each other very well and by the next morning of her stay she had written the pilot's dialogue. She explained: "If I can make people feel this much of what I felt walking around this fairy town, I thought that would be wonderful. […] At the time I was there, it was beautiful, it was magical, and it was feeling of warmth and small-town camaraderie. ... There was a longing for that in my own life, and I thought—that's something that I would really love to put out there." The show's pace is inspired by Katharine Hepburn–Spencer Tracy films.
The pilot episode of Gilmore Girls received financial support from the script development fund of the Family Friendly Programming Forum, which includes some of the nation's leading advertisers, making it one of the first network shows to reach the air with such funding.
In 2003, the WB planned a spin-off called Windward Circle, featuring character Jess Mariano, in which Jess gets to know his estranged father, Jimmy (Rob Estes), and is befriended by California skateboarders. However, the network canceled the show before it aired, citing high production costs to shoot on location in Venice Beach. The Gilmore Girls season 3 episode "Here Comes the Son" was effectively a backdoor pilot for the unaired spin-off.
Writing and filming
As signalled by its tagline "Life's short. Talk fast", Gilmore Girls is known for its fast-paced dialogue filled with pop culture references. Usually a Gilmore Girls script was 77–78 pages long, and one page equaled less than a minute, which allowed the series to include more dialogue and scenes. Much of the dialogue is peppered with references to film, television shows, music, literature and celebrity culture. The relative obscurity of some of these allusions resulted in the production of "Gilmore-isms" booklets included by WB in the DVD sets of the first four seasons. Subtitled "The 411 on many of the show's witty and memorable wordplays and pop culture references", the booklets also contain comments from the show's creators.
Gilmore Girls also relied on a master shot filming style, in which a scene is filmed to frame characters and their dialogue together within a long and uninterrupted, single take; often illustrated through another method regularly employed on the show, the walk and talk. It took up to eight working days to shoot an episode.
The pilot episode was shot in Unionville, Ontario, near Toronto. The rest of the series was filmed at the Warner Bros. lot in Burbank, California. The exterior shots of Rory's preparatory school, Chilton, were filmed at Greystone Mansion in Beverly Hills, California. A special stage was made of plaster and polyisocyanurate board for the scenes during which Rory is at Yale University, which were based on Calhoun College. While Rory's visit to Harvard was filmed at UCLA, her visit at Yale to decide which university she should choose was filmed at Pomona College.
Music
Series creator Amy Sherman-Palladino served as the music supervisor of the series. Known for its distinctive musical score consisting of melodic "la-la's", Gilmore Girls' non-diegetic score was composed by singer-songwriter Sam Phillips throughout its entire run. For the score's instrumental arrangement, Phillips primarily used her own voice, an acoustic guitar, and on occasion included violin, drums, piano and electric guitar as well. In crafting the sound of the show, Sherman-Palladino requested the music to sound very connected to the girls themselves, almost like "an extension of their thoughts. And if they had music going in their head during a certain emotional thing in their life, if they were real people, this would be the music that was going on." Sherman-Palladino also stresses how "[she] thinks that is what elevated the show. Because [music] wasn't a wasted element in the show. Everything was trying to say a little something, add a little something to it."
Music also plays a large part in the show as a frequent topic of conversation between characters and in its appearance in scenes themselves. In fact, the first conversation between Lorelai and Rory in the premiere episode, at Luke's Diner, involves the whereabouts of Macy Gray's debut album On How Life Is. The musical tastes of most of the main and recurring characters are revealed at some point, and the two leads have notoriously eclectic but discriminating tastes: Both mother and daughter dislike the "nondescript jazz" played at a baby shower, sculpt a snowman in Björk's image, and proclaim Metallica a "great band". Lorelai famously likes '80s music including the Bangles, XTC, and the Go-Go's, and her old bedroom at her parents' home has Duran Duran posters on the walls. Rory is often shown listening to alternative bands, like Pixies, Sonic Youth, Belle and Sebastian and Franz Ferdinand, and expresses her liking for P J Harvey and distaste for Smashing Pumpkins. Rory also swaps CDs with her mother, and credits her with introducing her to new books and music throughout her life in her address as Chilton's valedictorian.
Rory's best friend Lane is a music enthusiast, and her list of musical influences runs to five pages when she writes her "drummer-seeks-rock-band" want ad, which included the Ramones and Jackson Browne. Lane eventually forms her own band, Hep Alien, an anagram of the Gilmore Girls producer, Helen Pai's, name. The band plays rock with various influences, and Sebastian Bach, formerly of Skid Row, appears as Gil, Hep Alien's talented guitarist. The band's "reunion" occurred on October 4, 2014. Lorelai named her dog after the singer Paul Anka, who later appears in her dream sequence in the season 6 episode "The Real Paul Anka".
Other musical acts who made guest appearances include the Bangles, Sonic Youth, Sparks, the Shins, and Carole King, who re-recorded her 1971 song "Where You Lead" (lyrics by Toni Stern) as a duet with her daughter Louise Goffin for the Gilmore Girls theme song. Grant-Lee Phillips appears in at least one episode per season as the town's troubadour, singing his own songs and covers, while Sam Phillips, the score composer made her first and only appearance in the episode "Partings" (6.22). In 2002, a soundtrack to Gilmore Girls was released by Rhino Records, entitled Our Little Corner of the World: Music from Gilmore Girls. The CD booklet features anecdotes from show producers Amy Sherman-Palladino and Daniel Palladino about the large part music has played in their lives. On the Summer episode of Gilmore Girls:A Year in the Life, Carole King performs a brief portion of her song "I Feel the Earth Move."
Change of network and cancellation
In April 2006, it was announced that Amy Sherman-Palladino and her husband Daniel could not come to an agreement with The CW, the new network that resulted from a merger between UPN and the WB. They said in an official statement: "Despite our best efforts to return and ensure the future of Gilmore Girls for years to come, we were unable to reach an agreement with the studio and are therefore leaving when our contracts expire at the end of this season. Our heartfelt thanks go out to our amazing cast, hard-working crew and loyal fans. We know that the story lines from this season will continue into the next, and that the integrity of the show will remain long after we leave Stars Hollow." David S. Rosenthal who had already worked on the show as a writer and producer, replaced them.
On May 3, 2007, The CW announced that the series would not be renewed. According to Variety, "Money was a key factor in the decision, with the parties involved not able to reach a deal on salaries for the main cast members. Other issues, such as number of episodes and production dates, may have also played a role". Creator Amy Sherman-Palladino expressed an interest in pursuing a Gilmore Girls film. Lauren Graham has noted that a lot of fans "were disappointed with how it [the series] ended" and commented on the possibility of a follow-up movie.
Revival
On September 15, 2010, Lauren Graham told Vanity Fair that a Gilmore Girls movie is a definite possibility: "people with power, people who could actually make it happen, are talking about it." She stated the same thing in March 2013 through her Twitter account in the wake of companion show Veronica Mars earning Kickstarter funding for their film, saying it would be Sherman-Palladino's call for a film.
On June 11, 2012, while being interviewed for her new show Bunheads, creator Amy Sherman-Palladino reflected on the contract dispute and her own departure in an interview with Vulture, saying: "It was a botched negotiation. It really was about the fact that I was working too much. I was going to be the crazy person who was locked in my house and never came out. I heard a lot of 'Amy doesn't need a writing staff because she and [her husband] Dan Palladino write everything!' I thought, That's a great mentality on your part, but if you want to keep the show going for two more years, let me hire more writers. By the way, all this shit we asked for? They had to do [it] anyway when we left. They hired this big writing staff and a producer-director onstage. That's what bugged me the most. They wound up having to do what we'd asked for anyway, and I wasn't there."
In May 2015, in an interview on the Gilmore Guys podcast, Scott Patterson said: "There are talks going on at the moment. I can't really go into any detail, but there is some activity. So I'm hopeful, and you know, I'm in. [...] I think there's a lot of territory left unexplored that we could explore in a limited series or a TV movie or feature film, whatever that may be. I think it really just comes down to the script. I think everybody would jump on board." At the June 2015, ATX Television Festival in Austin, Texas, the cast reunited with creator Amy Sherman-Palladino where she told the audience, "I'm sorry, there's nothing in the works at the moment."
In October 2015, it was reported on TVLine that Netflix struck a deal with Warner Bros. to revive the series in a limited run, consisting of four 90-minute episodes. It was reported that Sherman-Palladino would be in charge of the new episodes. On January 29, 2016, Netflix and Warner Bros. officially confirmed the revival, tentatively titled Gilmore Girls: Seasons, stating that Lauren Graham, Alexis Bledel, Scott Patterson, Kelly Bishop, Sean Gunn and Keiko Agena are set to return. Over the following month, multiple cast members from the original series confirmed their involvement.
The revival series, titled Gilmore Girls: A Year in the Life, was released on Netflix on November 25, 2016 to positive reviews.
Critical response
Upon debut, Gilmore Girls was lauded for the distinct, dialogue-infused style created by Amy Sherman-Palladino, the strength of the dynamic familial themes, and the performances of its cast, particularly leading star Lauren Graham. In the San Francisco Chronicle review of the first season, John Carman said: "It's cross-generational, warm-the-cockles viewing, and it's a terrific show. Can this really be the WB, niche broadcaster to horny mall rats?" Newsday journalist Diane Werts reviewed the show, writing: "The way in which Gilmore Girls digs lightly but firmly into deep-seated emotion is as magical as the way Lorelai's yellow dream daisies end up scattered all over their town. We weekly wish we were there." Writing for The Cincinnati Post, Rick Bird called Gilmore Girls "one of the most witty and sassy mother-daughter buddy shows seen on TV in some time. This free-spirited dramedy is one of the more endearing, engaging shows of the new season."
In the Orlando Sentinel review of the second season premiere, critic Hal Boedeker writes "Series creator Amy Sherman-Palladino writes clever dialogue and ingratiating comedy, but she also knows how to do bittersweet drama. That Gilmore Girls is a touching comedy is also a tribute to the actors, led by the luminous Graham. The Gilmore family is one television clan worth knowing, and that can't be said too often these days. The A.V. Club included in November 2002, the episode "They Shoot Gilmores, Don't They?" on its list of the best TV episodes of the decade. Maureen Ryan of the Chicago Tribune described the sixth season as "uneven at best", explaining, "the protracted fight between Lorelai and Rory Gilmore left the writers scrambling to cram the show with filler plots that stretched many fans' patience to the limit." However, she highlighted Edward Herrmann and Kelly Bishop's performances, saying their characters "could have been stereotypical preppies, but thank goodness, they're so much more."
Ken Tucker from Entertainment Weekly rated the seasons one to six "A" and the last season "C". He wrote that Lorelai and Rory Gilmore combined with "Sherman-Palladino's protean gift for cultural references in some cross between Mystery Science Theater 3000 and Ulysses," made you live each week in "an old world with a fresh coat of words." He described the last season as "a death-blow season [which] was more accurately Gilmore Ghosts, as the exhausted actors bumped into the furniture searching for their departed souls and smart punchlines" but concluded the previous seasons were "six seasons of magnificent mixed emotions, with performances as shaded as a spot under a Stars Hollow elm tree."
Gilmore Girls was listed as one of Time magazine's "All-TIME 100 TV Shows." Entertainment Weekly put it on its end-of-the-decade, "best-of" list, saying, "Thank you, fast-talking Lorelai and Rory Gilmore, for suggesting moms and teenage daughters really can get along—all it takes is love, patience, and copious quantities of coffee."
Alan Sepinwall included the show in his "Best of the 00s in Comedies" list, saying: "It got on the air thanks in part to a coalition of advertisers looking for family-friendly programming, and "Gilmore" offered up an unconventional but enormously appealing family: mom Lorelai Gilmore (Lauren Graham) and teen daughter Rory (Alexis Bledel), so close in age that they often seemed more like sisters, plus the wealthy parents (Kelly Bishop and Edward Herrmann) Lorelai split from after getting pregnant at 16. As the quippy, pop culture-quoting younger Gilmores were forced to reconnect with their repressed elders, creator Amy Sherman-Palladino got plenty of laughs and tears out of the generational divide, and out of showing the family Lorelai created for herself and her daughter in the idealized, Norman Rockwell-esque town of Stars Hollow. At its best, Gilmore Girls was pure, concentrated happiness."
Awards and nominations
Gilmore Girls earned several accolades, receiving an American Film Institute Award in 2002 and an Emmy Award for Outstanding Makeup for a Series for the episode "The Festival of Living Art" (2004). The series was honored by the Viewers For Quality Television with a "seal of quality" in 2000 and was also named New Program of the Year by the Television Critics Association in 2001. Lauren Graham was nominated for one Golden Globe Award and two Screen Actors Guild Awards for her work on the first and second seasons, and received five successive nominations at the Satellite Awards. She also received a Family Television Award, and she won the Teen Choice Award for Best TV Mom twice. Alexis Bledel won a Young Artist Award, two Teen Choice Awards, and a Family Television Award. The series also won a Family Television Award for New Series and was named Best Family TV Drama Series by the Young Artist Awards. It was nominated for Favorite Television Drama at the People's Choice Awards 2005.
Ratings
The show was not a ratings success initially, airing in the tough Thursday 8pm/7pm Central time slot dominated by Survivor on CBS and sister Warner Bros. Television sitcom Friends on NBC in its seventh season. When it moved to Tuesday, its ratings surpassed its time slot competitor, popular series Buffy the Vampire Slayer, which had moved to the United Paramount Network (UPN) but retained the same time slot. It became The WB's third-highest-rated show. In its fifth season, Gilmore Girls became The WB's second-most-watched prime time show, with viewer numbers that grew by double digits in all major demographics.
The following list details the seasonal rankings (based on average total viewers per episode) of Gilmore Girls in the United States. The show rated first in the 18–25 demographic for women and second for men throughout the first four seasons. Each U.S. network television season starts in late September and ends in late May, which coincides with the completion of May sweeps.
Broadcast history
Gilmore Girls' first season commenced in the Thursday 8pm/7pm Central time slot, as a lead in for Charmed. Renewed for a second season, the show was relocated on Tuesdays 8pm/7pm, the time slot of Buffy the Vampire Slayer, which transferred to UPN, and served as a lead-in for Smallville. Later seasons saw it lead into One Tree Hill. In its syndicated release in the United States, the show airs on Freeform (formerly ABC Family until January 12, 2016), and from 2009 to 2013, aired in weekend timeslots on their sister network SOAPnet, which closed at the start of 2014. Reruns were added to UPtv on October 4, 2015, though Freeform continued to air episodes daily in its traditional 11 a.m. ET/PT timeslot until May 2016, when they began to be double-screened from 7:30 a.m.-9:30 a.m. ET/PT daily. It returned to the 11 a.m. timeslot in double-run form in August 2016.
First season reruns aired on Monday nights from March until May 2001, while Roswell was on hiatus to spread audience awareness. An additional run of the first season aired in 2002 on Sunday nights under the title Gilmore Girls Beginnings (which featured a modified opening sequence voiced with a monologue detailing the premise from Graham), and was one of two shows on The WB to give the Beginnings in its title for reruns (the other being 7th Heaven).
In the United Kingdom, Gilmore Girls was initially screened on Nickelodeon from 2003. Only the first three seasons were shown, with episodes edited for content and some, like "The Big One", dropped entirely. The series was subsequently picked up by the Hallmark Channel, which gave UK premieres to seasons 4 and 5, and E4, which continued to show all seven seasons in rotation, with occasional cuts to render it suitable for its early time slot, though not as drastic as Nickelodeon's cuts. On January 16, 2012, Gilmore Girls aired its final episode on E4. All seven seasons are now being aired, unedited, on 5*.
In Ireland, the series aired its entire run on RTÉ One on Sundays.
In Australia from March 16, 2015, Gilmore Girls began airing again weeknights on digital terrestrial network GEM.
The complete series became available worldwide on Netflix on July 1, 2016.
Home media and online
Warner Home Video released all seven seasons of Gilmore Girls on DVD in region 1, 2, 4, mainly in full-screen 4:3 due to Amy Sherman-Palladino's preference at the time of original release. All seasons are available for digital download on the iTunes Store, Amazon.com and other digital sales websites, with all digital sites offering all previous seasons in HD. On October 1, 2014, all seven seasons of the series began streaming on Netflix's "Watch Instantly" service in the United States and on July 1, 2016, globally.
Books
Four books for young adults, which adapted scripts for episodes in the first and second seasons into novel form from Rory's first-person point of view and included bonus "diary" content which included publicity photos from the series, were published by HarperCollins's HarperEntertainment/TV Tie-Ins imprint:
Like Mother, Like Daughter by Catherine Clark (2002, ISBN 0-06-051023-4)
I Love You, You Idiot by Cathy East Dubowski (2002, ISBN 0-06-050228-2)
I Do, Don't I? by Catherine Clark (2002, ISBN 0-06-009757-4)
The Other Side Of Summer by Amy Sherman-Palladino and Helen Pai (2002, ISBN 0-06-050916-3)
Two unofficial guides to the series;
Coffee At Luke's: An Unauthorized Gilmore Girls Gab Fest (2007, ISBN 1-933771-17-8)
The Gilmore Girls Companion by A. S. Berman (2010, ISBN 1-59393-616-8)
A cookbook inspired by the series;
Eat Like A Gilmore by Kristi Carlson (2016)
References
Gilmore Girls Wikipedia
(Text) CC BY-SA