Nationality

American




Name

Gene Hackman




Alma mater

Pasadena Playhouse


Role

Actor




Occupation

Actor and author




Height

1.88 m




Years active

1956–2004








Full Name

Eugene Allen Hackman




Born

January 30, 1930 (age 93) (

1930-01-30

) San Bernardino, California, U.S.


Residence

Santa Fe, New Mexico, U.S.


Home town

Danville, Illinois, U.S.


Spouse

Betsy Arakawa (m. 1991), Fay Maltese (m. 1956–1986)




Children

Christopher Allen Hackman, Elizabeth Jean Hackman, Leslie Anne Hackman




Books

Payback at Morning Peak, Justice for none




Movies

The French Connection, Superman, Unforgiven, The Conversation, The Royal Tenenbaums


Similar People

Clint Eastwood, Christopher Reeve, Dustin Hoffman, Gene Wilder, Margot Kidder
Movie star bios gene hackman
Eugene Allen "Gene" Hackman (born January 30, 1930) is a retired American actor and novelist. In a career spanning nearly five decades, Hackman was nominated for five Academy Awards, winning Best Actor in The French Connection and Best Supporting Actor in Unforgiven. He won three Golden Globes and two BAFTAs.
Contents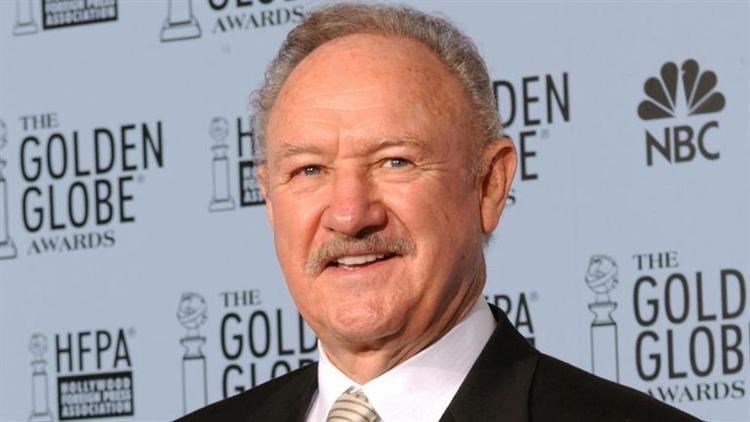 He first came to fame in 1967 with his performance as Buck Barrow in Bonnie and Clyde, in which he gained his first Academy Award nomination for Best Supporting Actor. His major subsequent films include: I Never Sang for My Father (1970), in which he gained his second Best Supporting Actor nomination; The French Connection (1971) and French Connection II (1975), in which he played Jimmy "Popeye" Doyle; The Poseidon Adventure (1972); The Conversation (1974); Superman: The Movie (1978), in which he played arch-villain Lex Luthor; Hoosiers (1986); and Mississippi Burning (1988), in which he gained his second Best Actor nomination.
His film roles during the 1990s featured: Unforgiven (1992); The Firm (1993); Crimson Tide (1995); Get Shorty (1995); The Birdcage (1996); and Enemy of the State (1998) Later roles included: Behind Enemy Lines (2001); and The Royal Tenenbaums (2001). Hackman's final film appearance to date was the romantic comedy Welcome to Mooseport in 2004, co-starring comedian Ray Romano.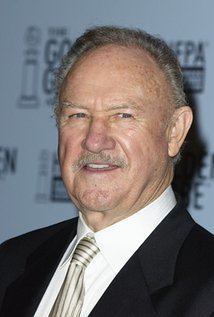 Early life and education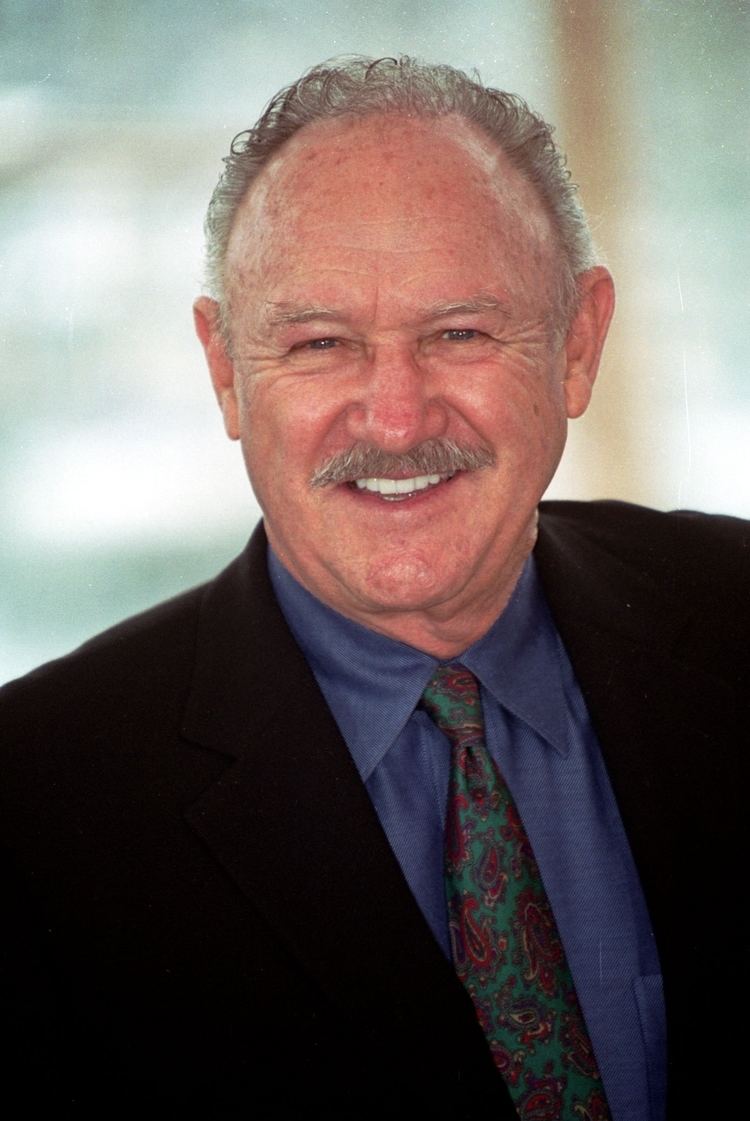 Hackman was born in San Bernardino, California, the son of Eugene Ezra Hackman and Anna Lyda Elizabeth (née Gray). He has one brother, Richard. He has Pennsylvania Dutch (German), English, and Scottish ancestry; his mother was born in Lambton, Ontario. According to a plaque in a city park, he worked for a time as a dog catcher for the local animal shelter. His family moved frequently, finally settling in Danville, Illinois, where they lived in the house of his English-born maternal grandmother, Beatrice. Hackman's father operated the printing press for the Commercial-News, a local paper. As a teenager, Hackman knew Dick Van Dyke, who was friends with his older brother Richard. His parents divorced in 1943 and his father subsequently left the family.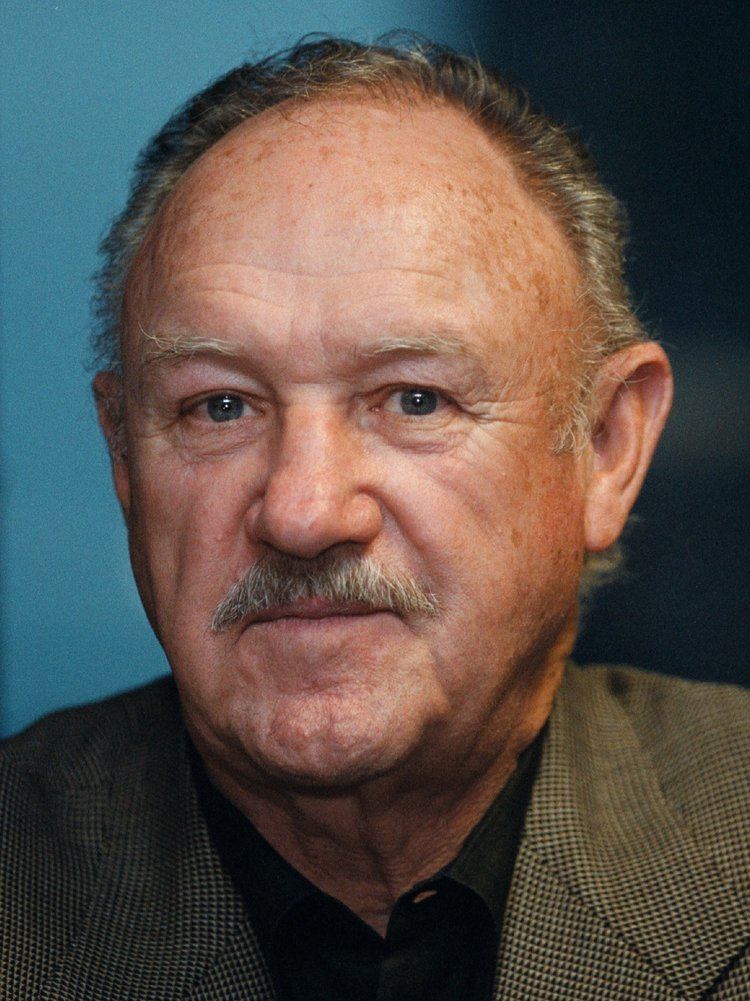 Hackman lived briefly in Storm Lake, Iowa and spent his sophomore year at Storm Lake High School. However, he left home at age 16 and lied about his age to enlist in the United States Marine Corps. He served four and a half years as a field radio operator. He was stationed in China (Qingdao, and later in Shanghai). When the Communist Revolution conquered the mainland in 1949, Hackman was assigned to Hawaii and Japan. Following his discharge, he moved to New York and worked in several jobs. His mother died in 1962 as a result of a fire she accidentally set while smoking.
1960s
In 1956, he began pursuing an acting career; he joined the Pasadena Playhouse in California. It was there that he forged a friendship with another aspiring actor, Dustin Hoffman. Already seen as outsiders by their classmates, they were later voted "The Least Likely To Succeed." Determined to prove them wrong, Hackman moved to New York City. A 2004 article in Vanity Fair described how Hackman, Hoffman and Robert Duvall were all struggling California born actors and close friends, sharing apartments in various two-person combinations while living in New York City in the 1960s. To support himself between acting jobs, he was working as a uniformed doorman at a Howard Johnson restaurant in New York when, as bad luck would have it, he ran into a despised Pasadena Playhouse instructor who once told him he was not good enough to be an actor. Reinforcing "The Least Likely To Succeed" vote, the man said to him, "See, Hackman, I told you you wouldn't amount to anything." From then on, Hackman was determined to become the finest actor he possibly could. The three former roommates have since earned 19 Academy Award nominations for acting, with five wins.
Hackman got various bit roles, for example on the TV series Route 66 in 1963, and began performing in several Off-Broadway plays. In 1964, he had an offer to co-star in the play Any Wednesday with actress Sandy Dennis. This opened the door to film work. His first role was in Lilith, with Warren Beatty in the leading role. In 1967, he appeared in an episode of the television series The Invaders entitled The Spores. Another supporting role, Buck Barrow in 1967's Bonnie and Clyde, earned him an Academy Award nomination as Best Supporting Actor. In 1968, he appeared in an episode of I Spy, in the role of "Hunter", in the episode "Happy Birthday... Everybody". In 1968, he starred in the CBS Playhouse episode "My Father and My Mother" and the dystopian television film Shadow on the Land. In 1969, he played a ski coach in Downhill Racer and an astronaut in Marooned. Also that year, he played a member of a barnstorming skydiving team that entertained mostly at county fairs: The Gypsy Moths. He nearly accepted the role of Mike Brady for the upcoming TV series, The Brady Bunch, but was advised by his agent to decline in exchange for a more promising role, which he did.
1970s
In 1971, he was nominated for the Best Supporting Actor Academy Award again, this time for 1970's I Never Sang for My Father, working alongside Melvyn Douglas and Estelle Parsons. The next year, he won the Academy Award for Best Actor for his performance as New York City Detective Jimmy "Popeye" Doyle in The French Connection, marking his graduation to leading man status.
He followed this with leading roles in the disaster film The Poseidon Adventure (1972) and Francis Ford Coppola's The Conversation (1974), which was nominated for several Oscars. That same year, Hackman appeared in what became one of his most famous comedic roles as the blind hermit in Young Frankenstein.
He later appeared as one of Teddy Roosevelt's former Rough Riders in the Western horse-race saga Bite the Bullet (1975), as well as in that year's sequel French Connection II. In 1975 he also appeared in the highly regarded—but little viewed—film Night Moves, receiving a BAFTA nomination for lead actor. He appeared in the star-studded war film A Bridge Too Far (1977), as Polish General Stanisław Sosabowski. Hackman showed a talent for both comedy and the "slow burn" as criminal mastermind Lex Luthor in Superman: The Movie (1978), as he would in its 1980 and 1987 sequels.
1980s
By the end of the 1980s, he alternated between leading and supporting roles, earning another Best Actor nomination for Mississippi Burning. He had a memorable part as a Secretary of Defense trying to cover up a homicide in 1987's No Way Out opposite Kevin Costner.
During this decade, he also was in Reds, Under Fire, Hoosiers, Power, Uncommon Valor and Bat*21. A 2008 American Film Institute poll voted Hoosiers the fourth-greatest film of all time in the sports genre.
1990s
In 1990, the actor underwent an angioplasty, which kept him from work for a while, although he found time for Narrow Margin—a remake of The Narrow Margin (1952). In 1992, he played the sadistic sheriff "Little" Bill Daggett in the Western Unforgiven directed by Clint Eastwood and written by David Webb Peoples which earned him a second Oscar, this time for Best Supporting Actor. The film won Best Picture. In 1993 he appeared in Geronimo: An American Legend as Brigadier General George Crook. He co-starred with Tom Cruise as a corrupt lawyer in The Firm (1993) and appeared in a second John Grisham story in 1996, playing a convict on death row in The Chamber.
In 1995, he played an inept Hollywood producer-director named Harry Zimm in Get Shorty and the villainous fast-draw champion John Herrod in The Quick and the Dead opposite Sharon Stone, Leonardo DiCaprio and Russell Crowe, as well as submarine Captain Frank Ramsey in the film Crimson Tide with Denzel Washington.
In 1996, he took a comedic turn as conservative Senator Kevin Keeley in The Birdcage with Robin Williams and Nathan Lane. He also co-starred with Will Smith in the 1998 film Enemy of the State, where his character was reminiscent of the one from The Conversation.
He played a U.S. president who is responsible for a killing in 1997's Absolute Power, re-teaming with director-star Clint Eastwood.
2000s
Hackman starred in the David Mamet crime film Heist, as an aging professional thief of considerable skill who is forced into one final job and the comedy Heartbreakers alongside Sigourney Weaver, Ray Liotta and Jennifer Love Hewitt. He had a small part as Arnold Margolese in Gore Verbinski's The Mexican. He also had a leading role as the head of an eccentric family in the ensemble cast film The Royal Tenenbaums and in yet another Grisham legal drama, Runaway Jury, at long last getting to make a picture with his longtime friend Dustin Hoffman. Hackman's final film to date was Welcome to Mooseport (2004), a comedy with Ray Romano, in which he portrayed a former President of the United States.
In 2003 at the Golden Globes, Hackman was honored with the Cecil B. DeMille Award for his "outstanding contribution to the entertainment field."
Retirement from acting
On July 7, 2004, Hackman gave a rare interview to Larry King, in which he announced that he had no future film projects lined up and believed his acting career was over. In 2008, while promoting his third novel, he confirmed that he had retired from acting. When asked during a GQ interview in 2011 if he would ever come out of retirement to do one more film, he said he might consider it "if I could do it in my own house, maybe, without them disturbing anything and just one or two people." In 2016 he narrated the Smithsonian Channel documentary The Unknown Flag Raiser of Iwo Jima.
Career as a novelist
Together with undersea archaeologist Daniel Lenihan, Hackman has written three historical fiction novels: Wake of the Perdido Star (1999), a sea adventure of the 19th century; Justice for None (2004), a Depression-era tale of murder; and Escape from Andersonville (2008) about a prison escape during the Civil War. His first solo effort, a story of love and revenge set in the Old West titled Payback at Morning Peak, was released in 2011. A police thriller, Pursuit, followed in 2013.
In 2011, he appeared on the Fox Sports Radio show, The Loose Cannons, where he discussed his career and novels with Pat O'Brien, Steve Hartman, and Vic "The Brick" Jacobs.
Personal life
His first wife was Faye Maltese. They had three children, Christopher Allen, Elizabeth Jean and Leslie Anne Hackman. The couple divorced in 1986 after three decades of marriage. In 1991, he married Betsy Arakawa. They have a home in Santa Fe, New Mexico.
Hackman competed in Sports Car Club of America races driving an open wheeled Formula Ford in the late seventies. In 1983, he drove a Dan Gurney Team Toyota in the 24 Hours of Daytona Endurance Race. He also won the Long Beach Grand Prix Celebrity Race.
Hackman is an avid fan of the Jacksonville Jaguars and regularly attended Jaguars games as a guest of then-head coach Jack Del Rio. He is friends with Del Rio from Del Rio's playing days at the University of Southern California.
In January 2012, the then-81 year old actor was riding a bicycle in the Florida Keys when he was struck by a car. Although it was at first reported that he had suffered head trauma, he sustained only minor injuries.
Theater credits
Children From Their Games by Irwin Shaw at the Morosco Theatre (April 1963)
A Rainy Day in Newark by Howard Teichmann at the Belasco Theatre (October 1963)
Come to the Palace of Sin by Michael Shurtleff at the Lucille Lortel Theatre (1963)
Any Wednesday by Muriel Resnik at the Music Box Theatre and the George Abbott Theatre (1964–1966)
Poor Richard by Jean Kerr with Alan Bates and Shirley Knight at the Helen Hayes Theater (1964–1965)
The Natural Look by Leonora Thuna at the Longacre Theatre (1967)
Fragments and The Basement by Murray Schisgal at the Cherry Lane Theatre (1967)
Death and the Maiden by Ariel Dorfman with Glenn Close and Richard Dreyfuss, directed by Mike Nichols, at the Brooks Atkinson Theatre (1992)
Works or publications
Hackman, Gene, and Daniel Lenihan. Wake of the Perdido Star. New York: Newmarket Press, 1999. ISBN 978-1-557-04398-6
Hackman, Gene, and Daniel Lenihan. Justice for None. New York: St. Martins Press, 2004. ISBN 978-0-312-32425-4
Hackman, Gene, and Daniel Lenihan. Escape from Andersonville: A Novel of the Civil War. New York: St. Martin's Press, 2008. ISBN 978-0-312-36373-4
Hackman, Gene. Payback at Morning Peak: A Novel of the American West. New York: Simon & Schuster Inc, 2011. ISBN 978-1-451-62356-7
Hackman, Gene. Pursuit. New York: Pocket Books, 2013. ISBN 978-1-451-62357-4
Filmography
Actor
2004
Welcome to Mooseport
as
Monroe Cole
2003
Runaway Jury
as
Rankin Fitch
2001
Behind Enemy Lines
as
Reigart
2001
The Royal Tenenbaums
as
Royal Tenenbaum
2001
Heartbreakers
as
William B. Tensy
2001
The Mexican
as
Arnold Margolese
2000
The Replacements
as
Jimmy McGinty
2000
Under Suspicion
as
Henry Hearst
1998
Enemy of the State
as
Edward Lyle / Brill
1997
Absolute Power
as
President Richmond
1996
The Chamber
as
Sam Cayhall
1996
Extreme Measures
as
Dr. Lawrence Myrick
1996
The Birdcage
as
Senator Keeley
1995
The Quick and the Dead
as
Herod
1994
Wyatt Earp
as
Nicholas Earp
1993
Geronimo: An American Legend
as
Brig. Gen. George Crook
1992
Unforgiven
as
Little Bill Daggett
1991
Company Business
as
Sam Boyd
1991
Class Action
as
Jedediah Tucker Ward
1990
Narrow Margin
as
Robert Caulfield
1990
Postcards from the Edge
as
Lowell Kolchek
1990
Loose Cannons
as
MacArthur Stern
1989
The Package
as
Sgt. Johnny Gallagher
1988
Mississippi Burning
as
Anderson
1988
Full Moon in Blue Water
as
Floyd
1988
Bat*21
as
Lt. Colonel Iceal Hambleton
1988
Split Decisions
as
Dan McGuinn
1987
No Way Out
as
David Brice
1987
Superman IV: The Quest for Peace
as
Lex Luthor / Nuclear Man (voice)
1986
Hoosiers
as
Coach Norman Dale
1985
Twice in a Lifetime
as
Harry
1984
Misunderstood
as
Ned Rawley
1983
Uncommon Valor
as
Col. Jason Rhodes
1983
Two of a Kind
as
God (voice, uncredited)
1983
Under Fire
as
Alex Grazier
1981
All Night Long
as
George Dupler
1980
Superman II: The Richard Donner Cut
as
Lex Luthor
1980
Superman II
as
Lex Luthor
1977
March or Die
as
Maj. William Sherman Foster
1977
A Bridge Too Far
as
Maj. Gen. Sosabowski
1977
The Domino Principle
as
Tucker
1975
Lucky Lady
as
Kibby Womack
1975
French Connection II
as
Doyle
1975
Bite the Bullet
as
Sam Clayton
1975
Night Moves
as
Harry Moseby
1974
Young Frankenstein
as
Blindman
1974
Zandy's Bride
as
Zandy Allan
1974
The Conversation
as
Harry Caul
1972
The Poseidon Adventure
as
Reverend Scott
1972
Laugh-In (TV Series)
as
Guest Performer
- Steve Allen, John Wayne, Carol Channing, Charles Nelson Reilly, Terry-Thomas, Jo Ann Pflug, Gene Hackman (1972) - Guest Performer
- Gene Hackman (1972) - Guest Performer
1971
Cisco Pike
as
Officer Leo Holland
1971
The French Connection
as
Jimmy Doyle
1971
The Hunting Party
as
Brandt Ruger
1971
Doctors' Wives
as
Dr. Dave Randolph
1970
I Never Sang for My Father
as
Gene Garrison
1969
The Gypsy Moths
as
Joe Browdy
1968
Shadow on the Land (TV Movie)
as
Rev. Thomas Davis
1968
The Split
as
Detective Lt. Walter Brill
1968
Insight (TV Series)
as
Holt
- Confrontation (1968) - Holt
1968
I Spy (TV Series)
as
Frank Hunter
- Happy Birthday Everybody (1968) - Frank Hunter
1968
CBS Playhouse (TV Series)
as
Ned
- My Father and My Mother (1968) - Ned
1967
Iron Horse (TV Series)
as
Harry Wadsworth
- Leopards Try, But Leopards Can't (1967) - Harry Wadsworth
1967
The Invaders (TV Series)
as
Tom Jessup
- The Spores (1967) - Tom Jessup
1967
Bonnie and Clyde
as
Buck Barrow
1967
Banning
as
Tommy Del Gaddo
1967
Community Shelter Planning (Short)
as
Donald Ross - Regional Civil Defense Officer
1967
A Covenant with Death
as
Harmsworth
1967
First to Fight
as
Sgt. Tweed
1967
The F.B.I. (TV Series)
as
Herb Kenyon
- The Courier (1967) - Herb Kenyon
1966
Hawaii
as
Dr. John Whipple
1966
Hawk (TV Series)
as
Houston Worth
- Do Not Mutilate or Spindle (1966) - Houston Worth
1966
Directions (TV Series)
- Marriage (1966)
1966
The Trials of O'Brien (TV Series)
as
Roger Nathan
- The Only Game in Town (1966) - Roger Nathan
1959
Brenner (TV Series)
as
Officer Richard Clayburn / Officer Dick Clayburn / Patrolman Claiborne
- Unwritten Law (1964) - Officer Richard Clayburn (uncredited)
- Laney's Boy (1964) - Officer Dick Clayburn (uncredited)
- The Bluff (1959) - Patrolman Claiborne
1963
East Side/West Side (TV Series)
as
Policeman
- Creeps Live Here (1963) - Policeman
1963
Ride with Terror (TV Movie)
as
Douglas McCann
1963
The DuPont Show of the Week (TV Series)
as
Douglas McCann
- Ride with Terror (1963) - Douglas McCann
1963
Route 66 (TV Series)
as
Motorist
- Who Will Cheer My Bonnie Bride (1963) - Motorist
1961
The Defenders (TV Series)
as
Stanley McGuirk / Jerry Warner
- Judgment Eve (1963) - Stanley McGuirk
- Quality of Mercy (1961) - Jerry Warner
1963
Naked City (TV Series)
as
Mr. Jasper
- Prime of Life (1963) - Mr. Jasper
1963
Look Up and Live (TV Series documentary)
as
Frank Collins
- The End of the Story (1963) - Frank Collins
1959
The United States Steel Hour (TV Series)
as
Norman / Ed / Reverend MacCreighton / ...
- You Can't Escape (1962) - Norman
- Far from the Shade Tree (1962) - Ed
- Brandenburg Gate (1961) - (rumored)
- Bride of the Fox (1960)
- Big Doc's Girl (1959) - Reverend MacCreighton
- The Pink Burro (1959) - Steve
- Little Tin God (1959) - Joey Carlton
1961
Tallahassee 7000 (TV Series)
as
Joe Lawson
- The Fugitive (1961) - Joe Lawson
1961
Mad Dog Coll
as
Cop (uncredited)
Producer
2000
Under Suspicion (executive producer)
Stunts
1971
The French Connection (stunts - uncredited)
Soundtrack
1996
The Birdcage (performer: "I Could Have Danced All Night")
1983
Under Fire (performer: "Spring Can Really Hang You Up the Most" - uncredited)
1975
French Connection II (performer: "Mademoiselle from Armetieres" - uncredited)
1971
The French Connection (performer: "Jingle Bells" (1857) - uncredited)
1969
The Gypsy Moths (performer: "Wild Blue Yonder" ("U.S. Air Force Song") - uncredited)
Thanks
2018
Silent Times (special thanks)
2010
A Backyard Story (grateful acknowledgment)
2001
Making the Connection: Untold Stories of 'the French Connection' (TV Movie documentary) (special thanks)
2000
American Masters (TV Series documentary) (thanks - 1 episode)
- Clint Eastwood: Out of the Shadows (2000) - (thanks)
1990
Miami Blues (special thanks)
1989
Dieter & Andreas (Short) (grateful acknowledgment)
Self
-
The Apprenticeship of Ted Kotcheff (Documentary) (pre-production)
as
Self
2021
Clint Eastwood: A Cinematic Legacy (TV Mini Series documentary)
- Fighting for Justice (2021)
- An Actor's Director (2021)
- A Director's Vision (2021)
2017
We, the Marines (Documentary short)
as
Narrator
2016
The Unknown Flag Raiser of Iwo Jima (TV Movie documentary)
as
Narrator
2013
Eastwood Directs: The Untold Story (Documentary)
as
Self
2010
The Role That Changed My Life (TV Series documentary)
as
Self
- I Was an Underdog (2010) - Self
2009
Hackman on Doyle (Video documentary short)
as
Self
2009
I Knew It Was You: Rediscovering John Cazale (Documentary short)
as
Self
2008
Diners, Drive-ins and Dives (TV Series)
as
Self
- What's for Breakfast (2008) - Self (uncredited)
- Big Breakfast (2008) - Self
1981
AFI Life Achievement Award (TV Series)
as
Self / Self - Audience Member
- AFI Life Achievement Award: A Tribute to Warren Beatty (2008) - Self
- AFI Life Achievement Award: A Tribute to Billy Wilder (1986) - Self
- AFI Life Achievement Award: A Tribute to Fred Astaire (1981) - Self - Audience Member (uncredited)
2008
AFI's 10 Top 10: America's 10 Greatest Films in 10 Classic Genres (TV Special)
as
Self
2008
Revolution! The Making of 'Bonnie and Clyde' (Video documentary)
as
Self
2007
America's Game: The Super Bowl Champions (TV Series documentary)
as
Self - Narrator
- 1981 San Francisco 49ers (2007) - Self - Narrator
- 1987 Washington Redskins (2007) - Self - Narrator
- 1989 San Francisco 49ers (2007) - Self - Narrator
- 1984 San Francisco 49ers (2007) - Self - Narrator
2006
All Access: The Showdown of 'Enemy of the State' (Video short)
as
Self
2006
The Making of 'Enemy of the State' (Video documentary short)
as
Self - Brill
2005
Hoosier History: The Truth Behind the Legend (Video short)
as
Self
2005
Get Shorty: Look at Me (Video documentary short)
as
Self
2005
Get Shorty: Wiseguys and Dolls (Video documentary short)
as
Self
2004
Larry King Live (TV Series)
as
Self - Guest
- Episode dated 7 July 2004 (2004) - Self - Guest
2004
Imaginary Witness: Hollywood and the Holocaust (Documentary)
as
Narrator (voice)
2004
Hollywood Greats (TV Series documentary)
as
Self
- Dustin Hoffman (2004) - Self
2004
Exploring the Scene: Hackman & Hoffman Together (Video documentary short)
as
Self
2004
Off the Cuff: Hackman & Hoffman (Video short)
as
Self
2004
The Making of 'Runaway Jury' (Video documentary short)
as
Self
2000
HBO First Look (TV Series documentary short)
as
Self
- Runaway Jury (2003) - Self
- The Making of 'The Replacements' (2000) - Self
2003
Hidden City (Documentary)
as
Narrator
2003
The 60th Annual Golden Globe Awards (TV Special)
as
Self - Cecil B. DeMille Award Recipient
2002
Page to Screen (TV Series documentary)
as
Self
- The Silence of the Lambs (2002) - Self
2002
Colors of Courage: Sons of New Mexico, Prisoners of Japan (Documentary)
as
Narrator
2002
All on Accounta Pullin' a Trigger (Video documentary short)
as
Self
1994
Biography (TV Series documentary)
as
Self
- Dustin Hoffman: First in His Class (2002) - Self
- Clint Eastwood: The Man from Malpaso (1994) - Self
2001
Cannes: Through the Eyes of the Hunter (Documentary short)
as
Self
2001
Making 'Superman': Filming the Legend (Video documentary short)
as
Self / Lex Luthor
2001
The Directors (TV Series documentary)
as
Self
- The Films of Richard Donner (2001) - Self
2001
Inside the Actors Studio (TV Series)
as
Self - Guest
- Episode #8.2 (2001) - Self - Guest
2001
Heartbreakers: Laffs & Gaffes (Video short)
as
Self
2001
The Making of 'Heartbreakers' (Video short)
as
Self
2001
Making the Connection: Untold Stories of 'the French Connection' (TV Movie documentary)
as
Self
2001
Heroes of Iwo Jima (TV Movie documentary)
as
Self - Host / Narrator
2001
Taking Flight: The Development of 'Superman' (Video documentary short)
as
Self / Lex Luthor
2000
Arena (TV Series documentary)
as
Self
- Clint Eastwood - Part 2: American Filmmaker (2000) - Self
2000
Vol de nuit (TV Series)
as
Self
- Episode dated 9 November 2000 (2000) - Self
1998
American Masters (TV Series documentary)
as
Self - Actor / Self - Narrator
- Clint Eastwood: Out of the Shadows (2000) - Self - Actor
- Hitchcock, Selznick and the End of Hollywood (1998) - Self - Narrator (voice)
2000
Backstory (TV Series documentary)
as
Self
- Bonnie and Clyde (2000) - Self
2000
Bravo Profiles (TV Series documentary)
as
Self
- Gene Hackman (2000) - Self
2000
The Poughkeepsie Shuffle: Tracing 'The French Connection' (TV Movie documentary)
as
Self
1999
Charlie Rose (TV Series)
as
Self - Guest
- Episode dated 3 November 1999 (1999) - Self - Guest
1999
AFI's 100 Years... 100 Stars: America's Greatest Screen Legends (TV Special documentary)
as
Self
1999
Enemy of the State: Production (Video documentary short)
as
Self
1998
The Best of Hollywood (TV Movie documentary)
as
Self - Interview
1998
The Secret World of Antz (TV Movie documentary)
as
Self
1998
The Rosie O'Donnell Show (TV Series)
as
Self - Guest
- Episode dated 18 November 1998 (1998) - Self - Guest
1998
Jet 7 (TV Series)
as
Self
- Episode dated 6 November 1998 (1998) - Self
1997
Sports on the Silver Screen (TV Movie documentary)
as
Self (uncredited)
1996
Showbiz Today (TV Series)
as
Self
- Episode dated 15 May 1996 (1996) - Self
1995
All Access: On the Set of 'Crimson Tide' (Video short)
as
Self
1995
The Making of 'Crimson Tide' (Video documentary short)
as
Self
1992
The Tonight Show with Jay Leno (TV Series)
as
Self - Guest
- Episode #3.318 (1995) - Self - Guest
- Episode #2.127 (1993) - Self - Guest
- Episode #1.119 (1992) - Self - Guest
1990
CBS This Morning (TV Series)
as
Self - Guest
- Episode dated 12 May 1995 (1995) - Self - Guest
- Episode dated 1 October 1990 (1990) - Self - Guest
1995
Maury (TV Series)
as
Self
- Episode dated 1 May 1995 (1995) - Self
1995
The Movie Show (TV Series)
as
Self
- Episode dated 10 February 1995 (1995) - Self
1994
Shurtleff on Acting (TV Movie documentary)
as
Self
1994
Wyatt Earp: Walk with a Legend (TV Movie documentary)
as
Self
1994
100 Years of the Hollywood Western (TV Movie documentary)
as
Self
1994
The 66th Annual Academy Awards (TV Special)
as
Self - Presenter
1994
The 20th Annual People's Choice Awards (TV Special)
as
Self - Accepting Award for Dramatic Motion Picture
1993
The 65th Annual Academy Awards (TV Special)
as
Self - Winner & Presenter
1993
The 50th Annual Golden Globe Awards (TV Special)
as
Self - Winner
1992
Earth and the American Dream (Documentary)
as
Reader (voice)
1992
Eastwood & Co.: Making 'Unforgiven' (TV Movie documentary)
as
Self
1992
Clint Eastwood on Westerns (TV Movie documentary)
as
Self
1992
The 46th Annual Tony Awards (TV Special)
as
Self - Presenter
1991
ABC's Wide World of Sports (TV Series)
as
Self - Audience Member
- Episode dated 20 April 1991 (1991) - Self - Audience Member
1991
Sky Sports World Championship Boxing (TV Series)
as
Self
- WBA, WBC & IBF World Heavyweight Title: Evander Holyfield vs. George Foreman (1991) - Self
1990
Ken Adam - Production Designer (Documentary)
as
Self
1990
Today (TV Series)
as
Self - Guest
- Episode dated 20 September 1990 (1990) - Self - Guest
1989
Island of Hope, Island of Tears (Documentary short)
as
Narrator
1986
Good Morning America (TV Series)
as
Self - Guest
- Episode dated 7 September 1989 (1989) - Self - Guest
- Episode dated 29 October 1986 (1986) - Self - Guest
1989
The 61st Annual Academy Awards (TV Special)
as
Self - Nominee & Presenter
1989
The 46th Annual Golden Globe Awards (TV Special)
as
Self - Nominee
1988
Late Night with David Letterman (TV Series)
as
Self - Guest
- Episode dated 19 October 1988 (1988) - Self - Guest
1987
Nightlife (TV Series)
as
Self
- Episode #1.120 (1987) - Self
1986
Wogan (TV Series)
as
Self
- Episode #6.130 (1986) - Self
1986
Sunday, Sunday (TV Series)
as
Self
- Episode #5.5 (1986) - Self
1986
Entertainment Tonight (TV Series)
as
Self
- Master of Terror: The Haunting (1986) - Self
1985
Night of 100 Stars II (TV Special)
as
Self
1984
The 56th Annual Academy Awards (TV Special documentary)
as
Self - Presenter
1984
The 41st Annual Golden Globe Awards (TV Special)
as
Self - Nominee & Presenter
1972
The Tonight Show Starring Johnny Carson (TV Series)
as
Self - Guest / Self
- Episode #23.10 (1984) - Self - Guest
- Episode dated 15 December 1975 (1975) - Self - Guest
- McLean Stevenson/Gene Hackman/George Carlin/Gloria DeHaven (1974) - Self
- McLean Stevenson, George Carlin, Gene Hackman, Gloria DeHaven (1974) - Self
- Episode dated 9 April 1973 (1973) - Self - Guest
- Diane Keaton/Gene Hackman/Mike Preminger/Patrick McGrady (1972) - Self
- Gene Hackman/Diane Keaton/Mike Preminger/Patrick McGrady (1972) - Self
- Episode dated 7 January 1972 (1972) - Self - Guest
1983
The South Bank Show (TV Series documentary)
as
Self - Guest
- Gene Hackman (1983) - Self - Guest
1982
The Making of 'Superman II' (TV Movie documentary)
as
Self
1981
Ciné regards (TV Series documentary)
as
Self
- Episode dated 19 September 1981 (1981) - Self
1980
The Making of 'Superman: The Movie' (TV Movie documentary)
as
Self
1979
A Look at Liv (Documentary)
as
Self
1979
Revista de cine (TV Series)
as
Self - Interviewee
- Episode dated 1 January 1979 (1979) - Self - Interviewee
1978
V.I.P.-Schaukel (TV Series documentary)
as
Self
- Episode #8.4 (1978) - Self
1978
Speed Fever (Documentary)
as
Self
1977
The Manipulators (Documentary short)
as
Self (uncredited)
1973
Film '72 (TV Series)
as
Self
- Episode #7.2 (1977) - Self
- Episode #6.9 (1977) - Self
- Episode #5.18 (1976) - Self
- Episode #2.33 (1973) - Self
1975
The Mike Douglas Show (TV Series)
as
Self - Guest
- Episode #16.201 (1977) - Self - Guest
- Episode #16.168 (1977) - Self - Guest
- Episode #15.48 (1975) - Self - Guest
- Episode #15.10 (1975) - Self - Guest
- Episode #15.9 (1975) - Self - Guest
- Episode #15.6 (1975) - Self - Guest
- Episode #14.222 (1975) - Self - Guest
1975
At Long Last Cole (TV Special)
as
Self
1971
The Merv Griffin Show (TV Series)
as
Self / Self - Guest
- Episode dated 19 February 1975 (1975) - Self - Guest
- Gene Hackman, Wayne Rogers, Eileen Brennan, Bobby Vinton, Marty Allen (1974) - Self
- Gene Hackman, David Janssen, Hugh O'Brian, David Steinberg (1974) - Self
- Jim Backus, Shelley Winters, Gene Hackman, Lance Rentzel (1972) - Self
- Roger Miller, Kent McCord, Doug McClure, Gene Hackman, Jessica Walter (1971) - Self
1975
Dinah! (TV Series)
as
Self - Guest
- Episode #1.59 (1975) - Self - Guest
1974
The 31st Annual Golden Globe Awards (TV Special)
as
Self - Presenter
1974
ABC Late Night (TV Series documentary)
as
Self
- Movies, Movies, Movies (1974) - Self
1973
The 45th Annual Academy Awards (TV Special)
as
Self - Presenter
1973
The 30th Annual Golden Globe Awards (TV Special)
as
Self - Presenter
1972
The Return of the Movie Movie (Documentary short)
as
Rev. Frank Scott / Self (uncredited)
1972
The 44th Annual Academy Awards (TV Special)
as
Self - Presenter & Winner
1972
The 29th Annual Golden Globe Awards (TV Special)
as
Self
1972
Cinema (TV Series documentary)
as
Self
- Gene Hackman (1972) - Self
1971
The Hollywood Squares (Daytime) (TV Series)
as
Self - Panelist
- Episode dated 20 December 1971 (1971) - Self - Panelist
1971
The 43rd Annual Academy Awards (TV Special)
as
Self - Nominee
1969
The Sky Divers (Documentary short)
as
Self
1969
The David Frost Show (TV Series)
as
Self - Guest
- Episode #2.87 (1969) - Self - Guest
1968
The 40th Annual Academy Awards (TV Special)
as
Self - Nominee
Archive Footage
2022
Sinatra Reviews (TV Series)
as
Self
- Enemy of the State (2022) - Self
2022
FRO Thizzle Reviews (TV Series)
as
Self
- Enemy of the State (2022) - Self
2022
Al Pacino, le Bronx et la fureur (Documentary)
as
Self
2021
Clint Eastwood: A Cinematic Legacy (TV Mini Series documentary)
as
Self
- Reinventing the Western (2021) - Self
2020
Hollywood Insider (TV Series)
as
Self
- The Unique Artistry of Wes Anderson: A Closer Look at an Auteur (2020) - Self
2019
The Movies (TV Mini Series documentary)
as
Jimmy Doyle / Max / Harry Caul
- The Seventies (2019) - Jimmy Doyle / Max / Harry Caul
2018
A Word on Westerns (TV Series documentary)
- Frances Fisher: Clint Eastwood's Western Classic "Unforgiven" (2018)
2017
The Best of Hollywood (TV Series documentary)
as
Self - Interviewee
- Episode dated 4 July 2018 (2018) - Self - Interviewee
- Episode dated 7 October 2017 (2017) - Self - Interviewee
- Episode dated 3 October 2017 (2017) - Self - Interviewee
2017
Gene Wilder: Loved, Remembered (Documentary short)
as
Self
2017
The Oscars (TV Special)
as
Self (uncredited)
2016
No Sleep TV3 (TV Series)
as
Herod
- Classic Episode #10: "God, Guns & Guts" - Westerns (2016) - Herod (uncredited)
2015
Welcome to the Basement (TV Series)
as
Self / Sen. Kevin Keeley
- Ishtar (2015) - Self / Sen. Kevin Keeley
2015
Wogan: The Best Of (TV Series)
as
Self - Guest
- Oscar Winners (2015) - Self - Guest
2015
For the Small Schools (Video documentary short)
as
Self
2014
Les Chroniques du Mea (TV Series)
as
Self
- The Birdcage/La Cage Aux Folles (2014) - Self
2014
Electric Boogaloo: The Wild, Untold Story of Cannon Films (Documentary)
as
Lex Luthor (uncredited)
2014
Missing Reel (TV Mini Series documentary)
as
Jimmy Doyle
- Car Chase Pictures (2014) - Jimmy Doyle
2014
And the Oscar Goes to... (TV Movie documentary)
as
Self
2012
The Unforgettable Russell Harty (TV Movie documentary)
as
Self - Interviewee on The Russell Harty Show
2012
Final Cut: Ladies and Gentlemen
2008
The Factor (TV Series)
as
Blindman
- Episode dated 29 April 2008 (2008) - Blindman
2006
Premio Donostia a Matt Dillon (TV Special short)
as
Walter Lloyd / Duncan (Duke) Potter (uncredited)
2006
Hollywood Science (TV Series documentary)
as
Self
- Spy Gadgets (2006) - Self
2006
The Godfather and the Mob (TV Movie documentary)
2004
It Happened That Way (Video documentary short)
as
Self - 'Nicholas Earp'
1995
Biography (TV Series documentary)
as
Defense Secretary David Brice on 'No Way Out' / Jimmy Doyle
- Kevin Costner (2003) - Defense Secretary David Brice on 'No Way Out'
- Darryl F. Zanuck: 20th Century Filmmaker (1995) - Jimmy Doyle (uncredited)
2003
Inside the Actors Studio (TV Series)
as
Self
- The Simpsons (2003) - Self
2002
Headliners & Legends with Matt Lauer (TV Series documentary)
as
Self
- Denzel Washington (2002) - Self
2002
The Kid Stays in the Picture (Documentary)
as
Self (uncredited)
2001
De Superman à Spider-Man: L'aventure des super-héros (TV Movie documentary)
as
Lex Luthor
2000
Boom! Hollywood's Greatest Disaster Movies (Video documentary)
2000
Hollywood Remembers (TV Series documentary)
- Gene Hackman
2000
Twentieth Century Fox: The Blockbuster Years (TV Movie documentary)
as
Jimmy Doyle / Self
1999
Split Screen (TV Series)
as
Harry Caul
- Waiting for Star Wars (1999) - Harry Caul
1998
Femmes Fatales: Sharon Stone (TV Movie documentary)
as
Self (uncredited)
1998
Sharon Stone - Una mujer de 100 caras (TV Movie documentary)
as
Self (uncredited)
1996
Making Frankensense of 'Young Frankenstein' (Video documentary short)
as
Self
1995
The Fantasy Worlds of Irwin Allen (TV Movie documentary)
as
Self
1995
Century of Cinema (TV Series documentary)
as
Little Bill Daggett
- A Personal Journey with Martin Scorsese Through American Movies (1995) - Little Bill Daggett (uncredited)
1994
100 Years at the Movies (TV Short documentary)
as
Self
1994
It's Alive: The True Story of Frankenstein (TV Movie documentary)
1989
The Siskel & Ebert 500th Anniversary Special (TV Special)
as
Self - 'The Conversation'
1987
The 59th Annual Academy Awards (TV Special)
as
Det. Jimmy 'Popeye' Doyle (uncredited)
1986
The 58th Annual Academy Awards (TV Special)
as
Harry MacKenzie (uncredited)
1985
Big Audio Dynamite: E=MC2 (Music Video)
as
Jack McCann (uncredited)
1983
En Büyük Yumruk
as
Jimmy Doyle (uncredited)
1978
That's Hollywood (TV Series documentary)
as
Self
- You've Never Seen This Before (1978) - Self
1976
The Mike Douglas Show (TV Series)
as
Self
- Episode #16.42 (1976) - Self
1976
America at the Movies (Documentary)
as
Self
1975
V.I.P.-Schaukel (TV Series documentary)
as
Jimmy Doyle aka. Eddie Egan
- Episode #5.2 (1975) - Jimmy Doyle aka. Eddie Egan
1974
Oscars, Actors and The Exorcist (TV Special short)
as
Self (uncredited)
1966
7 Nights to Remember (TV Special)
as
Houston Worth
References
Gene Hackman Wikipedia
(Text) CC BY-SA