Eastwood dedicated the movie to deceased directors and mentors Don Siegel and Sergio Leone. The film won four Academy Awards: Best Picture and Best Director for Clint Eastwood, Best Supporting Actor for Gene Hackman, and Best Film Editing for editor Joel Cox. Eastwood was nominated for the Academy Award for Best Actor for his performance, but he lost to Al Pacino for Scent of a Woman. The film was the third Western to win the Oscar for Best Picture, following Cimarron (1931) and Dances with Wolves (1990).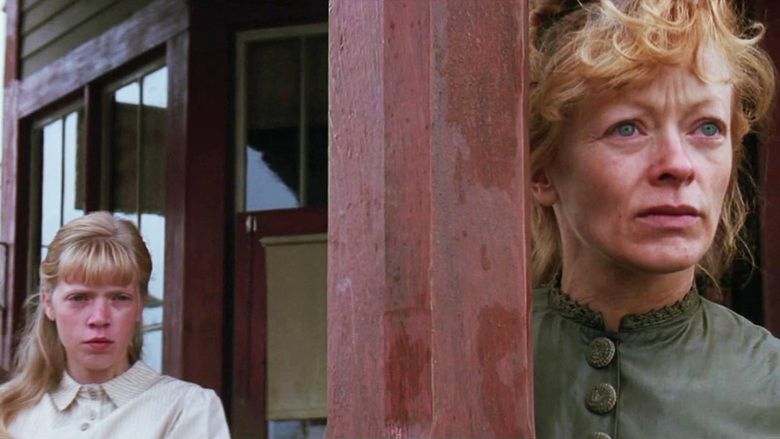 The film is set in 1880 and 1881 in Big Whiskey, Wyoming, where Little Bill Daggett, the local sheriff and former gunfighter, does not allow guns or criminals in his town. Two cowboys, Quick Mike and "Davey-Boy" Bunting, disfigure prostitute Delilah Fitzgerald after she laughs at the small size of Quick Mike's penis. As punishment for the cowboys, Little Bill allows them to pay compensation to the brothel owner, Skinny Dubois. The rest of the prostitutes, led by Strawberry Alice, are infuriated by this leniency and offer a $1,000 reward to whoever can kill the cowboys.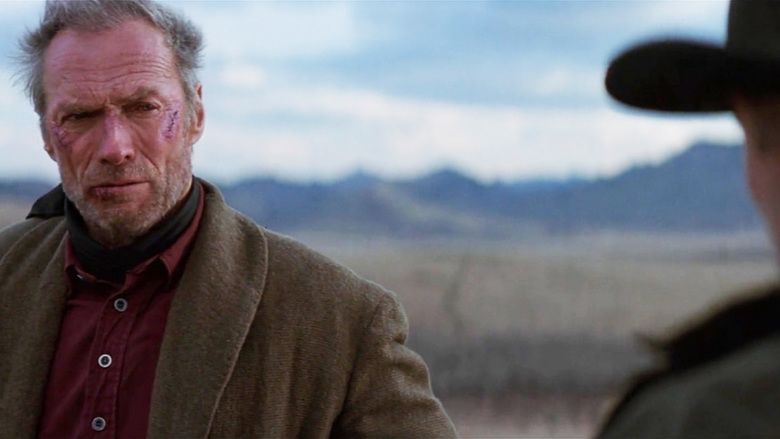 Miles away in Kansas, the Schofield Kid, a boastful young man, visits the pig farm of William Munny, seeking to recruit him to help kill the cowboys. In his youth, Munny was a bandit, notorious for being a cold-blooded murderer. Now a repentant widower raising two children, he has sworn off alcohol and killing. Though Munny initially refuses to help, his farm is failing, putting his children's future in jeopardy. Munny reconsiders a few days later and sets off to catch up with the Kid. On his way, Munny recruits his friend Ned Logan, another retired gunfighter.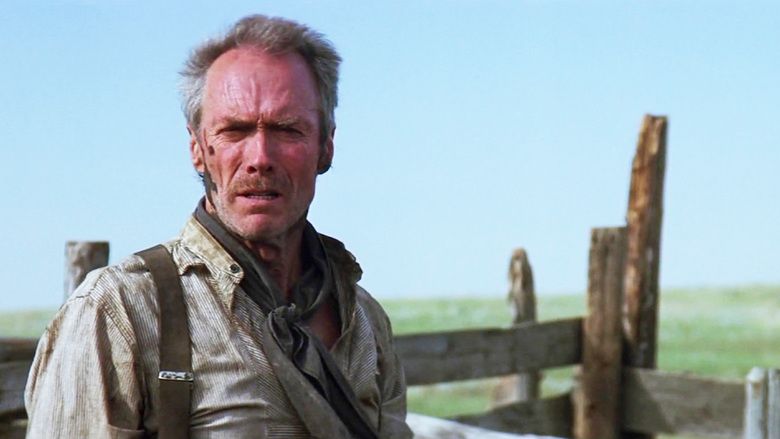 Back in Wyoming, British-born gunfighter English Bob, an old acquaintance and rival of Little Bill, is also seeking the reward and arrives in Big Whiskey with a biographer, W. W. Beauchamp. Little Bill and his deputies disarm Bob, and Bill beats him savagely, hoping to discourage other would-be assassins. The next morning he ejects Bob from town, but Beauchamp decides to stay and write about Bill, who has impressed him with his tales of old gunfights and seeming knowledge of the gunfighter's psyche.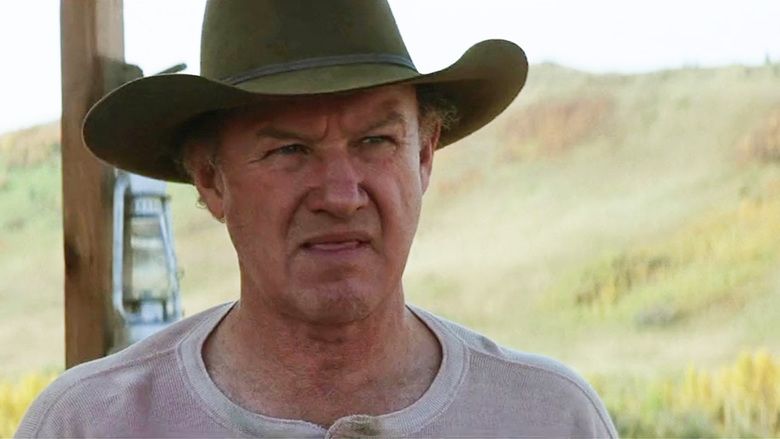 Munny, Logan and the Kid arrive later during a rain storm and head into the saloon/whorehouse to discover the cowboys' location. With a bad fever after riding in the rain, Munny is sitting alone in the saloon when Little Bill and his deputies arrive to confront him. With no idea of Munny's past, Little Bill beats him and kicks him out of the saloon after finding that he is carrying a pistol. Logan and the Kid, upstairs getting advances in kind on their payment from the prostitutes, escape out a back window. The three regroup at a barn outside town, where they nurse Munny back to health.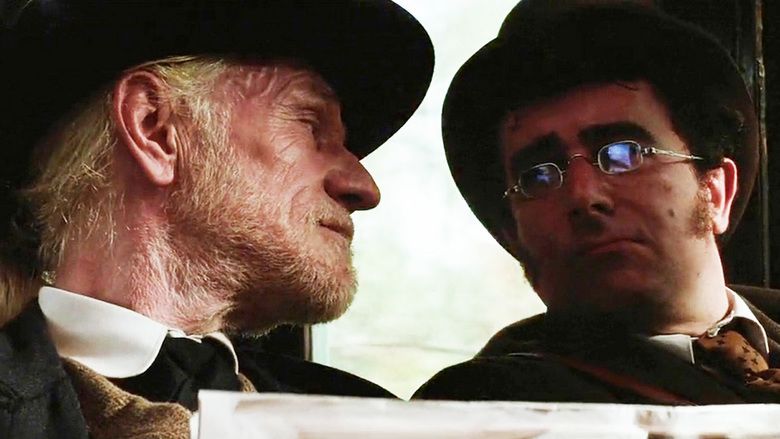 Three days later, they ambush a group of cowboys and kill Bunting, though Logan and Munny show that they no longer have much stomach for murder. Logan decides to return home while Munny feels they must finish the job. Munny and the Kid head to the cowboys' ranch, where the Kid ambushes Quick Mike in an outhouse and kills him. After they escape, a distraught Kid confesses he had never killed anyone before and renounces life as a gunfighter. When Little Sue meets the two men to give them the reward, they learn that Logan was captured by Little Bill's men and tortured to death — but not before revealing Munny's identity. The Kid heads back to Kansas to deliver the reward money to Munny's children and Logan's wife, while an embittered Munny — finishing Ned's bottle of whiskey — returns to town to take revenge on Little Bill.
That night, Munny arrives and sees Logan's corpse displayed in a coffin outside the saloon with a sign reading "THIS IS WHAT HAPPENS TO ASSASSINS AROUND HERE". Inside, Little Bill has assembled a posse to pursue Munny and the Kid. Munny walks in alone and kills Dubois. After some tense dialogue, a gunfight ensues, leaving Bill wounded and several of his deputies dead. Bill promises to "see [Munny] in hell" before Munny executes him. Munny then threatens the townsfolk before finally leaving Big Whiskey, warning that he will return for more vengeance if Logan is not buried properly or if any of the prostitutes are harmed.
A title card epilogue says that Munny moved to San Francisco with his children where he prospered in dry goods.
Clint Eastwood as William "Will" Munny
Gene Hackman as "Little" Bill Daggett
Morgan Freeman as Ned Logan
Richard Harris as English Bob
Jaimz Woolvett as the Schofield Kid
Saul Rubinek as W. W. Beauchamp
Frances Fisher as Strawberry Alice
Anna Levine as Delilah Fitzgerald
Rob Campbell as Davey Bunting
Anthony James as Skinny Dubois
Liisa Repo-Martell as Faith
Shane Meier as William Munny Jr.
David Mucci as Quick Mike
Tara Frederick as Little Sue
Beverley Elliott as Silky
Josie Smith as Crow Creek Kate
Lochlyn Munro as Texas Slim
The film was written by David Webb Peoples, who had written the Oscar nominated film The Day After Trinity and co-written Blade Runner with Hampton Fancher. The concept for the film dated to 1976, when it was developed under the titles The Cut-Whore Killings and The William Munny Killings. By Eastwood's own recollection he was given the script in the "early 80s" although he did not immediately pursue it, because according to him "I thought I should do some other things first"
Much of the cinematography for the film was shot in Alberta in August 1991 by director of photography Jack Green. Filming took place between August 26, 1991 and November 12, 1991. Production designer Henry Bumstead, who had worked with Eastwood on High Plains Drifter, was hired to create the "drained, wintry look" of the western.
Unforgiven received wide acclaim. Review aggregator Rotten Tomatoes registers a "Certified Fresh" 95% approval rating among reviews. They also acclaimed it as a fitting eulogy to the western genre. Jack Methews of the Los Angeles Times described it as "The finest classical western to come along since perhaps John Ford's 1956 The Searchers." Richard Corliss in Time wrote that the film was "Eastwood's meditation on age, repute, courage, heroism – on all those burdens he has been carrying with such grace for decades."
Gene Siskel and Roger Ebert criticized the work, though the latter gave it a positive vote, for being too long and having too many superfluous characters (such as Harris' English Bob, who enters and leaves without meeting the protagonists). Despite his initial reservations, Ebert eventually included the film in his "The Great Movies" list.
Unforgiven was released on Blu-ray Book (a Blu-ray Disc with book packaging) on February 21, 2012. Special features include an audio commentary by the Clint Eastwood biographer, Richard Schickel; four documentaries including "All on Accounta Pullin' a Trigger", "Eastwood & Co.: Making Unforgiven", "Eastwood...A Star", and "Eastwood on Eastwood", and more.
The film debuted at the top position in its opening weekend. Its earnings of $15,018,007 ($7,252 average from 2,071 theaters) on its opening weekend was the best ever opening for an Eastwood film at that time. It spent a total of 3 weeks as the No. 1 movie in North America. In its 35th weekend (April 2–4, 1993), capitalizing on its Oscar wins, the film returned to the Top 10 (spending another 3 weeks total), ranking at No. 8 with a gross of $2,538,358 ($2,969 average from 855 theaters), an improvement of 197 percent over the weekend before where it made $855,188 ($1,767 average from 484 theaters). The film closed on July 15, 1993, having spent nearly a full year in theaters (343 days / 49 weeks), having earned $101,157,447 in North America, and another $58,000,000 overseas for a total of $159,157,447 worldwide.
In June 2008, Unforgiven was listed as the fourth best American film in the western genre (behind The Searchers, High Noon, and Shane) in the American Film Institute's "AFI's 10 Top 10" list.
The film is listed in AFI's 100 Years... 100 Movies. In 2005, Time named it one of the 100 best movies of the last 80 years. It was also admitted to the National Film Registry in 2004.
The music for the Unforgiven film trailer, which appeared in theatres and on some of the DVDs, was composed by Randy J. Shams and Tim Stithem in 1992.
The main theme song, Claudia's Theme, was composed by Clint Eastwood himself.
American Film Institute recognition
AFI's 100 Years...100 Movies – #98
AFI's 100 Years...100 Thrills – Nominated
AFI's 100 Years...100 Heroes and Villains:
Sheriff "Little Bill" Daggett – Nominated Villain
William Munny – Nominated Hero
AFI's 100 Years...100 Movie Quotes:
"It's a hell of a thing killin' a man. You take away all he's got and all he's ever gonna have." – Nominated
AFI's 100 Years...100 Movies (10th Anniversary Edition) – #68
AFI's 10 Top 10 – #4 Western Film
In 1992, the film poster designer, longtime Eastwood collaborator Bill Gold, won the prestigious Key Art award from The Hollywood Reporter.
In 2013, the Writers Guild of America ranked Peoples' script for Unforgiven as the 30th greatest ever written.
A Japanese remake directed by Lee Sang-il and starring Ken Watanabe was released in 2013. The plot is very similar to the original, but takes place during the Meiji period in Japan with Watanabe's character being a samurai of old regime instead of a bandit.