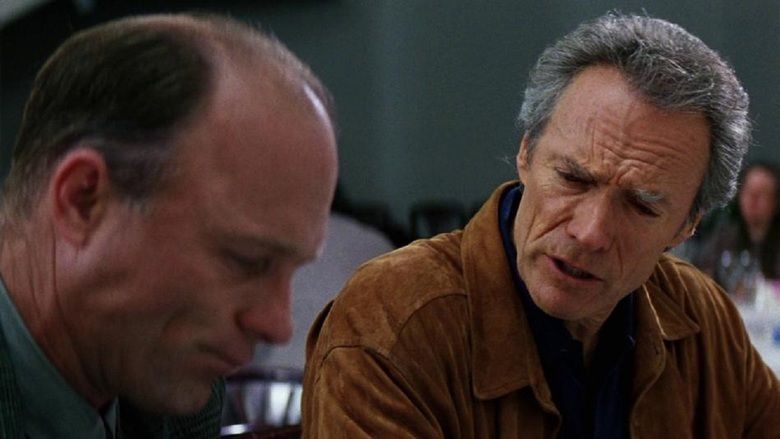 During the course of a burglary, master jewel thief Luther Whitney (Clint Eastwood) is forced to hide upon the unexpected arrival of Christy Sullivan (Melora Hardin), the beautiful young wife of elderly billionaire Walter Sullivan (E. G. Marshall), during her drunken rendezvous with Alan Richmond (Gene Hackman), the President of the United States. Walter Sullivan is Richmond's friend and financial supporter and the owner of the mansion Luther has broken into.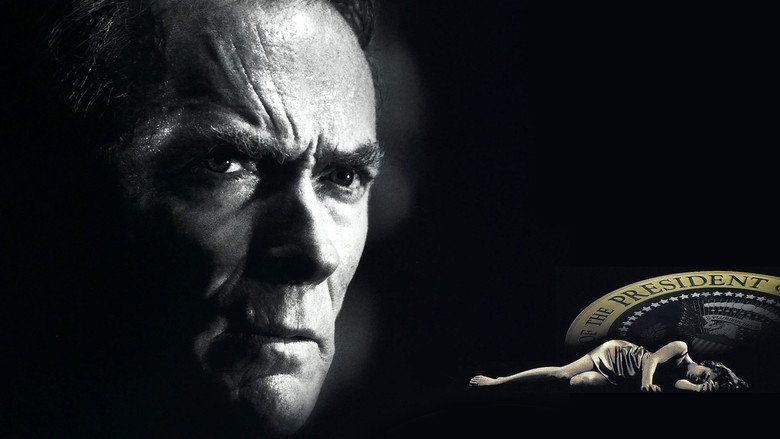 Hiding behind a one-way mirror, Luther watches as Richmond becomes sexually violent towards Christy when he playfully slaps her across the face. When she retaliates by slapping him back, Richmond becomes angry and aggressively assaults her. When she attacks him with a letter opener in self-defense, Secret Service agents Bill Burton (Scott Glenn) and Tim Collin (Dennis Haysbert) shoot her to death. Chief of Staff Gloria Russell (Judy Davis) arrives and makes the scene appear as if a burglar killed Sullivan's wife. Luther escapes with some valuables as well as the bloody letter opener.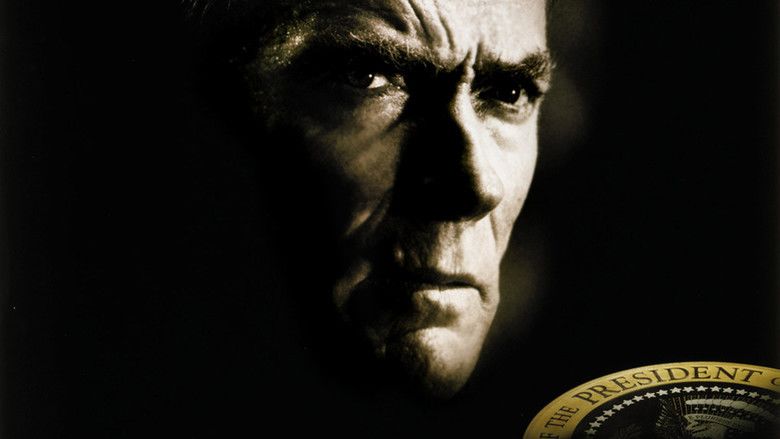 The next day, Detective Seth Frank (Ed Harris) begins his investigation of the crime. As Tim had noted Luther's license plate number during the chase, Luther quickly becomes a prime suspect in the burglary because of his reputation as a thief, but Frank does not believe it likely he murdered Christy. Just as Luther is about to flee the country, he sees President Richmond on television, publicly commiserating with Walter on his loss. Incensed by the fake sympathy, Luther decides to bring the President to justice. Meanwhile, Burton asks Frank to keep him informed about the case while a Secret Service agent wiretaps Frank's office telephone.
Luther's estranged daughter Kate (Laura Linney), who works as a prosecutor, accompanies Detective Frank to Luther's home to search for clues. Photographs in the house indicate that Luther has secretly been watching her for years. She still suspects Luther of the crime, and therefore agrees to set him up. Frank guarantees Luther's safety, but through the wiretap Burton learns of the plan and Collin says that he will kill Luther at the cafe. Someone also tips off Walter, who hires a hitman (Richard Jenkins) to kill Luther. The two snipers, each unaware of the other, try to shoot Luther when he arrives at an outdoor cafe to meet his daughter. But they both miss, and Luther escapes through the police cordon because he came prepared, wearing the uniform of a police officer beneath his coat. Luther later explains to Kate exactly how Christy was killed, and by whom.
Luther begins to taunt Chief of Staff Russell, first by sending her a photograph of the letter opener, then tricking her into wearing Christy's necklace in public. Correctly suspecting that Kate knows the truth, President Richmond elects to have her killed. Luther learns from Detective Frank that the Secret Service has taken over surveillance of Kate, so he races back to Washington D.C. to protect her. He arrives at her jogging path just moments after Collin has used his SUV to push her and her car off a cliff. Collin tries to kill her again at the hospital, approaching her bed with a poison-filled syringe. Luther, who lies in waiting, subdues Collin by jabbing him in the neck with a syringe of his own. Collin pleads for mercy, but Luther says he's "fresh out," delivering a fatal dose.
Luther finds out that Sullivan gave no reason publicly why Christy stayed home; on the night of her murder, Christy said to Richmond that she told Walter she was sick. He incapacitates Walter's chauffeur and replaces him, telling Walter what happened on the night of the murder. Walter is unconvinced until Luther explains how Richmond lied in a speech by citing Christy's excuse for staying home, which he could only have learned from her. He shows Walter the letter opener with Richmond's blood and fingerprints on it, and also informs him that he has since returned the items stolen the night his wife was killed.
Luther stops the car and hands over the letter opener, dropping off Walter outside the White House. A trusted Walter is able to get through security with it and enter the Oval Office. Meanwhile, alerted by Luther that his phones have been bugged, Frank discovers that a remorseful Burton has committed suicide, and uses the evidence Burton left behind to arrest Russell. On the television news in the next morning comes the shocking news, "confirmed" by Walter, that the President has committed suicide by stabbing himself to death. Luther is happy to know that Walter got justice after all.
Back at the hospital, sketching on a pad, Luther watches over Kate in her hospital bed. Detective Frank visits briefly, whereupon Luther suggests to Kate that she invite Frank to dinner sometime, and then continues to draw a new picture of his daughter.
Clint Eastwood as Luther Whitney
Gene Hackman as President Alan Richmond
Ed Harris as Detective Seth Frank
Laura Linney as Assistant Commonwealth Attorney Kate Whitney
Scott Glenn as Secret Service Agent Bill Burton
Dennis Haysbert as Secret Service Agent Tim Collin
Judy Davis as Presidential Chief of Staff Gloria Russell
E. G. Marshall as billionaire Walter Sullivan
Melora Hardin as Christy Sullivan
Kenneth Welsh as Sandy Lord
Penny Johnson as Laura Simon
Richard Jenkins as Michael McCarty
Mark Margolis as Red Brandsford
Elaine Kagan as Valerie
The worldwide book and movie rights to the novel were sold for a reported $5 million. William Goldman was hired to write the screenplay in late 1994. He worked on several drafts through 1995, which he later described in his memoir Which Lie Did I Tell?.
When Eastwood first heard about turning the book into a film, he liked the characters and the basic plot, but disliked the fact that most of those he considered the interesting characters were killed off. He requested that Goldman make sure that "everyone the audience likes doesn't get killed off." Absolute Power was filmed between June and August 1996 in the following locations:
Baltimore, Maryland (suburbs)
Corcoran Gallery of Art, Washington DC (museum scenes)
Elk Neck State Park, Turkey Point Road, North East, Maryland
Los Angeles, California
Maryvale Preparatory School, Brooklandville, Maryland
Towson, Maryland
USAir Arena, Landover, Maryland
Washington DC (including Christopher Hitchens' apartment)
Watergate Hotel, Washington DC
Absolute Power was met with mixed reviews from critics. In her review in The New York Times, Janet Maslin gave it a mixed review, writing, "Mr. Eastwood directs a sensible-looking genre film with smooth expertise, but its plot is quietly berserk." Maslin goes on to write, "Mr. Eastwood's own performance sets a high-water mark for laconic intelligence and makes the star seem youthfully spry by joking so much about his age."
On the aggregate reviewer web site Rotten Tomatoes, the film received a 45% positive rating from top film critics based on 42 reviews, and a 52% positive audience rating based on 30,982 reviews.
The film was not a box office success domestically, grossing $16,770,220 on its opening weekend. The film earned a total domestic box office gross of $50,068,310, barely recouping its $50 million budget.
The soundtrack to Absolute Power was released on March 11, 1997.