9.4

/

10

Alchetron

8.8

Rate This





Initial DVD release

April 25, 2000





Genre

Action, Crime, Drama




Release date

August 14, 1987 (1987-08-14)

Writer

Kenneth Fearing

(novel), Robert Garland (screen story), Robert Garland (screenplay)

Screenplay

Kenneth Fearing, Robert Garland

Cast




Similar movies

Beetlejuice

,

Team America: World Police

,

Changeling

,

Rambo: First Blood Part II

,

Democracy Is ...

,

Information Violence




Tagline

Is it a crime of passion, or an act of treason?
No way out official trailer 1 gene hackman movie 1987 hd
No Way Out is a 1987 American political thriller drama film. It stars Kevin Costner, Gene Hackman, and Sean Young. Will Patton, Howard Duff, George Dzundza, Jason Bernard, Fred Thompson and Iman appear in supporting roles.
Contents
The film is a remake of The Big Clock (1948). Both films are based on Kenneth Fearing's 1946 novel The Big Clock. Filming locations included Baltimore, Annapolis, Arlington, Washington, D.C., and Auckland, New Zealand. The film features original music by Academy Award-winning composer Maurice Jarre.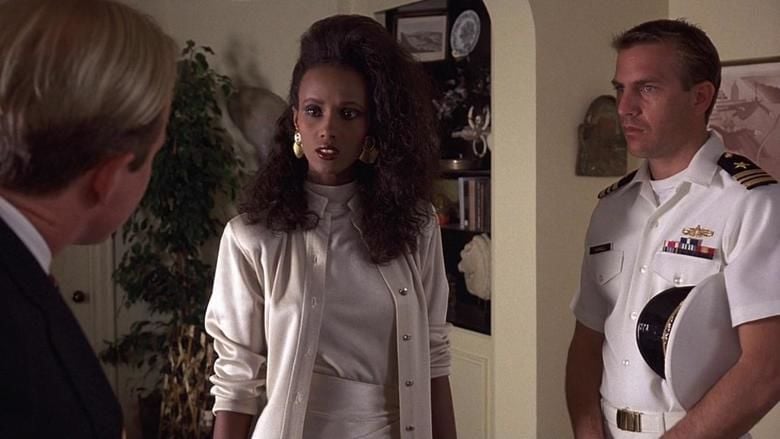 Sean young no way out trailer 1987
Plot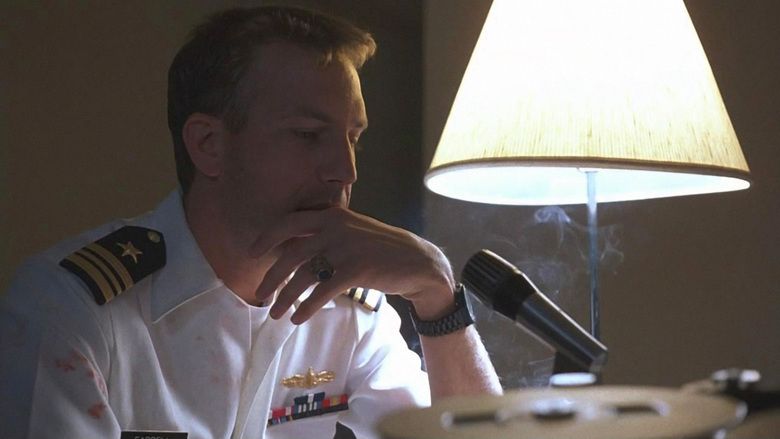 In a suburban safe house, U.S. Navy Lieutenant Commander Tom Farrell is asked by two men about how he first met Secretary of Defense David Brice. In a flashback, Farrell is invited to an inaugural ball by his college buddy Scott Pritchard, who intends to introduce him to Brice. Pritchard, Brice's General Counsel, hopes that Brice will transfer Farrell to the Pentagon. On meeting Farrell, Brice is unimpressed and virtually ignores him. Moments later, Farrell begins flirting with another guest, Susan Atwell. The two make love in her limousine and begin a secret relationship, even though she admits to also being involved with a married man.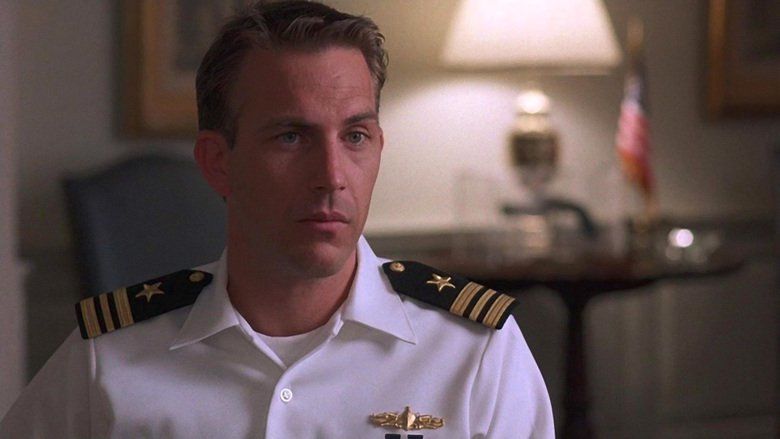 Farrell returns to sea and rescues a crewman from being washed overboard during a storm. Brice reads a newspaper story about the rescue and orders Farrell transferred to his intelligence staff. After Susan and Farrell return from a romantic weekend, her married lover - Secretary Brice - arrives at her door. After urging a hurt and jealous Farrell to leave through the back door, Susan assures him that she will leave Brice. Brice sees a man leaving Susan's house but cannot see that it was Farrell. After Susan lets him in, an enraged Brice demands to know the name of her other lover, but Susan refuses and orders him to leave. Brice resists, and ultimately pushes Susan to her death over an upstairs railing. After calling Pritchard, Brice is ready to turn himself in, telling Pritchard about having been seen by Susan's other lover. But Pritchard suggests that if the other man was made out to be a suspected KGB sleeper agent code-named "Yuri", then the other man's elimination could be made a matter of national security. Pritchard cleans Susan's house of all evidence that Brice was there, and discovers a negative side of a Polaroid photograph Susan had taken of Farrell earlier. The negative shows a very poor, unidentifiable image of a man.
Unaware that Farrell was in a relationship with Susan, Brice orders him to find and arrest "Yuri" and places him in the ironic position of investigating himself. Farrell is told that the city police have not been informed, and that CID officers, commanded by Major Donovan, have been assigned to conduct the investigation. Meanwhile, to protect his concocted story, Pritchard sends two former CIA assassins to systematically eliminate everyone who knew of Brice's affair with Susan, beginning with her girlfriends. Attempts to enhance the photo negative begin to bear fruit due to Sam Hesselman, a wheelchair-bound computer expert. Meanwhile, Farrell sets out to conclusively link Brice to Susan by searching computer files for evidence that Brice gave her a Government-registered gift from the Moroccan Foreign Minister.
Needing more time, Farrell convinces Hesselman to delay the work on the photograph. CID officers bring two witnesses to Donovan who have seen "Yuri" with Susan during their romantic weekend. They cross paths with Farrell in the Pentagon and recognize him. Farrell escapes, but the CID begins a search of the Pentagon, knowing that "Yuri" is somewhere in the building. Farrell continues to elude the search and tells Hesselman that Brice was having a relationship with Susan and killed her. Hesselman helps him find the Moroccan gift registered in the State Department database and initiates a print-out so that Farrell will have physical evidence implicating Brice. Thinking that Farrell is delusional, Hesselman tells Pritchard about Farrell's relationship with Susan and his belief that Brice murdered her. Pritchard thanks Hesselman and then executes him. Still trying to avoid the CID search for him within the Pentagon, Farrell returns to Hesselman's office and seizes the registry printout. Farrell confronts Brice with this evidence and threatens to go to the police if the search for him is not called off. After Donovan reports that Hesselman has been murdered by "Yuri", Pritchard tells Brice that Farrell was Susan's other lover and adds that if the man in the photo is "Yuri" then Farrell is "Yuri". Knowing that Farrell has the registry print-out, Brice improvises a different story: Pritchard, who is homosexual, killed Susan because he was jealous of Brice's relationship with her. A devastated Pritchard commits suicide and is apparently revealed to be "Yuri", concluding the search. Farrell quietly sends the registry printout to Brice's mortal enemy, the Director of the CIA. As Farrell leaves the Pentagon, the image enhancement of the photograph positively identifies him as Susan's other lover.
Farrell is picked up by several men while sitting despondently at Susan's grave. The flashback ends back at the safe house, where it is revealed that Farrell is, in fact, the real "Yuri" and the KGB's mole in the Department of Defense. Aware of Brice's affair, the Kremlin had ordered Farrell to seduce his mistress and gather intelligence from her. Implying that he should have blackmailed Brice instead of exposing him, Farrell's interrogators angrily berate him, saying the situation was "poorly handled". Then, Farrell's handler arrives, tells "Yuri" that America is no longer safe for him, and that it is time for him to return to the Soviet Union. Revealing that he genuinely loved Susan, Farrell refuses and tells his handlers that he is finished being a KGB mole. Neither the threat of being shot or the reminder that he is a Hero of the Soviet Union can sway him. After he leaves the KGB's safe house, his handler snaps, "He'll return. Where else does he have to go?"
Cast
Kevin Costner as Lieutenant Commander Tom Farrell, U.S. Navy
Gene Hackman as Secretary of Defense David Brice
Will Patton as Scott Pritchard
Sean Young as Susan Atwell
George Dzundza as Sam Hesselman
Howard Duff as Senator Duvall
Jason Bernard as Major Donovan, CID
Fred Dalton Thompson as CIA Director Marshall
Iman as Nina Beka
Michael Shillo as Schiller
Box office
The film debuted at number 2 at the box office after Stakeout. The film's budget was an estimated $15 million; its total U.S. gross was over $35 million.
Critical reception
The film was very well received by critics and as of December 4, 2015, holds a 91% "Fresh" rating on Rotten Tomatoes based on 40 reviews.
Roger Ebert gave the film 4 out of 4 stars, calling it "truly labyrinthine and ingenious." Richard Schickel of Time wrote, "Viewers who arrive at the movie five minutes late and leave five minutes early will avoid the setup and payoff for the preposterous twist that spoils this lively, intelligent remake of 1948's The Big Clock." Desson Thomson of The Washington Post wrote, "The film makes such good use of Washington and builds suspense so well that it transcends a plot bordering on ridiculous."
References
No Way Out (1987 film) Wikipedia
(Text) CC BY-SA
No Way Out (1987 film) IMDb
No Way Out (1987 film) Roger Ebert
No Way Out (1987 film) Rotten Tomatoes
No Way Out (1987 film) themoviedb.org