Deewaar (The Wall) is a 1975 Indian crime drama film, directed by Yash Chopra, written by Salim-Javed, and starring Amitabh Bachchan and Shashi Kapoor. Reflecting "the tumultuous politics of the early 70s" in India, Deewaar tells the story of a pair of impoverished brothers who, after their family is betrayed by the misplaced idealism of their father, struggle to survive on the streets of Mumbai. The film was loosely inspired by the real-life gangster Haji Mastan, and the 1961 Dilip Kumar film Gunga Jumna.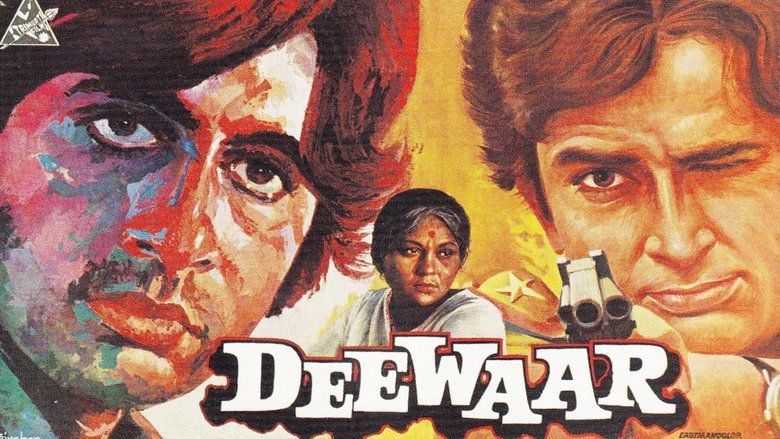 Many consider Deewaar a ground-breaking cinematic masterpiece. It was one of a slew of films establishing Bachchan as the "angry young man" of Bollywood cinema and Parveen Babi as the "new Bollywood woman" whose character Anita is "a liberated working girl, smoking, drinking and making love to her partner, defying every Hindi film heroine rule." The movie cemented the success of the writing duo Salim-Javed, who went on to write many more blockbuster films. It is said that after the success of this film, the value of film writers skyrocketed thanks to Salim-Javed, and they soon were being paid as highly as some actors at the time.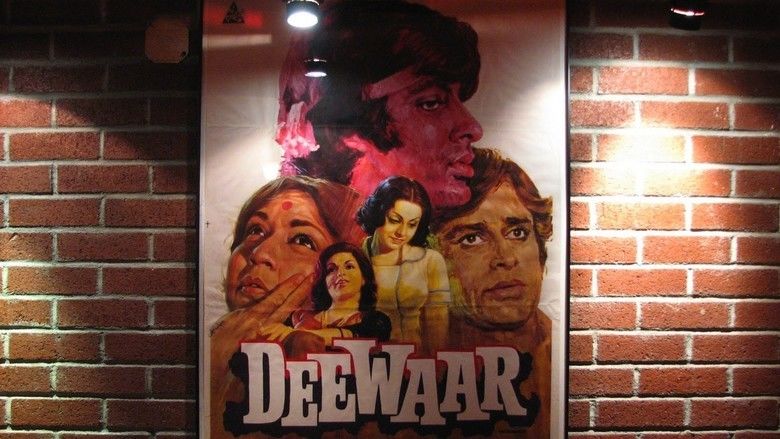 The Deewaar in question refers to the wall that has sprung up between the two brothers, drawn apart by fate and circumstances in a time of socio-political turmoil.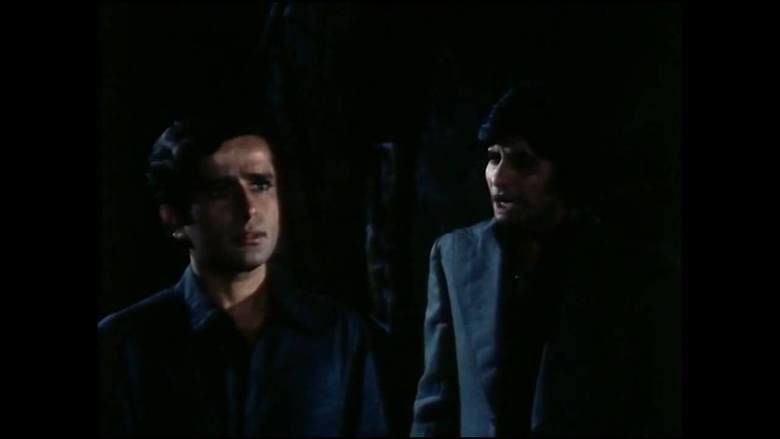 Deewaar received the Filmfare Best Movie Award of 1975 in addition to six other Filmfare Awards and was a "superhit" at the box office, ranking as the 4th highest grossing Bollywood film of 1975. Indiatimes ranks Deewaar amongst the Top 25 Must See Bollywood Films.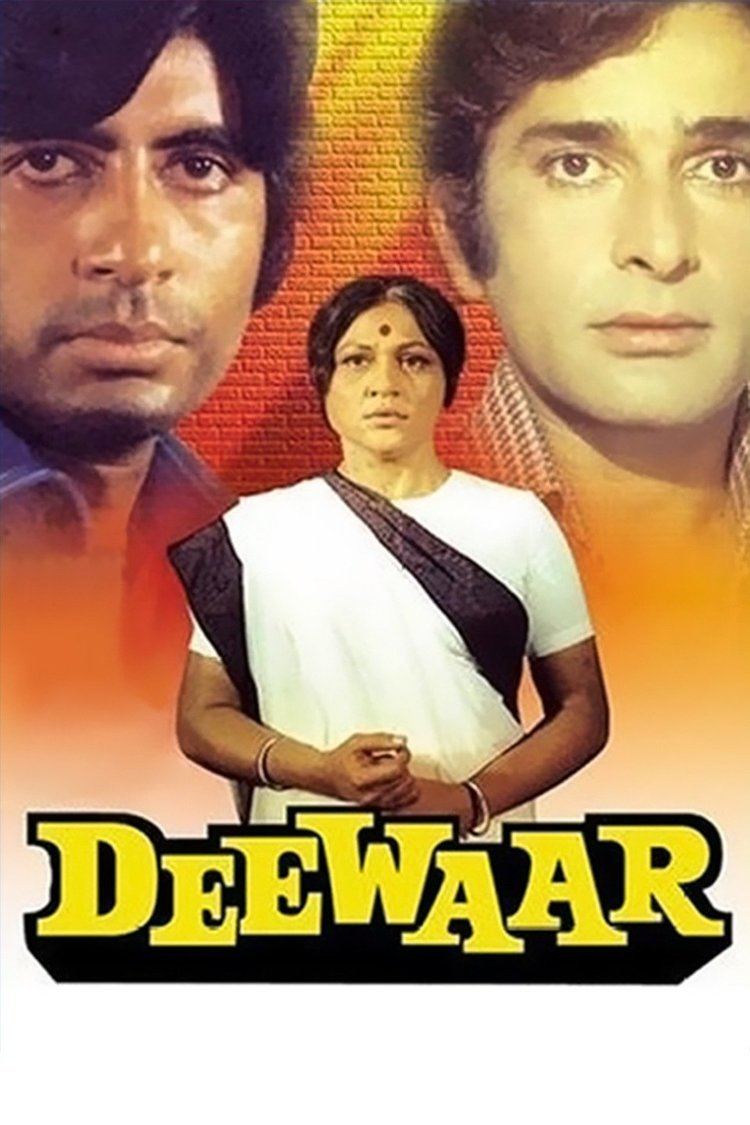 The film was later remade in Telugu as Magaadu (1976), in Tamil as Thee (1981) and in Malayalam as Nathi Muthal Nathi Vare (1983).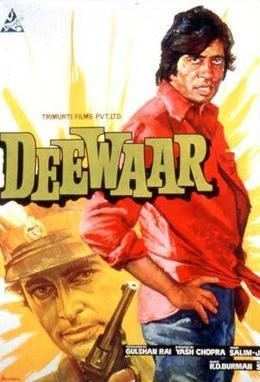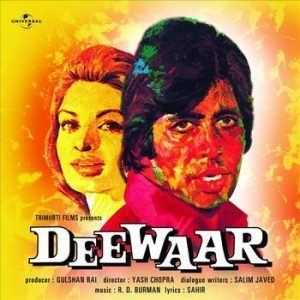 The film opens with a depiction of the strong leadership of trade unionist Anand Verma (Satyen Kappu), who works hard to enhance the lives of struggling laborers. He lives in a modest home with his wife, Sumitra Devi (Nirupa Roy), and their two young sons, Vijay (Amitabh Bachchan), and Ravi (Shashi Kapoor). Anand, however, is blackmailed by a corrupt businessman who threatens to kill his family if Anand does not cease his protest activities. Forced into compliance, Anand is thus attacked by the very same laborers who then jeer him for his betrayal, unaware that he was blackmailed. His family is also persecuted by the angry workers. Out of shame, Anand leaves town, leaving Sumitra to care for their sons alone in poverty. Several of the angry workers kidnap Vijay and tattoo his arm with the Hindi words "मेरा बाप चोर है" (translated into "My Father Is A Thief"). Not knowing what else to do, Sumitra brings her children to Mumbai and struggles as a day laborer to care for her now homeless sons.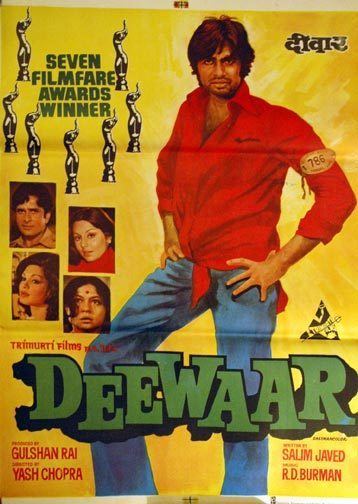 Vijay, the older brother, grows up with an acute awareness of his father's failure and is victimized for his father's supposed misdeeds. In the process of fighting for his rights, Vijay, who starts out as a boot polisher, was a dockyard worker in his youth, now becomes a smuggler for the underworld. Vijay beats up several thugs working for their ruthless leader Samant (Madan Puri), which then influences one of Samant's rivals to bring Vijay to his inner circle, leaving Vijay to become a new leading figure of the underworld. He also sacrifices his own education so his brother Ravi can study.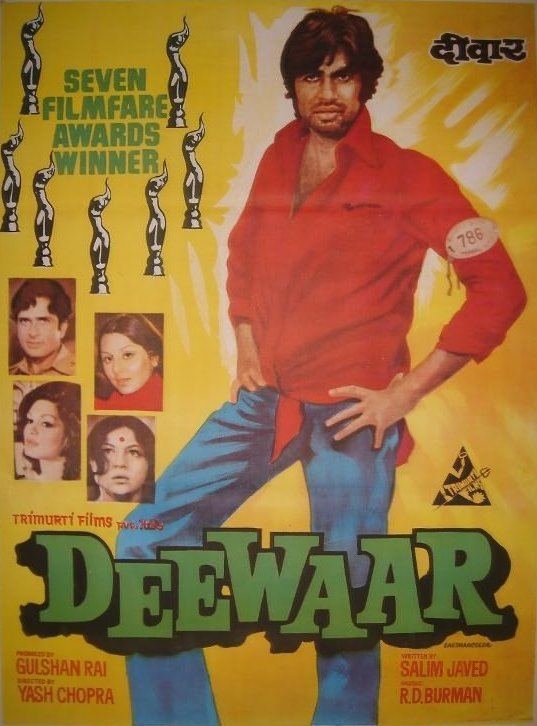 Ravi is an excellent student. He is dating Veera (Neetu Singh), the daughter of a senior police officer. On the Commissioner's suggestion, Ravi applies for employment with the police, and is sent for training. Several months later, he is accepted by the police, and has a rank of Sub-Inspector. When Ravi returns home, he finds that Vijay has become a businessman overnight, has accumulated wealth, and a palatial home. One of his first assignments is to apprehend and arrest some of Bombay's hardcore criminals and smugglers which includes his brother, Vijay – much to his shock, as he had never associated his own brother with criminal activities. Ravi must now decide between apprehending Vijay and quitting the police force. When Ravi finds out that Vijay has acquired wealth by crime, he decides to move out along with his mother. Shouldering past the loss of his mother and sibling, Vijay enters a sexual relationship with Anita (Parveen Babi), a woman whom he meets at a bar. When Anita falls pregnant, Vijay decides to abandon his life in the underworld, marry her, and confess his sins. He also hopes to seek forgiveness from his mother and brother. However, when Anita is brutally murdered by Samant, Vijay loses all sense and brutally murders Samant in revenge for Anita's death, leading him to be branded a criminal forever. Their mother, who had sided with Ravi despite the fact that Vijay was her favourite, is tormented by Vijay's decisions and rejects him. When the two brothers meet for a final clash, Ravi, pleading Vijay to stop running, shoots Vijay in his arm and Vijay dies (after crashing his car into a wall while trying to escape) in his mother's arms in a temple, which he has visited for the first time in his life, seeking forgiveness. Ravi is felicitated for pursuing justice.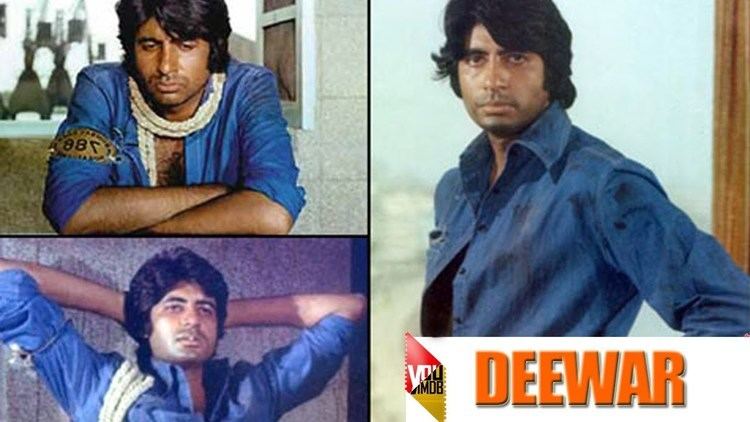 Amitabh Bachchan as Vijay Verma, the elder brother
Shashi Kapoor as Ravi Verma, the younger brother
Parveen Babi as Anita
Neetu Singh as Veera Narang
Nirupa Roy as Sumitra Devi, Vijay & Ravi's mother
Satyendra Kapoor as Anand Verma, Vijay & Ravi's father
Manmohan Krishna as DCP Narang
Madan Puri as Samant
Iftekhar as Mulk Raj Daavar
Sudhir as Jaichand
Jagdish Raj as Jaggi
Raj Kishore as Darpan
Yunus Parvez as Rahim Chacha, Head Porter
Mohan Sherry as Peter's henchman
Alankar Joshi as Young Vijay Verma
Raju Shrestha as Young Ravi Verma
Rajan Verma as Lachhu
A. K. Hangal as Chander's Father
Dulari as Chander's mother
D. K. Sapru as Mr. Agarwal
Kamal Kapoor as Anand Verma's employer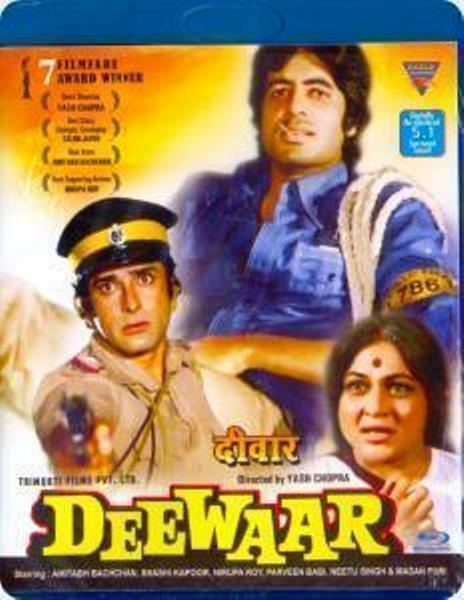 Director: Yash Chopra
Story: Salim-Javed
Screenplay: Salim-Javed
Dialogue: Salim-Javed
Producer: Gulshan Rai
Cinematographer: Kay Gee
Editor: T. R. Mangeshkar, Pran Mehra
Art Director: Desh Mukherjee
Stunts: M. B. Shetty, Kodi S. Irani
Music Director: Rahul Dev Burman
Lyricist: Sahir Ludhianvi
Playback Singers: Asha Bhosle, Manna Dey, Kishore Kumar, Bhupendra Singh, Ursula Vaz, Usha Mangeshkar
The Soundtrack of the movie was composed by Rahul Dev Burman, and the lyrics were penned by Sahir Ludhianvi. The soundtrack did well, and the track "Kehdoon Tumhe" was a chartbuster.
Numerous DVD editions entered the market by companies like "Eros Entertainment", "Shemaroo Entertainment" and "Eagle Home Video". These were released as non-restored, non re-mastered editions and bare bones, void of supplementary features.
Eagle Home Video came out with a restored edition of this movie, preserving the original aspect ratio in 4:3 pillar box and a DTS Master Audio (HD) in 2.0. The restoration took place in Shemaroo studios.
'23rd Filmfare Awards'
Best Film - Gulshan Rai
Best Director - Yash Chopra
Best Supporting Actor - Shashi Kapoor
Best Story - Salim-Javed
Best Dialogue - Salim-Javed
Best Screenplay - Salim-Javed
Best Sound - M. A. Shaikh
Best Actor - Amitabh Bachchan
Best Supporting Actress - Nirupa Roy
Indiatimes ranks Deewaar amongst the Top 25 Must See Bollywood Films. It was one of the three Hindi films featured in the book 1001 Movies You Must See Before You Die, the others being Mother India (1957) and Dilwale Dulhania Le Jayenge (1995).
Rajesh Khanna and Navin Nischol were the first choice for Vijay and Ravi's roles but Salim-Javed insisted that Amitabh Bachchan would suit Vijay's character better. Similarly Nirupa Roy's role was first offered to Vyjayanthimala but she turned it down. In 2014, Bachchan revealed that his iconic look in the film - a "denim blue shirt worn with khakee pants and a rope dangling over the shoulder" - was the result of a mistake by the tailor. He said, "The knotted shirt and rope on shoulder in [Deewaar] was an adjustment for an error in stitching, shirt too long so knotted it".
The film was later remade in Telugu as Magaadu (1976) starring NTR with Rama Krishna, Manjula Vijayakumar and Latha Sethupathi and in Tamil as Thee (1981) starring Rajinikanth, Suman, Manorama and Sripriya and in Malayalam as Nathi Muthal Nathi Vare(1983) starring Mammootty.
Naam was also influenced by Deewaar and was written by one of Deewaar's cowriters. British director Danny Boyle, who described Deewaar as being "absolutely key to Indian cinema", cited the film as an influence on his Academy Award winning Slumdog Millionaire (2008). Actor Anil Kapoor noted that some scenes of Slumdog Millionaire "are like Deewaar, the story of two brothers of whom one is completely after money while the younger one is honest and not interested in money."