Years active

1981–present







Born

August 13, 1964 (age 51) (

1964-08-13

)

Books

Extra Virgin: Recipes & Love from Our Tuscan Kitchen

Children

Giulia Isabel Corcos, Evelina Maria Corcos

Movies and TV shows




Similar People




Profiles



Debi mazar speaks on her relationship with madonna how she got into acting new show younger
Deborah Mazar ( or ; born August 13, 1964) is an American actress and television personality, known for her Jersey Girl-type roles, as well as playing sharp-tongued women. She began her career with supporting roles in Goodfellas (1990), Singles (1992), and Batman Forever (1995), followed by lead roles on the police drama series Civil Wars and L.A. Law.
Contents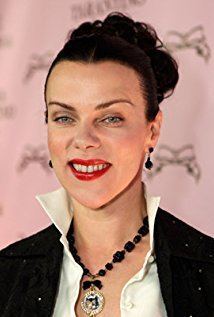 Beginning in 2014, she has had a starring role in the Cooking Channel series, Extra Virgin, along with her husband Gabriele Corcos. She is also known for her role as press agent Shauna Roberts on the HBO series Entourage and currently stars as Maggie Amato on TV Land's Younger.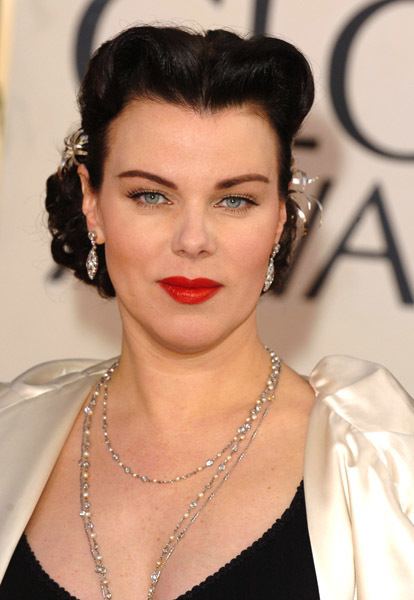 Actress debi mazar we can all be younger
Early life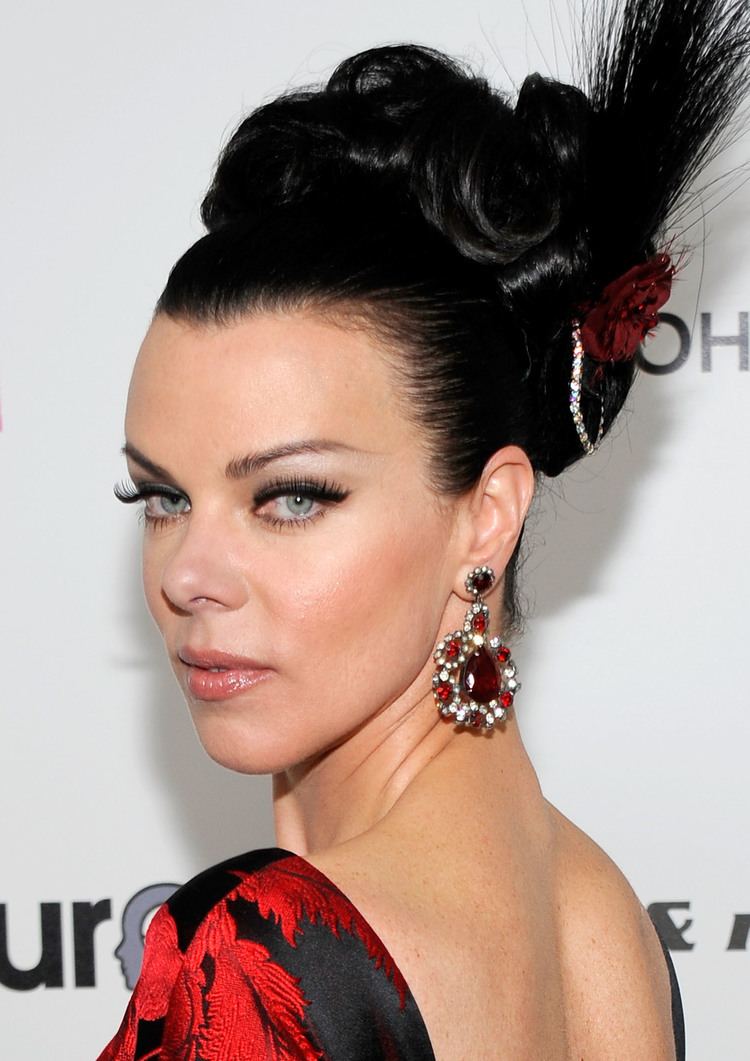 Mazar was born in Jamaica, Queens, New York City, the daughter of Nancy and Harry Mazar. Her father was born in the Latvian SSR, Soviet Union, to a Jewish family, but raised Roman Catholic. She had no knowledge of her father's ancestry until her twenties. Mazar's parents annulled their marriage shortly after she was born, and she spent her early life in the country in upstate New York with her mother. As a teenager, she relocated to Long Island, where she lived with her godparents.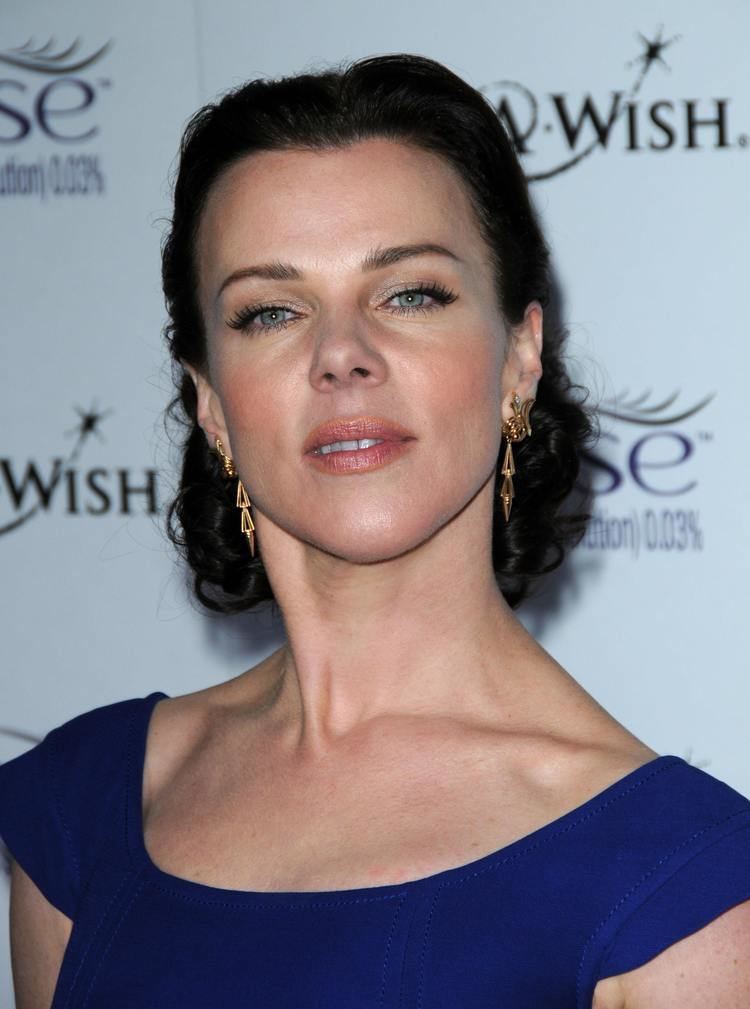 Mazar worked various odd jobs, including selling jewelry at Fiorucci with Linda Ramone and Joey Arias, later as a dental assistant, and at a nightclub.
Career
While working at Danceteria, Mazar met Madonna. She hired Mazar to do her makeup for the music video for "Everybody". She also originated the hair and makeup for the play Speed-the-Plow.
Mazar began her career as a hip hop b-girl in New York City. Her first television appearance was on the pilot for a hip hop television dance show, Graffiti Rock in 1984. She appeared in five of Madonna's music videos – "Papa Don't Preach", "True Blue" (both 1986), "Justify My Love" (1990), "Deeper and Deeper" (1992) and "Music" (2000).
Mazar has played a number of minor supporting roles in a variety of films, including Sandy, a friend of Henry Hill's mistress in Goodfellas (1990); The Doors (1991); a small role in Spike Lee's Malcolm X (1992); Bullets Over Broadway (1994); and as Spice (of Sugar and Spice, with Drew Barrymore as Sugar) in Batman Forever (1995). She gained her first real following from playing a character on Civil Wars in the early 1990s. When that series was cancelled her character was brought over as a recurring role between 1993 and 1994 season of the TV drama L.A. Law.
She played the villain Regina, a modern-day Cruella de Vil, in the family film Beethoven's 2nd (1993). She has appeared in independent films Inside Monkey Zetterland and Nowhere and her short-lived sitcom, Temporarily Yours. She appeared as the genie in the Space Monkeys' music video, "Sugarcane".
Mazar appeared on a Friends episode in its eighth season ("The One Where Rachel Has a Baby, Part One"). Mazar played "Doreen, the Evil Bitch," a crazed pregnant woman who shares a hospital room with Rachel. In the 1999 docudrama film The Insider she played character Lowell Bergman's assistant Debi. From 2000-02 she played Jackie on the television drama That's Life. She provided the voice of Maria Latore in the video games Grand Theft Auto III (2001) and Grand Theft Auto: San Andreas (2004).
From 2004-11, she had a supporting role on Entourage as press agent Shauna Roberts. She also had a recurring role on the sitcom Living with Fran, playing Fran Drescher's character's cousin, Merrill. She did a two-episode stint on the television series Ugly Betty as fraudster Leah Stillman.
Mazar was a contestant on the ninth season of Dancing With the Stars. She was partnered with Maksim Chmerkovskiy and finished in twelfth place. She was eliminated in the third week (October 6, 2009). In 2012, Mazar played Jessica, a glamorous, leather-clad villainess in Home Alone: The Holiday Heist.
Mazar began appearing on a Cooking Channel cooking/reality show television series in January 2011. She, her husband Gabriele Corcos, and their two daughters star in the series, which depicts their lives, and showcases their own recipes. The show is scripted. The show has had four seasons as of June 2014. In 2015, Mazar and her husband started another series on the Cooking Channel entitled Extra Virgin Americana where they travel the U.S., road trip style, with their children and family friend searching for great food.
Mazar appeared in the 2nd season of The $100,000 Pyramid reboot on ABC on August 6, 2017. In the main game, she helped her contestant get 7 clues in only 15 seconds causing host Michael Strahan to say, "I think that's the quickest round we've ever had, 15 seconds!"
Personal life
Prior to her marriage, she dated actor Paul Reubens for several years beginning in 1993. Reubens has since credited Mazar with ending his depression resulting from his infamous 1991 arrest.
She married Gabriele Corcos on March 16, 2002, in a ceremony officiated by Ellen Burstyn. They have two daughters, Giulia and Evelina. The family formerly lived in Los Angeles but moved to Brooklyn, New York in 2009. They opened a cafe/restaurant called Tuscan Gun. The family currently divides their time between Brooklyn and a 15th-century home outside of Florence, Italy, that was given to them as a wedding present by Mazar's in-laws.
Mazar has had several dogs, including a dog named Delores who was prominently featured in the first season of her show Extra Virgin, until the dog's death in 2011.
Mazar and Corcos formerly hosted an internet show focused on Tuscan cuisine, Under The Tuscan Gun. On January 19, 2011, Debi, and her husband Gabriele began hosting the cooking show Extra Virgin on the Cooking Channel, and released a cookbook, Recipes & Love From Our Tuscan Kitchen, in 2014.
Mazar and her husband both appeared on an episode of the ABC talk show The Chew in 2014 to promote their show, Extra Virgin.
Music videos
Filmography
Actress
2024
Food Fight (pre-production)
as
Isabelle
-
Fiesta en la madriguera (filming)
2024
Object Permanence (filming)
as
Cassandra
-
Kaos (TV Series) (post-production)
as
Medusa
- Episode #1.7
- Episode #1.8
- Episode #1.6
- Episode #1.4
- Episode #1.5
- Episode #1.3
- Episode #1.2
- Episode #1.1 - Medusa
-
The Kill Room (post-production)
as
The Kimono
2023
East New York (TV Series)
as
Ann-Marie Quinlan
- Ruskin Roulette (2023) - Ann-Marie Quinlan
- Personal Shopper (2023) - Ann-Marie Quinlan
- There Goes the Neighborhood (2023) - Ann-Marie Quinlan
2023
City Island (TV Series short)
as
Laney
- History (2023) - Laney
2022
Rainbow
as
Party Guest (uncredited)
2022
The Pentaverate (TV Mini Series)
as
Patty Davis
- Episode #1.6 (2022) - Patty Davis
- Episode #1.5 (2022) - Patty Davis
- Episode #1.3 (2022) - Patty Davis
- Episode #1.2 (2022) - Patty Davis
- Episode #1.1 (2022) - Patty Davis
2021
A Christmas Number One
as
Colleen Porter
2021
The Other Two (TV Series)
as
Debi Mazar
- Pat Connects with Her Fans (2021) - Debi Mazar
2015
Younger (TV Series)
as
Maggie Amato
- Older (2021) - Maggie Amato
- Make No Mustique (2021) - Maggie Amato
- Inku-baited (2021) - Maggie Amato
- Fallout (2021) - Maggie Amato
- The Baroness (2021) - Maggie Amato
- The Son Also Rises (2021) - Maggie Amato
- The F Word (2021) - Maggie Amato
- The Last Unicorn (2021) - Maggie Amato
- Risky Business (2021) - Maggie Amato
- FKA Millennial (2021) - Maggie Amato
- It's the End of the World, Worm Girl (2021) - Maggie Amato
- A Decent Proposal (2021) - Maggie Amato
- Forever (2019) - Maggie Amato
- Holding Out for a SHero (2019) - Maggie Amato
- It's All About the Money, Honey (2019) - Maggie Amato
- Millennial's Next Top Model (2019) - Maggie Amato
- The Debu-taunt (2019) - Maggie Amato
- Friends with Benefits (2019) - Maggie Amato
- Merger, She Wrote (2019) - Maggie Amato
- Stiff Competition (2019) - Maggie Amato
- An Inside Glob (2019) - Maggie Amato
- The Unusual Suspect (2019) - Maggie Amato
- Flush with Love (2019) - Maggie Amato
- Big Day (2019) - Maggie Amato
- Lizability (2018) - Maggie Amato
- Fraudlein (2018) - Maggie Amato
- Girls on the Side (2018) - Maggie Amato
- Honk If You're Horny (2018) - Maggie Amato
- The Bubble (2018) - Maggie Amato
- A Christmas Miracle (2018) - Maggie Amato
- Sex, Liza and Rock & Roll (2018) - Maggie Amato
- Big Little Liza (2018) - Maggie Amato
- The Talented Mr. Ridley (2018) - Maggie Amato
- The End of the Tour (2018) - Maggie Amato (credit only)
- A Titanic Problem (2018) - Maggie Amato
- Irish Goodbye (2017) - Maggie Amato
- It's Love, Actually (2017) - Maggie Amato
- A Novel Marriage (2017) - Maggie Amato
- The Gelato and the Pube (2017) - Maggie Amato
- Fever Pitch (2017) - Maggie Amato
- A Close Shave (2017) - Maggie Amato
- The Gift of the Maggie (2017) - Maggie Amato
- In the Pink (2017) - Maggie Amato
- Forged in Fire (2017) - Maggie Amato
- Gettin' Hygge with It (2017) - Maggie Amato
- Post Truth (2017) - Maggie Amato
- Get Real (2016) - Maggie Amato
- A Book Fair to Remember (2016) - Maggie Amato
- Pigeons, Parrots and Storks (2016) - Maggie Amato
- Summer Friday (2016) - Maggie Amato
- What's Up, Dock? (2016) - Maggie Amato
- Ladies Who Lust (2016) - Maggie Amato
- Me, Myself, and O (2016) - Maggie Amato
- P Is for Pancake (2016) - Maggie Amato
- A Night at the Opera (2016) - Maggie Amato
- Last Days of Books (2016) - Maggie Amato
- The Marshmallow Experiment (2016) - Maggie Amato
- A Kiss Is Just a Kiss (2016) - Maggie Amato
- No Weddings & a Funeral (2016) - Maggie Amato
- Secrets & Liza (2016) - Maggie Amato
- Bad Romance (2016) - Maggie Amato
- The Good Shepherd (2016) - Maggie Amato
- Beyond Therapy (2016) - Maggie Amato
- Into the Woods & Out of the Woods (2016) - Maggie Amato
- Un-Jaded (2016) - Maggie Amato
- Jersey, Sure (2016) - Maggie Amato
- The Jade Crusade (2016) - Maggie Amato
- Like a Boss (2016) - Maggie Amato
- The Mao Function (2016) - Maggie Amato
- Tattoo You (2016) - Maggie Amato
- The Old Ma'am and the C (2015) - Maggie Amato
- Hot Mitzvah (2015) - Maggie Amato
- The Boy with the Dragon Tattoo (2015) - Maggie Amato
- I'm with Stupid (2015) - Maggie Amato
- Sk8 (2015) - Maggie Amato
- Broke and Pantyless (2015) - Maggie Amato
- Shedonism (2015) - Maggie Amato
- Girl Code (2015) - Maggie Amato
- The Exes (2015) - Maggie Amato
- IRL (2015) - Maggie Amato
- Liza Sows Her Oates (2015) - Maggie Amato
- Pilot (2015) - Maggie Amato
2020
At Home with Amy Sedaris (TV Series)
as
Jojo
- First Dates (2020) - Jojo
2020
Katy Keene (TV Series)
as
Debi Mazar
- Chapter Twelve: Chain of Fools (2020) - Debi Mazar
2020
Power (TV Series)
as
Dolores
- Exactly How We Planned (2020) - Dolores
- It's All Your Fault (2020) - Dolores
2019
El Hormiguero: Vacaciones en el Titanic (TV Short)
as
Debi Mazar
2017
Happy! (TV Series)
as
Isabella Scaramucci
- Arlo and Marie (2019) - Isabella Scaramucci
- The War on Easter (2019) - Isabella Scaramucci
- Destroyer of Worlds (2018) - Isabella Scaramucci
- The Scrapyard of Childish Things (2018) - Isabella Scaramucci
- White Sauce? Hot Sauce? (2018) - Isabella Scaramucci
- Year of the Horse (2017) - Isabella Scaramucci
2018
Arde Madrid (TV Mini Series)
as
Ava Gardner
- What's autorización? (2018) - Ava Gardner
- Dios es Dios y yo soy yo (2018) - Ava Gardner
- Más flores que a la virgen (2018) - Ava Gardner
- Muy americana (2018) - Ava Gardner
- Directo fiesta (2018) - Ava Gardner
- Puta paya (2018) - Ava Gardner
- I love mojama (2018) - Ava Gardner
- Poco católica (2018) - Ava Gardner
2018
Younger: Girls (Short)
as
Maggie
2018
The Simpsons (TV Series)
as
Minnie Szyslak
- King Leer (2018) - Minnie Szyslak (voice)
2017
Wonder Wheel
as
Birthday Party Guest
2017
The Only Living Boy in New York
as
Anna
2016
Elementary (TV Series)
as
Detective Cosa
- It Serves You Right to Suffer (2016) - Detective Cosa
2014
The Actor (Short)
as
Bag Lady
2014
She's Funny That Way
as
Vickie
2013
Return to Babylon
as
Gloria Swanson
2012
Happily Divorced (TV Series)
as
Jan
- The Back-Up Fran (2012) - Jan
2012
Home Alone: The Holiday Heist (TV Movie)
as
Jessica
2012
Melissa & Joey (TV Series)
as
Harper Quinn
- The Knockout (2012) - Harper Quinn
2011
Good Vibes (TV Series)
as
Babs
- Surf Legend (2011) - Babs (voice)
- Backstage Babs (2011) - Babs (voice)
- Virgin Hangover (2011) - Babs
- Red Tuxedo (2011) - Babs (voice)
- Mondo Mia! (2011) - Babs (voice)
- The Grass Is Always Greener (2011) - Babs (voice)
- The D-List (2011) - Babs (voice)
- Breast Friends (2011) - Babs (voice)
- Don't Blow Your Wadska (2011) - Babs (voice)
- Tech Rehab (2011) - Babs (voice)
- Floatopia (2011) - Babs (voice)
- Pilot (2011) - Babs (voice)
2004
Entourage (TV Series)
as
Shauna
- The Big Bang (2011) - Shauna
- Motherfucker (2011) - Shauna
- Whiz Kid (2011) - Shauna
- Buzzed (2010) - Shauna
- Running on E (2009) - Shauna (uncredited)
- Drive (2009) - Shauna
- Gotta Look Up to Get Down (2008) - Shauna
- Fire Sale (2008) - Shauna
- The All Out Fall Out (2008) - Shauna
- Gary's Desk (2007) - Shauna
- Adios, Amigos (2007) - Shauna
- The Prince's Bride (2007) - Shauna (credit only)
- The Resurrection (2007) - Shauna (credit only)
- The Return of the King (2007) - Shauna (credit only)
- Gotcha! (2007) - Shauna (credit only)
- Manic Monday (2007) - Shauna (credit only)
- Dog Day Afternoon (2007) - Shauna (credit only)
- Less Than 30 (2007) - Shauna (credit only)
- Sorry, Ari (2006) - Shauna (credit only)
- What About Bob? (2006) - Shauna (credit only)
- I Wanna Be Sedated (2006) - Shauna (credit only)
- Vegas Baby, Vegas! (2006) - Shauna (credit only)
- The Release (2006) - Shauna
- Strange Days (2006) - Shauna
- Three's Company (2006) - Shauna (credit only)
- Crash and Burn (2006) - Shauna (credit only)
- Guys and Doll (2006) - Shauna
- Dominated (2006) - Shauna
- One Day in the Valley (2006) - Shauna
- Aquamom (2006) - Shauna
- The Abyss (2005) - Shauna
- Exodus (2005) - Shauna (credit only)
- Good Morning Saigon (2005) - Shauna
- Blue Balls Lagoon (2005) - Shauna
- The Bat Mitzvah (2005) - Shauna (credit only)
- I Love You Too (2005) - Shauna
- Oh, Mandy (2005) - Shauna
- The Sundance Kids (2005) - Shauna
- Chinatown (2005) - Shauna (credit only)
- Neighbors (2005) - Shauna
- An Offer Refused (2005) - Shauna
- Aquamansion (2005) - Shauna
- My Maserati Does 185 (2005) - Shauna (credit only)
- The Boys Are Back in Town (2005) - Shauna
- New York (2004) - Shauna
- The Scene (2004) - Shauna
- Busey and the Beach (2004) - Shauna
- The Script and the Sherpa (2004) - Shauna
- Date Night (2004) - Shauna
- Talk Show (2004) - Shauna
2010
Jonas (TV Series)
as
Mona Klein
- Band of Brothers (2010) - Mona Klein
- On the Radio (2010) - Mona Klein
- Up in the Air (2010) - Mona Klein
- America's Sweethearts (2010) - Mona Klein
- And- Action! (2010) - Mona Klein
- Date Expectations (2010) - Mona Klein (uncredited)
- Back to the Beach (2010) - Mona Klein
2010
Hawthorne (TV Series)
as
Donna Alberghetti
- Hidden Truths (2010) - Donna Alberghetti
2010
The Life & Times of Tim (TV Series)
as
Rochelle
- The Girl Scout Incident/Rodney Has a Wife? (2010) - Rochelle (voice)
2009
Castle (TV Series)
as
Paula Haas
- When the Bough Breaks (2009) - Paula Haas
2009
Madonna: Celebration - The Video Collection (Video)
as
Girlfriend (segments "Papa Don't Preach" - "True Blue" - "Justify My Love" - "Deeper and Deeper" - "Music")
2009
Burn Notice (TV Series)
as
Amy
- Friends Like These (2009) - Amy
2008
Law & Order: Special Victims Unit (TV Series)
as
Peggy Bernardi
- Babes (2008) - Peggy Bernardi
2008
Privileged (TV Series)
as
Debra
- Pilot (2008) - Debra
2008
A Beautiful Life
as
Susan
2006
Ugly Betty (TV Series)
as
Leah Feldman
- Four Thanksgivings and a Funeral (2006) - Leah Feldman
- Trust, Lust and Must (2006) - Leah Feldman
2006
Ghost Whisperer (TV Series)
as
Josie
- The Woman of His Dreams (2006) - Josie
2006
Red Riding Hood
as
Red's Mom
2005
Living with Fran (TV Series)
as
Cousin Merrill
- Reuniting with Fran (2006) - Cousin Merrill
- Coupling with Fran (2006) - Cousin Merrill
- Going to a Bar Mitzvah with Fran (2005) - Cousin Merrill
- A Year of Living with Fran (2005) - Cousin Merrill
2006
Lies and Alibis
as
Detective Bryce
2003
All of Us (TV Series)
as
Alex
- Not So Wonderful News (2005) - Alex
- The Kiss Off (2004) - Alex
- Playdate (2004) - Alex
- Boxing (2004) - Alex
- Used Ta Be My Girl (2004) - Alex
- Catering (2004) - Alex
- Johnny Comes Home Marching (2003) - Alex
- Birthdaze (2003) - Alex
2005
NYPD Blue (TV Series)
as
Maxine Annunziato
- Lenny Scissorhands (2005) - Maxine Annunziato
2004
CSI: Miami (TV Series)
as
Rebecca Briggs
- Speed Kills (2004) - Rebecca Briggs
2004
My Tiny Universe
as
Bonnie
2004
Grand Theft Auto: San Andreas (Video Game)
as
Maria (voice)
2004
Goodnight, Joseph Parker
as
Rita
2004
Collateral
as
Young Professional Woman
2004
The Practice (TV Series)
as
Gigi Coley
- New Hoods on the Block (2004) - Gigi Coley
- Comings and Goings (2004) - Gigi Coley
2003
7th Heaven (TV Series)
as
Nurse Kelly
- The Anniversary (2004) - Nurse Kelly (as Deborah Mazar)
- The One Thing (2003) - Nurse Kelly (as Deborah Mazar)
2003
Deception
as
Janet Steiner
2003
Who Killed the Idea? (Short)
as
Mysterious Woman
2003
Wanda at Large (TV Series)
as
Jenny Hawkins
- Unaired Pilot - Jenny Hawkins
2000
That's Life (TV Series)
as
Jackie O'Grady
- Love's Labor (2002) - Jackie O'Grady
- Gutterball (2002) - Jackie O'Grady
- Behind Closed Doors (2002) - Jackie O'Grady
- Baum's Thesis (2002) - Jackie O'Grady
- Momento (2002) - Jackie O'Grady
- What's Family Got to Do with It? (2002) - Jackie O'Grady
- All About Lydia (2002) - Jackie O'Grady
- Sex in the Suburbs (2001) - Jackie O'Grady
- Oh, Baby! (2001) - Jackie O'Grady
- Idiots (2001) - Jackie O'Grady
- Plus One (2001) - Jackie O'Grady
- Boo! (2001) - Jackie O'Grady
- Bad Chemistry (2001) - Jackie O'Grady
- M.Y.O.B. (2001) - Jackie O'Grady
- The Devil and Miss DeLucca (2001) - Jackie O'Grady
- Something Battered, Something Blue (2001) - Jackie O'Grady
- Larva (2001) - Jackie O'Grady
- No Good Deed (2001) - Jackie O'Grady
- Miracle at the Cucina (2001) - Jackie O'Grady
- Banister Head (2001) - Jackie O'Grady
- Or What's a Heaven For? (2001) - Jackie O'Grady
- Mr. Wrong (2001) - Jackie O'Grady
- Touched by a Biker (2001) - Jackie O'Grady
- Heart Problems (2001) - Jackie O'Grady
- Nomads (2001) - Jackie O'Grady
- Photographs (2001) - Jackie O'Grady
- When Good Ideas Go Bad (2000) - Jackie O'Grady
- Saint Bernadette (2000) - Jackie O'Grady
- The Tutor (2000) - Jackie O'Grady
- Lydia and the Professor (2000) - Jackie O'Grady
- The Tell-Tale Uterus (2000) - Jackie O'Grady
- Bad Hair Week (2000) - Jackie O'Grady
- He's Very Heavy, He's My Brother (2000) - Jackie O'Grady
- Whadda You Want from Life (2000) - Jackie O'Grady
- The Screw-Up (2000) - Jackie O'Grady
- Pilot (2000) - Jackie O'Grady
2002
The Groovenians (TV Short)
as
Cuckoo bird / Swirly / Yalda (voice)
2002
Ten Tiny Love Stories
as
Six
2002
Friends (TV Series)
as
Evil Bitch
- The One Where Rachel Has a Baby: Part 1 (2002) - Evil Bitch
2001
Grand Theft Auto III (Video Game)
as
Maria Latore / Chatterbox Guest (voice, as Debbi Mazar)
2000
Downtown 81
as
Peppermint Lounge Dancer (uncredited)
2000
Madonna: Music (Music Video)
as
Girlfriend
2000
More Dogs Than Bones
as
Mary
2000
Get Real (TV Series)
as
Kate Harris
- Saved (2000) - Kate Harris
1999
Providence (TV Series)
as
Vonda Vickers
- Thank You, Providence: Part 2 (1999) - Vonda Vickers
- Thank You, Providence: Part 1 (1999) - Vonda Vickers
1999
The Insider
as
Debbie De Luca
1999
The Sissy Duckling (TV Movie)
as
Mother Duck 2 (voice)
1998
Working (TV Series)
as
Liz Tricoli
- Sliding Doors (1999) - Liz Tricoli
- She Loves Me Yeah, Yeah, Yeah (1999) - Liz Tricoli
- The Other Executive (1999) - Liz Tricoli
- Manifesto Destiny (1999) - Liz Tricoli
- The Prodigy (1999) - Liz Tricoli
- The Retreat (1999) - Liz Tricoli
- Romeo and Julie (1999) - Liz Tricoli
- The Christmas Party (1998) - Liz Tricoli
- Greenery (1998) - Liz Tricoli
- The Consultant (1998) - Liz Tricoli
- A Boy, a Girl, and His Bird (1998) - Liz Tricoli
- Networking (1998) - Liz Tricoli
- Good Val Hunting (1998) - Liz Tricoli
- Performance Review (1998) - Liz Tricoli
- Armageddon Outta Here (1998) - Liz Tricoli
- The Closer (1998) - Liz Tricoli
- Home-O-Apathy (1998) - Liz Tricoli
1999
The Wild Thornberrys (TV Series)
as
Mongoose
- Darwin Plays the Palace (1999) - Mongoose (voice)
1998
David and Lisa (TV Movie)
as
Maggie
1998
Life in the Fast Lane
as
Rosie
1998
Witness to the Mob (TV Movie)
as
Deborah Gravano
1998
Frogs for Snakes
as
Simone
1997
Trouble on the Corner
as
Ericca Ricce
1997
Casper: A Spirited Beginning (Video)
as
Angie Lyons (uncredited)
1997
She's So Lovely
as
Georgie
1997
Temporarily Yours (TV Series)
as
Deb DeAngelo
- By Design (1997) - Deb DeAngelo
- In the Same Boat (1997) - Deb DeAngelo
- Independence Day (1997) - Deb DeAngelo
- The Voice of Reason (1997) - Deb DeAngelo
- Temp-tation (1997) - Deb DeAngelo
- Pilot (1997) - Deb DeAngelo
1997
Space Monkeys: Sugar Cane (Music Video)
as
Debi Mazar
1997
Meet Wally Sparks
as
Sandy Gallo
1996
Musical Shorts with Debi Mazar (TV Movie)
as
Host
1996
Red Ribbon Blues
as
Darcy
1996
Things I Never Told You
as
Diane
1995
Burke's Law (TV Series)
as
Rachel Davis
- Who Killed the Motor Car Maverick? (1995) - Rachel Davis
1994
Witch Hunt (TV Movie)
as
The Manicurist
1994
Bullets Over Broadway
as
Violet
1993
L.A. Law (TV Series)
as
Denise Iannello
- Finish Line (1994) - Denise Iannello
- Whistle Stop (1994) - Denise Iannello
- How Am I Driving? (1994) - Denise Iannello
- Tunnel of Love (1994) - Denise Iannello
- Dead Issue (1994) - Denise Iannello
- Silence Is Golden (1994) - Denise Iannello
- Whose San Andreas Fault Is It, Anyway? (1994) - Denise Iannello
- Three on a Patch (1994) - Denise Iannello
- God Is My Co-Counsel (1994) - Denise Iannello
- The Age of Insolence (1994) - Denise Iannello
- Cold Cuts (1994) - Denise Iannello
- McKenzie, Brackman, Barnum & Bailey (1994) - Denise Iannello
- He Ain't Guilty, He's My Brother (1994) - Denise Iannello
- Rhyme and Punishment (1993) - Denise Iannello
- Eli's Gumming (1993) - Denise Iannello
- Pacific Rimshot (1993) - Denise Iannello (credit only)
- Safe Sex (1993) - Denise Iannello
- The Green, Green Grass of Home (1993) - Denise Iannello
- Foreign Co-respondent (1993) - Denise Iannello
- How Much Is That Bentley in the Window (1993) - Denise Iannello
- Leap of Faith (1993) - Denise Iannello
- Book of Renovation, Chapter 1 (1993) - Denise Iannello
1993
Beethoven's 2nd
as
Regina
1993
Money for Nothing
as
Monica Russo
1993
So I Married an Axe Murderer
as
Susan
1991
Civil Wars (TV Series)
as
Denise Iannello
- A Liver Runs Through It (1993) - Denise Iannello
- Captain Kangaroo Court (1993) - Denise Iannello
- Alien Aided Affection (1993) - Denise Iannello
- Watt, Me Worry? (1993) - Denise Iannello
- Split Ends (1993) - Denise Iannello
- Dances with Sharks (1993) - Denise Iannello
- Hit the Road, Jack (1993) - Denise Iannello
- A Partridge in a Pair's Tree (1992) - Denise Iannello
- The Triumph of DeVille (1992) - Denise Iannello
- The Old Man and the 'C' (1992) - Denise Iannello
- A Bus Named Desire (1992) - Denise Iannello
- Das Boat House (1992) - Denise Iannello
- Devil's Advocate (1992) - Denise Iannello
- Below the Beltway (1992) - Denise Iannello
- Drone of Arc (1992) - Denise Iannello
- Oboe Phobia (1992) - Denise Iannello
- Grin and Bare It (1992) - Denise Iannello
- The Naked and the Wed (1992) - Denise Iannello
- Till Debt Do Us Part (1992) - Denise Iannello
- Denise and De Nuptials (1992) - Denise Iannello
- Mob Psychology (1992) - Denise Iannello
- Dirty Pool (1992) - Denise Iannello
- Chute First, Ask Questions Later (1992) - Denise Iannello
- Tape Fear (1992) - Denise Iannello
- Whippet 'Til It Breaks (1992) - Denise Iannello
- His Honor's Offer (1992) - Denise Iannello
- Shop 'Til You Drop (1992) - Denise Iannello
- Pro Se Can You See (1992) - Denise Iannello
- For Better or Perverse (1992) - Denise Iannello
- Oceans White with Phone (1992) - Denise Iannello
- Honi Soit Qui Mal Y Pense (1992) - Denise Iannello
- Have Gun, Will Unravel (1991) - Denise Iannello
- A Long, Fat Frontal Presentation (1991) - Denise Iannello
- The Pound and the Fury (1991) - Denise Iannello
- Daveja-Vu All Over Again (1991) - Denise Iannello
- Pilot (1991) - Denise Iannello
1992
Madonna: Deeper and Deeper (Music Video)
as
Girlfriend (uncredited)
1992
Inside Monkey Zetterland
as
Daphne
1991
The Doors
as
Whiskey Girl (as Debbie Mazar)
1990
Madonna: Justify My Love (Music Video)
as
Woman Face
1986
Madonna: True Blue (Music Video)
as
Backup Dancer
1986
Madonna: Papa Don't Preach (Music Video)
as
Girlfriend (uncredited)
1984
Graffiti Rock (TV Movie)
as
Dancer (uncredited)
1982
Madonna: Everybody (Music Video)
as
Backup Dancer
Make Up Department
1987
Date with an Angel (makeup artist: photo session - as Debra Mazar)
1987
Madonna: Ciao, Italia! - Live from Italy (Video documentary) (hair stylist - as Debi M.) / (makeup artist - as Debi M.)
1984
Madonna (Video short) (makeup artist: video "Burning Up")
1983
Madonna: Burning Up (Music Video) (makeup artist)
1982
Madonna: Everybody (Music Video) (makeup artist)
Producer
2016
Extra Virgin Americana (TV Series) (executive producer - 5 episodes)
- Hello, Dollywood! (2016) - (executive producer)
- Cowboys Cook It Better in Texas (2016) - (executive producer)
- Shark Sighting on the Cape (2016) - (executive producer)
- Seafood and Sasquatch in Seattle (2016) - (executive producer)
- Fear and Cooking in the Grand Canyon (2016) - (executive producer)
Soundtrack
2017
Wonder Wheel (performer: "Bell Bottom Trousers", "April Showers")
Thanks
Self
2005
Live with Kelly and Mark (TV Series)
as
Self - Guest / Self
- Ali Wentworth/Debi Mazar/Sunny Anderson/Pia Toscano (2022) - Self - Guest
- Live's Countdown to the Oscars - Day 5 (2021) - Self
- Live's Countdown to the Oscars - Day 1 (2021) - Self - Guest
- Keegan-Michael Key/Madison Beer/Debi Mazar/Dr. Doris Day (2020) - Self
- Live's You in the Q Week! - Day 2 (2020) - Self - Guest
- Live's GRILLIN'spiration Summer Cook-Off (2019) - Self
- Cate Blanchett/Debi Mazar (2018) - Self - Guest
- Guest Co-Host Anderson Cooper/Matt Bomer/Debi Mazar/Matt Iseman (2017) - Self - Guest
- Guest Co-Host Anderson Cooper/Kelsey Grammer/Debi Mazar/Sara Evans (2017) - Self - Guest
- Episode dated 12 August 2005 (2005) - Self - Guest
2016
Today (TV Series)
as
Self - Guest
- Episode dated 9 May 2022 (2022) - Self - Guest
- Episode dated 28 June 2017 (2017) - Self - Guest
- Episode dated 28 September 2016 (2016) - Self - Guest
2022
The Up & Adam Show (TV Series)
as
Self - Guest
- Debi Mazar (2022) - Self - Guest
2021
GMA3: What You Need to Know (TV Series)
as
Self
- Case Kenny/Debi Mazar/Dr. Michael A. Freeman (2021) - Self
2018
Really Famous with Kara Mayer Robinson (TV Series)
as
Self / Self - Guest
- Debi Mazar Returns (2021) - Self
- Debi Mazar (2018) - Self - Guest
2008
Entertainment Tonight (TV Series)
as
Self
- Episode #40.179 (2021) - Self
- The Hills: New Beginnings Week - Day 4 (2019) - Self
- Episode #37.230 (2018) - Self
- Episode dated 7 October 2009 (2009) - Self
- Episode dated 11 September 2009 (2009) - Self
- Episode dated 10 September 2008 (2008) - Self
2020
Ricky Powell: The Individualist (Documentary)
as
Self
2020
The Great New York Foodathon: A Star-Studded Special to Benefit City Harvest (TV Special)
as
Self
2019
BuzzFeed Celeb (TV Series)
as
Self
- The Cast of "Younger" Plays Who's Who (2019) - Self
2015
The Dr. Oz Show (TV Series)
as
Self - Guest / Self
- Oz Investigates: Meat Experts Reveal the Truth About the Deli Meat You're Buying (2019) - Self
- Food Truth: What's Really in Parmesan Cheese? (2016) - Self - Guest
- Acetaminophen Warning: Oz Uncovers the Risk Hiding in Your Medicine Cabinet (2015) - Self - Guest
2019
Worst Cooks in America (TV Series)
as
Self - Judge
- The Day We've Been Waiting For (2019) - Self - Judge
2018
Match Game (TV Series)
as
Self - Celebrity Panelist
- Kenan Thompson/Debi Mazar/Thomas Lennon/Sherri Shepherd/Horatio Sanz/Gillian Jacobs (2018) - Self - Celebrity Panelist
2017
Ok! TV (TV Series)
as
Self
- Episode #3.196 (2018) - Self
- Episode #2.215 (2017) - Self
2017
Larry King Now (TV Series)
as
Self - Guest
- Debi Mazar on Scorsese, Madonna, & 'Younger' (2017) - Self - Guest
2007
Rachael Ray (TV Series)
as
Self - Guest
- Rach and Her Husband, John, Are King and Queen of Our Medieval Kingdom for Halloween! (2017) - Self - Guest
- We're Getting a Closer Look at the Places Our Favorite Chefs and Stars Call Home! (2016) - Self - Guest
- We're Entertaining, Italian-Style, with Actress Debi Mazar & Gabriele Corcos! (2015) - Self - Guest
- Episode #1.71 (2007) - Self - Guest
2009
The Wendy Williams Show (TV Series)
as
Self - Guest
- Yvette Nicole Brown/Debi Mazar & Gabriele Corcos (2017) - Self - Guest
- Molto Bene! 2 (2012) - Self - Guest
- Episode dated 13 January 2011 (2011) - Self - Guest
- Episode dated 11 October 2009 (2009) - Self - Guest
2017
The $100,000 Pyramid (TV Series)
as
Self - Celebrity Player
- Bobby Moynihan vs. Debi Mazar and Wendie Malick vs. Jesse Palmer (2017) - Self - Celebrity Player
2015
Beat Bobby Flay (TV Series)
as
Self - Judge & Mentor
- Iron Chef Redemption (2017) - Self - Judge & Mentor
- Dark Horses Still Kick (2016) - Self - Judge & Mentor
- Who's Got This in the Bag? (2016) - Self - Judge & Mentor
- Trick or Sweet (2015) - Self - Judge & Mentor
- Frenemies (2015) - Self - Judge & Mentor
- Rise to the Occasion (2015) - Self - Judge & Mentor
- Getting Grilled (2015) - Self - Judge & Mentor
2017
So Cosmo (TV Series)
as
Self
- Vol. 1, No. 2: Big New Futures (2017) - Self
2016
The Insider (TV Series)
as
Self
- Episode #13.28 (2016) - Self
- Episode #12.105 (2016) - Self
2016
Project Runway All Stars (TV Series)
as
Self - Guest Judge
- Rebel with a Cause (2016) - Self - Guest Judge
2016
Extra Virgin Americana (TV Series)
as
Self - Co-Hostess
- Motor City Deb-olition Derby (2016) - Self - Co-Hostess
- Hello, Dollywood! (2016) - Self - Co-Hostess
- Cowboys Cook It Better in Texas (2016) - Self - Co-Hostess
- The Love Boat in Portland (2016) - Self - Co-Hostess
- Shark Sighting on the Cape (2016) - Self - Co-Hostess
- Seafood and Sasquatch in Seattle (2016) - Self - Co-Hostess
- Fear and Cooking in the Grand Canyon (2016) - Self - Co-Hostess
2015
The Kitchen (TV Series)
as
Self - Extra Virgin Americana / Self - Host
- Spring Spread (2016) - Self - Extra Virgin Americana
- Freezer Fixes and Pantry Staples (2015) - Self - Host
2016
All-Star Academy (TV Series)
as
Self - Co-Host / Judge
- Geography (2016) - Self - Co-Host / Judge
2016
The Meredith Vieira Show (TV Series)
as
Self - Guest
- What's Hot Now in Health!/"Younger" Actress Debi Mazar/What's for Dinner Tonight? (2016) - Self - Guest
2015
Oprah: Where Are They Now? (TV Series)
as
Self
- Actor David Oyelowo on His New Movie, RHBH Lisa Rinna, and Actress Debi Mazar (2015) - Self
2015
Park Bench with Steve Buscemi (TV Series short)
as
Self
- Sidekicker (2015) - Self
2015
The Nightly Show with Larry Wilmore (TV Series)
as
Self - Panelist
- Hillary Clinton's Presidential Bid (2015) - Self - Panelist
2011
Extra Virgin (TV Series)
as
Self / Self - Co-Hostess
- A Day for Lola (2015) - Self - Co-Hostess
- Tuscan Safari (2015) - Self - Co-Hostess
- A Day of Food and Beauty (2015) - Self - Co-Hostess
- Livorno (2015) - Self - Co-Hostess
- Tools of the Trade (2015) - Self - Co-Hostess
- Life on the Farm (2015) - Self - Co-Hostess
- The Pizza Oven (2015) - Self - Co-Hostess
- School's Out (2015) - Self - Co-Hostess
- A Day with the Girls (2015) - Self - Co-Hostess
- The Drill (2015) - Self - Co-Hostess
- James Beard Supper (2015) - Self - Co-Hostess
- Deb's Fashion Show (2015) - Self - Co-Hostess
- Gift to the Neighborhood (2015) - Self - Co-Hostess
- Extra Virgin: A Tuscan Thanksgiving (2014) - Self - Co-Hostess
- Music Man (2014) - Self - Co-Hostess
- All About the Girls (2014) - Self - Co-Hostess
- Tuscan Soul Food (2014) - Self - Co-Hostess
- Camping (2014) - Self - Co-Hostess
- Chianti Romance (2014) - Self - Co-Hostess
- Better Than Bacon (2014) - Self - Co-Hostess
- Nonna's 90th Birthday (2014) - Self - Co-Hostess
- Liquid Gold (2014) - Self - Co-Hostess
- Truffle Hunting (2014) - Self - Co-Hostess
- End of Summer BBQ (2014) - Self - Co-Hostess
- Tuscany on the Hudson (2014) - Self - Co-Hostess
- Classic Car Cookout (2014) - Self - Co-Hostess
- Weekend on the Cheap (2014) - Self - Co-Hostess
- Meatopia! (2013) - Self
- The Man of Montauk (2013) - Self
- Coney Island Calling (2013) - Self
- A Tuscan Remedy (2013) - Self - Co-Hostess
- Dinner Under the Tuscan Gun (2013) - Self
- Happy Birthday, Debi! (2012) - Self
- Up on Arthur (2012) - Self
- Urban Green (2012) - Self
- Welcome to Brooklyn (2012) - Self
- The Heart of Florence (2012) - Self
- Boys and Their Bikes (2012) - Self
- Road Trip to Siena (2012) - Self - Co-Hostess
- Jetlaggin' in Italy (2012) - Self
- The Cookbook Cookoff (2012) - Self
- Tuscan Sun Festival: Lights, Camera, Cook! (2012) - Self
- Gone Fishin' (2012) - Self
- Toscana Road Trip (2012) - Self
- Olive You! (2011) - Self
- Biker Bash (2011) - Self
- An Old Family Recipe w/ Joe Mantegna (2011) - Self
- Blind Date for Robert (2011) - Self
- Going Green! Yay! w/Adrian Grenier (2011) - Self
- Evelina's Super Fabulous Birthday Bash (2011) - Self
- Bees and Booze Housewarming Party (2011) - Self
- Dog Days of Dolores w/Kathy Griffin (2011) - Self
- The Cookbook Cookoff (2011) - Self
- Garage Sale (2011) - Self
- Love, Italian Style (2011) - Self
- Romance and Tiramisu (2011) - Self
- Welcome to Tuscany (2011) - Self
- Tuscany or Bust (2011) - Self
- What About Dolores? (2011) - Self
- Lasagna to the Rescue (2011) - Self
- Debi Get Your Gun (2011) - Self
- Mozarella and Magic (2011) - Self
- Food Truck Fun (2011) - Self
- Motorcycle Diary (2011) - Self
- Marry Me- Again! (2011) - Self
- Chickens Come Home (2011) - Self
- Holy Guacamole (2011) - Self
2015
Good Morning America (TV Series)
as
Self - Guest
- Episode dated 30 March 2015 (2015) - Self - Guest
2015
Weekend Today (TV Series)
as
Self
- Episode dated 8 February 2015 (2015) - Self
2011
The Chew (TV Series)
as
Self - Guest
- Money Saving Tips (2015) - Self - Guest
- Extra Value Friday: Baconfest (2014) - Self - Guest
- Masquerade Meals (2011) - Self - Guest
2014
Behind Lovelace (Video documentary short)
as
Self
2011
The Talk (TV Series)
as
Self - Guest
- John Stamos/Mike Vogel (2014) - Self - Guest
- Sharon Stone/Amber Tamblyn & Mother Bonnie Tamblyn/Lisa Ingrassia/Chef Gabriele Corcos & Wife Debi Mazar (2014) - Self - Guest
- Episode dated 24 November 2011 (2011) - Self - Guest
- Episode dated 14 November 2011 (2011) - Self - Guest
2014
Katie (TV Series)
as
Self - Guest
- What Would You Do?/Debi Mazar (2014) - Self - Guest
2014
The Queen Latifah Show (TV Series)
as
Self - Guest
- Zac Efron and "Grey's Anatomy" Star Jessica Capshaw. Plus, Girlfriend Getaway Thursday! (2014) - Self - Guest
2007
The View (TV Series)
as
Self - Guest
- Guest Co-Host Mario Cantone/David Spade/Debi Mazar & Gabriele Corcos (2014) - Self - Guest
- Episode dated 23 June 2008 (2008) - Self - Guest
- Episode dated 11 June 2007 (2007) - Self - Guest
2013
Sidewalks Entertainment (TV Series)
as
Self - Guest
- Mazar, Corcos & Greenwood (2013) - Self - Guest
2013
Not My Mama's Meals (TV Series)
as
Self
- Getting Saucy! (2013) - Self
2013
Watch What Happens Live with Andy Cohen (TV Series)
as
Self - Guest
- Debi Mazar & Adam Brody (2013) - Self - Guest
2013
Good Day L.A. (TV Series)
as
Self - Guest
- Episode dated 8 March 2013 (2013) - Self - Guest
2011
The Perfect 3 (TV Series)
as
Self
- Pizza (2012) - Self
- Salads (2011) - Self
2012
Big Morning Buzz Live (TV Series)
as
Self - Guest
- Jessica Biel/Angela 'Big Ang' Raiola/Debi Mazar/Gabriele Corcos/Lisa Hochstein/Karent Sierra (2012) - Self - Guest
2010
Unique Eats (TV Series)
as
Self
- Comfort Foods (2012) - Self
- Bistros (2011) - Self
- Delis (2011) - Self
- Small Plates (2011) - Self
- Street Food (2011) - Self
- Chocolate (2011) - Self
- Ice Cream (2010) - Self
- Burgers (2010) - Self
- Cupcakes (2010) - Self
2011
Sesame Street: Silly Storytime (Video)
as
Self
2011
The Matthew Aaron Show Podcast (Podcast Series)
as
Self - Guest
- Ep. 68 17th Annual LA Police/Firefighters Charity Event (2011) - Self - Guest
2011
Macy's Thanksgiving Day Parade (TV Special)
as
Self
2011
Chelsea Lately (TV Series)
as
Self - Guest
- Episode #5.151 (2011) - Self - Guest
2011
Hollywood Sunset: A Tribute to Entourage (TV Special documentary)
as
Self
2011
Food(ography) (TV Series)
as
Self - Co-hostess, Extra Virgin
- Los Angeles (2011) - Self - Co-hostess, Extra Virgin
2011
Love Lust (TV Series documentary)
as
Self
- Make-Up (2011) - Self
2010
Iron Chef America: The Series (TV Series)
as
Self - ICA Judge / Actress
- Symon/Burrell vs. Cora/Irvine (2011) - Self - ICA Judge
- Holiday Battle Sparkling Wine: Garces vs. Lata (2010) - Self - ICA Judge / Actress
2010
Shalom Sesame (TV Series)
as
Self
- Chanukah: The Missing Menorah (2010) - Self
2010
RuPaul's Drag U (TV Series)
as
Self - Faculty
- Moms on the Verge (2010) - Self - Faculty
2010
Hell's Kitchen (TV Series)
as
Self - Restaurant Patron
- 12 Chefs Compete (2010) - Self - Restaurant Patron
2010
Curb: The Discussion (TV Series)
as
Self
- The Hot Towel - Self
- Officer Krupke - Self
2010
Sesame Street (TV Series)
as
Self
- Jack Grows His Own Beanstalk (2010) - Self (uncredited)
2009
The Bonnie Hunt Show (TV Series)
as
Self - Guest
- Episode dated 1 December 2009 (2009) - Self - Guest
2009
Dancing with the Stars (TV Series)
as
Self - Contestant / Self / Self - Guest Dancer
- Round Ten: Final Results (2009) - Self - Guest Dancer
- Round Nine (2009) - Self (credit only)
- Round Eight (2009) - Self (credit only)
- Round Six: Results Show (2009) - Self (credit only)
- Round Six (2009) - Self (credit only)
- Round Five: Results Show (2009) - Self (credit only)
- Round Four: Results Show (2009) - Self - Contestant
- Round Four (2009) - Self - Contestant
- Round Three: Results Show (2009) - Self - Contestant
- Round Three (2009) - Self - Contestant
- Round Two: Results Show (2009) - Self - Contestant
- Round Two (2009) - Self - Contestant
- Round One: Results Show (2009) - Self - Contestant
- Round One: The Women (2009) - Self - Contestant
- Round One: The Men (2009) - Self - Contestant
2009
Celebrity Ghost Stories (TV Series documentary)
as
Self
- Celebrity Ghost Stories (Carnie Wilson, Eric Roberts, Elisabeth Rohm, C. Thomas Howell) (2009) - Self
2009
Jimmy Kimmel Live! (TV Series)
as
Self - Guest
- Episode #8.25 (2009) - Self - Guest
2005
Fashion News Live (TV Series)
as
Self
- Episode #6.1 (2008) - Self
- Episode #3.12 (2005) - Self
2008
Reinventando Hollywood (TV Movie documentary)
as
Self
2007
13th Annual Screen Actors Guild Awards (TV Special)
as
Self - Nominee
2007
Top Chef (TV Series)
as
Self
- Seven (2007) - Self
2005
Beyond Batman: The Many Faces of Gotham City (Video documentary short)
as
Self
2005
Chutzpah, This Is? (Video short)
as
Self
2003
Beauty in a Jar (TV Movie documentary)
as
Self
2002
Hollywood Squares (TV Series)
as
Self - Panelist
- Episode dated 3 May 2002 (2002) - Self - Panelist
- Episode dated 2 May 2002 (2002) - Self - Panelist
2001
7th Annual Screen Actors Guild Awards (TV Special)
as
Self
2001
Crossing Over with John Edward (TV Series)
as
Self
- Episode dated 10 February 2001 (2001) - Self
2000
The Source Hip-Hop Music Awards 2000 (TV Special)
as
Self
2000
The 15th Annual IFP/West Independent Spirit Awards (TV Special)
as
Self - Presenter
1998
The Making of 'Space Truckers' (Video documentary short)
as
Self / Cindy
1997
The Rosie O'Donnell Show (TV Series)
as
Self - Guest
- Episode dated 23 September 1998 (1998) - Self - Guest
- Episode #1.160 (1997) - Self - Guest
1998
Madonna Rising (TV Special documentary)
as
Self
1997
Howard Stern (TV Series)
as
Self - Guest
- Episode dated 29 May 1997 (1997) - Self - Guest
1997
Late Night with Conan O'Brien (TV Series)
as
Self - Guest
- Debi Mazar/Jim Breuer/John Walsh (1997) - Self - Guest
1997
E! True Hollywood Story (TV Series documentary)
as
Self - Actress
- From Pinup to Sex Queen: Bettie Page (1997) - Self - Actress
1997
The Tonight Show with Jay Leno (TV Series)
as
Self - Guest
- Episode #5.54 (1997) - Self - Guest
1993
Late Show with David Letterman (TV Series)
as
Self - Guest
- Episode dated 3 March 1997 (1997) - Self - Guest
- Episode dated 22 December 1993 (1993) - Self - Guest
1997
The Daily Show (TV Series)
as
Self - Guest
- Debi Mazar (1997) - Self - Guest
1994
The 9th Annual IFP/West Independent Spirit Awards (TV Special)
as
Self - Presenter
1992
Vicki! (TV Series)
as
Self - Guest
- Episode #1.66 (1992) - Self - Guest
1992
Sandra After Dark (TV Movie)
as
Self
Archive Footage
-
Hollywood Celebrity (Documentary) (post-production)
as
Self
2022
Madonna: Deeper and Deeper (David's Radio Edit) (Music Video)
as
Girlfriend (uncredited)
2021
Grand Theft Auto: The Trilogy - The Definitive Edition (Video Game)
as
Maria Latore / Chatterbox Guest (segments "GTA III" & "GTA SA")
2019
Ok! TV (TV Series)
as
Self
- Episode #4.210 (2019) - Self
2016
The Naked Babes of Batman (Video short)
as
#3 - Money for Nothing (1993)
2006
Corazón de... (TV Series)
as
Self
- Episode dated 19 January 2006 (2006) - Self
2000
Freestyle: The Art of Rhyme (Documentary)
as
Self
1990
Madonna: The Immaculate Collection (Video)
as
Self (segment "Papa Don't Preach") (uncredited)
References
Debi Mazar Wikipedia
(Text) CC BY-SA