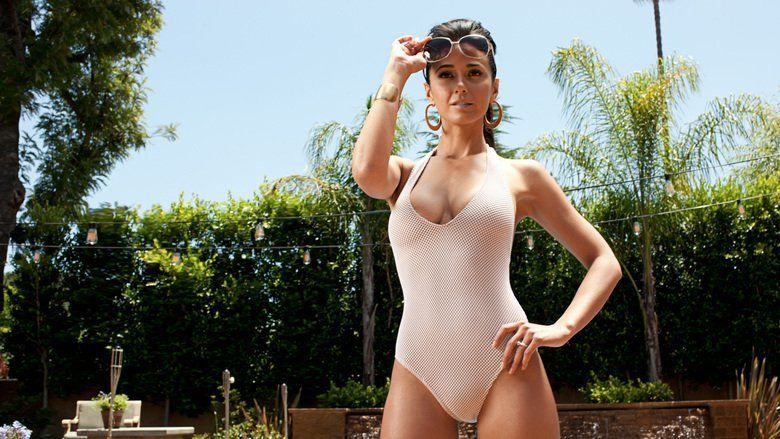 Vincent Chase, who separated from his wife after nine days of marriage, wants to do something new in his career. He calls his former agent-turned-studio head Ari Gold, who offers Vince a leading role in his first studio production. Vince says he will only star in it if he directs. Eight months later, Hyde, the directorial debut by Vince, is in the middle of post-production and is over budget by $15 million. Needing more money, Vince asks Ari if they can get an additional $10 million to complete the movie. Reluctant, but wanting to please him, Ari flies to Texas to meet the co-financiers of the movie, Larsen McCredle and his son Travis, to get them to give the money. Hesitant, Larsen sends Travis with Ari back to Los Angeles to see a cut of the film at Vince's private screening.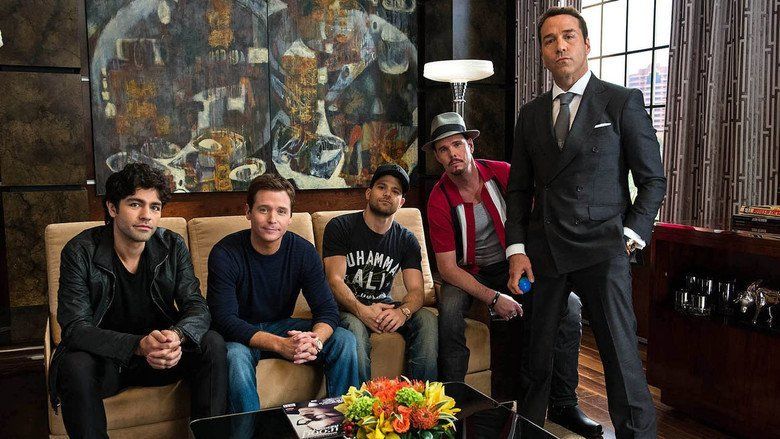 Vince has second thoughts on the rough cut and cancels the screening out of fear no one will enjoy it. He later gives Ari and Travis a copy of the movie for their viewing. Ari and Travis enjoy the movie but Travis requests that Ari cut the scenes with Vince's brother, Johnny "Drama" Chase, out of the movie or he will not give the film the extra money. With Ari giving him no answer, Travis puts the post-production on hold. Vince and Eric "E" Murphy visit Travis to come up with a solution, but this results in Travis saying he did not like Vince's performance either and wants the entire movie to be redone with a new lead and director. In addition, studio CEO John Ellis removes Ari from the production.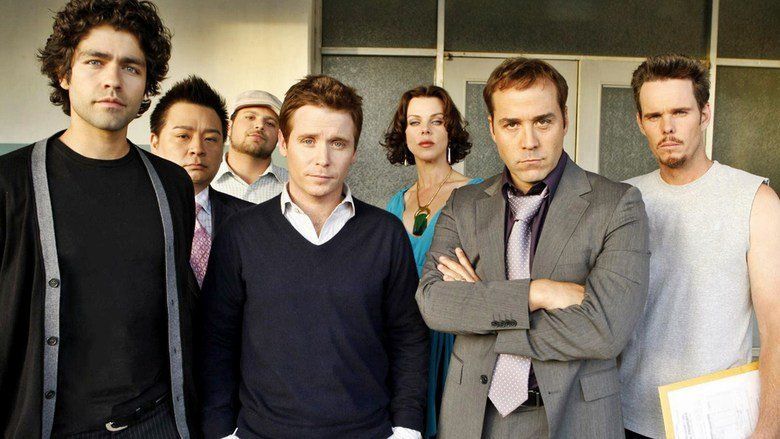 The boys soon realize the reason Travis is angry over the movie is because Vince is spending time with Emily Ratajkowski, with whom Travis is infatuated. Learning of this, Ari interrupts Ellis in a boardroom meeting with Larsen and Travis with this information. Surprised, Larsen says he will stay behind the movie but mandates the condition that Ari is no longer working for the studio because, although he agreed his son was being juvenile, Ari had disrespected his son. During this time, the boys are in the hospital as E's ex-fiancée Sloan goes into labor. Sloan gives birth to a girl, Ryan Murphy, and the boys celebrate.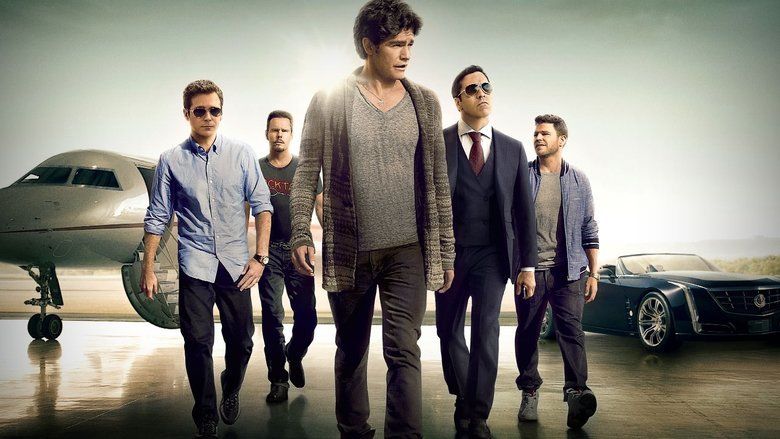 Ari arrives at the hospital and also announces that he resigned and invested his severance to complete the movie. Hyde becomes a box office hit, grossing over $450 million worldwide. At the Golden Globe Awards, Drama ends up winning the award for Best Supporting Actor. Stunned, Drama goes to accept the award and is silent for a moment before yelling his trademark Viking Quest phrase, "VICTORY!!!"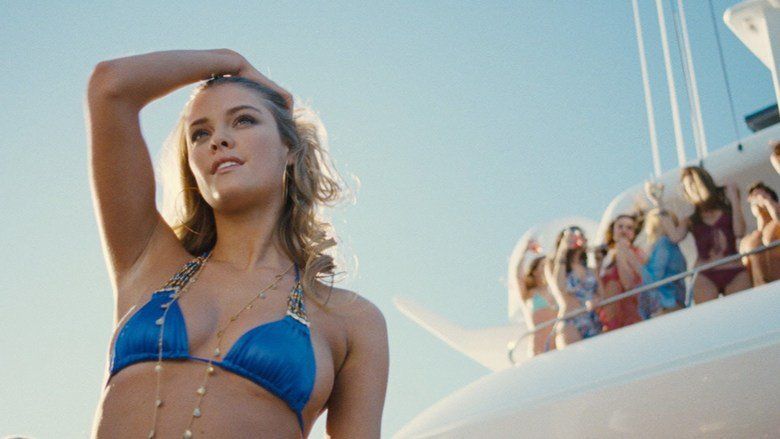 In a mid-credits scene, Ari's former assistant Lloyd has his wedding and Ari gives him away. When the group gets together for a picture, Billy Walsh suggests that they should make a film (or TV show) about the lives of Vince and the gang.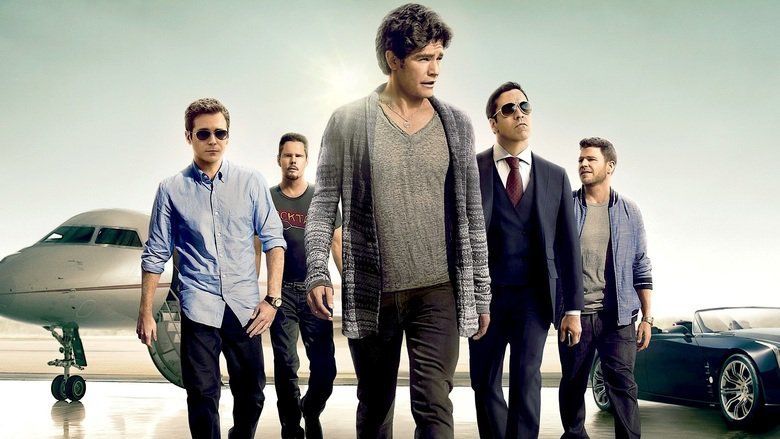 The following portray fictionalized versions of themselves:
In August 2010, when it was confirmed that the eighth season of Entourage would be the last, creator Doug Ellin expressed interest in writing a film after the series ended.
In September 2011, Adrian Grenier confirmed that there would be a film, and a script just needed to be written first. The series' executive producer Mark Wahlberg also confirmed that a film is in the works and said, "I will do everything to get this film made". In June 2012, Wahlberg said the cast would be "traveling abroad" during production of the film, with it possibly taking place in Europe.
The film was officially green-lit in 2013, with Ellin directing and Warner Bros. distributing. However, by September 2013, amid reports that there had been significant delays in production and contract issues with the film's cast, Ellin stated the film was "less and less likely every day." However, by October 2013, the cast had reached a deal, allowing the film to move forward.
Principal photography officially began on February 19, 2014, in Los Angeles, with additional filming in Miami. While filming in California, the production spent $39 million and received the California Film & Television Tax Credit. Filming was disrupted when Kevin Connolly broke his leg filming a football scene with Russell Wilson, which resulted in a number of script changes to accommodate it.
In March 2014, it was reported that adult film actresses Lilly Banks, Maia Davis, Spencer Scott, and Anna Morna had shot scenes for the film. Several cast members shot a scene for the film on the red carpet at the 72nd Golden Globe Awards on January 11, 2015.
The film was previously set for a June 12, 2015 release, but on October 24, 2014, Warner Bros. moved it up a week to June 5, 2015. In April 2015, the release date was moved up two days to June 3, 2015.
Entourage grossed $32.4 million in North America and $16.9 million in other territories for a worldwide total of $49.3 million, against a budget of $30 million.
In North America, the film grossed $2 million from its early Tuesday night showings and $5.4 million on its opening day (Wednesday), including Tuesday previews, from 3,058 theaters. The film earned $2 million and $3.7 million on Thursday and Friday, respectively. For its opening weekend (Friday–Sunday), it grossed $10.4 million (a five-day total of $17.8 million), finishing at fourth place at the box office behind Spy ($29.1 million), San Andreas ($25.8 million), and Insidious: Chapter 3 ($22.7 million). Given the film's $30 million production budget, as well as an additional $40.7 million spent on advertisement, Warner Bros. and HBO Films were hoping for an opening of at least $20 million, and the film was considered a box office disappointment.
In Australia, the film opened at number one, earning $2.6 million.
Entourage received generally negative reviews from critics. The review aggregator website Rotten Tomatoes gives the film an approval rating of 33% based on 190 reviews, with an average rating of 4.7/10. The site's critical consensus reads, "Entourage retains many elements of the HBO series, but feels less like a film than a particularly shallow, cameo-studded extended episode of the show." On Metacritic, which assigns a normalized rating, the film has a score of 38 out of 100, based on 40 critics, indicating "generally unfavorable reviews". In CinemaScore polls, audiences gave the film an average grade of "A−" on an A+ to F scale.
Brian Tallerico, writing for RogerEbert.com, awarded the film one and a half out of four stars, saying "Instead of challenging his characters or giving them something new to do, Ellin just high fives them on the way to the winner's circle." Mark Kermode, writing for The Guardian, gave the film one out of five stars, and wrote that "The Human Centipede was more sensitively attuned to issues of gender politics. And it had better jokes. Even producer/inspiration Marky Mark [Mark Wahlberg] looks embarrassed by his cameo." Ultimately, Kermode would rank Entourage as the worst film of 2015. IGN awarded Entourage a 7.5 out of 10, saying "When it sticks to what it has always been best at, the relationship of these four friends, it is as good as the series ever was".