5.2

/

10

Alchetron

Rate This




Director

Priyadarshan




Release date

November 27, 2009 (India)




Duration




Language

Hindi






Genre

Comedy




Narrated by

Akshay Kumar




Country

India







Release date

27 November 2009 (2009-11-27)




Based on

Vettam by Priyadarshan, Udayakrishna & Siby K. Thomas




Writer

Jay Master (dialogues), Ashiesh Pandit (lyrics), Priyadarshan (screenplay), Sayeed Qadri (lyrics), Neeraj Shridhar (lyrics)




Songs

Rishte Naate (U & I)




Cast

Akshay Kumar

(Nitin Bankar),

Katrina Kaif

(Anjali Kakkad),

Sunil Shetty

(Ram Mishra),

Paresh Rawal

(Harbans Chadda),

Sameera Reddy

(Manpreet Oberoi),

Archana Puran Singh

(Archana)

De dana dan theatrical trailer
De Dana Dan (English: Hit left and right) is a 2009 Indian Hindi comedy film directed by Priyadarshan. The story is a partial adaptation of Priyadarshan's own Malayalam film Vettam. The film's cast includes Akshay Kumar, Sunil Shetty, Katrina Kaif and Sameera Reddy in lead roles. Filming began on 1 December 2008 at Mehboob Studios in Mumbai. The film was released on 27 November 2009.
Contents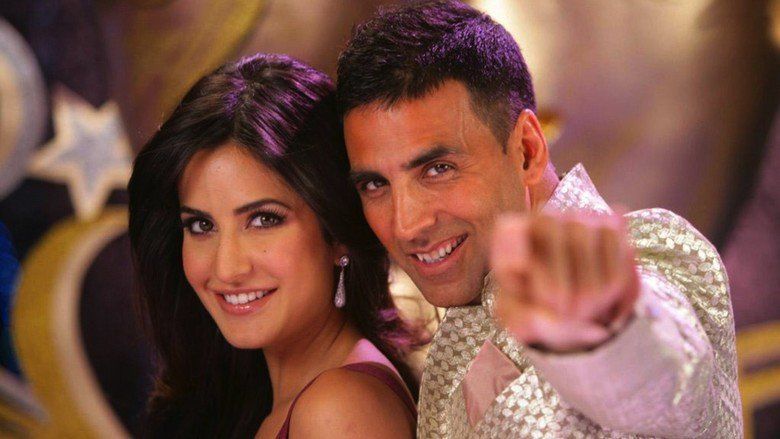 De dana dan official trailer
Plot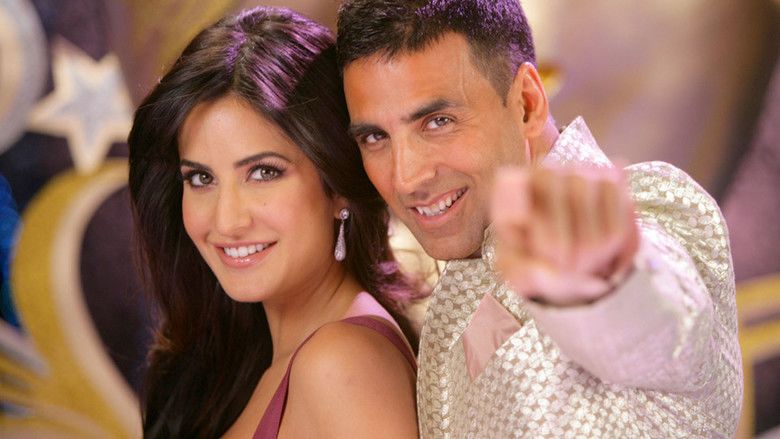 Nitin Bankar (Akshay Kumar) and Ram Mishra (Sunil Shetty) are lucky in love, otherwise their life is a big zero as their bank balance. Nitin is stuck as a servant and driver of Kuljeet Kaur (Archana Puran Singh), according to the conditions of a loan which his father had taken to educate Nitin. Kuljeet is the owner of many malls, restaurants, and other places in Singapore, where this whole story is based. Nitin is fed up with Kuljeet's dog, Moolchand Ji, who always puts Nitin into trouble.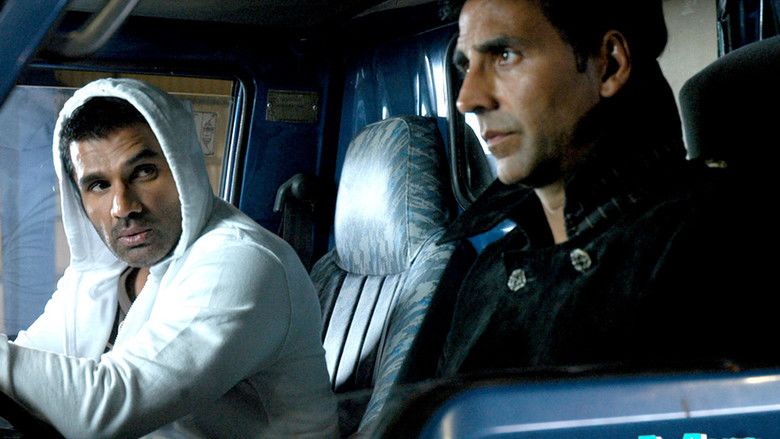 Ram works for a courier service in Singapore. He had originally gone there to work in Chinese films, but he was not selected. Anjali Kakkad (Katrina Kaif), is in love with Nitin and Manpreet Oberoi (Sameera Reddy) is in love with Ram. Both of their girlfriends are rich, and they put a condition – get money or forget us.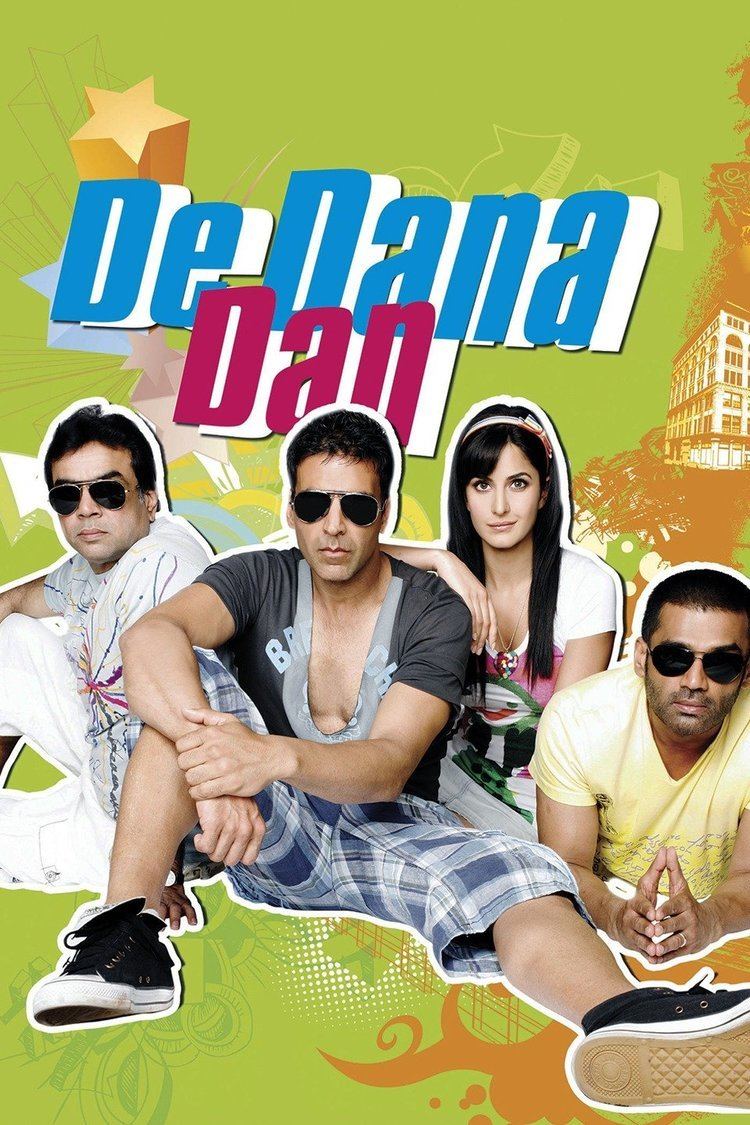 Inspector Wilson Parera (Sharat Saxena) is on the trail of Harbans Chadda (Paresh Rawal) who has nine arrest warrants due to cheque bounces. He is eager to get his son, Nonny Chadda (Chunkey Pandey) married, so that he can get dowry of the wedding and pay of all his debts. He finalises Nonny's wedding with Anjali, after her father, Kakkad (Tinu Anand), brings up the topic. Later at a casino, meets Mr. Oberoi (Manoj Joshi). After finding out that Oberoi is one of the richest Indians in Singapore, he lies to Oberoi to fix Nonny's wedding with Manpreet, which finally works out. As he didn't inform Kakkad, Kakkad gets really angry with Harbans. To counter Harbans, Kakkad fixes his daughter Anjali's wedding with someone else.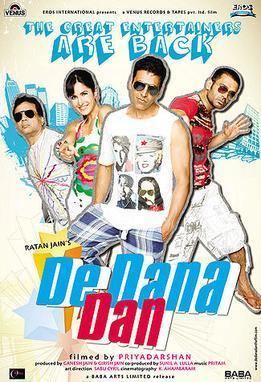 At the same casino where Harbans met Oberoi, Musa Heerapoorwala (Shakti Kapoor), decides to get married to Anu Chopra (Neha Dhupia), a dancer at that casino. After his brother-in-law finds out, he hires a Mafia Don, Maamu (Asrani), to kill Musa. Maamu sends his best assassin, Kaala Krishna Murali (Johnny Lever) to do the job. To hide from his wife, Musa books a room in Pan Pacific Hotel under the name Suber.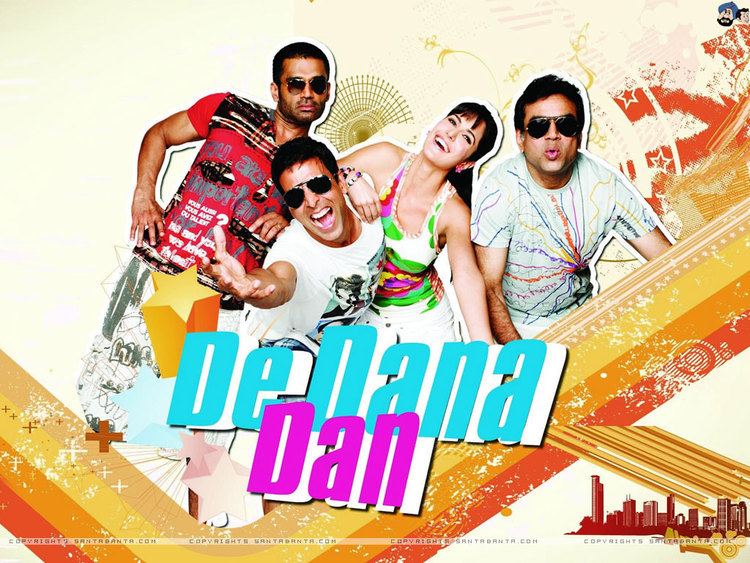 To get rid of all problems and earn some money, Nitin and Ram decide to kidnap Moolchand Ji, as that is the only thing 'living' that Kuljeet, the rich lady, loves. But things go wrong – after they reached Pan Pacific Hotel, the place where they decide to stay, they realise that Moolchand Ji has escaped, causing the police to believe that its Nitin who has been kidnapped. Things worsen when Anjali runs away from home and reaches their room. Initially, Kuljeet refuses to pay the ransom to the kidnappers, but after all her customers decide to go on a strike, she agrees to pay the ransom. As Nitin does not want to go back to Kuljeet, they come up with a plan – they decide to get a dead body from Maamu and throw it onto the railway tracks, along with his driving licence, and then spread the news that the kidnappers have killed Nitin.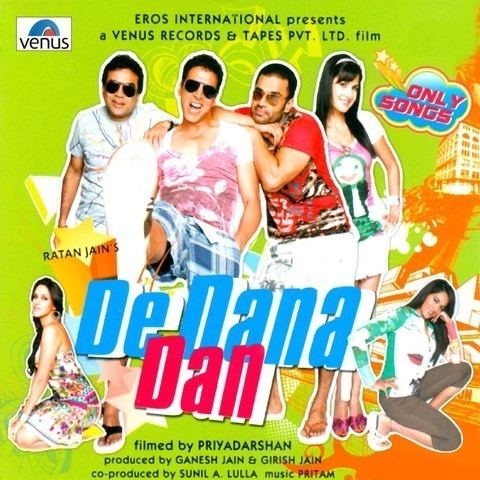 Harbans' and Oberoi's families come to Pan Pacific Hotel, where the wedding is going to take place. Harbans and Oberoi click a photo to celebrate their families uniting. To give the advance money to Maamu, Nitin waits at the entrance of Pan Pacific, waiting for Maamu's man to come and say the code 'I'm Maamu's man'. But Kakkad arrives at the hotel, and chases Nitin into Harbans' room. Nitin tries to hide under the bed, but there is no place for him. At the same time, Harbans enters his room and to hide from Harbans, Nitin hides inside the wardrobe. Fed up of his calls, Harbans throws his mobile into the wardrobe and locks it, causing Nitin to get stuck in a wardrobe.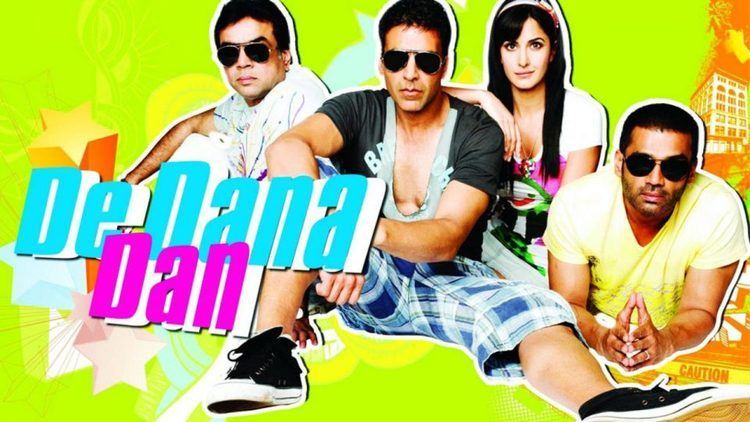 Paramjeet Singh Lamba's (Vikram Gokhale) room, who is the Indian Ambassador. Harbans mistakes Anu for Anjali, which causes great confusion later. Musa's photo, gets exchanged with Oberoi's photo, so Kaala tries to kill Oberoi. Wilson reaches Harbans' room and searches for Harbans, and opens the wardrobe to find Nitin, and mistakes him as Harbans. In an attempt to kill Oberoi, Kaala ends up falling onto Ram's and Nitin's truck, which they take to pick up the ransom. While picking up the ransom, Nitin gets left behind, and is taken to the hospital, while Ram takes the money and reaches the hotel, and Kaala is assumed to be the kidnapper, as he was on top of the truck. And to top it all, Maamu arrives at the hotel with a dead body that nobody wants. In the end, a bomb enters the water-tank of the hotel, which causes it to burst and make the hotel flood. At the end, Nitin, Anjali, Ram and Manpreet get the money and live happily ever after, even though nobody else is.
Cast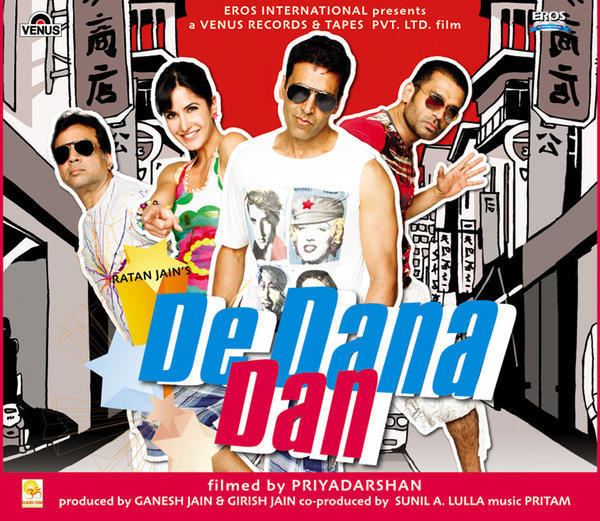 Akshay Kumar as Nitin Bankar
Sunil Shetty as Ram Mishra
Paresh Rawal as Harbansh Chadda
Manoj Joshi as Brij Mohan Oberoi, Manpreet's father
Katrina Kaif as Anjali Kakkad
Sameera Reddy as Manpreet Oberoi
Neha Dhupia as Anu Chopra
Archana Puran Singh as Kuljeet Kaur
Aditi Gowitrikar as Pammi Chadda
Asrani as Maamu, DON
Chunky Pandey as Nonny Chadda
Johnny Lever as Kaala Krishna Murari
Shakti Kapoor as Musha Heerapoorwala/Suber
Rajpal Yadav as Dagdu
Tinnu Anand as Mr. Kakkad, Anjali's father
Vikram Gokhale as Paramjeet Singh Lamba
Supriya Karnik as Mrs. Kamini Lamba
Sharat Saxena as Inspector Wilson Pereira
Biraj rao as Deepak Rasaili
Production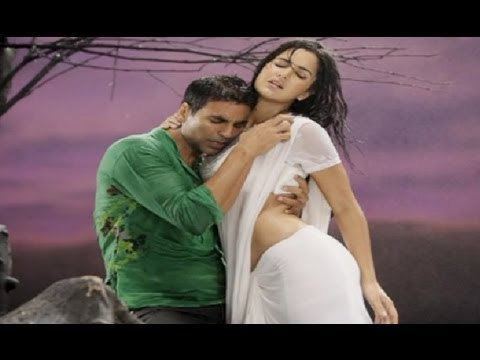 The film reunites the trio of Akshay Kumar, Sunil Shetty and Paresh Rawal with Priyadarshan, who directed them in the first Hera Pheri film. This is the first time the trio has acted together after Phir Hera Pheri in 2006, although Rawal and Shetty appeared in Priyadarshan's Hulchul and Chup Chup Ke. Kumar and Rawal also appeared in Priyadarshan's Bhagam Bhag
The characters 'Nitin Bankar' and 'Ram Mishra', played respectively by Akshay Kumar and Sunil Shetty, are names of respective long-lasting spot-boys. Nitin Bankar is Akshay's spotboy, while Ram Mishra is that of Sunil.
An article in Slate Magazine describes the shooting of a flood scene in Goregaon studios with locally hired white people. The film took 80 days to complete.
Box office
De Dana Dan collected Rs. 530 million in its opening weekend in India, thus making it the tenth biggest opening weekend of all time at the time of its release. It collected 571.9 million at the end of its first week.
Meanwhile, it did very well overseas debuting at No. 9 position in the U.K collecting £308,029 [approx. Rs. 23.4 million] on 48 screens in its opening weekend, with the per screen average working out to £6,417. In the US, it debuted at No. 20 position and collected $772,377 [approx. Rs. 35.7 million] on 69 screens in its opening weekend, with the per screen average working out to $11,194. In Australia, it debuted at No. 12 position and collected $96,597 [approx. Rs. 4096,000] on 14 screens in its opening weekend, with the per screen average working out to $6,900. At the end of its run in the U.K it collected £560,943. At the end of its run in the US it collected $944,979. At the end of its run in Australia it collected $200,000.
Home media
The film was released on a one disc dual layer format DVD. Its running time is 167 minutes.
Theme song
Paisa Paisa (complete name: Tu, paisa paisa karti hai, tu paise pe kyun marti hai) is the theme song for this film. The song is produced by Pritam, Composed and sung by RDB, and was performed by Akshay kumar and Katrina Kaif.
The concept was to create a theme with mass appeal, about how money was the driving force behind the film's various acts. This was accomplished by incorporating comedy lyrics with sound effects and a "slight R&B touch" to make it upbeat, danceable, and memorable. The song is sung by Manak-e, a Punjabi singer and was composed specially for the movie by RDB even though the rest of the music was done by Pritam. The music is based upon the Usher hit song "Yeah". This song was originally sung by Manak-E in Punjabi few years back in his album, however on request of Akshay Kumar the song was re-composed and re-released with a mix Hindi-Punjabi lyrics by RDB. The decision was made to use Paisa Paisa as the film's theme song due it being light and up-tempo.
Theme song reception
Times of India reported in late November 2009, that released before the film, the song was gaining attention and "rocking the charts". Before the film's release, the tune was already considered one of the film's "fast catching numbers" and a version was being used in the Jharkhand election campaign. Glamsham reported "Paisa Paisa from De Dana Dan is a chartbuster and is igniting the music charts." In December 2009, Daily News & Analysis reported that Paisa Paisa was a current favourite and expected to be a big number for the party season. It was later reported, that while the film itself did not do as well as expected at the box office, the song aided in locating a lost, mentally challenged child when police were informed of the missing child's continually humming the Paisa Paisa tune.
References
De Dana Dan Wikipedia
(Text) CC BY-SA
De Dana Dan IMDb
De Dana Dan themoviedb.org