Hulchul (translated: Commotion) is a 2004 Indian Hindi comedy drama film directed by Priyadarshan. The story is adapted from the Malayalam film Godfather. The film has a huge star cast including Akshaye Khanna, Kareena Kapoor Khan, Arshad Warsi, Sunil Shetty, Amrish Puri, Paresh Rawal, Jackie Shroff, Arbaaz Khan, Shakti Kapoor, Farha Naaz, and Laxmi.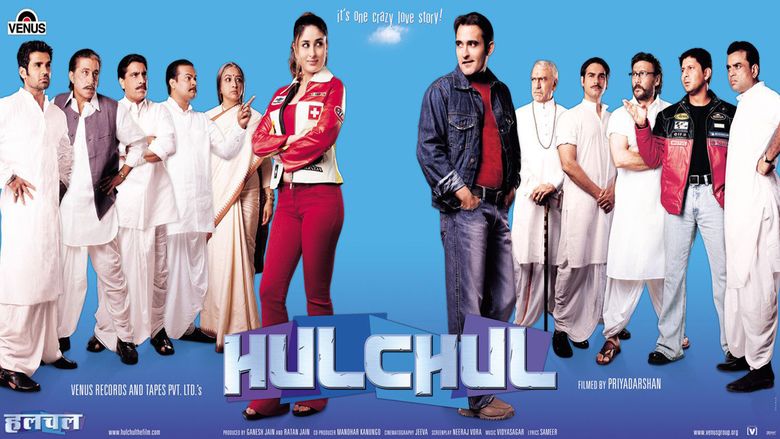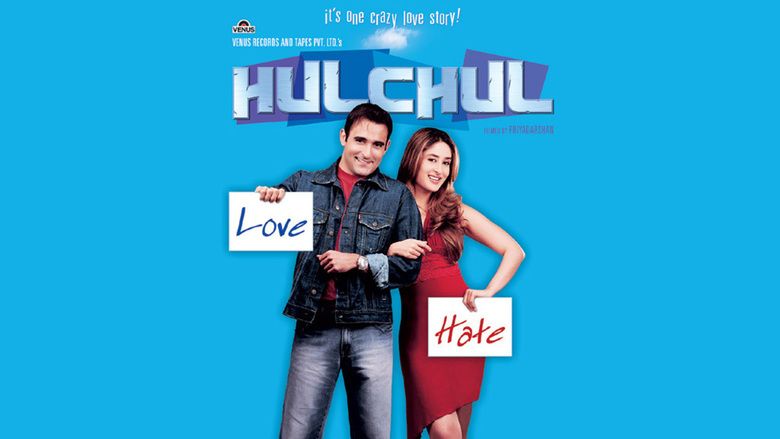 Twenty years ago, Angar Chand (Amrish Puri) lived a wealthy lifestyle in a small town in India, along with his wife, Parvati, and four sons - Balram (Jackie Shroff), Kishan (Paresh Rawal), Shakti (Arbaaz Khan) and baby Jai (Akshaye Khanna). Since Balram is of marriageable age, Angar arranges his marriage with the daughter of Laxmi Devi (Laxmi), who opposes this marriage. During the wedding ceremony, Laxmi orders her sons, Surajbhan and Pratap to forcibly remove their sister. In anger, Laxmi's husband takes a gun and shoots at Balram but instead Parvati is hit and killed. Laxmi subsequently marries her daughter to Kashinath (Shakti Kapoor). An enraged Angar hangs Laxmi's husband to death, is arrested and sentenced to 14 years in prison. When he returns, he makes it clear that women will not be permitted in his house, posting a sign on the front gate, and forbids his sons to ever marry.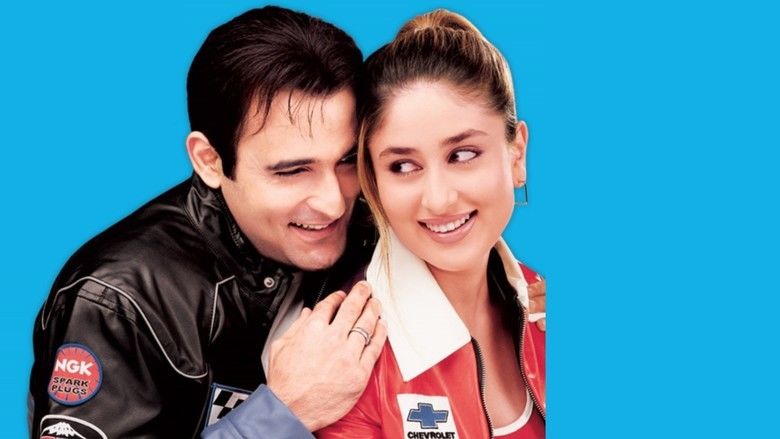 Anjali (Kareena Kapoor) is Laxmi's granddaughter who is in college with Jai. Angar and his family are informed that Anjali is to be married, and they try to break off the engagement. Jai humiliates Anjali when she returns to college after her failed engagement. Laxmi convinces Anjali to trick Jai into falling in love with her to cause a rift in the family. Jai meets with Anjali who openly admits that she is attracted to him. Jai, at first rejects her, then decides to teach her and her family a lesson. Both feign their love for each other, but subsequently Anjali and Jai admit their agendas. Both go their separate ways, but find that they are indeed in love with each other. In order to marry, Jai must first convince his elder brothers to get married, albeit in vain as none of them even want to consider this option.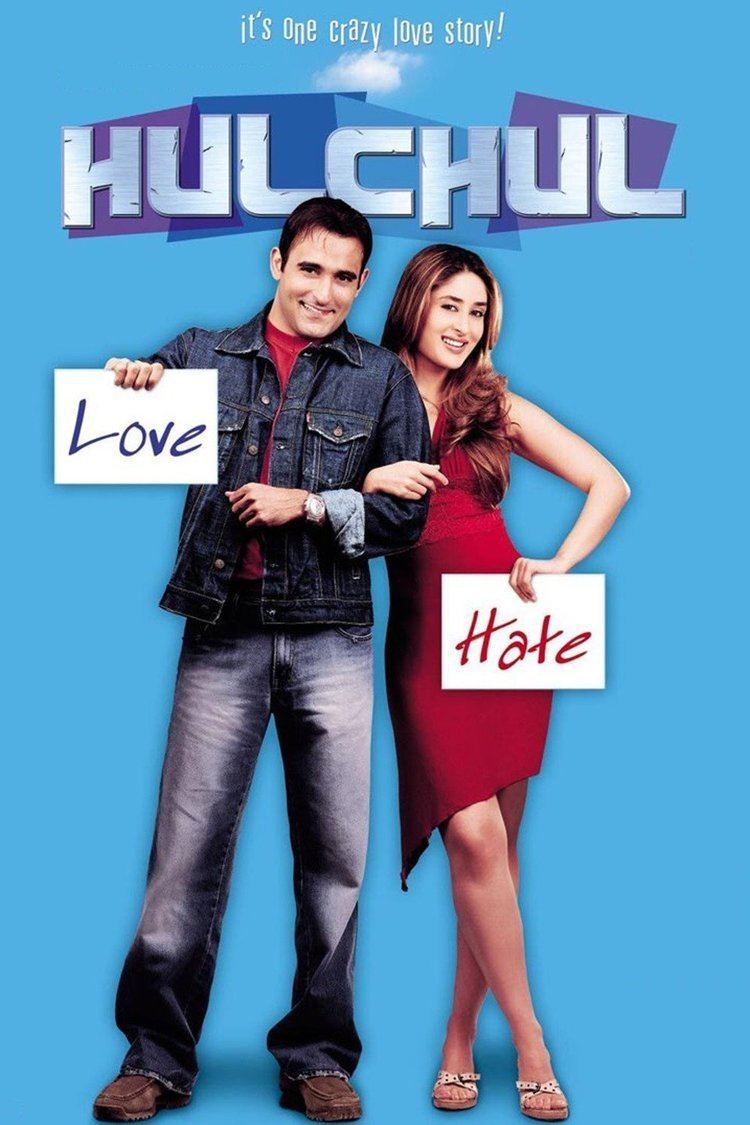 Lucky (Arshad Warsi), Jai's friend, finds out that Kishan, a seemingly celibate devotee of Lord Hanuman, is leading a dual life as Murari, who has been married to a woman, Gopi (Farha Naaz), from Gangapur, for 7 years and has two children, a son and a daughter. When Angar finds out he kicks Kishan and Jai out of his house because Jai supports Kishan's marriage.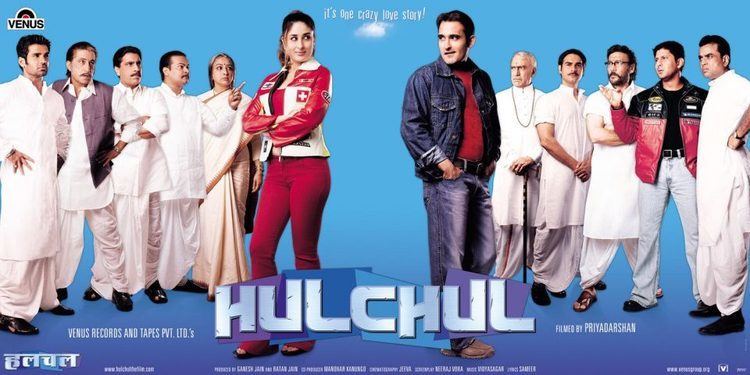 Anjali's marriage is fixed with Laxmi's advocate's son (Sharad Kelkar). After Jai and Anjali acknowledge their love for each other to her family, Anjali's uncles Pratap and Surajbhan approach Angar, asking him to help them stop Jai from disrupting her fixed marriage. Jai, Kishan, Gopi, and Lucky sneak into the wedding venue with the help of Anjali's uncle Veeru (Sunil Shetty). Jai dresses as the bridegroom and goes through the marriage rituals. Jai is revealed and tells his father he won't go through with the final steps of the wedding without his approval.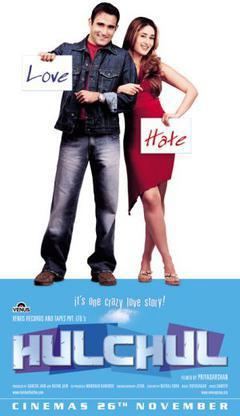 Balram, who previously had supported his father's mentality the most, finally tells Jai to place the wedding necklace around Anjali's neck, completing the wedding. Jai is initially prevent from trying to do so, but eventually he and Anjali are married. Anjali asks her grandmother to end the feud and Jai asks his father for forgiveness. Angar leaves the wedding and contemplates all his sons' actions on the way home. All brothers and the two wives arrive at the gate. Angar looks at his sons and takes the sign off the gate and finally welcomes women back into his family.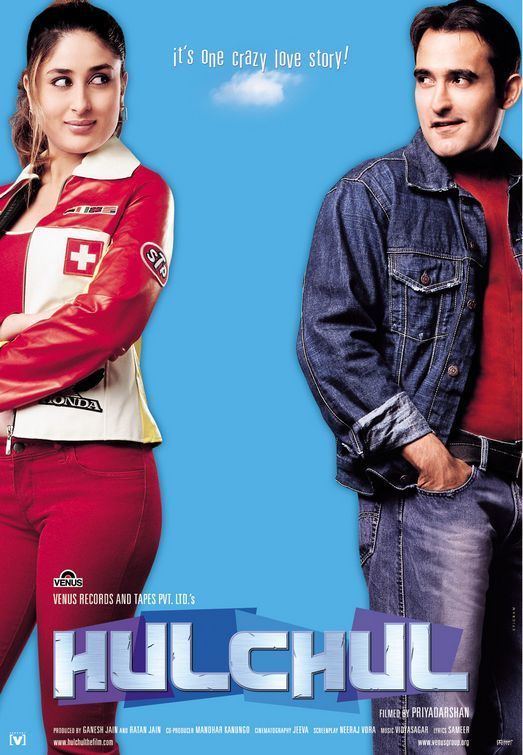 Amrish Puri as Angar Chand
Lakshmi as Laxmi Devi
Akshaye Khanna as Jai Angar Chand
Kareena Kapoor Khan as Anjali
Sunil Shetty as Veer / Veeru
Paresh Rawal as Kishen Angar Chand / Murari
Jackie Shroff as Balram Angar Chand / Balli
Arbaaz Khan as Shakti Angar Chand
Arshad Warsi as Lucky, Jai's Friend
Farah Naaz as Gopi, Kishen's wife
Deep Dhillon as Pratap
Akhilendra Mishra as Surajbhan / Surya
Asrani as Advocate Mishra
Manoj Joshi as Laxmi's Advocate
Sharad Kelkar as Lawyer's son, whose marriage is fixed with Anjali
Shakti Kapoor as Kashinath
Upasana Singh as Mrs. Surya
Mumaith Khan in a Special Appearance in song, "Lut Gayee"
Zubein Khan in a Special Appearance in song, "Lut Gayee"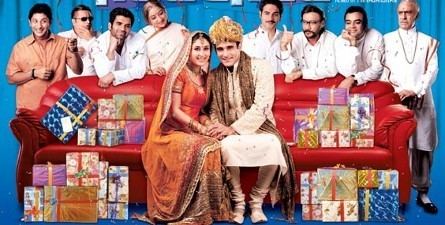 According to the Indian trade website Box Office India, with around 10,00,000 units sold, this film's soundtrack album was the year's fourteenth highest-selling.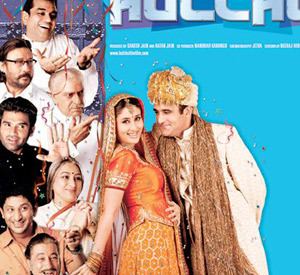 All music composed by Vidyasagar.