India




Marathi




Maharashtra




Mumbai Suburban




Patkar-Varde College, Whistling Woods International Institute, Vivek College of Commerce



Goregaon is a locality of the Mumbai city, in the Mumbai Suburban district, India. It is a railway station on the Mumbai suburban railway on the Western Line. An extension of the Harbour Line is under construction, to be completed by 2016.
Bracketed on either side of the railway line by the Western Express Highway and Link Road, Goregaon was primarily a middle-class residential neighbourhood. However, the area is now turning into a wealthy suburb. Famous film studios such as Filmistan and Film City are located here.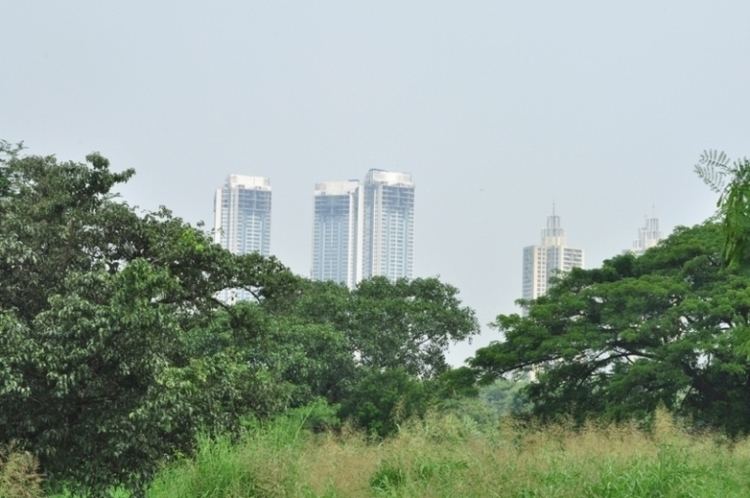 What is now known as Goregoan Suburb is a conglomeration of four villages: Pahadi, Goregaon, Aarey and Eksar. Goregaon got the railway station in 1862. The suburb was one of the four railway stations between Borivali and Grant Road and was known as Pahadi or Pare. The name of the railway station was subsequently changed to avoid confusing it with Paradi, a railway station in South Gujarat on BB&CI (now Western Railway). On official records, the name of tehasil still appears as Pahadi Goregaon.
The prime land under the mango and guava plantation owned by the Topiwala Desai family was taken over by the Maharashtra government and handed over to the Mumbai Housing Board during the 1950s.
That Goregaon is named after a former resident of the area named Keshav Gore is a popular misconception. The name Goregaon predates the Gores. However, the Gore husband and wife pair (Keshav and Mrinal), who were staunch socialists, remain inspirational figures to local residents, even after death.
Goregaon Wikipedia
(,)http://upload.wikimedia.org/wikipedia/en/3/32/High-rises_visible_from_Aarey_Milk_Colony_in_November_2013.jpg(,)http://www.mumbaidarshan.site90.com/New%2520folder/f1.jpg(,)http://1.bp.blogspot.com/-GOMBprKLliI/UkLG0s0WdCI/AAAAAAAAEQs/poS1rYKv8kI/s1600/B_Id_423166_comedynightswithkapil.jpg(,)http://74.117.181.42/wp-content/uploads/2014/03/kandi.jpg(,)http://upload.wikimedia.org/wikipedia/commons/5/5a/Obe.JPG(,)http://i.ytimg.com/vi/uSSy3mUY1ck/maxresdefault.jpg(,)http://i.ytimg.com/vi/AUB7_OwGcPU/maxresdefault.jpg(,)http://i.ytimg.com/vi/U9vFzU7rJxo/0.jpg(,)http://i.ytimg.com/vi/jCEDQPEA2l8/0.jpg(,)http://i.ytimg.com/vi/c_TajlNxUuQ/0.jpg
(,)http://sim.burrp.net/59110e671d27ce6bfbcefa778c55145b.jpg(,)http://im.timescitycontent.com/menu/2013/Dec/pallavi1.jpg(,)http://img.india-forums.com/images/600x0/85583-guest-at-shekhar-dadarkar-white-restaurant-multi-cuisine-launch.jpg(,)https://images-grouptable.netdna-ssl.com/system/menu_images/images/000/029/306/original/Lucky_Restaurant__(1).jpg%3F1400156541(,)http://sdh.goregaoninfo.com/gallery/pic0036.jpg(,)http://img.india-forums.com/images/600x0/85580-guest-at-shekhar-dadarkar-white-restaurant-multi-cuisine-launch.jpg(,)http://img.india-forums.com/wallpapers/1280x800/85581-guest-at-shekhar-dadarkar-white-restaurant-multi-cuisine-launch-at-gor.jpg(,)http://eveningflavors.com/DynamicImages.war/Restaurant/Mumbai/8364/base.jpg(,)http://eveningflavors.com/DynamicImages.war/Restaurant/Mumbai/8330/base.JPG(,)http://eveningflavors.com/DynamicImages.war/Restaurant/Mumbai/8525/base.jpg(,)http://eveningflavors.com/DynamicImages.war/Restaurant/Mumbai/8346/base.jpg(,)https://images-grouptable.netdna-ssl.com/system/menu_images/images/000/009/953/original/Royal_Challenge_(1).jpg%3F1384425147