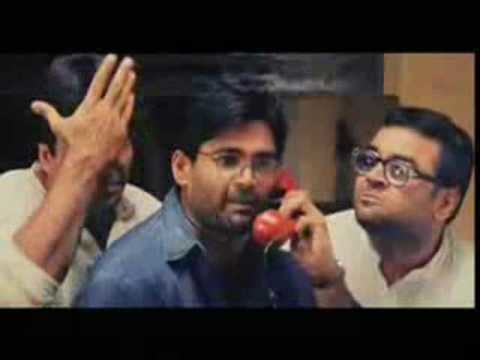 The Plot Revolves around an eccentric trio, consisting of a comically hilarious but kind hearted garage owner named Baburao Ganpatrao Apte (Paresh Rawal), a crafty and cunning loafer named Raju (Akshay Kumar) and a simple and struggling pauper named Shyam (Suniel Shetty) who find themselves trapped in crazy Shenanigans including hilarious bits from Rawal himself.
The film begins with Shyam searching for a job at a bank which he find that is given to some girl named Anuradha Shivshankar Panikar (Tabu) even tough Shyam's father died in the bank due to a fire. The manager (Asrani) tells Shyam that he inspite of knowing the truth, is unable to do anything further. Shyam walks off in a huff and accidentally bumps into Raju. Shyam mistakes Raju for a Pickpocket and begins to chase him. Raju eventually gets away clean. Raju has his own troubles, dealing with his daydreams and unfriendly and dissapointed people he is working for. He doesn't seem to keep a job alive and thus faces many problems.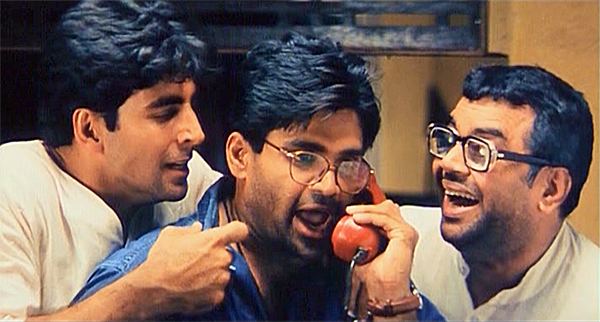 Shyam then approaches a garage owner by the name of Baburao Ganpatrao Apte, and manages to get a room on rent by compromising on the amount for Baburao's alcohol. Unknowingly for him Raju is staying in the same house on rent, which he hasn't paid for the last two years. The trio falls into hilarious situations that usually involve Raju instigating Shyam and purposefully trying to create a tandem that Baburao, fondly called as Babu Bhaiyya has to resolve. During one such Fight, Anuradha intervenes and tries Shyam to sign the Non-Objection Certificate, so that she could have the job at the bank. When Shyam refuses, Raju makes a plot to make him sign the papers. Shyam eventually finds out that Raju made him sign the papers and that is when the rivalry between the two commences. An old friend of Shyam's, Khadak Singh (Om Puri) comes to Shyam's Place asking to return his money so that he can marry off his sister and afford the dowry.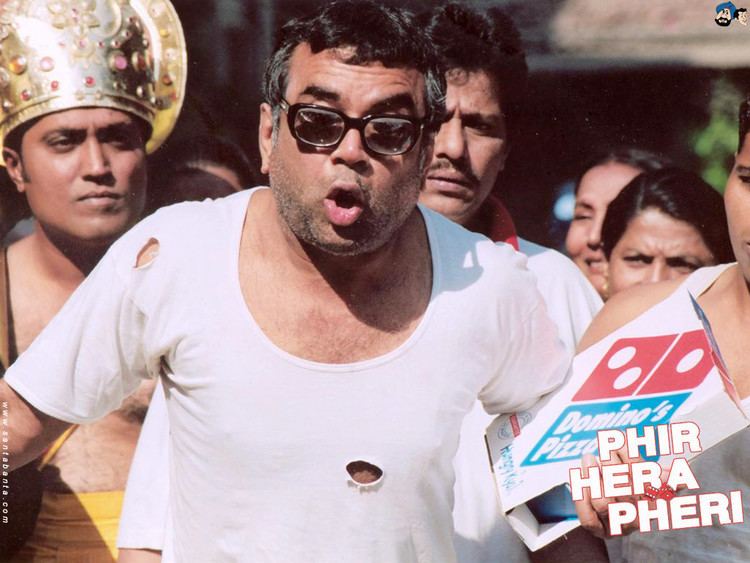 Shyam finds out that Raju has been deceiving his mother by posings an engineer and creats an uncomfortable situation for Raju as he calls his mother fake while being inebriated. Raju retaliates saying, he just wants to see his dying mother happy and nothing else. he will do anything for his mother. this is one of the dramatic moments in the film. Anuradha prepares a Job resignation meanwhile and gives it to Shyam, Who in return tears it up because of her mentally ailing mother and the debts to be paid to the debtors.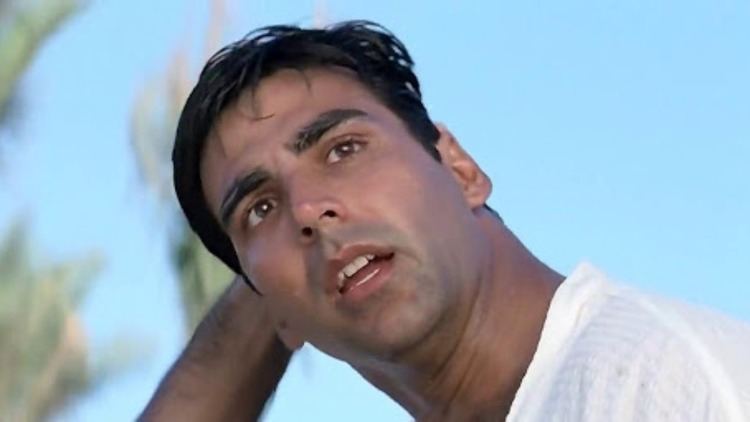 Their life takes an unexpected turn when they get an unexpected call from Kabeera (Gulshan Grover) which is a wrong number actually meant for the owner of Star fisheries, Mr. Devi Prasad (Kulbhushan Kharbanda). The wrong number is because of the misprint in the phone directory, which renders Star fisheries' number as Star garage's and vice versa. Kabeera, a Terrorist cum kidnapper, tells who he thinks is Devi Prasad that his granddaughter is kidnapped and asks for ransom. Raju overhears the entire conversation going between Kabeera and Shyam and decides to play a game.
The game involves Shyam calling Devi Prasad posing as the kidnappets and asking for double the ransom amount. This will make their monetary problems disapppear. Shyam and Baburao initially repel the idea and try to go the faithful way. But Raju in turn convinces them that even though wrong, this is a golden chance to earn money. Both relent and phone the real Devi Prasad and ask for double ransom. Their first attempt gets foiled, by the police and Kabeera informs them that the ransom has been doubled. they phone Devi Prasad again. This time they ask for a foolproof double ransom.
They reveal their true identities to Devi Prasad to win his confidence and try to save the girl from the kidnappers. But the Girl recognizes Shyam as an Imposter and Kabeera gets alerted. A huge fight involving the police, Kabeera's gang members and Khadak Singh's men, infuriated by the delay in the money return intervene the fight, takes place. the scenes are hilariously choreographed, especially them involving Baburao losing his spectacles and accdentally firing an AK-47 all over the floor. The girl is saved by the three and returned to Devi Prasad. Baburao and Shyam go home happily intending to find Raju with the money, but they find him missing. They call the police and Raju is found to be gone to return the money of the debtors.
In the end, Devi Prasad comes to the trio's rescue and convinces the police that it was all a misundertanding and saves the three and they go home, richer than ever.
Sunil Shetty as Ghanshyam a.k.a. Shyam
Akshay Kumar as Raju
Paresh Rawal as Baburao Ganpatrao Apte a.k.a. Babu bhaiya
Tabu as Anuradha Shivshankar Panikar
Gulshan Grover as Kabira
Razak Khan as Kabira's Gang Member
Dinesh Hingoo as Chaman Jhinga
Kulbhushan Kharbanda as Devi Prasad
Om Puri as Khadak Singh
Asrani as Bank Manager
Kashmira Shah as Kabira's Gang Member
Namrata Shirodkar as Miss Chinga, Special Appearance in a song
Mukesh Khanna as Prakash, Police Commissioner
Sulabha Arya as Raju's Mother
Ann Alexia Anra (Baby Anne) as Rinku
Snehal Dabi as Man misjudging Asrani as a "Dalaal" at bus stop.
Mushtaq Khan as Devi Prasad's Servant
Kahkashan Patel in a special appearance in song "Jab Bhi Koi Haseena"
Hera Pheri was the first film that Priyadarshan had worked with Akshay Kumar and Sunil Shetty. He had worked with Paresh Rawal in Doli Saja Ke Rakhna. It also marked the beginning of a long association between Priyadarshan and the three actors.
Following Hera Pheri, Priyadarshan has made sure that either Kumar, Shetty, Rawal or a combination of the three actors would star in his films. The only exceptions are Dhol, Billu and Tezz.
Parts of the film were shot in Dubai, and Hera Pheri 3 will also be shot there.
All lyrics written by Sameer; all music composed by Anu Malik.
The film did not open well upon release, but picked up later and became a box office success, grossing Rs. 17,25,00,000 in India. Much of the acclaim went to Paresh Rawal for his comic timing and acting, with critics calling it "one of his best performances ever". Aparajita Saha of Rediff stated "the movie belongs entirely to Paresh Rawal. Whatever laughter the film solicits is solely due to him. He has impeccable timing and a natural flair for comedy." Alok Kumar of Planet Bollywood praised the movie saying "Priyadarshan's Hera Pheri is a delight to watch for its performances, some songs, and an interesting story line".
It has achieved a cult status among Indian audiences and is regarded as one of the best Hindi comedy films ever made.