No. of seasons

1




Running time

60 minutes




Final episode date

27 December 1967




Number of episodes

17






Country of origin

United States




No. of episodes

17




First episode date

6 September 1967




Number of seasons

1






Starring

Wayne Maunder Slim Pickens Robert F. Simon Michael Dante Peter Palmer Grant Woods




Composer(s)

Richard Markowitz (1.1) Leith Stevens (1.1, 1.5, 1.7, 1.13; and theme music) Robert Drasnin (1.12) Harry Geller (1.14) Irving Gertz (1.15) Joseph Mullendore (1.17, as "MULLENDORE")




Network

American Broadcasting Company




Cast

Wayne Maunder, Slim Pickens, Robert F Simon, Michael Dante, Peter Palmer




Similar

Lancer, The Virginian, Gunsmoke, Rawhide, The Life and Legend o
custer us tv series 1967 intro lead in
Custer, also known as The Legend of Custer, is a 17-episode military-western television series which ran on ABC from September 6 to December 27, 1967, with Wayne Maunder in the starring role of then Lieutenant Colonel George Armstrong Custer. During the American Civil War, Custer had risen to the rank of major general, the youngest in the Union Army. He was demoted after the war during force reductions to the rank of Captain, but was reinstated in 1866 as a Lieutenant Colonel in command of the 7th Cavalry, stationed at Fort Riley, Kansas. Many of the soldiers in the regiment were derelicts, former Confederates, or even criminals. The series was cancelled before the script timeline would have reached the Little Big Horn River of southeastern Montana, where all perished on June 25, 1876, in a Sioux Indian ambush,
Contents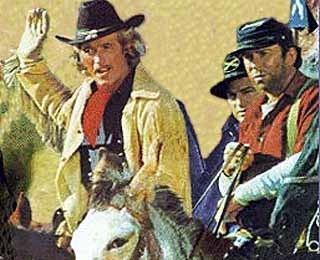 Robert F. Simon played Custer's commanding officer, U.S. General Alfred H. Terry, who disapproved of Custer's long hair and much of his methodology of fighting Indians. Slim Pickens starred as a scout named California Joe Milner. Michael Dante appeared as Sioux Chief Crazy Horse. Peter Palmer played Sergeant James Bustard, a former Confederate soldier. Grant Woods appeared as Captain Myles Keogh. Read Morgan, formerly a cavalry officer on NBC's The Deputy, appeared in the episode "Spirit Woman" in the role of a medicine man.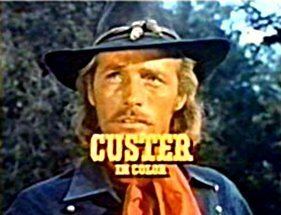 A 20th Century Fox Production, Custer was created by Samuel A. Peeples and David Weisbart, and is unique in carrying the credit "Series Suggested By Larry Cohen." Leo Penn, the father of Sean Penn, directed some episodes.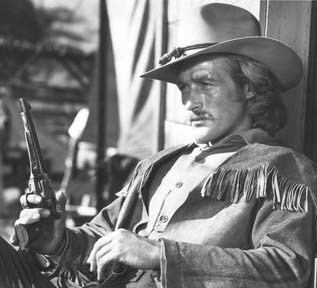 Guest stars included Lloyd Bochner, Rory Calhoun, Philip Carey, James Daly, Burr DeBenning, Yvonne De Carlo, Gene Evans, Arthur Franz, Billy Gray, Barbara Hale, Stacy Harris, Earl Holliman, Robert Loggia, Darren McGavin, Ralph Meeker, Mary Ann Mobley, Agnes Moorehead (as Watoma), Edward Mulhare, Kathleen Nolan, Larry Pennell, Paul Petersen, Donnelly Rhodes (as War Cloud), Chris Robinson, Ned Romero, Barbara Rush, Albert Salmi, William Smith (as Chief Tall Knife), Dub Taylor, Ray Walston, James Whitmore, Terry Wilson, and William Windom. In the last episode entitled "The Raiders", Custer enlists the aid of Kiowa Indians to help him to locate the parties responsible for a series of wagon train raids.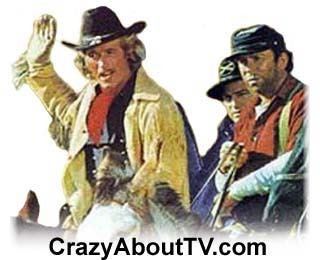 Custer faced competition from NBC's long-running 90-minute western The Virginian starring James Drury and Doug McClure and CBS's Lost in Space starring Guy Williams, June Lockhart, and Mark Goddard.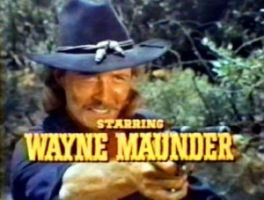 Maunder was twenty-eight when he was cast as the 28-year-old Custer. The show was canceled due to wide protest of Native American tribes throughout the United States.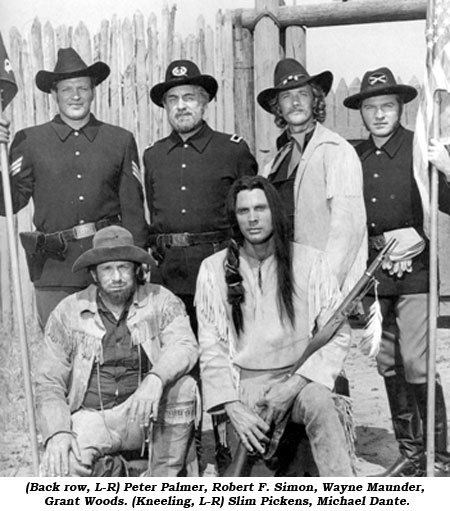 References
Custer (TV series) Wikipedia
(Text) CC BY-SA