Occupation

Actor




Years active

1935–1985





Name

Broderick Crawford




Role

Film actor







Full Name

William Broderick Crawford




Born

December 9, 1911 (

1911-12-09

) Philadelphia, Pennsylvania, U.S.


Resting place

Ferndale Cemetery, Johnstown, New York




Died

April 26, 1986, Rancho Mirage, California, United States


Children

Lorella De Luca, Kelly G. Crawford, Kim Crawford




Parents

Helen Broderick, Lester Crawford


Spouse

Mary Alice Moore (m. 1973–1986), Joan Tabor (m. 1962–1967), Kay Griffith (m. 1940–1958)


Movies and TV shows

Highway Patrol, All the King's Men, Born Yesterday, The Swindle, Human Desire


Similar People

Helen Broderick, Judy Holliday, Robert Rossen, Glenn Ford, Jeanne Crain
Broderick crawford wins best actor 1950 oscars
William Broderick Crawford (December 9, 1911 – April 26, 1986) was an American stage, film, radio, and TV actor, often cast in tough-guy roles and best known for his portrayal of Willie Stark in All the King's Men and for his starring role as Chief Dan Mathews in the television series Highway Patrol (1955–1959).
Contents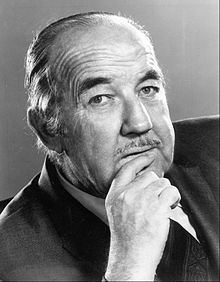 Broderick crawford wiki videos
Early life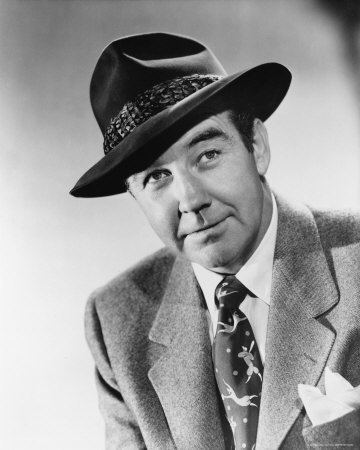 Crawford was born in Philadelphia, Pennsylvania, to Lester Crawford and Helen Broderick, who were both vaudeville performers, as his grandparents had been. Lester appeared in films in the 1920s and 1930s. Helen had a career in Hollywood comedies, including a memorable appearance as Madge in the classic musical Top Hat and as Mabel Anderson in the Fred Astaire and Ginger Rogers film Swing Time. Young William joined his parents on the stage, working for producer Max Gordon. After graduating from high school in Franklin, Massachusetts, Crawford was accepted by Harvard College where he enrolled. However, after only three weeks at Harvard he dropped out to work as a stevedore on the New York docks.
Acting career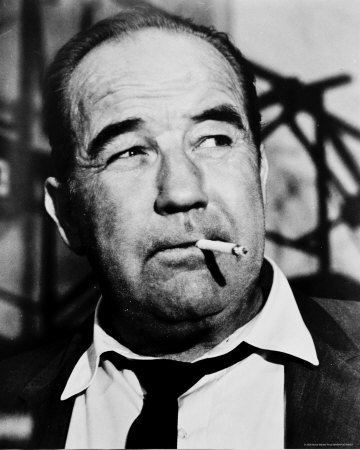 Crawford returned to vaudeville and radio, which included a period with the Marx Brothers in the radio comedy show Flywheel, Shyster, and Flywheel. He played his first serious character as a footballer in She Loves Me Not at the Adelphi Theatre, London in 1932. Crawford was originally stereotyped as a fast-talking tough guy early in his career and often played villainous parts. He gained fame in 1937 as Lenny in Of Mice and Men on Broadway. He moved to Hollywood, but did not play the role in the film version. In 1939, he was selected for a supporting role in the production of Beau Geste. He followed this up with another important supporting actor role in the 1942 gangster spoof Larceny, Inc., a comedy with Edward G. Robinson.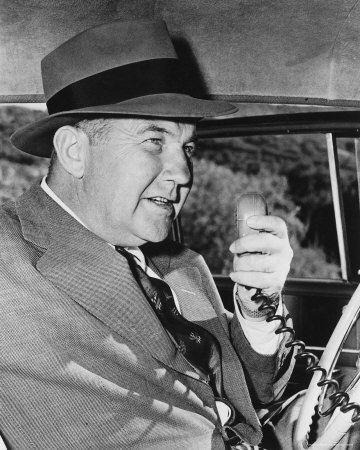 During World War II Crawford enlisted in the United States Army Air Corps. Assigned to the Armed Forces Network, he was sent to Britain in 1944 as a sergeant, he served as an announcer for the Glenn Miller American Band.
In 1949, Crawford reached the pinnacle of his acting career when he was cast as Willie Stark, a character inspired by and closely patterned after the life of Louisiana politician Huey Long, in All the King's Men, a film based on the popular novel by Robert Penn Warren. The film was a huge hit, and Crawford's performance as the bullying, blustering, yet insecure Governor Stark won him the Academy Award for Best Actor. The following year, the actor would star in another hit 'A'-list production with William Holden and Judy Holliday, Born Yesterday.
Until filming All the King's Men, Crawford's career had been largely limited to "B films" in supporting or character roles. He realized he did not fit the role of a handsome leading man, once describing himself as looking like a "retired pugilist". Nevertheless, he excelled in roles playing villains. In 1955, Crawford assumed the starring role as Rollo Lamar, the most violent of convicts in Big House, U.S.A.. In the film, Crawford's character is a hardened convict so violent he commands the obedience of even the most violent and psychotic prisoners in the prison yard, including those portrayed by such famous tough-guy actors as Charles Bronson, Ralph Meeker, William Talman, and Lon Chaney, Jr..
His Academy Award and larger-than-life persona eventually won him more diverse roles, and he would appear in such varied films as Phil Karlson's Scandal Sheet (1952), Fritz Lang's Human Desire (1954), Federico Fellini's Il bidone (1955) and Richard Fleischer's Between Heaven and Hell (1956). He was rather improbable as a fast-draw outlaw opposite Glenn Ford in the 1956 western, The Fastest Gun Alive. He appeared also in Stanley Kramer's Not as a Stranger (1955) with Olivia de Havilland, Robert Mitchum and Frank Sinatra. Some say it was "the worst film with the best cast". He even tried the European sword and sandal films in Vittorio Cottafavi's La vendetta di Ercole (1960), known in the U.S. as Goliath and the Dragon, and in Javier Setó's The Castilian (1963).
In 1955, television producer Frederick Ziv of ZIV Television Productions offered Crawford the lead role as "Dan Mathews" in the police drama Highway Patrol, which dramatized law enforcement activities of the California Highway Patrol (CHP). ZIV Television Productions operated on an extremely low budget of $25,000 per episode of Highway Patrol with ten percent of gross receipts going to Crawford as per his contract. While the show's scripts were largely fictional, the use of realistic dialogue and Crawford's convincing portrayal of a hard-as-nails police official helped make the show an instant success. Highway Patrol remained popular during its four years (1955–1959) of first-run syndication, and would continue in repeat syndication on local stations across the United States for many years after. For much of the period from 1955 until 1965 most of Crawford's television roles involved ZIV Television, which was among the relative handful of producers willing to accept the occasional challenges inherent with working with the hard-living and hard-drinking Crawford. Years later, Frederick Ziv admitted in an interview, "To be honest, Broderick could be a handful!"
Highway Patrol helped revive Crawford's career and cement his 'tough guy' persona, which he used successfully in numerous movie and TV roles for the rest of his life. Fed up with the show's hectic shooting schedule, Crawford quit Highway Patrol at the end of 1959 in order to make a film in Spain, and try to get his drinking under control.
Crawford's successful run as Dan Mathews in Highway Patrol earned him some two million dollars under his contract with ZIV, who eventually paid him in exchange for Crawford's agreement to sign for the pilot and subsequent production of a new ZIV production, King of Diamonds. Recently back from Europe, and having temporarily stopped drinking, Crawford was signed to play the starring role as diamond industry security chief John King. King of Diamonds was picked up for syndication in 1961, but ran for only one season before being cancelled. In 1962, after the end of King of Diamonds, Crawford returned to acting in motion pictures. After 1960, he began to accept occasional roles in European-made films. Between 1962–70, Crawford appeared in no less than seventeen additional films, though many of them failed to generate much box office success. After 1970, Crawford again returned to television. From 1970–71, he played the role of Dr. Peter Goldstone in The Interns. In 1977, he starred as J. Edgar Hoover in the TV movie The Private Files of J. Edgar Hoover. He would eventually make a series of guest appearances on several TV programs, while starring in several made-for-TV movies.
Spoofing his most famous TV role, he wore the trademark fedora and black suit when he made an appearance as guest host of a 1977 episode of NBC's Saturday Night Live that included a spoof of Highway Patrol. In an episode of CHiPs Crawford appeared as himself, recognized after being stopped by Officer Poncherello, who presses a reluctant Crawford to give his trademark line from Highway Patrol ("Twenty-One-Fifty to Headquarters!"). Musician Webb Wilder's instrumental, "Ruff Rider" (on the album It Came From Nashville), is dedicated to Broderick Crawford in admiration of his Highway Patrol character's ability to solve any crime committed in California by setting up a road block. Crawford worked in 140 motion pictures and television series during his career and remained an especially durable presence in television.
His last role was as a film producer who is murdered in a 1982 episode of the Simon and Simon television series. The actor who played the part of the suspected murderer was Stuart Whitman, who had played the recurring part of Sergeant Walters on Highway Patrol.
Personal life
Throughout his adult life, Crawford was prone to bouts of heavy alcohol consumption, and was known for eating large meals. These habits contributed to a serious weight gain for Crawford during the 1950s. His weight and penchant for heavy drinking contributed to several injuries suffered on the set of Highway Patrol. It became particularly difficult for Crawford to perform certain scenes, such as when he had to enter and exit a police helicopter. In 1958, Crawford broke his ankle while exiting the helicopter and was forced to wear an ankle cast, which may be seen in some episodes.
Crawford's heavy drinking increased during the filming of Highway Patrol, eventually resulting in several arrests and stops for driving under the influence of alcohol (DUI), which eventually gained him a suspended driving license. While representing the California Highway Patrol as "Chief Mathews", Crawford was known with considerable embarrassment by the CHP as "Old 502" due to his habit of driving under the influence of alcohol ("Code 502" was the CHP police radio code for drunken driving). According to the show's creator, Guy Daniels, "We got all the dialogue in by noon, or else we wouldn't get it done at all. He [Crawford] would bribe people to bring him booze on the set." The show used their CHP technical advisor, Officer Frank Runyon, to keep the actor sober: "I was told to keep that son of a bitch away from a bottle. I think his license was suspended. Some scenes had to be shot on private roads so that Brod could drive." Eventually the drinking strained the show's relationship with the CHP as well as Crawford's relationship with ZIV.
Crawford married three times. His first marriage was to actress Kay Griffith in 1940; the couple had two sons together, Christopher Broderick Crawford (1947-2002) and Kelly Griffith Crawford (1951–2012). Through his elder son, Christopher, Crawford has one grandchild, Katherine Lee Crawford (born 1970). Crawford's second marriage was to Joan Tabor in 1962; they divorced in 1967. His third and final marriage, which lasted until Crawford's death in 1986, was to Mary Alice Moore in 1973.
Death
He died following a series of strokes in 1986 at the age of 74 in Rancho Mirage, California. He has two stars on the Hollywood Walk of Fame, one for motion pictures at 6901 Hollywood Boulevard and another for television at 6734 Hollywood Boulevard.
References
Broderick Crawford Wikipedia
(Text) CC BY-SA