Not as a Stranger is a 1955 drama film produced and directed by Stanley Kramer based on the 1954 novel of the same name by Morton Thompson. The romantic melodrama novel was widely popular, topping that year's list of bestselling novels in the United States.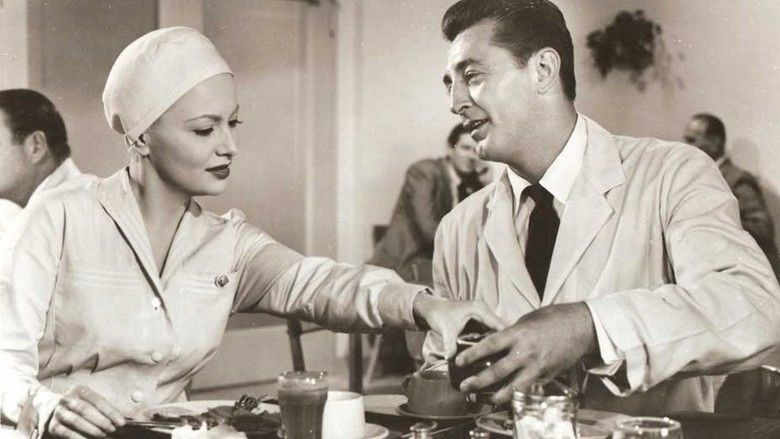 The film was Kramer's directorial debut and featured Olivia de Havilland and Robert Mitchum in the lead roles, backed by a stellar supporting cast including Frank Sinatra, Gloria Grahame, Broderick Crawford, Charles Bickford, Lon Chaney, Jr., Harry Morgan, and Lee Marvin. The film was released by United Artists.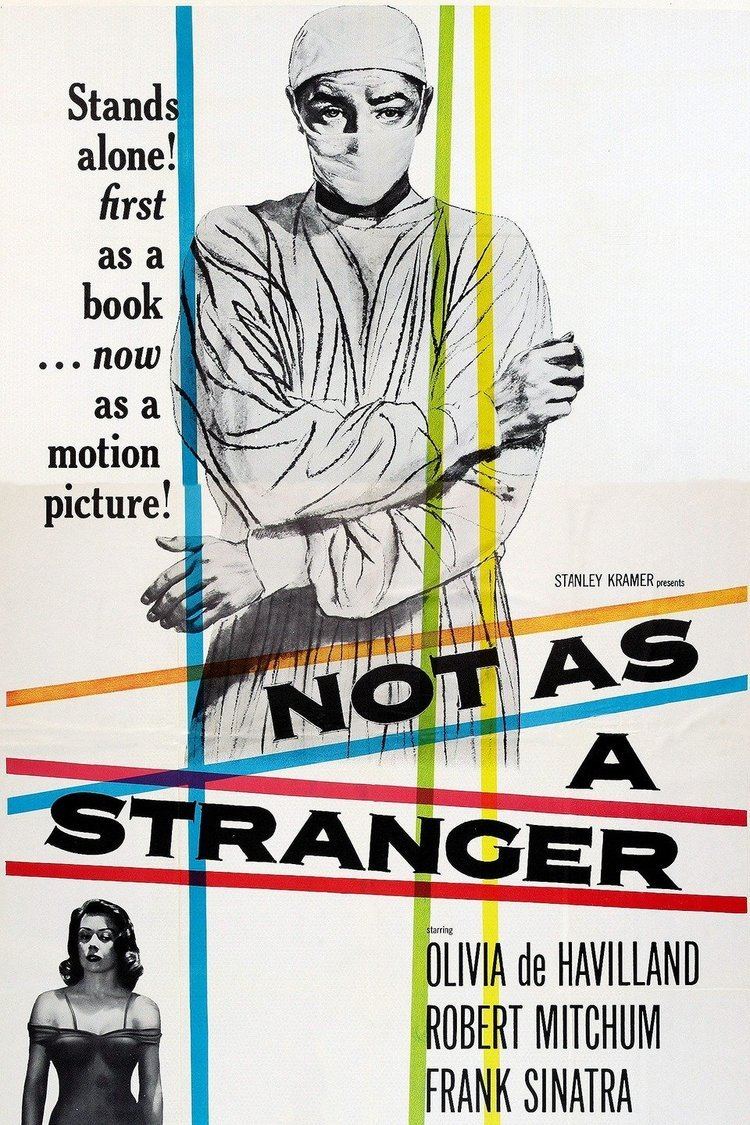 Sinatra had catapulted back into the limelight as the result of a supporting role for a film from a similarly popular novel, From Here to Eternity, two years earlier. Initially a minor box office success, Not as a Stranger is seldom seen today, never receiving widespread distribution on home video. It was first released on DVD in 1992.
Lucas Marsh (Robert Mitchum) is a brilliant and dedicated medical student who has aspired to be a doctor since childhood. His mother is dead and he is estranged from his alcoholic father, who has squandered the family's money, leaving Lucas unable to pay for medical school. In order to get the needed tuition money, Lucas marries an older nurse, Kristina "Kris" Hedvigson (Olivia de Havilland), who has substantial savings. Although Kris loves Lucas and helps him in a variety of ways, he is indifferent towards her and considers her "stupid" though she is an excellent nurse. Lucas cares only about doing excellent medical work, and frequently clashes with other doctors he considers incompetent, including his wealthy best friend Alfred Boone (Frank Sinatra). Kris, Alfred, and Lucas' mentor Dr. Aarons (Broderick Crawford) try to humanize him and teach him that all doctors sometimes make mistakes.
Lucas looks down on doctors who focus on making money, and after completing his internship, he accepts a position working with Dr. Dave Runkleman (Charles Bickford) in his busy practice in rural Greenville, where many patients lack the money to pay. Runkleman has a life-threatening heart condition, so he hired Lucas to help with the workload and perhaps take over the practice. Overworked and frustrated with the incompetent head of the local hospital, Lucas has an affair with rich widow Harriet Lang (Gloria Grahame), causing Kris, who is secretly pregnant, to finally leave him. When Runkleman's heart condition flares up, Lucas performs heart surgery to save his life, but makes a mistake during the surgery and Runkleman dies. Struggling to cope with his failure, Lucas begs Kris to help him, and the two reconcile.
Olivia de Havilland as Kristina Hedvigson
Robert Mitchum as Dr. Lucas Marsh
Frank Sinatra as Alfred Boone
Gloria Grahame as Harriet Lang
Broderick Crawford as Dr. Aarons
Charles Bickford as Dr. Dave W. Runkleman
Myron McCormick as Dr. Clem Snider
Lon Chaney, Jr. as Job Marsh
Jesse White as Ben Cosgrove
Harry Morgan as Oley
Lee Marvin as Brundage
Eve McVeagh as Mrs Ferris
Mae Clarke as Nurse Odell
Whit Bissell as Dr Dietrich
The film earned a worldwide distribution gross of over $8 million, and a profit of $1.8 million.
The motion picture was nominated for an Academy Award for Best Sound Recording (Watson Jones). Frank Sinatra was nominated for a BAFTA Award for Best Foreign Actor, and Charles Bickford won that year's National Board of Review award for Best Supporting Actor.