Bajirao Mastani is a 2015 Indian epic historical romance film directed by Sanjay Leela Bhansali, who also composed the music of the film. It is jointly produced by Bhansali and Eros International. The film stars Ranveer Singh as Bajirao I and Deepika Padukone as Mastani, with Priyanka Chopra playing Bajirao's first wife Kashibai. Tanvi Azmi, Vaibbhav Tatwawdi and Milind Soman appear in supporting roles. Based on the Marathi novel Raau by Nagnath S. Inamdar, the film narrates the story of the Maratha Peshwa Bajirao (1700-1740 AD) and his second wife Mastani.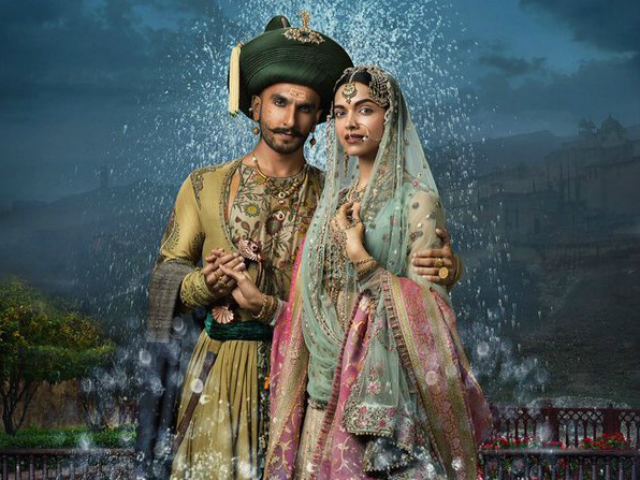 The film was in development for 15 years, with Bhansali wanting to make the film after Hum Dil De Chuke Sanam. However, several times, the production was delayed due to the changing cast. Principal photography started in mid 2014 after the casting of principal roles was finalised. The film was released on 18 December 2015 to critical acclaim from critics, who praised the direction, cinematography, production design, costumes, music and performances, particularly of Chopra, and Singh.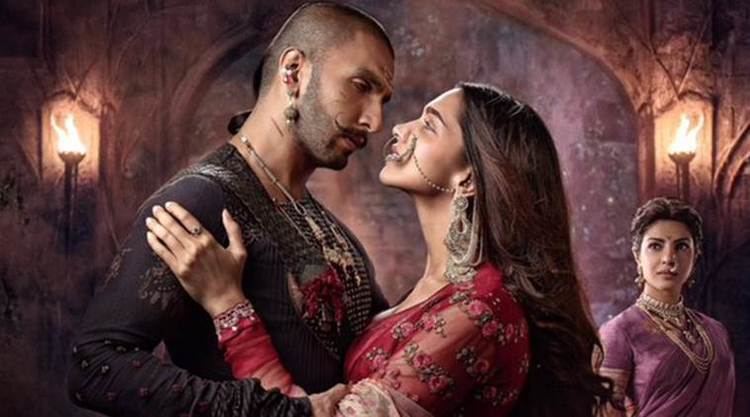 The film has grossed over ₹350 crore (US$52 million) at the box-office, emerging as a commercial success and one of the highest-grossing Indian films of all time. The film received several accolades at various award ceremonies across India. At the 63rd National Film Awards, Bajirao Mastani received seven awards, including Best Direction and Best Supporting Actress for Azmi. The film is featured among the 2016 Indian Panorama section of the International Film Festival of India. The film received fourteen nominations at the 61st Filmfare Awards, and won nine awards including Best Film, Best Director for Bhansali, Best Actor for Singh, and Best Supporting Actress for Chopra.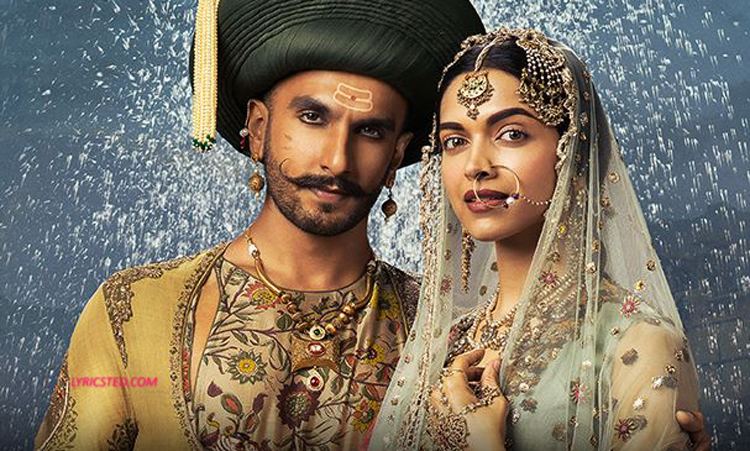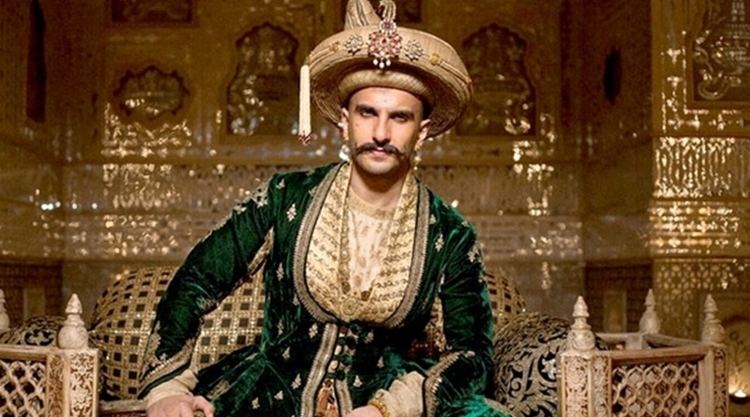 In the early 18th century, the court of Maratha King, Chhattrapati Shahu (Mahesh Manjrekar) needs a new Peshwa, the equivalent of a modern-day prime minister. In spite of Shripad Rao's (Aditya Pancholi) self-nomination as the Pant Pratinidhi, Ambaji Pant (Milind Soman) chooses to nominate a young Bajirao (Ranveer Singh). To test his spiritual wisdom and knowledge of weaponry, Shripad challenges Bajirao to split a peacock feather with an arrow. Bajirao succeeds and is given the title of Shrimant Peshwa. Ten years later, his wife Kashibai (Priyanka Chopra) is visited by her widowed friend Bhanu (Snehlata Girish Vasaikar), whose husband was accused of spying and hence was ordered to be executed by Bajirao. She bitterly forebodes that just like she longs for her husband, Kashi, too, will yearn for Bajirao.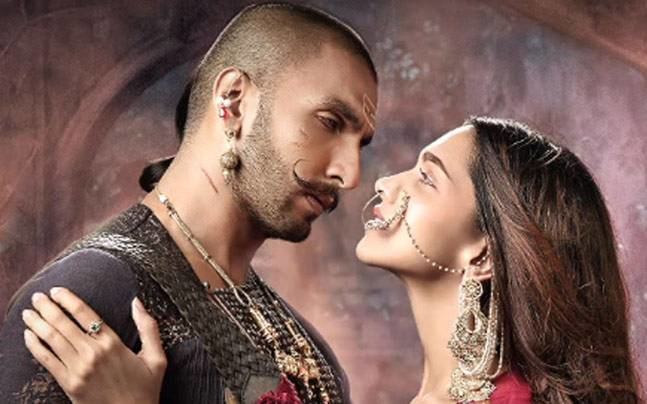 While traveling to Sironja, an emissary from Bundelkhand infiltrates Bajirao's tent and demands his help in fighting invaders. She reveals herself to be Mastani (Deepika Padukone), the daughter of the Hindu Rajput King, Chhatrasal (Benjamin Gilani) and his Persian Muslim consort, 'Ruhani Bai'. Impressed by her skills as a warrior, Bajirao assists her with his army and defeats the invaders. Chhatrasal is overjoyed and insists that Bajirao spend Holi with them. Mastani and Bajirao develop feelings for each other and he gifts her his dagger, which is a symbol of marriage among the Bundelkhand Rajputs. He soon departs for Pune, where Kashi greets him with a tour of their newly-built Shaniwar Wada and shows him the Aaina Mahal (hall of mirrors) which allows her to see him from her room.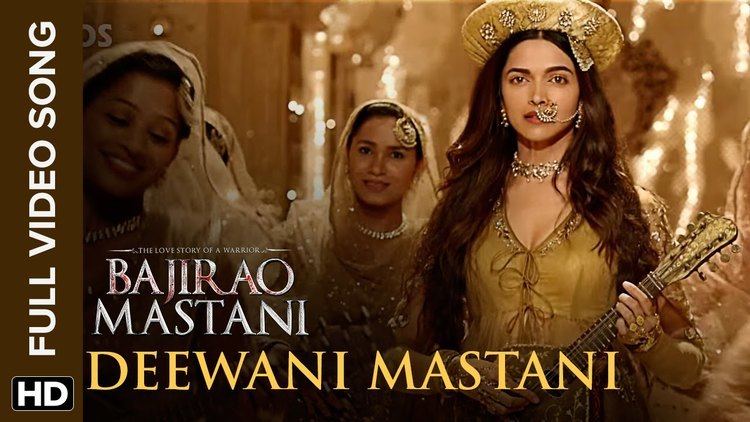 Determined to pursue her love, Mastani arrives in Pune but is treated harshly by Bajirao's mother Radhabai (Tanvi Azmi) and accommodated in the palace for courtesans. She tolerates this insult and appears to dance before Bajirao on the occasion of Parava. Radhabai scornfully offers her the occupation of a royal dancer, but refuses to accept her as a daughter-in-law. Mastani travels to the King and expresses her desire to be with Bajirao before leaving to wait for him at a ruin across the river. Bajirao crosses the river in the midst of a storm and chides her persistence, reminding her that he is already married and that his court will never respect her if she is with him. She agrees despite his warning and he declares her as his second wife.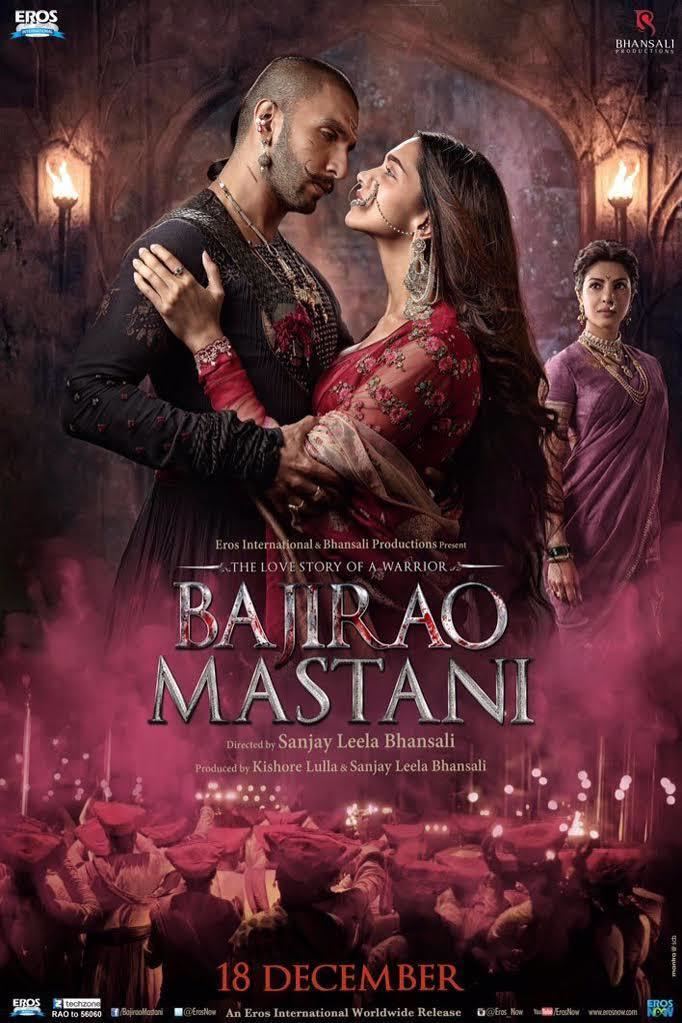 Bajirao leaves to confront the Nizam of Deccan (Raza Murad) and although his odds of victory are slim, he returns successful. A pregnant Kashibai witnesses Bajirao embracing Mastani, who is also expecting, in the Aaina Mahal and leaves for her mother's home. She returns months later with her newborn son, who is named Raghunath in joyous celebration. Mastani also gives birth to a son, whom Mastani and Bajirao name Krishna Rao, but when Krishnaji Bhatt, the head Brahmin priest, refuses to conduct the naamkaran (Hindu christening ceremony) and he is deemed illegitimate, Bajirao names him Shamsher Bahadur. A few years later, Kashi and Bajirao's eldest son Balaji Baji Rao (alias Nana Saheb, played by Ayush Tandon) returns from Satara and expresses hatred towards Mastani for disrupting his mother's marriage.
Kashibai is informed of a treacherous plan to murder Mastani and her son during a festival by Shiva Bhatt, another Brahmin priest. Kashibai reluctantly relays this news to Bajirao, who rescues both of them from certain death. Following the murder of Shiva Bhatt by Krishnaji Bhatt, Bajirao is enraged. For Mastani's safety and to grant her a royal abode, Bajirao builds Mastani Mahal for her. Bajirao, however, is broken hearted due to the betrayal of Radhabai and Chiman Appa, when Pant informs him that he must defeat Nasir, the vengeful son of the Nizam. Bajirao proclaims that even if he loves Mastani, his life and allegiance is always to his cause, so he decides to enter the battlefield. Here, before leaving for the battlefield, Bajirao meets Kashi, as tradition held the wife sending off the husband into battle, who reveals to him that he has broken her heart and compares their love with that of Krishna and Rukmini. She, heart broken, orders him never to enter her chamber again; which Bajirao accepts teary eyed and leaves.
After Bajirao leaves for battle, Radhabai and Nana Saheb imprison Mastani and Shamsher Bahadur.
After Bajirao single-handedly defeats Nasir, he receives news of this treachery and collapses from his injuries. At his deathbed, Kashi pleads with Radhabai to release Mastani so that Bajirao can recover, but her attempt is futile as Balaji Baji Rao burns the letter and refuses to release Mastani. Bajirao, delirious due to his sickness, dies from the trauma of his hallucinations, just as Mastani passes away in captivity. The two fated lovers are shown to be united in death.
Ranveer Singh as Bajirao I
Deepika Padukone as Mastani
Priyanka Chopra as Kashibai
Tanvi Azmi as Radhabai
Milind Soman as Ambaji Pant
Vaibbhav Tatwawdi as Chimaji Appa
Ayush Tandon as Balaji Baji Rao (alias Nana Saheb)
Mahesh Manjrekar as Chhattrapati Shahu
Aditya Pancholi as Shripad Rao / Pant Pratinidhi
Raza Murad as Chin Qilich Khan, Nizam of Deccan
Irrfan Khan as Narrator
Sukhada Khandkekar as Anubai
Benjamin Gilani as King Chhatrasal
Anuja Gokhale as Bhiubai
Yatin Karyekar as Krishnaji Bhatt
The project spent 12 years in "development hell". Sanjay Leela Bhansali wanted to make Bajirao Mastani, after the release of Devdas (2002).
Bhansali originally wanted his Hum Dil De Chuke Sanam pair Salman Khan and Aishwarya Rai for the eponymous roles, but could not cast them together after their highly publicised break-up. In mid 2003, Bhansali had cast Khan and Kareena Kapoor as the lead pair with Rani Mukerji playing Baji Rao's first wife Kashibai. However, the idea was scrapped when both Khan and Kapoor signed other films together. Bhansali wanted to be the first director to showcase their pairing. Hence, the film was shelved and Bhansali went on to direct Black (2005), Saawariya (2007), Guzaarish (2010) and Goliyon Ki Raasleela...Ramleela (2013).
Over the following ten years, media speculation continued about the production and casting of Bajirao Mastani. Several actors were rumoured to be linked to the project including Ajay Devgn, Shahrukh Khan, Hrithik Roshan, Ranveer Singh, Deepika Padukone, and Katrina Kaif.
In July 2014, it was confirmed that Bhansali had revived the project with Ranveer Singh and Deepika Padukone (the lead pair of Bhansali's Goliyon Ki Raasleela Ram-Leela) playing the titular roles and Priyanka Chopra playing Bajirao's first wife, Kashibai. Both Singh and Padukone underwent extensive preparation for their roles. Bhansali had reportedly approached Daksha Sheth to train the pair in Kalaripayattu, an ancient Indian martial art. Sheth also trained Padukone in the dance style of Kathak. Classical Kathak dancer Pandit Birju Maharaj has also choreographed a Kathak song for Padukone. Singh was required to learn Marathi, learn horseback riding, and shave his head for the role. In addition, the role of Bajirao also required Singh to gain weight to build his physique. In preparation for her role of Kashibai, Chopra took a 15-day coaching course and she will also be undergoing language training in a dialect of Marathi spoken during the time of the ascension of the Peshwas. Irrfan Khan played narrator in the film.
In September 2014, it was confirmed that Tanvi Azmi was cast for the role of Bajirao's mother. Other actresses reportedly considered for this role were Shabana Azmi, Dimple Kapadia, and Supriya Pathak. Tanvi has gone completely bald for her role. In November 2014, the actresses for the roles of Bajirao's sisters were finalised with Sukhada Khandkekar cast as Anubai and Anuja Gokhale as Bhiubai. Mahesh Manjrekar has been cast to play Maratha Emperor Chhattrapati Shahu in the film. The film's costumes will be designed by Anju Modi. It was announced in January 2015 that actor Vaibhav Tatwawadi was chosen to play Bajirao's younger brother, Chimaji Appa.
Principal photography started on 23 September 2014 with Singh and Chopra. Padukone shot for a crucial scene for two days during the end of December 2014 and resumed shooting in March 2015, after completing work for her other projects. Padukone filming included physically tough scenes such as sword fighting while sporting a 20 kg armour. A major portion of the film will be shot in Mumbai's Film City Studios. For the outdoor sequences, Bhansali has finalised Madhya Pradesh, Rajasthan, Gujarat, and Wai of Maharashtra. The Production designers Sujeet Sawant, Sriram Iyengar, Saloni have designed more than 21 sets including Aaina Mahal and Shaniwar wada. Extensive research and designing have been done to construct massive sets. The promo teaser launched recently shows the grandeur and aesthetically stunning visuals of Peshwa Period achieved by the designers. The grand set used in the song "Deewani Mastani" was turned into a museum.
In August 2015, a special graphic web series titled Blazing Bajirao was launched in which the characters of Peshwa Bajirao, Mastani and Kashibai were represented in an animated format. The producers also planned a video game, Blazing Bajirao - The Game, where players can defeat enemies as Peshwa Bajirao.
The film was made on a budget of ₹120 crore (US$18 million). The satellite and music rights of the film were sold for ₹50 crore (US$7.4 million) and ₹70 crore (US$10 million) respectively.
Bajirao Mastani was released on 18 December 2015 in India. The film shared the 5000+ domestic screens with Dilwale in a 40:60 ratio. In the international markets, Bajirao Mastani was released in over 850+ screens with the largest release in China with over 6000 screens later in its run. The descendants of Peshwa and Chhatrasal dynasty protested against the release of film in Pune.
This film is also based on the Marathi novel titled Raau, which is a fictional account of the relationship between Bajirao I and his second wife Mastani. The descendants of Bajirao I and Mastani expressed their disapproval of this film, claiming excessive creative liberty by the director, Sanjay Leela Bhansali, causing wrongful portrayal of their ancestors. A petition was filed in Bombay High Court seeking stay on the film but the High Court refused to interfere with its release.
The dance sequence in the song "Pinga" and the dressing sense of Kashibai and Mastani met criticism from both Kashibai's and Mastani's descendant along with an outcry in social media. Few historians also opined that apart from the inappropriateness of a woman of such stature to dance in public, Kashibai also suffered from a type of arthritis and such dance was not physically possible.
Subhash K. Jha gave the film five stars out of five calling it a "masterpiece", and compared it favorably with Mughal-e-Azam. Anupama Chopra from Hindustan Times gave four stars out of five, terming it "soaring, searing and visually sumptuous", and wrote "Bajirao Mastani plays out a like an operatic, swooning, feverish love poem." She praised the performances by the lead actors and wrote" Ranveer Singh isn't instantly convincing but slowly, he makes you believe. It's a complex role that combines towering strength with aching vulnerability and helplessness. Priyanka Chopra might have fewer scenes but she creates maximum impact. And Deepika Padukone is riveting." The Times of India also gave four stars out of five, pointing out its "outstanding" cinematography and wrote "Every visual resembles a grand painting - courts with shadows and chandeliers, courtiers with tilaks and teers, chambers gleaming with mirrors, skies blushing with passion." Taran Adarsh from Bollywood Hungama gave four stars out of five, describing it as "a cinematic gem" and wrote that "fascinating characters and inspirational sub-plots [in the film] advances into a stunning culmination." He praised the performances, writing "Ranveer Singh is stupendous and clearly in top form. The effortlessness with which he gets into the skin of the character is noteworthy. Deepika is enchanting as Mastani and displays the strength as an actor in several pertinent episodes. Priyanka Chopra's portrayal of Kashibai deserves brownie points."
Zee News also gave four stars out of five and noted "An outright outshining piece of art made unblemished, sprinkled with sincerity and discipline of acting—this love folklore will restore the drama lovers, back in their 'expectation' block." Shubha Shetty-Saha of Mid Day gave three and a half out of five stars, and wrote "Sanjay Leela Bhansali in his characteristic style narrates his version of the story in a Mughal-e-azamesque scale of grandiosity, replete with breathtakingly beautiful sets, elaborate and well thought of costumes and accessories and dreamy cinematography" which transports the viewers to an "unique and stunningly beautiful world." Ananya Bhattacharya of India Today also rated the film three and a half out of five stars, calling it "an experience", and Bhansali "a master love-storyteller." She praised the performance "Ranveer, Deepika, Priyanka shine [...] while Tanvi Azmi plays the intimidating matriarch with elan." However, she thought the editing "could have been much crisper." Koimoi gave three and a half out of five stars praising the Bhansali's direction and score, and wrote "When it comes to direction. Bajirao Mastani is a sheer cinematic brilliance. Bhansali's clear vision of making it an epic romance finally sees light of the day after years of waiting. Costumes, sets and Sudeep Chaterjee's cinematography all confluence into a magnificent presentation." She additionally praised the performances, chemistry between the three lead actors calling it "breathtaking", and the cinematography. Writing for NDTV, Saibal Chatterjee gave the film three and a half out of five stars, and said "There isn't a dull moment in this colourful and dramatic film that embraces excess with unabashed abandon."
Giving a rating of three stars out of five Rajeev Masand described the film as "artistic but exhausting" and was critical of the film's length. However, he praised the cinematography, production design and performances, particularly Chopra's. He wrote "the film benefits from a nice touch of playfulness and humor in Priyanka Chopra's Kashibai. Chopra brings grace to the character, and practically steals the film". On the other hand, Namrata Joshi of The Hindu called the film a "historical leap", and wrote "Sanjay Leela Bhansali returns with another visual spectacle that wilfully takes liberties with the past that it depicts. But it does manage to engage even as it exhausts." Conversely, Raja Sen of Rediff was unimpressed with the film, rating it two out of five stars. However, he praised performances by Chopra and Singh describing as "terrific". He was critical of Padukone's performance writing that "Padukone look giddily entranced, there are times when she appears completely lost. It doesn't help that she's entirely eaten up by Priyanka Chopra, who, while not in the title, owns Bajirao Mastani." Shubhra Gupta of The Indian Express was also disappointed with the film, writing that "Bajirao Mastani' had the potential to be a terrific historical. You want to be transported. What it ends up being is a costume drama : too many costumes, too much revved-up, empty drama, and too little plot."
The original score of the film is composed by Sanchit Balhara, while the original songs are composed by Sanjay Leela Bhansali with assistance by Shreyas Puranik and Devrath Nadaar. The Hindi lyrics are penned by Siddharth–Garima, A. M. Turaz and Prashant Ingole. The soundtrack album was released by Eros Music on November 24, 2015. The original Hindi version of the soundtrack has ten songs. The soundtrack album was also released in Tamil and Telugu versions, the lyrics to the former version penned by Madhan Karky and latter by Ramajogayya Sastry. Both the versions of the soundtrack have eight songs each.
The film collected ₹12.80 crore (US$1.9 million) nett on its opening day which is tenth highest of the year. On its second day the film saw growth in its collection as it collected ₹15.52 crore (US$2.3 million) nett. The film show further growth on its third day as it collected ₹18.45 crore (US$2.7 million) nett to take its first weekend total to ₹46.77 crore (US$7.0 million) nett. The film collected ₹39.88 crore (US$5.9 million) nett in weekdays of its first week to take its first week total to ₹86.15 crore (US$13 million) nett, which is fourth highest of the year.
The film saw growth of nearly 20% in its collection on its second Friday as it collected ₹12.50 crore (US$1.9 million) nett. With this the film made total of ₹98.40 crore (US$15 million) nett and becomes sixth highest grosser of the year. The domestic total of the film was around ₹141 crore (US$21 million) crore nett in eleven days.
The film made around $6.5 million (₹43 crore in overseas revenue in the first week.
At the end of its theatrical run, Bajirao Mastani grossed ₹392 crore (US$58 million) worldwide.