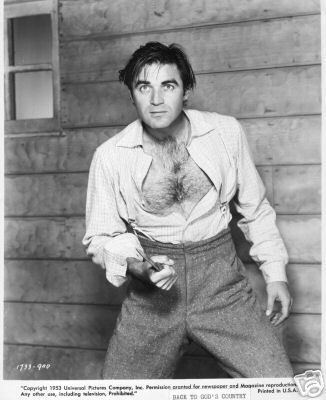 Christened Robert Alexander Cochran, the actor was born in Eureka, California, but grew up in Laramie, Wyoming, the son of a logger. While he appeared in high school plays, he spent more time delving into athletics, particularly shooting hoops. After stints as a cowpuncher and railroad station hand, he studied at the University of Wyoming, where he also played basketball. Impulsively, he quit college in 1937 and decided to go straight to Hollywood to become a star. Working as a carpenter and department store detective during his early days, he gained experience appearing in summer stock and in the early 1940s he was given the chance to work with the Shakespeare Festival in Carmel. There he played "Orsino" in "Twelfth Night", "Malcolm" in "Macbeth", "Horatio" in "Hamlet" and the ungainly title role of "Richard III".
Cochran performed in plays in the Federal Theatre Project in Detroit. During World War II he was rejected for military service due to a heart murmur but directed and performed in plays at a variety of Army camps.,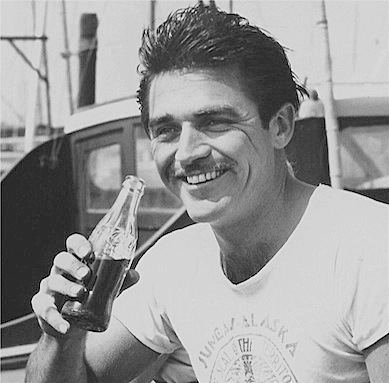 On Broadway, Cochran appeared in Hickory Stick (1943).
Samuel Goldwyn brought Cochran to Hollywood in 1945. From 1949–52 Cochran worked for Warner Brothers in mostly supporting roles (often playing boxers and gangsters). He appeared in many films, including The Chase (1946), The Best Years of Our Lives (1946), Copacabana (1947), A Song Is Born (1948), Highway 301 (1950), The Damned Don't Cry! (1950), Of Love and Desire (1963), and Inside the Walls of Folsom Prison (1951), which inspired Johnny Cash to write his song "Folsom Prison Blues".
One of his most memorable roles was as psychotic mobster James Cagney's power-hungry henchman, Big Ed Somers, in the gangster classic White Heat (1949). In 1953 Cochran formed his own production company, Robert Alexander Productions, where he won critical acclaim for two of his performances in his company's films. Cochran played a disgraced, alcoholic itinerant farmer struggling to regain the love of his family in Come Next Spring (1956), a troubled drifter in Michelangelo Antonioni's Il Grido (1957), produced in Italy. Cochran played Billy in The Deadly Companions (1961). His production company attempted to make some television series and other films such as The Tom Mix Story (with Cochran as Mix), but they were never produced with the exception of a television pilot where he played John C. Fremont in Fremont the Trailblazer. Cochran's final film was Mozambique (1965).
Cochran starred in a string of B movies throughout the 1950s, including Carnival Story (1954). He frequently appeared in episodes of the most popular television series of the era, such as Bonanza, The Untouchables, Route 66, Bus Stop, Stoney Burke, and the 1959 episode "What You Need" (S1, Ep. 12; airdate: Dec. 25, 1959) of CBS's The Twilight Zone.
Cochran was a notorious womanizer and attracted tabloid attention for his tumultuous private life, which included well-documented affairs with numerous starlets and actresses. Mamie Van Doren later wrote about their sex life in graphic detail in her tell-all autobiography Playing the Field: My Story (New York: G.P. Putnam, 1987). He was also married and divorced three times, to actress Fay McKenzie, Florence Lockwood and Jonna Jensen. Cochran was the grandfather of film and television producer Alex Johns, who co-executive produced more than seventy episodes of the animated television series Futurama. In the 2002 documentary The Importance of Being Morrissey, Steven Morrissey claims that his parents named him after Steve Cochran.
Cochran has a star at 1750 Hollywood Boulevard in the Motion Pictures section of the Hollywood Walk of Fame. It was dedicated February 8, 1960.
On June 15, 1965, at the age of 48, Cochran died on his yacht off the coast of Guatemala, reportedly due to an acute lung infection. His body, along with three female assistants, remained aboard for ten days since the three women did not know how to operate the boat. It drifted to shore in Port Champerico, Guatemala, and was found by authorities. There were various rumors of foul play and poisoning, but reportedly no new evidence was found.