Located on the north western side of the state of Maharashtra, the city is an immediate neighbour of Mumbai city and a part of the Mumbai Metropolitan Region, one of the most populous urban agglomerations in the world.
The city boasts of having 33 lakes in the city and is thus fondly known as 'City of Lakes' among its residents.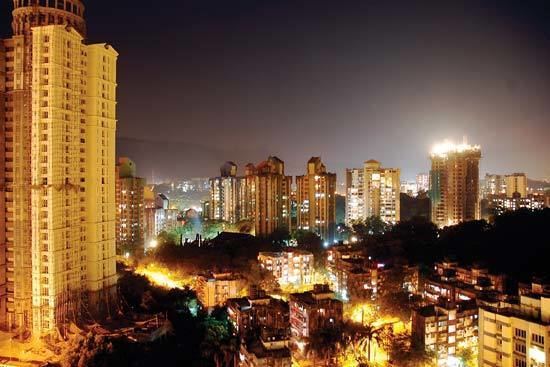 The name Thane, locally pronounced [ˈʈʰaːɳeː], has been variously romanised as Tana, Thana, Thâṇâ, and Thane. Ibn Battuta and Abulfeda knew it as Kukin Tana; Duarte Barbosa as Tana Mayambu.
A copper plate dating to AD 1078 was discovered near the foundations of Thane Fort in 1787. A land grant from Arikesara Devaraja, lord of Tagara, he addresses the inhabitants of a city called "Sri Sthanaka".
In the 14th century, Thane was a major port under a Muslim governor which was celebrated for its production of a cloth known as Tanasi. In 1321, it was the site of the martyrdom of St Thomas of Tolentino and his companions, Franciscans who were executed for blaspheming Muhammad when questioned by the qadi during a domestic abuse case between two local Nestorians. It was also visited during the period by Jordanus (who removed their relics), Odoric of Pordenone (who removed them again), Ibn Battuta, and Abulfeda.
The British occupied Salsette Island, Thana Fort, Fort Versova, and the island fort of Karanja in 1774.
Thane was the terminus for the first ever passenger train in Asia. On 16 April 1853, the passenger train service was inaugurated between Colaba and Thane. Covering a distance of 34 km (21 mi), it was hauled by three locomotives: Sahib, Sindh and Sultan.
Thane is connected with neighbouring suburbs through Central and Trans-Harbour Line Suburban railway network. Thane is a railway junction for the Thane-Vashi Harbour Line and Central Line. It has become the busiest station in Mumbai and one of the busiest in India and handles 6.54 lakh passengers daily.
As of 2013, there are plans of extending the Ghatkopar-Mulund Metro line up to Thane.
On 26 August 2015, MMRDA sanctions ₹35,400 crores for 118 km Mumbai metro network. This includes a 40-km Wadala-Ghatkopar-Thane-Kasarvadavali Metro-4 corridor via Wadala GPO and R.A.Kidwai Marg costing ₹ 12,000 crore.
Bethany Hospital
Jupiter Hospital
Kaushalya Medical Foundation Trust Hospital
Bhaktivedanta Hospital
Horizon Hospital
Currae
Thane Health Care Hospital
Param Hospital & ICU
Hiranandani Hospital
The Thane Club, Thane(w).
Thane has a tropical monsoon climate that borders on a tropical wet and dry climate. Overall climate is equable with high rainfall days and very few days of extreme temperatures.
In Thane, temperature varies from 22 °C to 36 °C. Winter temperatures can fall to 12 °C at night while summer temperatures can rise to over 40 °C at noon. The lowest day time temperatures are witnessed during the peak of summer monsoon in July and August when temperatures can drop to about 25 °C. Out of total rainfall, 80% rainfall is experienced during June to October. Average annual rainfall is 2000–2500 mm and humidity is 61-86%, making it a humid-perhumid zone.
The population of Thane according to the 2011 census is 1,886,941;. Average literacy rate of Thane city is 91.36 percent of which male and female literacy was 94.19 and 88.14 percent. The sex ratio of Thane city is 882 per 1000 males. Child sex ratio of girls is 900 per 1000 boys. Total children (0-6) in Thane city are 186,259 as per Census India report on 2011. There were 98,017 boys while 88,242 are girls. Children form 10.24% of total population of Thane City.
The dominant language spoken in Thane is Marathi. Some of the East Indian families in the Khatri ward of Thane still speak Portuguese.
Thane's lakes include Masunda Lake, also known as Talao Pali, Kachrali Lake, and Upvan Lake.Talao Pali offers boating and water scooter facilities. On the lakefront stands the Gadkari Rangayatan, a drama theatre which is a very popular hub for entertainment. The Kopineshwar Temple on the banks is the oldest temple in the entire district of Thane. It was built and renovated in about 1750 by Chimajji Appa.
Since Thane is an urban area with a population of more than one million, it is governed by a Municipal Corporation, with Thane Municipal Corporation (TMC) being the local governing body established on 1 October 1982. The municipal corporation consisting of democratically elected members, is headed by a mayor and administers the city's infrastructure, public services and transport.Thane ranks at number 17 in the smart city project initiated by the Government of India.
The Mayor is the head of the Municipal Corporation, but the role is largely ceremonial as executive powers are vested in the Municipal Commissioner. The office of the Mayor combines a functional role of chairing the Corporation meeting as well as ceremonial role associated with being the First Citizen of the city.
The TMC has jurisdiction over the suburbs of Kalwa and Mumbra-Kausa, along with the core city of Thane, thus its jurisdiction extending over entire Thane taluka.
After the local body elections held in 2017, the present Mayor of Thane city is Minakshi Shinde, and the current Municipal Commissioner is Sanjeev Jaiswal, a member of Indian Administrative Service (IAS), appointed by the State government of Maharashtra.
The politics of Thane has been predominated by Shiv Sena in the recent decade, with Nationalist Congress Party being in opposition, along with Indian National Congress.
Anand Paranjpe – Member of parliament for Kalyan constituency in 15th Lok Sabha
Eknath Shinde – Cabinet Minister - PWD (MSRDC, Public Undertaking), Government of Maharashtra
Rajan Vichare – Member of parliament for Thane constituency in 16th Lok Sabha
Sanjeev Naik – Member of parliament for Thane constituency in 15th Lok Sabha
Varroon