Photographer is a 2006 Malayalam drama film written and directed by Ranjan Pramod. It stars Mohanlal, Master Mani, Neethu and Biju Menon in major roles. It was the directorial debut of Ranjan Pramod, who has been a successful screenwriter in Malayalam cinema. The film also marks the debut of Kannada actress Neethu in Malayalam cinema as well as the comeback of veteran composer Johnson after a sabbatical of a few years.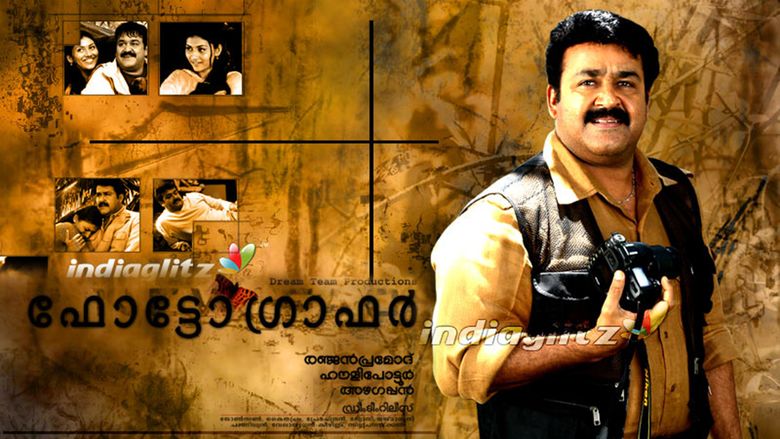 The film is based on the Muthanga incident, in which a policeman and a tribal were killed. Mohanlal plays dual roles in the film, one of a wildlife photographer and the other a farmer. Master Mani, who played the role of a tribal boy won that year's Kerala State Film Award for Best Child Artist. Johnson received the Mathrubhumi Award for Best Music Director for the soundtrack and Mullasserry Raju Music Award for the track "Enthe Kannanu Karuppu Niram".
The film opens, showing us the life of Dijo John (Mohanlal), a nature & wildlife photographer, his wife and young son. In a flashback scene, we see Dijo eloping with Brahmin girl Sathyavathy (Nithyashree).
He keeps taking trips to the forests and clicking pictures for magazines like National Geographic and also on his website which he uses to sell his images online. On one such trip to the forests, he happens to save an Aadivasi boy, Thammi, from the hands of a notorious police officer and his crew and becomes the spokesperson on their behalf.
He even makes a photograph of the police officer aiming at the harmless boy and tries to bring the issue to public. But his friend who is also the state forest minister assures protection to the boy and advises him from making these incidents more public. Thammi who is lodged in a juvenile home, happens to be there for a while but toward the middle of the film goes missing. Then our wild life activist is again on the run towards the interiors of the forest to trace the child. And amidst the new mission, the photographer is also missing.
And then comes the surprise package of the film which turns out to be another non starter. Dijo's younger brother Joy (Mohanlal) is a happy-go-lucky rich planter and a pulp writer who has a publication. He who tries to break comedies and try to be in par with the Lal of late eighties, try to investigate the situation but with little success. Later Dijo is found walking around the forest in a dazed condition as he realizes that his fight for the rights of adivasi is a futile exercise and all including his friend, the forest minister and the bureaucracy is nowhere to help the men of the forest.
Mohanlal as Dijo John / Joy John
Neethu as Sathyavathi
Master Mani
Biju Menon
Master Sougandh (son of Ranjan pramod) as Sharan
Saranya Bhagyaraj
Venu Nagavalli
Manoj K. Jayan
Mammukoya
Ganesh Kumar
Murali as Viplavam Balan
Ambika Mohan as Balan's wife
Daniel Balaji as Inspector