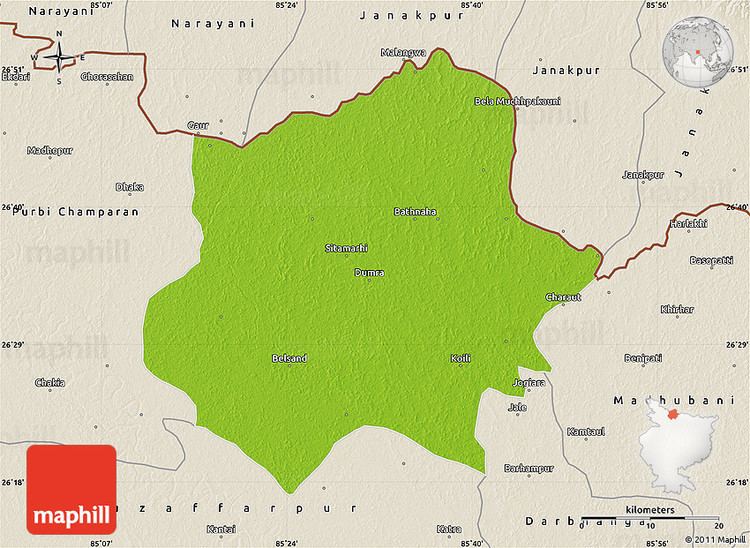 Sitamarhi has suffered natural disasters, including excess flooding. The town was almost completely destroyed by the 1934 Nepal–Bihar earthquake.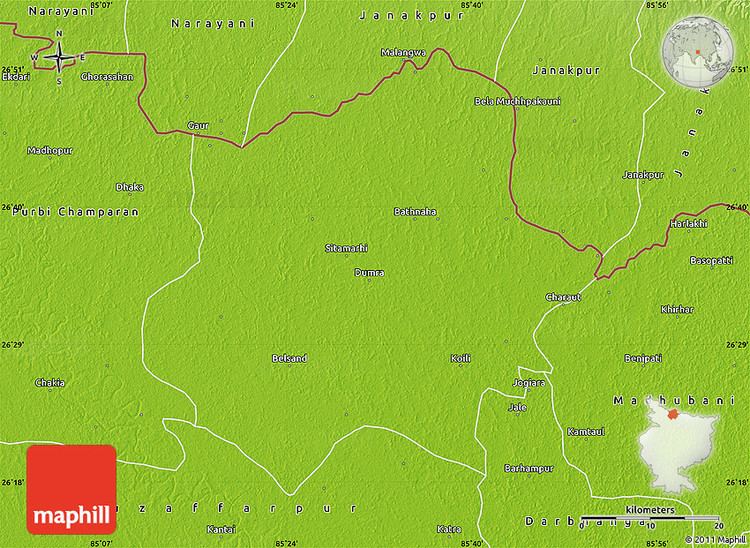 It has been a major site for Rama Navami celebrations every year, with a large fair held to mark the occasion. Engineers and Doctors : Dumra and Sitamarhi has produced many good engineers from top colleges like IIT/NIT/top deemed Universities like Shobhit University (Meerut) etc. There are many upcoming and already successful doctors as well from Colleges like AIIMS/Manipal etc.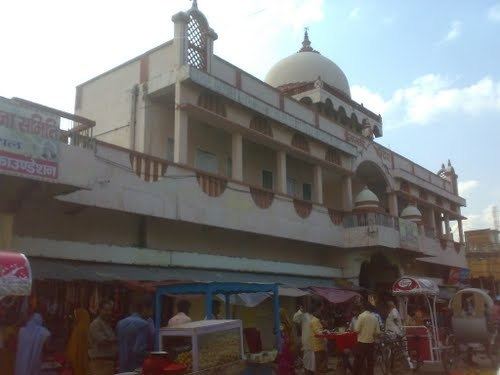 One of the best schools in Sitamarhi is Kendriya Vidyalaya Jawahar Nagar. Established in the year 1965, it has been providing top class education to locals, from other districts of Bihar as well as from neighbouring country Nepal. Over the years KV Jawahar Nagar has produced endless numbers of Doctors, Engineers and Scientists who are leading in all walks of life globally. During the late 1990s Sitamarhi saw a growing number of new schools like NSDAV, Javahar Navodaya Vidyalaya, MP High School (Sitamarhi High School, Dumra), DPS and many other private schools.
Sitamarhi is located in 26.6°N 85.48°E / 26.6; 85.48. It has an average elevation of 56 metres (184 ft).
Sama Chakeva is a prominent winter festival dedicated to celebrate brother sister relationship. A major cultural event is the marriage ceremonies which take much preparation and many cultural rituals.
National Highway 77 connects the area to the Muzaffarpur district and Patna to the south. Sitamarhi has road connections to adjoining districts, of which the major examples are National Highway 77 and National Highway 104. State highways link it to Madhubani district in the east and Sheohar in the west.
The Sitamarhi Junction is on the Darbhanga-Raxaul-Narkatiaganj railway line and has the largest railway station of district. The Darbhanga-Sitamarhi-Raxaul track was converted to broad gauge in February 2014. Another broad gauge track connects Sitamarhi to Muzaffarpur. Direct train services are available from Sitamarhi railway junction to places such as New Delhi, Kolkata, Varanasi, Lucknow, Hyderabad, Kanpur and Mumbai.
The nearest airport to Sitamarhi is the Jay Prakash Narayan International Airport which is about 120 kilometres (75 mi) distant.
Sitamarhi is connected to cities in and around Bihar by state-owned transport services. Some private buses operate between Patna to Sitamarhi and Paktola Village to Patna.
Sitamarhi has an All India Radio Relay station known as Akashvani Sitamarhi. It broadcasts on FM frequencies.
The following is a list of Schools in Sitamarhi, Bihar, India:
Janki Vidya Niketan
Sacred Heart School
Brilliant Public School Sitamarhi
Hellen's School Sitamarhi
N.S.D.A.V.Public School
DELHI PUBLIC SCHOOL Lagma
MP High School (Sitamarhi High School ,Dumra)
Mathura High School
Kendriya Vidyalaya
Lakshmi High School
Kamala-Girls High School
Saraswati Vidya Mandir, Ring bandh