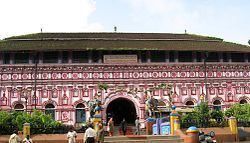 Sirsi is located at 14.62°N 74.85°E / 14.62; 74.85 (Grid Square MK74). It has an average elevation of 590 metres (1936 feet), and is situated in the heart of the Western Ghats. Sirsi is about 425 km from Bangalore. The nearest airport is located in Hubli, about 102 km from Sirsi. River Aghanashini begins at a place near Sirsi called "Donihalla" and flows towards the Arabian Sea in the West. The river also creates many waterfalls along its path.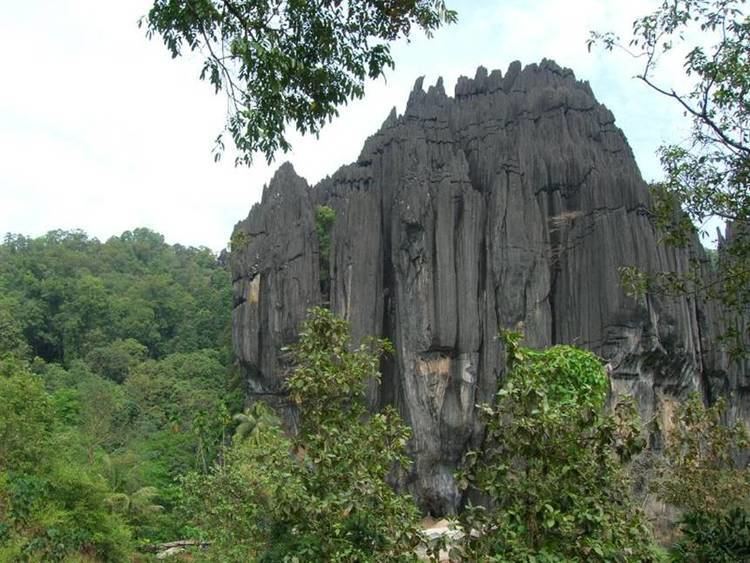 The climate in Sirsi is strongly influenced by the monsoons, and the climate is tropical, moderated by proximity to the sea. During the monsoons, the region receives one of the heaviest rainfall in the world. As a result, the region also has a large variety of wildlife. The vegetation in the region is mainly moist deciduous, and valuable timber wood is commonly found in the forests of the region. Owing to the rich flora and fauna, deforestation and poaching have been causes for concern in recent years. The climate of Sirsi is moderate with winter temperatures rarely dropping below 13 degrees Celsius. Summers can get uncomfortable due to the proximity to the ocean. The best time to visit Sirsi is during winter, when the humidity is lower and the nights can get slightly chilly. The highest temperature recorded here is 40 degrees Celsius and the lowest is 5.8 degress Celsius respectively.
As of 2011 India census, Sirsi had a population of 62,335 within town limits.Males constitute 51% of the population and females 49%. Sirsi has an average literacy rate of 92.82%, which is much higher than the national average of 74.05%: male literacy is 95.26%, and female literacy is 90.43%. About 12% of the population is under 6 years of age.In Sirsi City Municipal Council, Female Sex Ratio is of 1014 against state average of 973.
The major communities of Sirsi includes Havyaka Brahmin, Namadhari Naik,Madivalas,Goud Saraswat Brahmin,Lingayats, Nadavas,Shervegar Naayaks,Gudigars,Daivajnas and Ganigas.
The Havyaka Brahmins of Sirsi speak dialect of Kannada known as Havyaka Kannada. A sizable part of the population belonging to Daivajna and Gavli communities and also Christians speak Konkani. The Muslims in this city speak Urdu.
Sirsi is linked to other parts of the state many state highways. Couple of National Highways are sanctioned by the Ministry of Transport, Government of India passing through Sirsi namely Yellapur-Sirsi-Talguppa and Kumta-Sirsi-Haveri which will be developed and maintained by National Highways Authority of India (NHAI). Sirsi is linked to neighboring district headquarters of Dharwad, Udupi, Haveri, Belagavi, Shimoga and Mangalore. The state corporation has a network of buses to all major cities and towns in Karnataka, Maharashtra and Goa. VRL, SRS,Seabird, Shreekumar Travels, Sri Durgamba Travels and Sugama Transport are the major private bus operators. Premium Volvo and Corona bus services are also available.
The nearest railhead is at Talguppa & Kumta Talguppa is 54 km from Sirsi. and kumta is 62 km from Sirsi Talguppa railway connects Bengaluru city via Sagara. Kumta railway connacts Kochi & Mumbai via Mangaluru & Karawar respectively Major railhead is Hubli, which is the Zonal Headquarters of South Western Railways.
The nearest airport is in Hubli and the other is Belgaum which are about 2.5 hrs and 5 hours drive from Sirsi respectively. Hubli is connected to Bangalore, while Belgaum is connected to Bangalore, Mangalore and Mumbai by air.
Yakshagana is a classical dance drama popular in the state of Karnataka mainly in the districts of North Kanara, Shimoga, Udupi, South Kanara and Kasaragod district of Kerala. There are several Yakshagana artists in and around Sirsi and it is being regularly played in Sirsi. Traditionally, Yakshaganas used to start late in the night and run entire night. Bhagavatha along with background musicians who play Chande and Maddale forms himmela. The actors who wear colorful costumes and enact various roles in the story forms Mummela. Yakshagana is sometimes simply called as Aataā in both Konkani and Kannada (meaning play). Yaksha-gana literally means the song (gana) of a Yaksha. Yakshas were an exotic tribe mentioned in the Sanskrit literature of ancient India.
In Sirsi Holi is celebrated with a unique Carnival. Folk dance called "Bedara Vesha", Which is performed during the nights beginning five days before the actual festival day. The festival is celebrated every alternate year in the town which attracts a large crowd on all the five days from different parts of the India.
Dollu Kunitha is also another folk dance of Sirsi performed during Bedara Vesha and Marikamba Jathra.
Telephones
BSNL provides the landline telephone services and is widely used.
Radio
Dharwad AIR is the nearest radio station. Dharwad AIR station can be heard on 765 kHz Medium Wave and Dharwad Vividha Bharathi can be heard on 103 MHz FM. Both these radio stations have entertained people here for a very long time and are quite popular among the villagers.
Amateur radio
QRZ.COM lists two amateur radio operators in Sirsi using the ITU prefix VU2/VU3.
Television
Sirsi has LPT-49 TV relay station airing Doordarshan National Channel. Cable TV and Direct to Home services are widely used and these have replaced the conventional VHF/UHF TV antennas and satellite dish antennas.
Internet
BSNL Broadband provides fixed-line internet service.
Mobile phone services
Majority of the mobile networks have coverage only in city limits. BSNL mobile has coverage in the rural parts. Airtel, BSNL, Vodafone networks provide 3G data services. Vodafone,Airtel, Jio, Idea and Reliance communications provide 4G LTE services.
Newspapers
Vijaya Karnataka, Prajavani, Samyukta Karnataka, Udayavani and
The Times of India
(all published from Hubli) are the major newspapers popular there. Patrakartha, Janamadhyama, Lokadwani & Sirsi Siri are the local papers published there. Lokadwani can also be accessed on the Internet
http://lokadwani.com
& Janamaadhyama Newspaper, Nuthana TV, Sumukha TV Available in
http://www.sirsi.info
The annual budget of the CMC Sirsi for the year 2009–10 was Rs.1534.28 lakhs, out of which Rs.781.20 lakhs is proposed for capital expenses, Rs.462.45 lakhs towards proposed revenue payment, Rs.232.09 lakhs towards extra ordinary payment, and for development of SC&ST is Rs.9.86 lakhs.
Todadevu is a special kind of thin-crust dosa made out of fresh sugarcane juice. (Most local desserts of Sirsi have jaggery rather than sugar.)
Kadubu: The main ingredients are jackfruit pulp and jaggery. The batter is prepared and, with additional ingredients, the batter is put into a container and steamed. The dessert is a local delicacy and is served hot with ghee.
Karakali is a special kind of chutney which tastes very spicy. It is prepared from colocacia leaves.
Kesari is a special sweet prepared from special small aromatic rice Sannakki ,saffron and ghee. It is generally prepared during marriage ceremonies.
Sirsi is famous for the Marikamba temple, built in 1688 and renovated at periodic intervals. The 'Marikamba Jaathre', commemorating the goddess Marikamba, is held by the temple authorities every alternate year. Nearly a lakh Hindu devotees from all parts of the country attend the fair, making it one of the biggest festivals in the region.
Sodhe or Sonda or Sonda or Swadi flourished during the Vijayanagara Empire and is a considered to be a sacred place by both Hindus and Jains. Sonda is famous for Shri Vadiraja Matha, Shri Swarnavalli Matha and is about 15 km from Sirsi.
A Jain Matha exists there and it is headed by Bhattaraka Swasti Sri Bhattakalanka. The Sonda Jain Matha is also known as the Swadi Jain Matha.
St. Anthony's church is in Sirsi and is situated in the center of the town, and is the main church for the minority Christian population in the region. Another church is St. John Bosco Church situated on Hubli Road. One more beautiful church is Infant Jesus Church in Agasebagil. St.Paul's Mar Thoma Church is situated near the Zoo Circle.
Banavasi, the capital of an ancient kingdom in Karnataka (state) ruled by the Kadamba Dynasty is 24 km away from the Sirsi town center. Banavasi is considered as the "first" capital of Karnataka state, with the current capital being Bangalore. Although most of the ancient grandeur of the dynasty in Banavasi has been lost, an ancient temple for Madhukeshwara (Lord Shiva) is still largely intact, and has been declared a monument of historical importance by the Archaeological Survey of India.
Sahasralinga (Sanskrit for a thousand Shiva (deity) lingas) is another place of significance, where Shiva's sculptures carved out of stones thousands of years ago can be found in the middle of a flowing river. The river is surrounded by lush green forest; the place is about 10 km from the town center. The place is quite secluded, except during "Maha Shivaratri" celebrations when it receives a sizeable number of pilgrims from the surrounding areas.
Sonda, famous for its Sri Vadiraja Matha, and Swarnavalli Mutt are about 15 km away from Sirsi.
Unchalli Falls, (also known as Keppa Joga, referring to the other more famous waterfall nearby, Jog falls) is situated about 30 km from Sirsi, and is one of the biggest tourist attractions near Sirsi. The waterfall is a 116-meter drop and offers spectacular views at all times of the year.
Yana, known for the unusual rock formation. It is located 40 kilometres (25 mi) from Sirsi.
Shivaganga Falls
Burude Falls
Benne Hole falls
Pancha linga
Ganesh Paalu
Mattighatta falls
Waate Halla falls
Duggumane falls
Kumbri gudda
Dhoranagiri
Musukina baavi
Manjaguni Devasthana
Jog falls(Sagara Taluk)
Tapovan – a sacred place of Shri Vadiraja swami
Banagere falls
Nishane gudda
Unchalli Falls
Vibhuthi falls
Sathodi Falls
Sahasralinga
Magod Falls
Bhimana gudda
Goli Siddivinayaka temple
Kashikalyana gudda tuduguni
Jenkal gudda Yellapura
Maruti temple Kolagibese
Sirsi is a popular destination for trekkers and nature lovers alike, owing to its idyllic location in the middle of the Western Ghats. Many viewpoints and mountain peaks provide spectacular views of the Sahyadri mountain ranges. The region is also popular for numerous medicinal plants used in the traditional Ayurveda system of medicine, and there are protected reserves near Devimane Ghats for the conservation of medicinal species and biodiversity in the region.
Mayurasharma-Founder of Kadamba dynasty
Nandan Nilekani- an Indian entrepreneur