The city is 569 m above sea level and is surrounded by lush green paddy fields, arecanut and coconut groves. The population of Shimoga city is 322,428, consisting of 161,978 males and 160,450 females, as per 2011 census.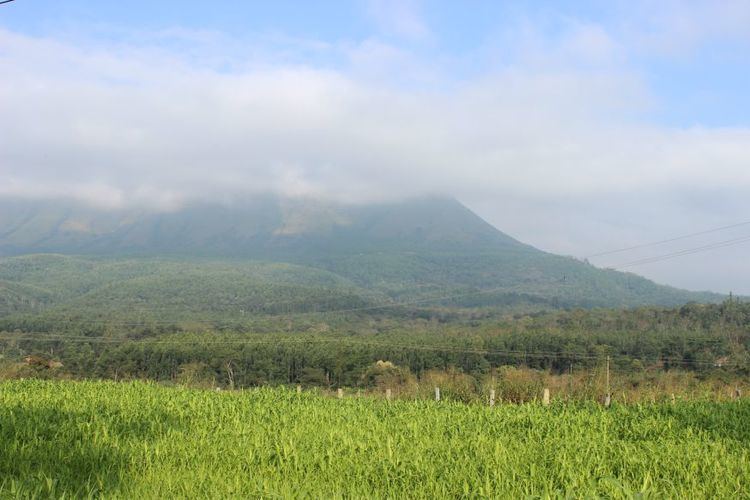 The name of the city is derived from the term "shivmoga", "History behind the city name due to story that the Lord Shiva drunk Tunga river water using Mogge at the city, hence the city name Shiva-mogga". An alternative etymology is that the name is derived from the term "Sihi-Mogge", meaning "sweet pot". The district formed the southern tip of Emperor Ashoka's Mauryan Empire in the third century BC. It was ruled during later centuries by the Kadambas (4th century), Chalukyas (6th century), Gangas, Rashtrakutas (8th century), Hoysalas (11th century), and the Vijayanagara rulers (15th century). The city got an independent identity under the Keladi Nayaka rule during the 16th century, reaching its pinnacle under the rule of Shivappa Nayaka. From the late 17th century onwards, the city was a part of the Kingdom of Mysore until the independence of India in 1947, when Mysore merged into the Republic of India.
On 1 November 2006, the government of Karnataka announced the renaming of Shimoga to "Shivamogga", along with nine other cities in the state. Center government have approved (12 cities) this request by mid on October 2014 and Shimoga is renamed "Shivamogga" on 1 November 2014.
According to the Shimoga City Municipal Corporation, the city has a total area of about 50 km2 (19 sq mi). The climate is tropical wet and dry (Köppen climate classification) summer average temperature 20–35 °C (68–95 °F). This means that the winter and the early part of summer are typically dry periods. The majority of the rainfall occurs between June and early October. Shimoga is a part of a region known as Malnad (land of hills) in Karnataka. Most/all these hills are part of the Western Ghats, a region known for plentiful rainfall and lush greenery and declared during 2012 as a World Heritage site.
Tunga River flows through Shivamogga and Bhadra River flows through Bhadravathi.
In Karnataka Budget 2013-14, Shimoga City Municipal Council upgraded to City Corporation.
The City Municipal Councils of Shimoga, Tumkur and Bijapur upgraded to city corporations.
The presidents and vice-presidents of the City Municipal Councils (CMCs) of Shimoga, Tumkur and Bijapur, which have been upgraded as corporations, will don the role of mayor and deputy mayor and the members will become corporators.
The State government on Friday 20 December 2013 gazetted the notification upgrading three CMCs as corporations. The State Cabinet in September this year had given its nod for giving the three CMCs the status of corporations as their population has crossed the three-lakh mark as per the 2011 census.
The government is likely to grant Rs 100 crore each for the development of these corporations.
With the upgrading of the CMCs, the total number of corporations in the State will rise to 11. The others corporation city in state are: Bangalore, Mysore, Mangalore, Gulbarga, Hubli-Dharwad, Belgaum, Davangere and Bellary.
In summer (April–May), temperature crosses 36 °C at Shimoga.
Shivamogga is an important center for high school and pre-university education (classes 11th and 12th) in Karnataka, along with many other major cities in Karnataka. Bhadravathi is also a major education centre of the district. Notable institutes in Shivamogga for pre-university (PU) education include: Sri Aurobindo PU College, PACE PU College, Acharya PU College (Nandana Education Trust ), Vidya Bharathi PU College, National College, Vidyanikethan College, Sacred Heart, Adichunchangiri P.U. College, DVS P.U. Independent college, DVS Composite College, PES P.U. College. The city gains its importance in part because of lack of good institutes in other parts of the district.
The village of Gajanur hosts a Jawahar Navodaya Vidyalaya (central school) which is a boarding school. Kuvempu University is located in Shankarghatta, at a distance of 20 km from Shivamogga.
Government High School is the oldest education institution in Shivamogga. It was started by the British in 1853. Some other schools include The Educare School, Mandara Jnanadayini School, Inchara School (Gopala), Jnanadeepa, Ikhlas English School, Saandeepani, Vikasa, National Public School, Swami Vivekananda, Oxford, Adi Chunchanagiri, PES, Sarvodaya, Mary Immaculate, Vasavi, Sanjos, (Roman Catholic School), Sacred Heart High School, Loyola English High School (RC Schools), Ramakrishna, Rotary, Mahaveer, DVS and Ayyappa school.
Shimoga Institute of Medical Sciences is the medical sciences college at Shivamogga and managed by Government Departments. Subbaiah Institute of Medical Sciences is located at Purale. Sharavathi Dental College is also located in Shivamogga. Shivamogga also has two engineering colleges, Jawaharlal Nehru National College of Engineering and PES Institute of Technology and Management. Sahyadri College for Science, Commerce and Arts is one of the oldest in Karnataka, run by the Government. Tegginamath Arts Education Society Ayurvedic medical is located in Nidige. There is a veterinary college, which is one among the 4 colleges present in Karnataka.
"Kuvempu Rangamandira" and "Karnataka Sangha" and the newly built "Suvarna Samskruthi Bhavana" are the major venues of the city for cultural activities.
Yakshagana, a dance drama, is popular in Thirthahalli, Hosanagara, Sagar, and Sorab Taluks of the district and this art is also performed in Shivamogga. There are some professional and amateur troupes from Malnad region, performing this dance drama across Karnataka.
Bhadravathi is 20 km from Shivamogga and a four-lane road connects the twin cities. Both are well connected by Road and Rail. There is a 20-year-old plan to make Shivamogga and Bhadravathi twin cities and to establish the Shivamogga-Bhadravathi Mahanagara Palike and thereby develop both cities. Bhadravathi can be called as industrial town with factories like Visvesvaraya Iron and Steel Limited, The Mysore Paper Mills Limited etc. are located there. Bhadravathi-Shivamogga Industrial area, established at Machenahalli, in between the twin cities hosts several industries. Companies like Xchanging have opened their units in Shivamogga.
The population of Shimoga in 322,428, consisting of 161,978 males and 160,450 females, as per 2011 census. Males constitute 51% of the population and females 49%. Shimoga has an average literacy rate of 88.02%, higher than the national average of 59.5%: male literacy is 91.32%, and female literacy is 84.70%.Total children (0-6) in Shimoga city are 31,626 as per figure from Census India report on 2011. There were 16,130 boys while 15,496 are girls. Child sex ratio of girls is 961 per 1000 boys.
Kannada is the most widely spoken language in Shivamogga.Urdu is spoken by certain groups of people.
Industries like Pearlite Industries, Malnad Alloys, Shanthala Sperocast, Vijay Technnocrats, Perfect Alloys, are some foundries manufacture quality castings, supply to major Original Manufacturers in India and also exporting their products to many countries and several other Industries are located in Shivamogga. APMC of Shivamogga is main marketing point of arecanut, the major commercial crop grown in the district and well as in neighbouring districts like Uttara Kannada. Shivamogga has the biggest areca nut market, and known for procuring high quality areca nuts. Other agricultural produces like rice, chili, coconut etc. are also marketed in APMC.
Shivamogga IT Park is an information technology hub built just outside Shivamogga near the future Shivamogga Airport. The IT Park consists of a 100000 sq ft office building with 24/7 electrical capacity, diesel backup generators, and high speed T1 data connections for use by IT industries such as data centres, call centres, aerospace, robotics, etc.
From the state capital Bangalore, Shivamogga can be reached on road by on NH-206. (via Tumkur, Arsikere, Banavara, Kadur, Birur, Tarikere, and Bhadravathi.) KSRTC, the Karnataka State Road Transport Corporation, runs several buses from Bangalore, including Hitech and night services. Shivamogga is around 274 km (170 mi) by road from Bangalore. From coastal side, Shivamogga is accessible by bus or car. This route passes through Agumbe Ghat or Balebare Ghat roads. Mangalore, Sringeri, Dharmastala, Udupi, Hubballi are connected by Road to this city. Shivamogga is better connected with roads from all directions and as such, it is an important bus junction.
The new bus station is spacious and can cater to 882 departures per day and it is one of the biggest bus terminals in the state. It offers facilities like parking bays, waiting lounges, restaurants, etc. This terminal, spread over six acres, has police outpost, computerized reservation counter and waiting rooms.
Shivamogga Town has a railway station, and there are trains that run to and from Bangalore and Mysuru. Direct trains to Shivamogga from other parts of India are non-existent. Birur Junction, which is well-connected to most parts of India by rail (especially from Mumbai), is approximately 51 kilometres (30 mi) from Shivamogga and can be used as an alternative. The most popular trains from Shivamogga to Bangalore are the Shivamogga Express and the Inter City Express Connection train. Intercity train has been introduced on the Shivamogga–Talaguppa railway between Mysuru and Talaguppa via Sagar city (about 98 km or 61 mi from Shivamogga and about 12 km or 7.5 mi from famous Jog Falls).
Shimoga Airport is under construction in Sogane, 6 km south of Shivamogga. The nearest international airports are Kempegowda International Airport and Mangaluru Airport.
Shivappa Nayaka's palace is located within the city.
Kote Seetharamanjaneya temple near Shivappa Nayaka palace.
Gajanur dam lies 15 km or 9 mi to the southwest.
Koodli lies 15 km away and is the place where the Tunga and Bhadra rivers meet and flow together as Tungabhadraa.
Tyavarekoppa Lion and Tiger Safari lies 12 km on the way to Sagara. Safari drives are conducted by forest department.
Sakkare Bayalu, elephant training camp 2 km away from Gajanur Dam on the way to Thirthahalli.
A Shiva statue made of concrete, on river banks is installed at Harakere, near Shivamogga.
Mandagadde Bird Sanctuary, is home to wide variety of water birds.
Guddekal has Subrahmanya Temple near Tunga River on Holehonnur Road.
Gudde Mardi is a small hill near Shivamogga city.
Ragi Gudda is the well known hill near Shivamogga city.
B. S. Yeddyurappa, Member of Parliament (Shivamogga), Former Chief Minister of Karnataka
Sarekoppa Bangarappa, (26 October 1933 – 26 December 2011) was an Indian politician who was the 12th Chief Minister of Karnataka from 1990 to 1992.
Kadidal Manjappa, veteran freedom fighter, Former Chief minister of karnataka
Khadi Shankarappa, veteran freedom fighter.
Justice M. Rama Jois, former Chief Justice of the Punjab and Haryana High Court, former member of Rajya Sabha, former Governor of Jharkhand and Bihar states and a senior advocate in the Supreme Court of India.
Shimoga Subbanna, Kannada Sugama Sangeetha singer and playback singer.
Sudeep, actor and director of Kannada cinema.
Kuvempu, Jnanpeeta Awardee.
G. S. Shivarudrappa, Rashtrakavi.
U R Ananthamurthy, Jnanapeeta Awardee.
Gundappa Vishwanath, famous cricketer.
Diganth, Kannada cinema actor