Signature




Name

Ramdhari Dinkar





Role

Poet




Education

Patna College





Born

Bhumihar Kesari23 September 1908Simaria, Munger(Now Begusarai) district, British India (present-day Bihar, India) (

1908-09-23

)


Occupation

Poet, Freedom Fighter, Member of Parliament, Essayist, Literary critic, Journalist, Satirist,




Notable awards

1959:Sahitya Akademi Award1959: Padma Bhushan1972: Bharatiya Jnanpith


Children

Kedarnath Singh,Ramsevak Singh




Died

April 24, 1974, Begusarai district


Books

Rashmirathi, Urvashi




Parents

Manroop Devi, Babu Ravi Singh




Awards

Jnanpith Award, Padma Bhushan, Sahitya Akademi Award to Hindi writers



Similar

Hazari Prasad Dwivedi, Maithili Sharan Gupt, Sumitranandan Pant
रश्मिरथी(षष्ठ सर्ग):भीष्म-कर्ण संवाद, कर्ण की युद्ध गर्जना :Ramdhari Singh Dinkar: Sandeep Dwivedi
Ramdhari Singh 'Dinkar' (23 September 1908 – 24 April 1974) was an Indian Hindi poet, essayist, patriot and academic, who is considered as one of the most important modern Hindi poets. He remerged as a poet of rebellion as a consequence of his nationalist poetry written in the days before Indian independence. His poetry exuded veer rasa, and he has been hailed as a Rashtrakavi ("National poet") on account of his inspiring patriotic compositions. He was a regular poet of Hindi Kavi sammelan on those days and is hailed to be as popular and connected to poetry lovers for Hindi speakers as Pushkin for Russians.
Contents
Dinkar initially supported the revolutionary movement during the Indian independence struggle, but later became a Gandhian. However, he used to call himself a 'Bad Gandhian' because he supported the feelings of indignation and revenge among the youth. In Kurukshetra, he accepted that war is destructive but argued that it is necessary for the protection of freedom. He was close to prominent nationalists of the time such as Rajendra Prasad, Anugrah Narayan Sinha, Sri Krishna Sinha, Rambriksh Benipuri and Braj Kishore Prasad.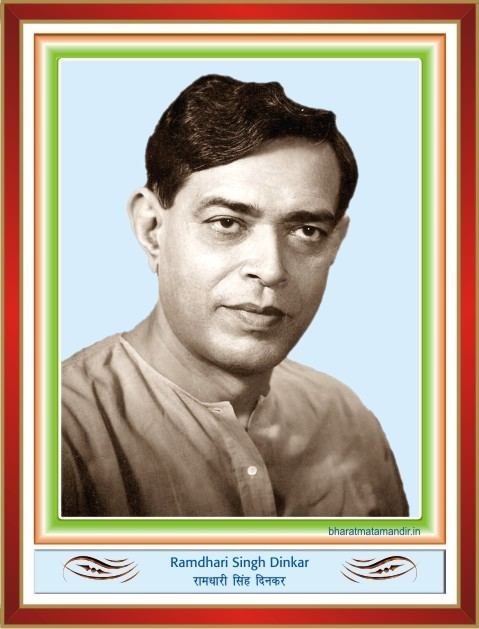 Dinkar was elected three times to the Rajya Sabha, and he was the member of this house from 3 April 1952 to 26 January 1964, and was awarded the Padma Bhushan in 1959. He was also the Vice-Chancellor of Bhagalpur University (Bhagalpur, Bihar) in the early 1960s.
During The Emergency, Jayaprakash Narayan had attracted a gathering of one lakh people at the Ramlila grounds and recited Dinkar's famous poem: Singhasan Khaali Karo Ke Janata Aaati Hai (Devanagari: सिंहासन खाली करो कि जनता आती है; "Vacate the throne, for the people are coming").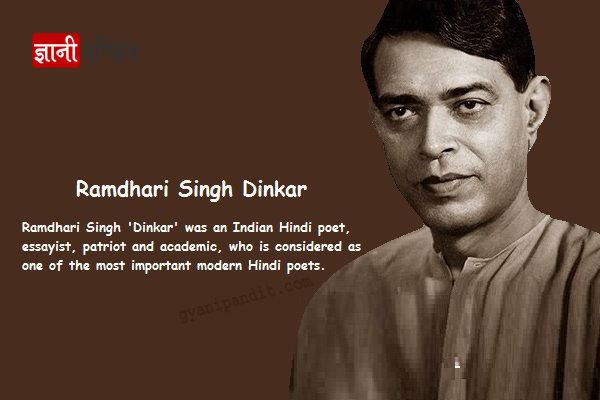 ramdhari singh dinkar quint hindi dr kumar vishwas
Biography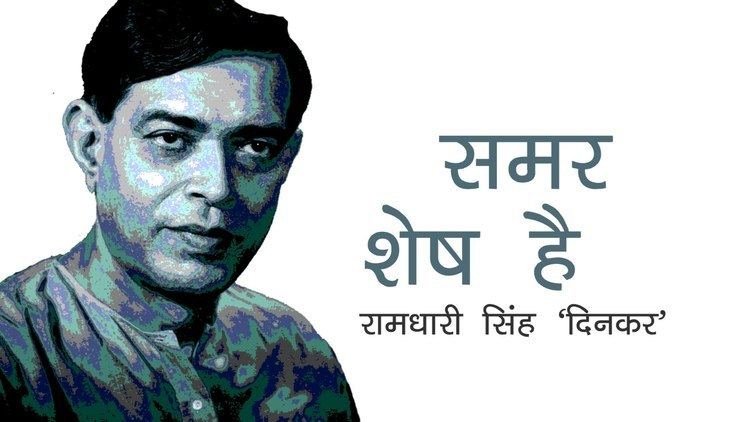 Dinkar was born on 23 September 1908, in Simariya village of Munger district (now in Begusarai District) in Bihar. to Babu Ravi Singh and Manroop Devi.He was married in Tabhka village of Samastipur district in Bihar . As a student, his favourite subjects were history, politics and philosophy. At school and later in college, he studied Hindi, Sanskrit, Maithili, Bengali, Urdu and English literature. Dinkar was greatly influenced by Iqbal, Rabindranath Tagore, Keats and Milton and translated works of Rabindranath Tagore from Bengali to Hindi. The poetic persona of the poet Dinkar was shaped by the pressures and counter-pressures of life during the Indian freedom movement. A tall man, 5 ft 11 inches in height, with a shining white complexion, long high nose, large ears and broad forehead, he tended to have a noticeable appearance.
As a student, Dinkar had to battle day to day issues, some related to their family's economic circumstances. When he was a student of Mokama High School, it was not possible for him to stay on till school closed at four p.m. as he had to leave the class after the lunch break to catch the steamer back home. He could not afford to be in the hostel which would have enabled him to attend all periods. How could a student who had no shoes on his feet manage the hostel fees? His poetry later showed the impact of poverty. This was the environment in which Dinkar grew up and became a nationalist poet of radical views. In 1920, Dinkar saw Mahatma Gandhi for the first time. About this time, he founded Manoranjan Library at Simariya. He also edited a handwritten Pamphlet.
Creative Struggle
When Dinkar stepped into his adolescence, the Indian freedom movement had already begun under the leadership of Mahatma Gandhi. In 1929, when after matriculation, he entered Patna College to study intermediate; this movement started becoming aggressive. In 1928, the Simon Commission, against which nationwide demonstrations were being held, arrived. Demonstrations were held in Patna too and Dinkar too signed the oath-paper. Thousands came to the rally at Gandhi Maidan in which Dinkar also participated. During the protest against Simon Commission, the police of the British Government mercilessly lathi charged the Lion of Punjab, Lala Lajpat Rai, who succumbed to the injuries. The whole country was in a turmoil. The youthful mind of Dinkar became increasingly radical due to these agitations. His emotional nature was charged with poetic energy.
Dinkar's first poem was published in 1924 in a paper called Chhatra Sahodar (Brother of Students). Chhatra Sahodar was a local newspaper established under the editorship of Narsingh Das. In 1928, the peasant's satyagraha under the leadership of Sardar Vallabhbhai Patel proved successful in Bardoli of Gujarat. He wrote ten poems based on this Satyagraha which was published in a book form under the title Vijay-Sandesh (Message of Victory). This composition is now available. Right in front of Patna College, the office of "Yuvak" functioned. To escape the wrath of the government, Dinkar got his poems published under the pseudonym "Amitabh". On 14 September 1928, a poem of his, on the martyrdom of Jatin Das, was published. Around this time he wrote two small works of poetry called Birbala and Meghnad-Vadh, but neither of them is traceable now. In 1930, he composed a poem called Pran-Bhang (The Breach of Vow), which was mentioned by Ramchandra Shukla in his history. So the journey of his poetic career should be deemed to have begun with Vijay-Sandesh. Before this his poems had become a frequent feature of the magazine Desh, published from Patna and of Pratibha, which was published from Kannauj.
Dinkar's first collection of poems, Renuka, was published in November 1935. Banarsi Das Chaturvedi, the editor of Vishal Bharat wrote that the Hindi speaking people should celebrate the publication of Renuka. Around this time, Chaturvediji went to Sevagram. He took with him a copy of Renuka. The copy was given to Mahatma Gandhi.
The famous Historian Dr. Kashi Prasad Jaiswal is said to have loved him like a son. During the early days of Dinkar's poetic career, Jaiswal helped him in every way. Jaiswal died on 4 August 1937, which was a great blow to the young poet. Much later, he wrote in Kalpna, a magazine published from Hyderabad, "It was a good thing that Jaiswalji was my first admirer. Now when I have savoured the love and encouragement of the Sun, Moon, Varun, Kuber, Indra, Brihaspati, Shachi and Brahmani, it is clear that none of them was like Jaiswalji. As I heard the news of his death, the world became a dark place for me. I did not know what to do." Actually Jaiswalji was the first person to appreciate the historical sense in the poetry of Dinkar.
Work
His works are mostly of 'Veer Rasa', or the 'brave mode', although Urvashi is an exception to this. Some of his greatest works are Rashmirathi and Parashuram ki Prateeksha. He is hailed as the greatest Hindi poet of 'Veer Rasa' since Bhushan.
Acharya Hazari Prasad Dwivedi wrote that he was very popular among people whose mother-tongue was not Hindi and he was a symbol of love for one's own mother-tongue. Harivansh Rai Bachchan wrote that for his proper respect he should get four Bharatiya Jnanpith Awards – for poetry, prose, languages and for his service to Hindi. Rambriksh Benipuri wrote that Dinkar is giving voice to the revolutionary movement in the country. Namvar Singh wrote that he was really the sun of his age.
Hindi writer Rajendra Yadav, whose novel 'Sara Akash' also carried a few lines of Dinkar's poetry, has said of him He was always very inspiring to read. His poetry was about reawakening. He often delved into Hindu mythology and referred to heroes of epics such as Karna. He was a poet of anti-imperialism and nationalism, says well-known Hindi writer Kashinath Singh.
He also wrote social and political satires aimed at socio-economic inequalities and exploitation of the underprivileged.
A progressive and humanist poet, he chose to approach history and reality directly and his verse combined oratorical vigour with a declamatory diction The theme of Urvashi revolves round love, passion, and relationship of man and woman on a spiritual plane, distinct from their earthly relationship.
His Kurukshetra is a narrative poem based on the Santi Parva of the Mahabharata. It was written at a time when the memories of the Second World War were fresh in the mind of the poet.
Krishna Ki Chaetavani is another poem composed on events that led to the Kurukshetra war in the Mahabharata. His Samdheni is a collection of poems reflecting the poet's social concern transcending the boundaries of the nation.
His Rashmirathi is considered as one of the best version of Hindu epic Mahabharata.
Sanskriti ke Char Adhyaya
In his Sanskiti ke Chaar Adhyay, he said that despite various cultures, languages and topography, India stands united, because "however different we may be, our thoughts are one and the same". 'Dinkar' made the understanding of historical perspectives much more direct by looking at the history of India's culture in terms of four major encounters: between the autochthons and the Aryans; between Vedic beliefs and the philosophy propounded by the Buddha, as well as by Mahavira; between Hinduism and Islam; and finally between the European civilisation and the Indian way of life and learning. These encounters at different periods of history have imparted strength to India's culture. The most striking feature of India's civilizational history has been its marked tolerance and human approach with its potential to impart a message to the world.
History is not merely a compilation of facts. History is written from an ideological perspective. The poet Dinkar wrote Sanskriti ke char adhyaya in the context of values emerging from the freedom movement. The nationalist view of history, which was propounded by historians in the field of history, is propounded by Dinkar in the field of culture. The values which developed in the context of freedom movement determine the perspective of this book. Those values are anti-colonialism, secularism and the idea of integrated culture. This book has been written around these very values. Dinkar is the nationalist historian of Indian Culture.
Divided into four vast chapters, in the first chapter, the form and development of the culture of India from pre-Vedic times to around the middle of the 20th century has been discussed. In the second chapter the Buddhist and Jain religions which grew as a revolt against ancient Hinduism have been analysed. In the third chapter, the influence of Islam on Hindu culture after its advent along with the influence of Islam on Hindu-Muslim relations, like – nature, language, art and culture has been studied. In this chapter a very authentic investigation into the mutual relation between the Bhakti movement and Islam has been presented. In this context, it has also been considered how the culture of India acquires an integrated form. In the 4th chapter, a comprehensive account of the colonialisation of education and the clash of Christianity with Hinduism, etc., since the advent of the Europeans in India has also been given. In this chapter, along with an inquiry into the Renaissance of the 19th century, the contributions of the leading leaders of Renaissance have been comprehensively discussed. A leading characteristic of this chapter is also that a copious account of the Hindu Renaissance and with it of the Muslim Renaissance and its limitations have been presented.
Dinkar :
Examples of inter-mixture and cultural harmony among peoples belonging to different races, languages and faiths are available in some other countries too (such as Mexico and Ancient Greece), but not to the same extent as in India. In the world there are but four colours of people – white, wheatish, black and yellow – and all four are profusely inter-mixed in the Indian populace Even linguistically, the offspring of all the major language families live together in this country. And as for religion, India as a whole has always been, from the beginning, a land common to all the major religions of the world. The Indians of Tiruvankur had become Christian long before the people of England, and Islam had perhaps already arrived among the Moplas while Prophet Mohammad was still alive. Similarly, the followers of Zoroaster have been inhabiting India since the tenth century. When the Arab Muslims occupied Iran and began to propagate their own religion there, the Parsis fled Iran and came to settle in India. When the Jewish temples began to crumble under the Roman tyranny, a number of Jews fled to India in order to save their faith, and ever since they have been living happily in South India. Therefore, Christianity, Islam, Judaism and Parsi religions have as much a claim over India as Hinduism or Buddhism has.
India's antecedent composite cultural catalytic formation is suggestively sketched out by Dinkar as a product of four cultural revolutions and acculturative tendencies: (a) Aryan-Dravidian (Mongoloid) racial aggregations and admixures and Indo-European/Dravidian/(Tibeto-Burman) linguistic agglomerations and transitions; (b) Vedic or Brahmanical foundational worldview and Jain, Buddhist, Bhakti, Sikh, Sufi, and a variety of neo-Hindu reform movements; (c) Hindu-Muslim encounter, coexistence, and osmosis; and (d) Indo-European contact and British colonial conquest of India. The vast panoramic overview of Dinkar's historiography of India's composite culture verges on a kind of Darwinist evolutionism. The idea of India of Dinkar's imagination is reminiscent of the American 'melting pot' model of assimilative nationalism.
Kurukshetra
For his epic-poetry and highly celebrated work Kurukshetra,
Acharya Hazari Prasad Dwivedi wrote:
Such fierce competition between the flow of language and the depth of thoughts, as revealed in Kurukshetra, is rarely found. Kurukshetra is the pride of our language.
Subhadra Kumari Chauhan wrote:
Dinkar's Kurukshetra is the Bhagavad Gita of the modern age.
Maithili Sharan Gupta wrote:
Kurukshetra, undoubtedly, will add lustre to the honour of Hindi literature. That thoughts can be so breathtakingly poetic is proven beyond doubt in Kurukshetra.
Mahadevi Verma wrote:
Kurukshetra fascinated me so much that I listened to a reading of the whole of it even before I could recover from illness. This blood besmirched question of Mahabharata has been posed to every eon for an answer. Dinkar has replied to the question befitting the spirit of our age.
Acharya Kaka Kalelkar wrote:
This poetry shall serve as pollen to rejuvenate India's ancient civilization.
Acharya Narendra Deva wrote:
The analysis with which the poetry of Kurukshetra is imbued is a grand amalgam of Indian culture and social philosophy.
Loknayak Jayaprakash Narayan wrote:
The poetry in Kurukshetra revolves around the story of Mahabharata but in its expression the soul of today's India seems to reverberate. The philosophy propounded in Kurukshetra is revolutionary, factual and logical. It's compatible with life and talks more of the philosophy of the material than the ethereal.
Nand Dulare Bajpai wrote:
Kurukshetra is a prized gift to the permanent corpus of Hindi literature.
Awards and honours
He received awards from Kashi Nagri Pracharini Sabha, Uttar Pradesh Government and also an award by the Government of India for his epic-poem Kurukshetra. He got the Sahitya Akademi Award in 1959 for his work Sanskriti ke Char Adhyay. He was also a recipient of Padma Bhushan in 1959 by the Government of India. He was awarded the LLD degree by Bhagalpur University. He was felicitated as Vidyavachaspati by Gurukul Mahavidyalaya. He was felicitated as Sahitya-Chudamaniby Rajasthan Vidyapeeth, Udaipur on 8 November 1968. Dinkar was awarded the Jnanpith Award in 1972 for Urvashi. He also became a nominated member of the Rajya Sabha, in 1952. Dinkar's fans widely believe that he truly deserved the honour of "RashtraKavi" (poet of India )
Posthumous Recognitions
The present Prime Minister of India, Narendra Modi wrote a message appreciating the translation of Rashmirathi into English by the Mauritian cultural activist Leela Gujadhur Sarup by writing, "The story of 'a man blessed by the Gods but rejected by Destiny', Rashmirathi is the magnum opus of the Poet laureate of India, Ramdhari Singh, known to all as Dinkar. Reproducing its original in moving English poetry has been a labour of love for Mrs. Leela Sarup, taking her years to do it justice. This will enable a wider range of non-Hindi readers to savour the heart wrenching lyrical poetry of Dinkar."
On 30 September 1987, to mark his 79th birth anniversary tributes were paid to him by the then President of India, Shankar Dayal Sharma.
In 1999, Dinkar was one of the Hindi writers featured on a set of commemorative postal stamps released by Government of India to celebrate the "Linguistic Harmony of India." marking the 50th anniversary since the Indian Union adopted Hindi as its official language.
The government released a book on Dinkar's birth centenary authored by Khagendra Thakur.
At the same time a statue of him was unveiled in Patna at the Dinkar Chowk, and a two-day national seminar was organised in Calicut University.
The Chief Minister of Bihar, Nitish Kumar, laid the foundation stone of an engineering college in the district of Begusarai named after the legendary Hindi poet Ramdhari Singh Dinkar.
On May 22, 2015 Prime Minister Narendra Modi inaugurated golden jubilee celebrations of Dinkar's notable works Sanskriti ke Chaar Adhyaye and Parshuram ki Pratiksha at Vigyan Bhavan, New Delhi.
ABP News and famous Hindi poet Kumar Vishwas made an episode on Ramdhari Singh Dinkar in their program Mahakavi which was aired on 5 & 6 November 2016.
Major poetic works
Dinkar's first published poetical work was Vijay Sandesh (1928). His other works are:
Major prose works
Dinkar's major analytical and other prose works are:
References
Ramdhari Singh Dinkar Wikipedia
(Text) CC BY-SA