Country

India


Language spoken

Hindi


Area

1,918 km2


State

Bihar


District

Begusarai



Begusarai is a city and a municipal corporation in Begusarai district in the state of Bihar, India. Begusarai district is one of the thirty-eight districts of Bihar and Begusarai town is the administrative headquarters of this district. The district lies on the northern bank of the Ganges river . It is located at latitudes 25.15N & 25.45N and longitudes 85.45E & 86.36E. Begusarai is the birthplace of famous Hindi poet Rashtrakavi Ramdhari Singh Dinkar and eminent historian Professor Ram Saran Sharma. Begusarai is known for its IOCL Barauni Oil Refinery , Barauni Thermal Power Station and several other Industries as Begusarai is known as Financial Capital of Bihar. Begusarai was formerly part of Munger district or Monghyr (as per British Rulers official spelling) . The places in Begusarai which are most highlighted are Bihat , Noorpur, Madhrapur, Teghra, Bachvara, Deona, Barauni, Balia, Dira these places are considered as most powerful places of Begusarai District due to strong hold of Communist Party of India Begusarai had traditionally been a communist stronghold and was earlier also referred to as the Leningrad of Bihar.
Contents
Map of Begusarai
History
The name of the district apparently comes from "Begum" (queen) and "Sarai" (inn). The Begum of Bhagalpur used to visit "Simaria Ghat" (holy place on the banks of the Ganges) for a month of pilgrimage, which later took to the slang of Begusarai. Begusarai was established in 1870 as a subdivision of Munger District. In 1972, it was given district status after a strong pressure on the government by Late Rai Saheb Bhubneshwari Sahai, a charismatic leader of the local community who was also the first person in the district to be awarded the prestigious title of Rai Saheb under the British Raj.
Geography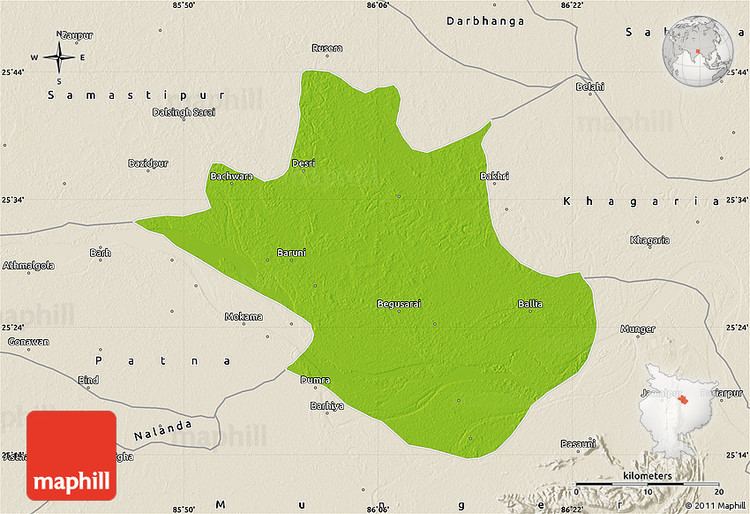 Begusarai is located at 25.42°N 86.13°E? / 25.42; 86.13. It has an average elevation of 41 metres (134 feet). It has an area of 1879 square.
References
Begusarai Wikipedia
(Text) CC BY-SA
(,)http://www.sbsscollegebegusarai.com/images/sbss.jpg(,)http://www.indiavisitinformation.com/india-map-physical/images/bihar.jpg(,)http://upload.wikimedia.org/wikipedia/commons/f/ff/Ancient_india.png(,)http://photos.wikimapia.org/p/00/03/36/55/60_big.jpg(,)http://www.thecheers.org/eng/article_pictures/2809/1885.jpg(,)http://www.gdcollegebegusarai.com/images/gdc_title1.gif(,)http://www.biharheritagewalk.com/sites/default/files/styles/large/public/field/image/Barabar-caves.jpg%3Fitok%3DMG2mgVTa
(,)http://maps.maphill.com/india/bihar/begusarai/maps/physical-map/shaded-relief-outside/physical-map-of-begusarai-shaded-relief-outside.jpg(,)http://maps.maphill.com/india/bihar/begusarai/maps/physical-map/darken/darken-physical-map-of-begusarai.jpg(,)http://maps.maphill.com/india/bihar/begusarai/maps/physical-map/physical-map-of-begusarai.jpg(,)http://maps.maphill.com/india/bihar/begusarai/maps/physical-map/satellite-outside/physical-map-of-begusarai-satellite-outside.jpg(,)http://maps.maphill.com/india/bihar/begusarai/location-maps/physical-map/physical-location-map-of-begusarai.jpg(,)http://maps.maphill.com/india/bihar/begusarai/maps/physical-map/desaturated/desaturated-physical-map-of-begusarai.jpg(,)http://maps.maphill.com/india/bihar/begusarai/panoramic-maps/physical-map/political-outside/physical-panoramic-map-of-begusarai-political-outside.jpg(,)http://www.pathrarelytaken.com/wp-content/uploads/2011/07/image_6.jpg(,)http://3.bp.blogspot.com/_J267wlV_omM/S7NfA1omILI/AAAAAAAAAC4/xErpIwbkqHo/s1600/Har%2BMandir%2BSaheb,%2BPatna.jpg
(,)http://www.prakashhotel.in/images/about.jpg(,)https://gos3.ibcdn.com/hotel-devi-darbar-begusarai-facade-35573828g.jpg(,)http://www.bodhgayatourism.com/photo/bihar-cuisine1.jpg(,)http://i.dailymail.co.uk/i/pix/2013/03/31/article-2302029-19066F32000005DC-307_634x412.jpg(,)http://www.jharkhandbihar.com/productimages/11435.jpg(,)http://www.dwarkamart.in/oc-content/uploads/26/2667.jpg(,)http://www.comesum.com/images/6.jpg(,)http://im.hunt.in/cg/Bihar/Begusarai/City-Guide/respla.jpg(,)http://im.hunt.in/cg/Bihar/Begusarai/City-Guide/ind.jpg(,)http://im.hunt.in/cg/Bihar/Begusarai/City-Guide/swets.jpg(,)http://upload.wikimedia.org/wikipedia/commons/e/ea/Indian_Spices.jpg(,)http://tahitiresorts.co.in/wp-content/uploads/2014/07/slider4.jpg(,)http://tellyupdates.org/wp-content/uploads/2015/03/Begusarai19.jpg(,)http://img.tradeindia.com/fp/2/472/068.jpg(,)http://www.hotelyuvraj.co.in/banner3.png
(,)http://upload.wikimedia.org/wikipedia/commons/d/d5/People_Celebrating_Chhath_on_2nd_Day_Morning_Around_the_Pond.jpg(,)http://i1.ytimg.com/vi/fN1qmcru_Pk/0.jpg(,)http://i.ytimg.com/vi/wIAP2vp2ZgM/0.jpg(,)http://im.hunt.in/cg/Bihar/Begusarai/City-Guide/READYM.jpg(,)http://im.hunt.in/cg/Bihar/Begusarai/City-Guide/hospihjgs.jpg(,)http://im.hunt.in/cg/Bihar/Begusarai/City-Guide/footys.jpg(,)http://im.hunt.in/cg/Bihar/Begusarai/City-Guide/dhanu.jpg(,)http://im.hunt.in/cg/Bihar/Begusarai/City-Guide/phot.jpeg(,)http://im.hunt.in/cg/Bihar/Begusarai/City-Guide/Legal_services.jpg(,)http://i.ytimg.com/vi/cm8ouwJ_mPA/0.jpg
(,)http://www.indiamapssite.com/bihar/travel-map/images/begusarai-travel-map.gif(,)http://www.mapsofindia.com/maps/bihar/districts/begusarai-district-map.jpg(,)https://dularpurdarshan.files.wordpress.com/2012/07/dularpur-math1.jpg(,)http://www.mapsofindia.com/maps/bihar/rivers/begusarai-river-map.jpg(,)http://www.mapsofindia.com/india/maps/begusarai-location-map.jpg(,)http://www.mapsofindia.com/maps/bihar/tehsil/begusarai-tehsil-map.jpg(,)http://www.mapsofindia.com/parliamentaryconstituencies/bihar/images/begusarai-constituency-map-bihar.jpg(,)http://irfancity.beep.com/files/samastipur-district-map.jpg(,)http://rahullohani.com/wp-content/uploads/2013/06/Map.jpg(,)http://www.bihardays.com/wp-content/uploads/2010/10/bihar-agriculture-map.jpg(,)http://www.sunflowerschool.in/images/Sunflowerschool2.jpg(,)http://upload.wikimedia.org/wikipedia/en/archive/2/28/20081018074645!City_of_Patna_19th_century.jpg(,)http://www.mapsofindia.com/assemblypolls/bihar/begusarai-assembly-constituency-map.jpg(,)http://sbsevasansthan.org/images/Begusarai.jpg(,)http://www.bihartraveltours.com/images/coming-soon.png
(,)http://www.hoparoundindia.com/cityimages/bihar/bigimages/Begusarai-Jai%2520Mangla%2520Temple-1.jpg(,)http://www.nativeplanet.com/photos/big/2013/07/_13733726172.jpg(,)http://im.hunt.in/cg/Bihar/Begusarai/City-Guide/naulkha.jpg(,)http://im.hunt.in/cg/Bihar/Begusarai/City-Guide/ocx.jpg(,)http://www.begusarairocks.com/wp-content/uploads/2015/02/Kanwar-Lake-Bird-Sanctuary-Begusarai.jpg.jpg(,)http://www.mybudgettrip.com/bihar/bihar-banner.jpg