Full Name

Rakhee Majumdar




Years active

1967–2003





Children

Meghna Gulzar


Name

Rakhee Gulzar







Born

15 August 1947 (age 76) (

1947-08-15

) Ranaghat, Bengal, Dominion of India(now in West Bengal, India)


Spouse(s)

Ajoy Biswas (m. 1963; div. 1965)Gulzar (m. 1973)
Rakhee Gulzar Real Life Family Photos Biography
Raakhee Majumdar (born 15 August 1947) is an Indian film actress, who has primarily appeared in Hindi films, as well as many Bengali films. She is popularly known as Raakhee Gulzar after her marriage to lyricist-director Gulzar. In four decades of acting, Raakhee won three Filmfare Awards and a National Film Award, among others. At the Filmfare, Raakhee has been nominated 16 times (8 for Best Actress and 8 for Best Supporting Actress), making her the overall most-nominated performer in the female acting categories alongside actress Madhuri Dixit.
Contents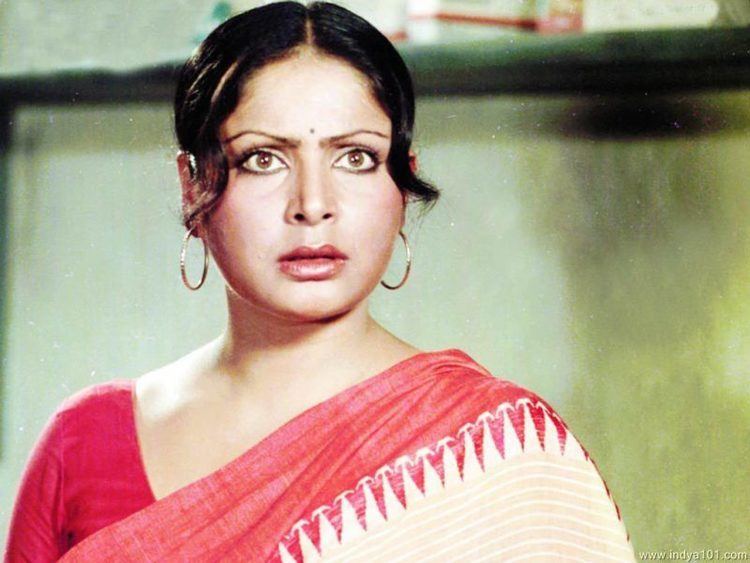 Early life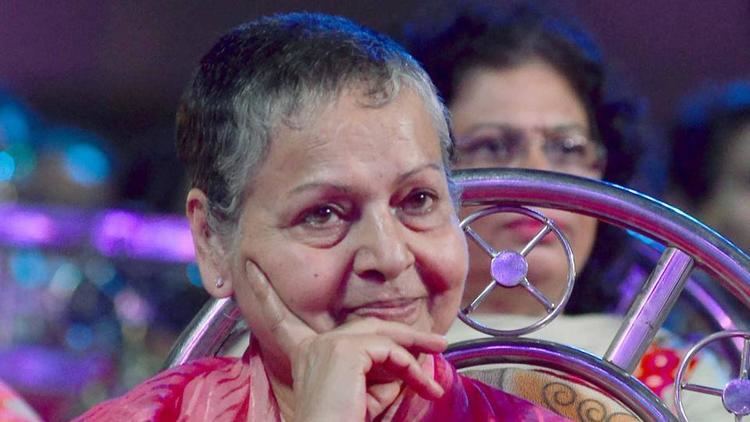 Rakhee was born in a Bengali family at Ranaghat in the Nadia district, West Bengal, in the early hours of 15 August 1947, just hours after the declaration of independence of India. She received her early education in a local girls' school. Her father had a flourishing shoe business in his native village in East Bengal, modern-day Bangladesh, before the partition of India and thereafter he settled in West Bengal. While still a teenager, Raakhee had an arranged marriage to Bengali journalist/film director Ajay Biswas, which ended shortly thereafter.
Career
In 1967, the 20-year-old Raakhee (also credited as "Rakhee") acted in her first Bengali film Badhu Baran, after which she was offered the lead role in her first Hindi film in 1970, Rajshri Productions' Jeevan Mrityu with Dharmendra.
In 1971, Rakhee played a double role opposite Shashi Kapoor in Sharmilee, and in the same year she also acted in Lal Patthar and Paras; all three films were popular and she therefore became established as a major Hindi lead heroine. The filmsShehzada (1972) and Aankhon Aankhon Mein - both showcased her comic abilities.She displayed versatility with Heera Panna (1973), Daag: A Poem of Love (1973), Hamare Tumhare (1979), Aanchal (1980), Shreemaan Shrimati and Taaqat (1982). She regards her performances in Blackmail (1973), Tapasya (1976) and Aanchal to be her best performances. She acted with Dev Anand in Heera Panna, Banarasi Babu, Lootmaar, and Joshila.
Rakhee worked with Shashi Kapoor in 10 released films, including Sharmelee (1971), Jaanwar Aur Insaan (1972), Kabhi Kabhie (1976), Doosra Aadmi (1977), the critically acclaimed Trishna (1978), Baseraa (1981), Bandhan Kuchchey Dhaagon Ka (1983), Zameen Aasmaan (1984), and Pighalta Aasman (1985). She also acted opposite Kapoor in the film Ek Do Teen Chaar, which was produced in 1980 but never released. Her other unreleased film is Majnoon (1979) though the songs were released. Her films with Amitabh Bachchan include Kabhie Kabhie (1976), Muqaddar Ka Sikander (1977), Kasme Vaade (1978), Trishul (1978), Kaala Patthar (1979), Jurmana (1979), Barsaat Ki Ek Raat (1981), and Bemisal (1982). In 1981, the 23-year-old aspiring director Anil Sharma asked her to star in leading role in his debut film Shradhanjali; Raakhee agreed to take the part despite lack of funding for the film project, and the film was successful. She acted in other Bengali films Paroma (1984) and was awarded the BFJA Award for Best Actress. Her last film as the lead female heroine was Pighalta Aasman in 1985 with Shashi Kapoor.
In films like Jurmana, her name is credited ahead of the heroes in credits of the film. She, at the peak of her career as heroine surprised every one by agreeing to play strong characters as sister in law to Rajesh Khanna in Aanchal in 1980, which was followed by playing sister in law to Shashi Kapoor in Shaan, mother to Amitabh in Lawaris and sister in law to Mithun Chakraborty in Dhuan and mother to Rishi Kapoor in Yeh Vada Raha.
Towards the late 1980s and 1990s she played strong character roles as the elderly mother—usually a bereaved and bitter widow whose husband died at the hands of ruthless villains—or woman of principles in commercially successful films such as Ram Lakhan (1989), Anari (1993), Baazigar (1993), Khalnayak (1993), Karan Arjun (1995), Border (1997), Soldier (1998), and Ek Rishtaa: The Bond of Love (2001) and Dil Ka Rishta (2002).
Her last film was Shubho Mahurat in 2003, for which she won the National Film Award for Best Supporting Actress. She has since retired from the film industry.
In one of her interviews she said in 2012 that her favourite co-star among her heroes were Rajesh Khanna and Shashi Kapoor.She was quoted saying " Rajesh was like one of the seven wonders for the industry. There was magic in his face and mannerisms. He was shy and conservative but misunderstood. Why wouldn't he come three hours late for a shot when his co-actors including me took three hours to dress up? He did not use any make up ever. Would anybody from the current crop of actors do a film like Bawarchi?".When she was questioned on her opinion on the films made, she quoted "I am nobody to judge today's cinema but if you insist, here's my personal opinion. Today's hit films have a shelf life of seven days, the lyrics are incomprehensible, and the music is so noisy. Rajesh Khanna brought good films. Amitabh Bachchan brought bad films. I have not seen films after DDLJ."
Personal life
In her second marriage, Raakhee married film director, poet and lyricist Gulzar. The couple have a daughter, Meghna Gulzar. When their daughter was only one year old, they separated. After completing her graduation in films from New York University, Meghna went on to become a director of films including Filhaal..., Just Married and Dus Kahaniyaan, and authored a biography of her father in 2004.
At one point, Raakhee stayed in her bungalow, "Muktangan" (bought from the Marathi playwright P. L. Deshpande), on Sarojini Road in Khar, Mumbai. Later she sold the property and moved to an apartment two buildings away, though the new high rise is still called by the same name, as she had wished. As of 2015 she mostly stays in the Panvel farmhouse on Mumbai outskirts.
References
Rakhee Gulzar Wikipedia
(Text) CC BY-SA