Release date

13 June 1997

Writer

J.P. Dutta (screenplay), O.P. Dutta (dialogue)

Songs

Ke Ghar Kab Aaoge




Cast




Similar

LOC Kargil, Deewaar (2004 film), Refugee (2000 film)
Hindustan meri jaan a scene from movie border
Border is a 1997 Indian war film based on the Battle of Longewala during the Indo-Pakistani War of 1971, produced and directed by J. P. Dutta. The film starred an ensemble cast of Sunny Deol, Sunil Shetty, Akshaye Khanna, Jackie Shroff in pivotal roles. The film is an adaptation from real life events that happened at the Battle of Longewala during the Indo-Pakistani War of 1971. The film was screened retrospective on August 13th 2016 at the Independence Day Film Festival jointly presented by the Indian Directorate of Film Festivals and Ministry of Defense, commemorating 70th Indian Independence Day. It was the highest grossing Bollywood film of the year 1997.
Contents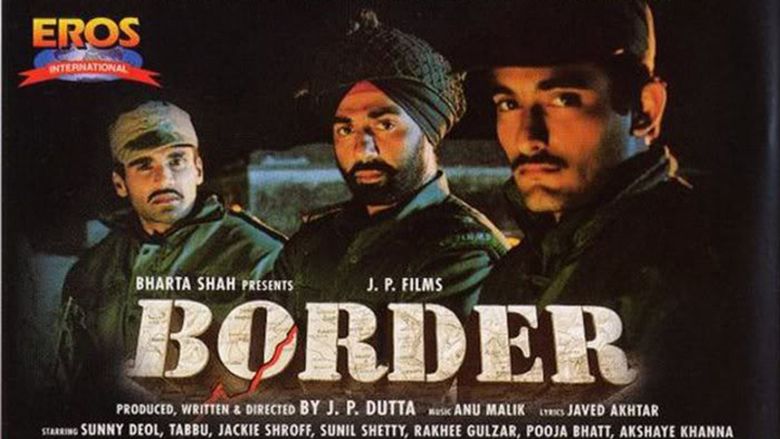 Border 1997 dvd print old super hit hindi movie part 14
Synopsis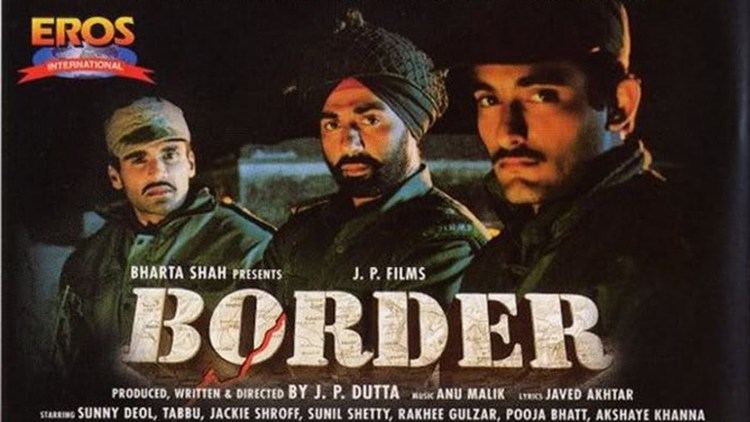 The film opens before the declaration of the Indo-Pakistani War of 1971. At a forward operating airbase, Indian Air Force Wing Commander Anand 'Andy' Bajwa, setting his stopwatch, waits for the air raid siren to go. As the siren goes, he sprints towards his MiG-21, armed, fuelled and ready for take off. Bajwa and his air force wingmen soon take off to an unknown airbase in Rajasthan. Once there, he is debriefed by his superior that he and his squadron are assigned to the Jaisalmer sector and have to fly the outdated Hawker Hunter Ground attack planes (with no night vision capabilities) to support the Indian Army. He is soon joined by his brother-in-arms army Major Kuldip Singh Chandpuri (played by Sunny Deol) as they meet on a courier flight and speak about the possibility of opening of the Western front in light of the East Pakistan conflict. Kuldip takes up command of a company of the 23rd Battalion Punjab Regiment, arguing the light defence being assigned to the military post of Longewala. He meets his second-in-command 2nd Lieutenant Dharamveer Bhan (Akshaye Khanna) (who happens to be the son of a 1965 Indo-Pakistani War veteran who was killed during that war) and the Company JCO Naib Subedar Mathura Das (Sudesh Berry). The company moves to a remote outpost in the deserts of Rajasthan and begin to expand the rudimentary Border Security Force (BSF) post and does observation of the area up to the international border with Pakistan. They meet the post's BSF commandant Bhairon Singh (Sunil Shetty), a deeply patriotic man who expresses his love for the desert.
During a night patrol, Kuldip, Dharamveer and Bhairon Singh come across a suspicious bunch of locals who turn out to be insurgents having informed the identities of the company to the Pakistani military. The trio get into a brief firefight killing all but one of the insurgents when Dharamveer hesitates to shoot the surviving insurgent, as he has never killed anyone. Kuldip severely derides him and shoots the insurgent himself, prompting Dharamveer to vomit. A badly shaken Dharamvir is comforted by Bhairon Singh and the two reminisce about their personal lives. Dharamveer recounts how he met his fiancee Kamla (Pooja Bhatt), a lively girl from his native village whom he had fallen for and how he got his mobilization orders on the day of his engagement to Kamla. Bhairon Singh recounts his wedding night, his first night with his bride (played by Sharbani Mukherjee), when he was called back to post and how he bids a tearful goodbye to his newly-wed wife Phool Kanwar.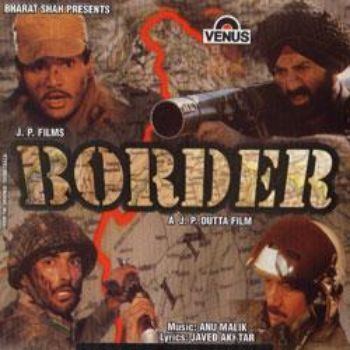 The unit is joined by the charismatic Subedar Ratan Singh (Puneet Issar), a man of insatiable appetite and wit, with two 106mm jeep-mounted RCL guns to serve as an anti-armour unit. The company wireless operator picks up a spy transmitting from a nearby area and Dharamveer sets out to investigate. He ambushes the spy and kills the man, bringing the body back to the post to prove that he has overcome his fear of killing. The unit settles down to wait for the enemy as they keep track of the developing events on the radio. The Indian army starts moving forces to nearby locations preparing to attack if Pakistan tries to open the Western front. This gives hope of soon-to-come action for the men tired of the long wait in the hot and desolate desert. Naib Subedar Mathura Das is granted leave to attend to his wife (who is ailing with cancer) and children. The men receive letters with news from back home and talk among of themselves of the people they left to serve their country.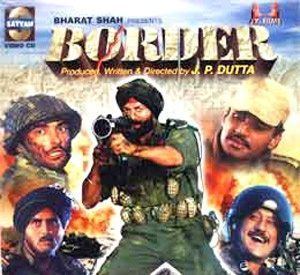 On the evening of 3 December 1971, the unit receives word that the enemy has attacked with Pakistan Air Force planes bombing multiple Indian airbases and that war has been officially declared by the Indian prime minister Indira Gandhi. Dharamveer Bhan and five of his soldiers are sent to patrol the border in a section; Bhairon Singh and his men are assigned to clear out the nearby villages. As Bhairon Singh is briefing the villagers on evacuation, Pakistani artillery batteries start shelling Indian positions and villages. Kuldip joins in the evacuation as heavy shelling occurs, leveling a whole village. In the meanwhile Dharamveer and his patrol spot Pakistani tanks (Chinese Type-59's) and infantry crossing the border into India. He reports back the enemy movement to Kuldip and is ordered to secretly follow the tanks without engaging them. Kuldip radios for air support and speaks to Wing Com Bajwa, who tells him that there can be no air support as his base has only Hunter-Fighters (which mentioned above cannot fly at night). Bajwa tells Kuldip to defend the post as long as possible and that he and his pilots would be in the battlefield at the first stroke of light. In despair, Kuldip radios his CO and explains his untenable position. He is given the option of either holding his post or retreat. He stays. Kuldip then gives the company the choice to leave the post or not, and they all prefer to stick with him and face the Pakistanis to their deaths.
As the unit digs in to face the enemy assault, Mathura returns and apologizes for deserting the men of his company. Kuldip thanks him for returning in time and assigns him to a M-40 RCL Jeep unit, promising Mathura that he will return to his family when the war is over. The post is surrounded by massed enemy armor and infantry while the shelling from across the border continues relentlessly. Fortunately, Kuldip manages to get the company to bury anti-tank mines around the post to prevent the tanks from barging in. Upon seeing one of his tanks being blown by one of the mines, the Pakistani commander Ghulam Dastagir hurls expletives at Kuldip addressing him by name and tells him to retreat or die. Kuldip lashes back and swears and insults Dastagir, addressing him by name. The Pakistani tanks open fire on the post and the battle begins with Kuldip ordering Mathura to destroy the tanks with his RCL units. Though the tide of the battle improving for the Indians at first, Mathura's RCL Jeep is hit by a tank shell, wounding him and prompting Bhairon Singh to extract him from the burning jeep. Mathura is fatally wounded when he goes to extract a recoil spring for Bhairon Singh's MMG and dies in Bhairon's arms. Subedar sacrifices himself to throw away an exploding tank shell to prevent several of his men from being killed. Another tank targets Bhairon's machine gun nest and destroys it, wounding Bhairon. He charges the same tank and destroys it with an anti-tank mine, killing himself and the Pakistani soldiers inside. Dharamveer breaks through the enemy cordon and returns to post, but his entire patrol is wiped out in the process. The Pakistani commander orders a bayonet charge on the Indian position but the attack is beaten back by the Indians with Dharamveer being severely wounded. The Indians capture a Pakistani private who reveals that the Pakistani column plans to capture Jaiselmer by morning, Jodhpur by afternoon, and reach Delhi by night.
As dawn nears, the Pakistanis launch a last-ditch attempt to overrun Longewala post with their massed assault of tanks and infantry, ignoring the danger of the anti-tank mines. Kuldip arming himself with an Anti Tank Rocket Launcher and a Bagful of Grenades gathers the remaining of his depleted force and prepares for a suicide counter-attack on the advancing enemy. The Indians engage in vicious hand-to-hand fighting with Kuldip jumping from tank to tank lobbing grenades down the turret hatches and killing tank commanders with Pistols. Dawn has broken as the fight heats up and Bajwa's Hunter squadron finally takes off from the Jaisalmer Base to aid Kudip's besieged company. The Pakistani attack breaks as tanks after tanks are hit by the planes firing rockets till they retreat across the border. The battle ends as a soldier tries to tell Dharamveer Singh about the victory and realizes that he is dead. The unit is relieved as Indian tanks and artillery arrive and more air-strikes beat back enemy reinforcements. The end credits roll as the Indians launch their counter-offensive and news of the deceased reach their homes, much to their families' sorrow.
During production and filming both the Indian Army and Air force was responsible for its generous contribution in providing vehicles, rifles and machine guns as well as uniforms and tactics used by Pakistani Army during the Battle of Longewala. T-55 tanks resembled Chinese origin Pakistani Type-59s, weapons of the 70s era like Bren machine guns and SLRs as well as Air force Planes like Hawker Hunters and MiG-21s were shown. All the actors especially Sunny Deol, Sunil Shetty, Akshaye Khanna and Jackie Shroff were nostalgic and felt elated and honored to be a part of such an epic War Movie.
Cast
Sunny Deol as Major Kuldip Singh Chandpuri
Jackie Shroff as Wing Commander Umar Shariff
Sunil Shetty as Assistant Commandant Bhairon Singh, B.S.F.
Akshaye Khanna as 2nd Lt. Dharamvir Singh
Puneet Issar as Subedar Ratan Singh
Sudesh Berry as Naib Subedar Mathura Das
Kulbhushan Kharbanda as Havildar Bhagheeram, the cook
Tabu as Kuldip Singh's wife
Pooja Bhatt as Kamla (Dharamvir's fiancee)
Rakhi as Dharamvir's mother
Sharbani Mukherjee as Bhairon Singh's wife
Arvind Trivedi as Pakistan army officer
Hemant Choudhary as Air Force Officer P.D Somesh
Awards
Nargis Dutt Award for Best Feature Film on National Integration – 1998
Won: National Film Award for Best Lyrics, India – Javed Akhtar
Won: National Film Award for Best Male Playback Singer, India – Hariharan For the song "Mere Dushman"
Filmfare Award for Best Director – J.P. Dutta
Filmfare Award for Best Lyricist – Javed Akhtar
Filmfare Award for Best Action – Bhiku Verma and Tinnu Verma
Filmfare Award for Best Male Debut – Akshay Khanna
Star Screen Awards
Star Screen Award for Best Film: J.P. Dutta
Star Screen Award for Best Director: J.P. Dutta
Star Screen Award for Best Lyrics: Sandese Aate Hai Javed Akhtar
Star Screen Award for Best Actor in a Supporting Role (Nominated): Akshaye Khanna et Sunil Shetty
Star Screen Award for Best Playback Singer (Male) (Nominated): Sandese Aate Hai (Roop Kumar Rathod)
Soundtrack
The music is composed by Anu Malik while the lyrics are penned by Javed Akhtar. The songs of the film are not only popular in India but also in Pakistan.
Anti-war message
Border intended to make an appeal against war. Thus, the end of the movie depicted most soldiers dead and the trauma it caused to their family members.
The lyrics of song "Mere Dushman Mere Bhai" sung by Hariharan criticises war and describes its disastrous effects, with the lines "Hum Apne Apne Kheton Mein Gehoon Ki Jagah Chaanval Ki Jagah, Ye Bandookein Kyoon Botein Hain.... Jab Dono Hi Ki Galiyon Mein, Kuch Bhooke Bachche Rotein Hain....!!" ("Why do we grow guns in our farms instead of wheat and rice, when children in our countries cry due to hunger....")
Sequels
In 2013, it was announced that Dutta would undertake sequels to Border, and that Border 2 would star Sangram Singh, and Nafisa Ali's son Ajit Sodhi.
References
Border (1997 film) Wikipedia
(Text) CC BY-SA
Border (1997 film) IMDb
Border (1997 film) themoviedb.org