Genre

Crime, Drama, Thriller




Music director

Anu Malik, Shyam-Surender


Language

Hindi






Director

Abbas–Mustan


Release date

November 12, 1993 (India)


Duration




Country

India





Writer

Robin Bhatt, Javed Siddiqui


Release date

12 November 1993




Songs

Baazigar O Baazigar




Cast

Shahrukh Khan

(Ajay Sharma / Vicky Malhotra), Kajol (Priya Chopra), Shilpa Shetty (Seema Chopra), Rakhee Gulzar (Shobha (Ajay's Mother)), Dalip Tahil (Madan Chopra), Anant Mahadevan (Vishwanath Sharma (Ajay's father))

Baazigar (English: Gambler) is a 1993 Indian crime thriller film directed by Abbas–Mustan starring Shah Rukh Khan and Kajol in the lead roles. It is a contemporary thriller about a young man who stops at nothing to get what he wants. This was Shah Rukh Khan's breakthrough role as the sole lead and Kajol's first commercial success. Actress Shilpa Shetty was supposed to debut with Gaata Rahe Mera Dil, however, it remained unreleased and this became her debut movie. Baazigar was the first film in which Shah Rukh Khan played the role of an anti-hero and the first which earned Khan a Filmfare Award for Best Actor. Initially this movie was offered to Armaan Kohli and Salman Khan to play the lead role, but they all rejected it as the role had negative shades .
Contents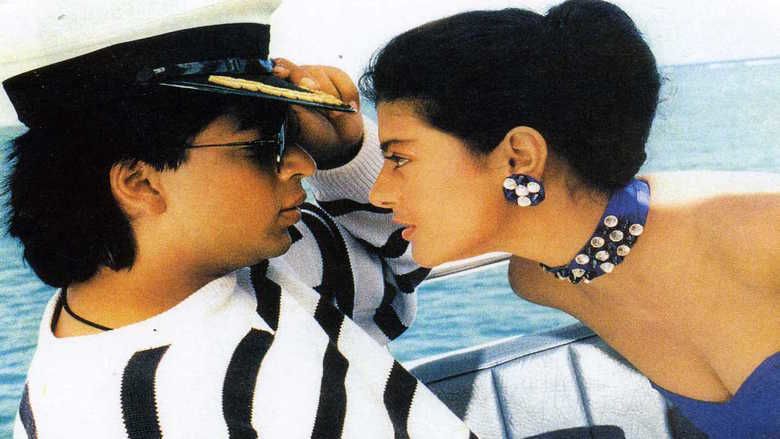 Baazigar was a major commercial success at its release and the first film of the famous Shahrukh Khan-Kajol pair.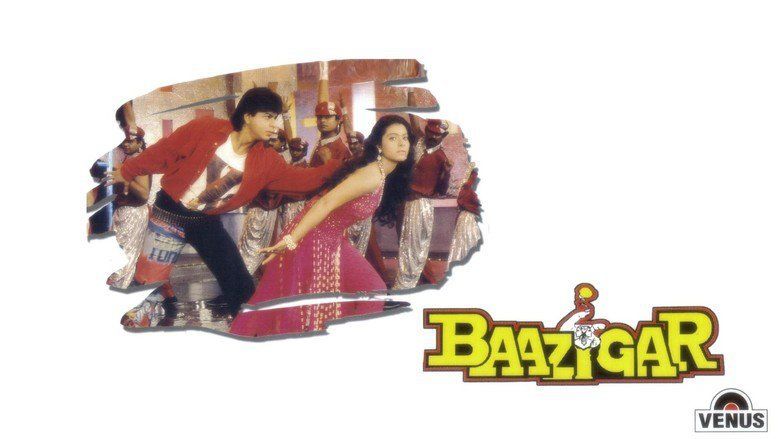 It was remade in Tamil as Samrat with Ramki; in Telugu as Vetagaadu with Rajasekhar; and in Kannada as Nagarahavu with Upendra.
The film brought actors Shah Rukh Khan, Kajol, Shilpa Shetty and composer Anu Malik to the limelight. It is an adaptation of the movie A Kiss Before Dying.
Plot
A boy named Ajay (Master Sumeet) asks a doctor to come see his mother Shobha (Rakhee), who is unconscious. Ajay promises Shobha that he will get revenge on the people, who are responsible for making them cry. The deaths of Ajay's father (Anant Mahadevan) and his baby sister have made Shobha fall unconscious.
Years later, Ajay (Shah Rukh Khan) meets Madan Chopra's (Dalip Tahil) daughter Seema (Shilpa Shetty). Ajay cozies up to Seema, and she falls in love with him. Meanwhile, Ajay pretends to be Vicky Malhotra to create a good impression in the minds of Chopra and his younger daughter Priya (Kajol). Ajay keeps his affair with Seema a secret, under the impression that Seema too doesn't let anybody know she is in love. When Chopra decides to get Seema married, she decides to elope with Ajay. Ajay takes advantage of the opportunity and tricks her into writing a suicide letter.
Later, on premise of getting married secretly, Ajay calls Seema to the office for marriages in Bombay. He takes her to the terrace and suddenly pushes her down, using her suicide note to close the case as suicide. Chopra hastily has the case closed to prevent any further embarrassment. Ajay uses Seema's death to get close to Priya and Chopra. Priya, however, suspects that her sister didn't commit suicide. With help of her college friend and police inspector Karan Saxena (Siddharth Ray), she investigates the matter secretly.
Ravi, a friend of Seema, who had a crush on her, tells Priya about Seema's secret lover. Ravi finds a photo of Seema and Ajay together at a birthday party but is killed by Ajay. Ajay forces Ravi to sign a suicide note, making Priya and Karan believe that Ravi must have been Seema's lover and murderer. Ajay began a double game whilst keeping both the parties in dark. When Ajay puts contact lenses in his eyes to use his fake ID Vicky again, it's revealed that Madan is the person responsible for making Ajay and Shobha cry.
The next day when Ajay sees Madan's chair at Madan's company, a flashback is shown.
When Ajay's father Vishwanath Sharma (Anant Mahadevan), a reputed businessman, discovers that his manager Madan is embezzling money under his nose, Sharma has Madan thrown in jail. After Madan completes his jail term, he re-approaches Sharma and asks for forgiveness. Vishwanath rebukes him, but his wife Shobha takes pity on Chopra's daughters and pleads to her husband. Chopra is reappointed in the company. However, Chopra has come back to exact revenge on his former boss. Slowly, but surely, Chopra regains the confidence of Sharma. One day, when Sharma has to go for a business tour, he hands over power of attorney to Chopra so he can run the company in his absence. Chopra, who has been waiting for such chance, usurps Sharma's company and becomes its de facto owner. Sharma learns of this treachery, by which time his family is ejected from their home after Chopra takes a loan out in their name. More tragedy strikes the Sharma household when his newborn daughter dies of fever and Sharma himself dies of a heart attack while trying to buy medicines for her. Devastated by the turn of events, Shobha goes insane, while Ajay decided to avenge the wrongdoings by making Chopra pay for what he did.
Later, Priya and Vicky coincidentally meet Seema's college friend, Anjali (Resham Tipnis) at a jewelry store. Anjali thinks that she recognizes Vicky. When she finds the photo as well, she calls the Sharma household during Vicky's and Priya's engagement party. Vicky intercepts the call, impersonates Chopra, and arrives at her place. He throttles her, stuffs her body in a suitcase, and throws it in the river. A man and his dog find the body soon after. Priya and Karan realize that the murderer is still alive. Meanwhile, history repeats itself, with Chopra handing over the power of attorney to "Vicky". Ajay decides to hasten up his plans on learning that Priya and Karan are bent on finding the killer.
Ajay's plan hits a glitch when he and Priya run into the real Vicky Malhotra (Adi Irani), Ajay's friend whose identity he had taken. Priya becomes suspicious and decides to contact this Vicky. After returning from his business trip, Chopra is shocked to find that the company is run by a Sharma group. Ajay reveals the truth to Chopra and kicks him out of the company after humiliating him.
Meanwhile, Priya learns of Ajay's true identity from Vicky and rushes to Ajay's home in Panvel. She is shocked to see a picture of Ajay and finds a marriage locket with photos of him with her sister. Ajay comes home, where she confronts him with his misdeeds. He tells her the whole story, and she is dumbstruck by what her father did to Ajay's family. Chopra arrives at Vicky's house with his henchmen to kill Ajay and exact revenge. Ajay goes outside to see some cars coming to his house and is shot by Chopra. After seeing Ajay being beaten by Chopra and hearing Chopra's name being repeated, Shobha regains her sanity and runs to her son's defense. Ajay starts bashing Chopra's goons and overpowers Chopra. Despite the circumstances, Karan and Priya sympathize with Ajay.
In a standoff with Chopra, Ajay spares his life. Chopra impales Ajay with a long iron bar and laughs about his victory. Ajay begins to laugh maniacally as well and rams the bar into Chopra's stomach, with both plummeting from a high wall, killing Chopra and mortally wounding Ajay.
Ajay makes it back to his mother who finally recognizes her son. Ajay promises her that he's gotten revenge for their family misfortunes and reacquired everything that was meant to be theirs — now wanting only to rest peacefully in her embrace. Priya and Karan watch despondently as Ajay dies in his mother's arms at peace.
Cast
Shah Rukh Khan as Ajay Sharma/Vicky Malhotra
Kajol as Priya Chopra
Shilpa Shetty as Seema Chopra, Priya's sister
Raakhee Gulzar in a special appearance as Ajay's mother
Dalip Tahil as Madan Chopra, Priya and Seema's father
Siddharth Ray as Inspector Karan Saxena
Johnny Lever as Babu Lal, the head servant
Anant Mahadevan as Vishwanath Sharma
Resham Tipnis as Anjali Sinha, Seema's friend
Dinesh Hingoo as Bajodia Seth
Manmauji Taalia as the servant
Adi Irani as the real Vicky Malhotra
Master Sumeet as Young Ajay
Sharad Sankla as Charlie (a guy in party)
Daboo Malik as Ramesh
Raju Srivastav as a guy in party with Charlie
Harpal as Motu the cook
Amrut Patel as Seema's driver
Soundtrack
The music was composed by Anu Malik and won him the Filmfare Award for Best Music Director. The song "Yeh Kaali Kaali Aankhein" bagged singer Kumar Sanu his fourth consecutive Filmfare Award for Best Male Playback Singer after Aashiqui, Saajan and Deewana. Other singers featured in the album are Asha Bhosle, Pankaj Udhas, Alka Yagnik, Vinod Rathod and Anuradha Paudwal. The soundtrack was released by Venus Music. Dr. Alban's song "It's My life" was also featured.
Box office
Baazigar was a commercial success declared as a "Super Hit" and the fourth highest grossing Hindi film of 1993.
39th Filmfare Awards
Won
Best Actor — Shah Rukh Khan
Best Music Direction — Anu Malik
Best Male Playback Singer — Kumar Sanu for "Yeh Kaali Kaali Aankhein"
Nominated
Lux New Face — Shilpa Shetty
Best Supporting Actress — Shilpa Shetty
Best Performance in a Comic Role — Johnny Lever
Best Lyricist — Dev Kohli for "Yeh Kaali Kaali Aankhen"
Best Male Playback Singer — Kumar Sanu for "Baazigar O Baazigar"
Best Female Playback Singer — Alka Yagnik for "Baazigar O Baazigar"
References
Baazigar Wikipedia
(Text) CC BY-SA
Baazigar IMDb
Baazigar Rotten Tomatoes
Baazigar themoviedb.org