8.8

/

10

Alchetron

8.8

Rate This











Starring

Cillian MurphySam NeillHelen McCroryPaul AndersonAnnabelle WallisIddo GoldbergSophie RundleJoe ColeNed DennehyBenjamin ZephaniahDavid DawsonAndy NymanCharlie Creed-MilesTommy FlanaganCharlotte RileyFinn ColeNatasha O'KeeffeAimee-Ffion EdwardsNoah TaylorTom HardyGaite JansenAlexander SiddigPacky LeeJan BijvoetDina KorzunPaddy Considine

Awards

British Academy Television Craft Award for Best Photography And Lighting - Fiction

Cast




Similar

The Crown (TV series), Line of Duty, Downton Abbey




Profiles



Peaky blinders series 3 launch trailer bbc two
Peaky Blinders is a British television crime drama based upon the exploits of the Peaky Blinders gang, operating in Birmingham, England, during the aftermath of the First World War. The series was created by Steven Knight and produced by Caryn Mandabach Productions and Tiger Aspect Productions. The series centres around and stars Cillian Murphy as Tommy Shelby, the gang's leader, and Sam Neill as a commissioned detective tasked with the suppression of the gang.
Contents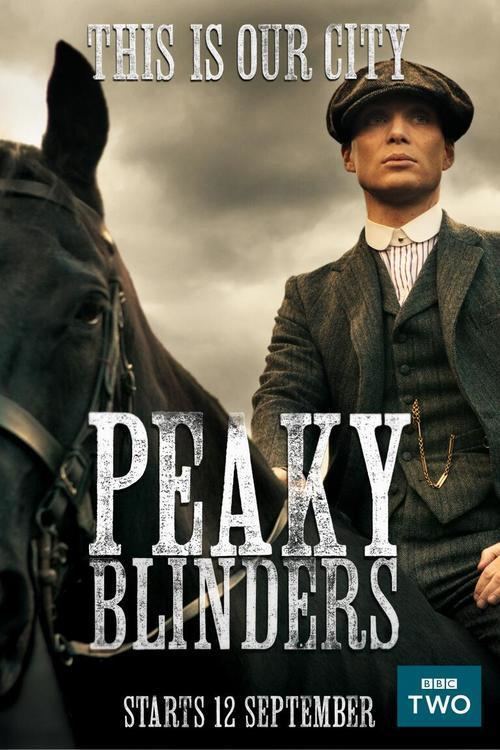 The first series aired on BBC Two on 13 September 2013 and ran for six episodes. The second series premiered on 2 October 2014. The third series premiered on 5 May 2016.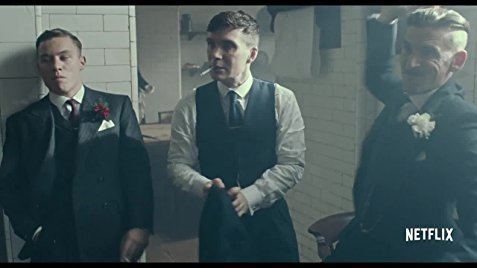 On 26 May 2016, the BBC announced that they had ordered a fourth and fifth series of the show. Series 4 will probably be released late 2017.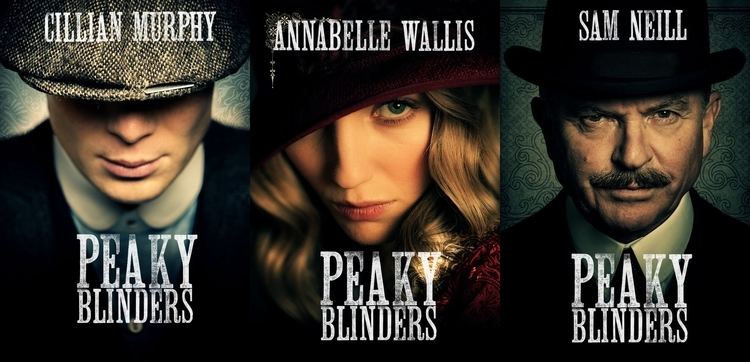 Peaky blinders tv trailer bbc two
Premise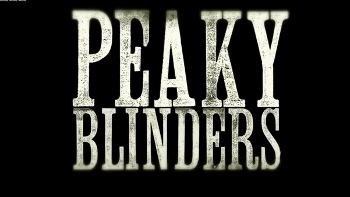 Peaky Blinders is a gangster family epic set in Birmingham, England in 1919, just after the First World War. The story centres on the Romani/Irish Peaky Blinders gang and their ambitious and highly cunning boss Tommy Shelby (played by Cillian Murphy). The gang comes to the attention of Chief Inspector Major Chester Campbell (played by Sam Neill), a detective in the Royal Irish Constabulary sent over by Winston Churchill from Belfast, where he had been sent to clean up the city of the Irish Republican Army (IRA), communists, gangs and common criminals. Winston Churchill (played by Andy Nyman in series 1 and Richard McCabe in series 2) charged him with suppressing disorder and uprising in Birmingham and recovering a stolen cache of arms meant to be shipped to Libya.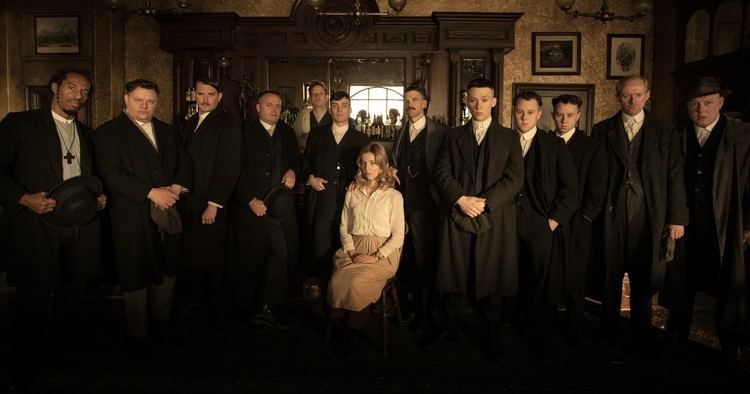 The second series is set two years after the first and sees the Shelby family expand their criminal organization in the "South and North [of London] while maintaining a stronghold in their Birmingham heartland." It begins in 1921 and ends with a climax at Epsom racecourse on Derby Day in June 1922.
Series three is set two years after Series two, in 1924. It follows Tommy and his family as they enter an even more dangerous world as they once again expand, this time, internationally. Internet-based film and TV news company Screen Rant said
The season revolves around the notion of social classes and empires, and how they rise and fall with a startling sort of predictability. As the show suggests, over time, empires become too big, too corrupt, and too complicated to sustain themselves and eventually, they collapse. …[T]he series expresses its fears of expansion by teaching Tommy a powerful lesson about the other sharks skulking around in criminal waters – especially when those criminals are the ones involved in governmental plots with massive geopolitical implications. Essentially, Peaky Blinders embarked on a fish out of water story by moving outside its own comfort zone and taking the risk of expanding too much and too quickly. There are times when that risk appears to have paid off[.]
Series three also added such talents as: Paddy Considine as Father John Hughes; Alexander Siddig as Ruben Oliver, a painter whom Polly enlists to paint her portrait; Gaite Jansen as Russian Grand Duchess Tatiana Petrovna; and Kate Phillips as Linda Shelby, wife of Arthur.
Main
Cillian Murphy as Tommy Shelby (Series 1–): The overall leader of the Peaky Blinders, and brother of Arthur, John, Ada, and Finn Shelby. Tommy served in World War I with the rank of Sergeant Major and was decorated for bravery. His experiences in World War I left him disillusioned and beset with ongoing nightmares.
Sam Neill as C.I. (later Major) Chester Campbell (Series 1–2): An Ulster Protestant Irish Major drafted from Belfast to locate and recover a missing consignment of Lewis guns accidentally stolen by the Peaky Blinders. Campbell was illustrious for his work in ridding Belfast of its gang elements. Campbell also had developed a vendetta against the Peaky Blinders, in particular, Tommy Shelby, and vowed to destroy Tommy and the Peaky Blinders.
Helen McCrory as Polly (Elizabeth) Gray, née Shelby (Series 1–): The aunt of Tommy and his siblings, and treasurer of the Peaky Blinders. She led the organisation when Tommy, Arthur, and John were fighting in World War I. Polly's two children, Anna and Michael, were taken away from her as infants. In series 2, Polly reunites with her son but learns her daughter had died.
Paul Anderson as Arthur Shelby, Jr. (Series 1–): The oldest Shelby sibling and the bulldog of the family. Arthur owns The Garrison. He also suffers from severe shell-shock or PTSD from his experiences in the war, and suffers from violent outbursts, constant mood swings, and attempts at suicide. Arthur is one of the leaders of the Peaky Blinders.
Annabelle Wallis as Grace Shelby née Burgess (Series 1–3): A former undercover agent and Ulster Protestant Irish woman working with Chester Campbell. She was undercover as a barmaid at The Garrison.
Sophie Rundle as Ada Thorne, née Shelby (Series 1–): The Shelby brothers' only sister. Ada is the only sibling not involved with the Peaky Blinders. She had a son with Freddie Thorne, whom she named Karl (named after Karl Marx).
Joe Cole as John Shelby (Series 1–): The third youngest Shelby. He's a World War I veteran and is one of the Peaky Blinders' leaders.
Tom Hardy as Alfie Solomons (Series 2–): The leader of a Jewish gang, in Camden Town. He is violent and unpredictable, but intelligent. Solomons runs a distillery disguised as a bakery.
Iddo Goldberg as Freddie Thorne (Series 1): A known communist. Freddie fought in the Great War as a sergeant, alongside Tommy. He saved Tommy's life. Currently a semi-rival of Tommy and the Peaky Blinders. In a romantic relationship with Ada Shelby.
Noah Taylor as Derby Sabini, a member of an Italian gang. (Series 2)
Charlotte Riley as May Carleton, a wealthy widow who owns racehorses. (Series 2)
Aimee-Ffion Edwards as Esme Shelby, née Lee (Series 1–): John Shelby's wife. Esme married John as part of a deal between the Peaky Blinders and the Lees (a Gypsy family) to form a partnership.
Finn Cole as Michael Gray (Series 2–): Polly's biological son.
Natasha O'Keeffe as Lizzie Starke (Series 1–): A former prostitute who works for Tommy as his secretary.
Ned Dennehy as Charlie Strong (Series 1–): Owner of a boatyard and an uncle figure to Tommy.
Tony Pitts as Sergeant/Inspector Moss (Series 1–): Policeman on Peaky Blinders pay roll.
Ian Peck as Curly (Series 1–): Assistant to Charlie Strong.
Charlie Creed-Miles as Billy Kimber (Series 1)
Paddy Considine as Father John Hughes (Series 3): A Father working with Section D (The Economic League) in the British government.
Alexander Siddig as Ruben Oliver (Series 3): A portrait artist.
Recurring
Alfie Evans-Meese as Finn Shelby (Series 1)
Harry Kirton as Finn Shelby (Series 2-)
Andy Nyman as Winston Churchill (Series 1)
Richard McCabe as Winston Churchill (Series 2)
Benjamin Zephaniah as Jeremiah Jesus (Series 1–)
David Dawson as Roberts (Series 1)
Neil Bell as Harry Fenton (Series 1)
Lobo Chan as Mr Zhang (Series 1)
Samuel Edward-Cook as Danny "Whizz-Bang" Owen (Series 1)
Sam Hazeldine as Georgie Sewell (Series 2)
Adam El Hagar as Ollie (Series 2)
Jordan Bolger as Isaiah (Series 2–3)
Production
Peaky Blinders was created by Steven Knight, directed by Otto Bathurst, and produced by Katie Swinden. The writers are listed as Steven Knight, David Leland, Stephen Russell and Toby Finlay.
The series was filmed in Birmingham, Bradford, Dudley, Leeds, Liverpool and Port Sunlight. Railway sequences were filmed between Keighley and Damems, using carriages from the Ingrow Museum of Rail Travel (owned by Vintage Carriages Trust) and carriages owned by the Lancashire and Yorkshire Railway Trust.
Sam Neill enlisted the help of Northern Irish actors James Nesbitt and Liam Neeson to help him perfect a Northern Irish accent for the role of C.I. Campbell. In the end, he had to tone down the accent since the series is being marketed in the United States.
Controversially the production did not hire linguists to assist in the show, leading to the gypsies frequently speaking broken Romanian (as opposed to Romani) until season three.
Second series
A second series was commissioned shortly after the broadcast of the first and aired in the autumn of 2014. On 11 January 2014, auditions were held in Digbeth area of Birmingham (near where parts of the series are set) for white and mixed race teenage male extras, resulting in lengthy queues.
Third series
Shortly after the final episode of the second series, the show announced via its official Twitter account that it had been renewed for a third series. On 5 October 2015, the official Peaky Blinders Twitter account announced that filming had begun for Series 3. Filming wrapped on 22 January 2016, after 78 days of shooting.
Future of Peaky Blinders
During the initial broadcast of series three, BBC Two renewed the Peaky Blinders for Series 4 and 5. Both 4 and 5 will follow suit for 6 episodes each. Creator and writer Steven Knight will return to write every episode of Series 4 and 5. Cillian Murphy has also confirmed his return for both series. The rest of the main cast are expected to return. Filming for series 4 is expected to start early 2017, for a possible late-2017 release.
US distribution
On 24 September 2014, it was announced that Netflix had acquired exclusive US distribution rights from The Weinstein Company and Endemol. The entirety of season 1 became available for streaming on 30 September 2014; season 2 launched in November 2014. Season 3 was made available 31 May 2016. Due to licensing restrictions, however, most of the show's original soundtrack is not available on the Netflix-distributed version of the series.
Reception
The reception for Peaky Blinders was largely positive, with notable praise for its writing, acting, visual style, and stylish cinematography. David Renshaw of The Guardian summarised the series to be a "riveting, fast-paced tale of post-first world war Birmingham gangsters", praising Murphy as the "ever-so-cool Tommy Shelby" and the rest of the cast for their "powerful performances." Sarah Compton of The Telegraph gave the series a 4/5 rating, praising the show for its originality and "taking all of our expectations and confounding them." Alex Fletcher from Digital Spy believes that "Peaky Blinders has started as sharp as a dart," while Den of Geek called the series "the most intelligent, stylish and engrossing BBC drama in ages." Cult TV Times critic Hugh David said that the show "warrants the billing" by "managing to tick several ratings boxes – period drama, gangster epic, film star leads – yet go against the grain of those in the most interesting of ways."
The show has been particularly celebrated for its stylish cinematography and charismatic performances, as well as for casting an eye over a part of Britain and British history rarely explored on television. Historians have been divided over whether bringing characters and events from other decades into a 1920s story undermines claims to historical accuracy, or whether working-class life in the period is nevertheless depicted in a truthful and resonant way. Reviews for the second series have remained positive, with Ellen E. Jones of The Independent commenting that "Peaky Blinders can now boast several more big-name actors to supplement the sterling work of Cillian Murphy, Helen McCrory and Sam Neill", referring to second series additions Tom Hardy and Noah Taylor.
Several critics have also favourably compared the show to US drama Boardwalk Empire, which shares the same themes and historical context. Show writer Steven Knight stated in an early interview: "Do you know – and I'm not just saying this – but I've never watched them. I've never seen The Wire, I've never seen Boardwalk Empire, I've never seen any of them." When asked if he deliberately avoided watching these dramas, he responded: "It's sort of deliberate in that I don't really want to be looking at other people's work because it does affect what you do inevitably." On 2 March 2016, Steven Knight told the Crime Scene Quarterly, "I've had unsolicited communication from Michael Mann, the film director, from Dennis Lehane, Snoop Dogg – he's such a fan. And the late David Bowie was a huge fan – more of that to come" (strongly hinting Bowie's involvement on Series 3). It was later confirmed that David Bowie's music will be featured, and Leonard Cohen has also written a new song for series 3.
References
Peaky Blinders (TV series) Wikipedia
(Text) CC BY-SA