Created by

Walt DisneyUb Iwerks




Creators

Ub Iwerks, Walt Disney





First appearance

Trolley TroublesSeptember 5, 1927




Voiced by

Bill Nolan (1929)Pinto Colvig (1930–1931)Mickey Rooney (1931)Bernice Hansen (1932–1938)Various (1932–1938)Walter Lantz (1935)June Foray (1943)Frank Welker (2010–present)


Relatives

Floyd and Lloyd (original sons until Disney brought him back), Ortensia the Cat/Sadie (girlfriend, later wife), Fanny (ex-girlfriend), The Bunny Children (children)




Voices

Bill Nolan, Pinto Colvig, Mickey Rooney, Bernice Hansen, Walter Lantz, June Foray, Frank Welker


Movies

Oh - What a Knight, The Egg Cracker Suite, The County Fair, Broadway Folly




Similar

Mickey Mouse, Felix the Cat, Goofy, Mortimer Mouse, Pete
Sky scrappers oswald the lucky rabbit cartoon
Oswald the Lucky Rabbit (also known as Oswald the Rabbit or Oswald Rabbit) is an anthropomorphic rabbit and animated cartoon character created by Ub Iwerks and Walt Disney for funny animal films distributed by Universal Studios in the 1920s and 1930s, serving as the Disney studio's first animated character to feature in their own series. 26 animated Oswald one-reelers were produced at Walt Disney Animation Studios (the Walt Disney Studio at the time) before Walt Disney was eventually separated from the project and went on to create Mickey Mouse. Charles Mintz, and later Walter Lantz, took over production, creating new Oswald cartoons until 1943.
Contents
In 2003 Buena Vista Games pitched a concept for an Oswald-themed video game to Disney President and COO Bob Iger, who then became committed to bringing Oswald back to Disney. In 2006, nearly 80 years after the Disney studio broke away from Universal, The Walt Disney Company managed to acquire the intellectual property of Oswald and the catalog of Disney-produced Oswald films (with NBC/Universal effectively trading Oswald for the services of Al Michaels as play-by-play announcer on NBC Sunday Night Football).
Oswald returned to prominence in Disney's 2010 video game, Epic Mickey. The game's metafictional plot parallels Oswald's real-world history, dealing with the character's feelings of abandonment by Disney, and jealousy towards Mickey Mouse. He has since appeared in Disney theme parks and comic books, as well as two follow-up games, Epic Mickey 2: The Power of Two and Epic Mickey: Power of Illusion. More recently, Oswald made a cameo appearance in the 2013 animated short Get a Horse! He was the subject of the 2015 feature film Walt Before Mickey. Oswald also appears as a townsperson in Disney Infinity 2.0.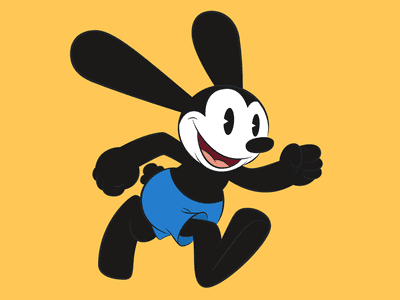 Characteristics
During his days under Disney, Oswald was one of the first cartoon characters that had personality. As outlined by Walt himself: "Hereafter we will aim to [make] Oswald a younger character, peppy, alert, saucy and venturesome, keeping him also neat and trim." With Oswald, Disney began to explore the concept of "personality animation", in which cartoon characters were defined as individuals through their movements, mannerisms and acting, instead of simply through their design. Around this period, Disney had expressed, "I want the characters to be somebody. I don't want them just to be a drawing." Not only were gags used, but his humor differed in terms of what he used to make people laugh. He presented physical humor, used situations to his advantage, presented situational humor in general and frustration comedy best shown in the cartoon The Mechanical Cow. He would make use of animal limbs to solve problems and even use his own limbs as props and gags. He could be squished as if he was made of rubber and could turn anything into tools. His distinct personality was inspired by Douglas Fairbanks for his courageous and adventurous attitude as seen in the cartoon short Oh, What a Knight.
In regards to Oswald's personality, Disney historian David Gerstein highlights the distinct differences between Mickey and Oswald as thus:
You might say that Mickey's personality is a bit less inherently funny, but you still have just as much fun with him by putting him in incredible jams. Oswald ... let's put it like this: imagine Mickey if he were a little more egotistical or fallable, or imagine Bugs Bunny if he talked the talk but wasn't as good at walking the walk.
In order to make his Oswald cartoons look "real", Disney turned away from the styles of Felix the Cat, Koko the Clown and Krazy Kat and began emulating the camera angles, effects and editing of live-action films. To learn how to base gags on personality and how to build comic routines, rather than heaping one gag after another, he studied Laurel and Hardy, Harold Lloyd, Charlie Chaplin and Buster Keaton. In order to stir emotion in an audience, Disney studied and scrutinized the shadow effects, cross-cutting and staging of action in films featuring Douglas Fairbanks and Lon Chaney.
Walt Disney did not want for Oswald to simply be "a rabbit character animated and shown in the same light as the commonly known cat characters", as well as merely just a peg for gags. Instead, his stated intention was "to make Oswald peculiarly and typically OSWALD."
Creation under Disney
In 1927, because of cost and technical restrictions, Disney and his chief animator Ub Iwerks decided to end their work on the Alice Comedies series in search of new creative opportunities. Coincidentally, Universal Studios wanted to get into the cartoon business and needed a cartoon character of its own. So Disney's distributor Charles Mintz told Disney and Iwerks to create a new character they could sell to Universal. Wanting to make cartoons with an all-animated look, Disney signed a contract with Universal Studios leading to the creation of Oswald the Lucky Rabbit and Universal's first cartoon series. Work on both the character and series began soon after Disney moved his studio to Hyperion Avenue.
Disney chose to make the character a rabbit since there were so many animated cats (Felix the Cat, Krazy Kat) at the time. Universal was given the right to name the rabbit and it selected a name out of a hat.
The first Oswald cartoon, Poor Papa, was rejected by the Universal studio heads for its poor production quality and the sloppiness and age of Oswald. Disney, together with Iwerks, decided to create a second cartoon titled Trolley Troubles featuring a much younger, neater Oswald. The short, released on September 5, 1927, officially launched the series and proved to be Disney's greatest success to date. The storyline for Poor Papa was reused in a Mickey Mouse short six years later, in Mickey's Nightmare, 1932. Oswald the Lucky Rabbit became Disney's first major hit in 1927, rivaling other popular cartoon characters, such as Felix the Cat and Koko the Clown.
The success of the Oswald series allowed the Walt Disney Studio to grow to a staff of nearly twenty. Walt's weekly salary from the series was $100 while Roy Disney's was $65. The Disney brothers earned $500 per Oswald short and split the year-end profits, with Walt receiving 60 percent ($5,361), and Roy receiving 40 percent ($3,574).
With income gained from the Oswald series, Walt and Roy purchased ten acres of land in the desert. They also invested in an oil-drilling venture. Iwerks also invested his income in several stone mills to crush paint pigment he used to make paint formulas that were utilized by animators for decades.
As time passed, Disney feared that Mintz would forgo renewal of the contract, partly due to Iwerks informing Disney that George Winkler, at the behest of Mintz, had been going behind Disney's back during pick-up runs for Oswald reels and hiring away his animators. Eventually, Walt traveled with his wife Lilly to New York to shop the series to other distributors, including Fox and MGM, prior to meetings with Mintz. As Walt later recalled, he placed two Oswald prints under one arm and—feeling "like a hick"—marched "one half-block north" on Broadway to MGM to visit Fred Quimby. During this period, Walt and Lillian attended the premier of the Oswald short Rival Romeos, which debuted at the Colony on 53rd and Broadway.
In the spring of 1928, Disney traveled to New York City in hopes of negotiating a more profitable contract with his producer Charles Mintz. But as economic problems were apparent at the time, Mintz figured Disney should settle for a 20 percent cut, although large turnarounds were promised if the studio's finances showed considerable growth. While most of his fellow animators left for Mintz's studio, Disney decided to quit and therefore leave the character he created. On his long train ride home, he came up with an idea to create another character, and retain rights to it. He and Iwerks would go on to develop a new cartoon in secret, starring a new character which would soon become the most successful and popular cartoon character in film history and later become the foundation of a global entertainment empire. The first Mickey Mouse cartoon to be filmed was Plane Crazy in the summer of 1928, but it was produced as a silent and held back from release. The first Mickey Mouse film with a synchronized soundtrack, Steamboat Willie, reached the screen that fall and became a major hit, eclipsing Oswald. Plane Crazy was later given its own synchronized soundtrack and released on May 15, 1928.
Universal takes direct control
Mintz, meanwhile, opened his own studio consisting primarily of former Disney employees, where he continued to produce Oswald cartoons, among them the first Oswald with sound, Hen Fruit (1929). While things were going in Mintz's favor, animators Hugh Harman and Rudolf Ising asked Universal head Carl Laemmle to remove Mintz, suggesting they would be the ones to continue the Oswald series. But Laemmle denied their requests and even terminated Mintz's contract, opting to have the Oswald cartoons produced right on the Universal lot instead.
By a coincidence, Disney and Mintz each produced nine cartoons the first year and 17 the next, before Oswald was taken over by others. Laemmle selected Walter Lantz to produce the new series of Oswald shorts (the first of which was 1929's Race Riot). Lantz consulted Disney about Oswald and he gave Lantz his blessing to continue the Oswald series as the Mickey Mouse shorts had become more successful, so the two became close friends.
Over the next decade, Lantz produced 142 Oswald cartoons, making for a grand total of 194 films that the character starred in, spanning the work of all three producers. After Lantz took over production in 1929, the character's look was changed to some degree over the following years: Oswald got white gloves on his hands, shoes on his feet, a shirt, a "cuter" face with larger eyes, a bigger head, and shorter ears (pictured right). With 1935's Case of the Lost Sheep, an even more major makeover took place: the character was drawn more realistically now, with white fur rather than black, shoes are removed, plus wearing suspenders instead of a shirt and shorts. This new Oswald model was adapted directly from a non-Oswald character in another Lantz cartoon: the Cinecolor "Fox and the Rabbit" (1935), released some two months earlier as the last of the early Cartune Classics series.
The cartoons containing the new, white-furred Oswald seemed to be different from their predecessors in more than one way, as the stories themselves became softer. Minor changes in the drawing style would continue, too. With Happy Scouts (1938), the second-to-last Oswald film produced, the rabbit's fur went from being all-white to a combination of white and gray.
Unlike the Disney shorts, in which Oswald did not speak, Lantz's cartoons began to feature actual dialogue for Oswald, although most of the cartoons were still silent to begin with. Animator Bill Nolan did the voice of Oswald in Cold Turkey, the first Lantz cartoon with dialogue, and the following year Pinto Colvig, who was working as an animator and gag man at the studio, started voicing Oswald. When Colvig left the studio in 1931, Mickey Rooney took over the voicing of Oswald until early in the following year. Starting in 1932, Lantz ceased to use a regular voice actor for Oswald, and many studio staff members (including Lantz himself) would take turns in voicing the character over the years. June Foray provided Oswald's voice in The Egg Cracker Suite, which was the final theatrical short to feature the character.
Oswald made a cameo appearance in the first animated sequence with both sound and color (two-strip Technicolor), a 2½-minute animated sequence of the live action movie The King of Jazz (1930), produced by Laemmle for Universal. However, it was not until 1934 that Oswald got his own color sound cartoons in two-strip Technicolor, Toyland Premiere and Springtime Serenade. The Oswald cartoons then returned to black-and-white, except for the last one, The Egg Cracker Suite (1943), released as a part of the Swing Symphonies series. Egg Cracker was also the only Oswald cartoon to use three-strip Technicolor. But before he was permanently retired, Oswald made a final cameo appearance in The Woody Woodpecker Polka (1951), also in three-strip Technicolor, which by then had become the norm in the cartoon industry.
Career in comics
Oswald made his first comic book appearance in 1935, when DC Comics featured him in the series New Fun (later More Fun). His adventures, drawn by Al Stahl, were serialized one page to an issue for the magazine's first year, after which they ceased. The original black-furred version of Oswald was featured, even though Oswald was by this time a white rabbit on screen.
Oswald's second run in the comics began in 1942, when a new Oswald feature was initiated in Dell Comics' New Funnies, this time modeled after the latest cartoon version of Oswald and influenced by the drawing style of other Lantz comic book characters at the time. Following the typical development seen in most new comics, the New Funnies stories slowly morphed the character in their own direction.
At the start of the New Funnies feature, Oswald existed in a milieu reminiscent of Winnie the Pooh: he was portrayed as a live stuffed animal, living in a forest together with other anthropomorphized toys. These included Toby Bear, Maggie Lou the wooden doll, Hi-Yah Wahoo the turtle-faced Indian, and Woody Woodpecker—depicted as a mechanical doll filled with nuts and bolts (hence his "nutty" behavior). In 1944, with the addition of writer John Stanley, the stuffed animal motif was dropped, as were Maggie Lou, Woody, and Wahoo. Oswald and Toby became flesh and blood characters living as roommates in "Lantzville". Initially drawn by Dan Gormley, the series was later drawn by the likes of Dan Noonan and Lloyd White.
In 1948, Toby adopted two orphan rabbits for Oswald to raise. Floyd and Lloyd, "Poppa Oswald's" new sons, stuck around; Toby was relegated to the sidelines, disappearing for good in 1953. Later stories focused on Oswald adventuring with his sons, seeking odd jobs, or simply protecting the boys from the likes of rabbit-eating Reddy Fox and (from 1961) con man Gabby Gator—a character adapted from contemporary Woody Woodpecker cartoon shorts. This era of Oswald comics typically featured the art of Jack Bradbury, known also for his Mickey Mouse work.
Post-1960s, Oswald comics tended to be produced outside the United States, for example in Mexico and Italy. Through the end of the 20th century, the foreign comics carried on the look and story style of the Dell Oswald stories. More recently, they featured a "retro" attempt at recreating the original Disney Oswald.
In 2010, Oswald starred in the digi-comic series Epic Mickey: Tales of the Wasteland, a prequel to the Epic Mickey video game, sharing what the Wasteland was like before Mickey arrived there.
In 2011, Oswald starred in the Norwegian Disney comic story "En magisk jul!", written by David Gerstein and drawn by Mark Kausler. It is based on and takes place in the times of the classic Oswald shorts from 1927–28. The story was later reprinted, as "Just Like Magic!", in the American Disney comic Walt Disney's Comics and Stories #726 (2015).
Return to Disney ownership: the Al Michaels trade
In February 2006, Disney CEO Bob Iger initiated a trade with NBC Universal in which a number of minor assets, including the rights to Oswald, were acquired by The Walt Disney Company in exchange for sending sportscaster Al Michaels from Disney's ABC and ESPN to NBC Sports. At the time, ABC had lost its contract for NFL broadcast rights, and despite recently signing a long-term contract with ESPN, Michaels was interested in rejoining broadcast partner John Madden at NBC for the Sunday night package. Universal transferred the copyright of the character to Disney, and in exchange, Disney released Michaels from his employment contract, allowing him to sign with NBC.
The deal included the rights to the character and the original 26 short films made by Disney (namely, most of the Oswald films produced from 1927 to 1928). Rights to the Winkler and Lantz/Universal-produced Oswald films are kept by Universal and other related products was not included, and therefore Oswald appears in both Disney releases and in Universal's Woody Woodpecker and Friends collection. Iger had been interested in the property because of an internal design document for a video game, which would ultimately become Epic Mickey. Walt Disney's daughter, Diane Disney Miller, issued the following statement after the deal was announced:
When Bob [Iger] was named CEO, he told me he wanted to bring Oswald back to Disney, and I appreciate that he is a man of his word. Having Oswald around again is going to be a lot of fun.
Around the same time, the Kansas City Chiefs and New York Jets made a similar deal, the Chiefs giving the Jets a draft pick as compensation for releasing coach Herm Edwards from his contract. Referring to this trade, Michaels said:
Oswald is definitely worth more than a fourth-round draft choice. I'm going to be a trivia answer someday.
In January 2007, a T-shirt line from Comme des Garçons seems to have constituted the first new Disney Oswald merchandise. Following in December was a two-disc DVD set, The Adventures of Oswald the Lucky Rabbit, included in Wave Seven of the Walt Disney Treasures DVD series. Several Oswald collectors' figurines and a limited edition grayscale plush toy appeared shortly after the DVD set's release. The Disney Store also began to introduce Oswald into its merchandise lines, starting with a canvas print and Christmas ornament that became available Fall 2007. A standard-issue color plush toy matching Oswald's appearance in Epic Mickey appeared in late 2010. This was followed by an ongoing roll-out of clothing and other products at the Disney Store, various chain stores, and the Disney California Adventure theme park, including the popular "Oswald Ears" hats (similar style to Mickey Mouse Club caps).
Video game hero
Oswald is one of the main characters in the video game franchise Epic Mickey. The world of Epic Mickey is called "Wasteland" and it is similar to Disneyland but for forgotten Disney characters, including Oswald, who rules the place. Actually, Oswald fashioned it after Disneyland, but he put images of himself in the place of Mickey in the statue with Walt Disney and other places throughout the town. Oswald was the first cartoon character to be "forgotten" and inhabit Wasteland. Oswald dislikes Mickey for stealing his popularity that he felt he deserved. Oswald tries to make Wasteland a better place for forgotten characters, especially his "bunny children" and his wife Ortensia.
The Blot, the main villain of the game, put Oswald's wife in suspended animation by soaking her in thinner. At the end of Epic Mickey, Ortensia is revived by a rain of paint caused by the death of the Blot, Oswald and Ortensia kiss and cuddle, and Mickey and Oswald have also reconciled as brothers. Oswald accidentally breaks the cork that keeps the Blot in a large glass bottle known as the Jug after finding out that Mickey accidentally ruined Wasteland. The short Oswald cartoon Oh, What a Knight was also included as an unlockable cartoon in the game. The recently discovered short Poor Papa was originally going to be in the game, but could not because Junction Point did not have enough time to scan the short into the game before its release.
Epic Mickey 2: The Power of Two is a video game that was released on November 18, 2012. It is the second game in the Epic Mickey series and for the first time, Oswald the Lucky Rabbit is a playable character in the game. Mickey Mouse makes his return to the alternate world of cartoon wasteland, a place inhabited with 80 years of forgotten Disney characters and Disney theme park attractions. The two team up, with Mickey wielding a magical paint brush with the power of paint and paint thinner while Oswald holds a powerful remote control which can command electricity.
Under previous Epic Mickey game designer Warren Spector, Epic Mickey 2: The Power of Two follows the previous game mechanics as well as adding a musical element. The characters of the game advance through levels with original music and lyrics. Each character will have a specific song that they sing and based on the choices one makes throughout the game, the music will change. The musical scores were created by Emmy award-winning composer James Dooley and lyricist Mike Himelstein.
Unlike the previous game, Epic Mickey 2 features full voiced cut-scenes with Frank Welker (Welker had also provided Oswald's vocal effects in the previous game) as Oswald's first voice actor in a Disney's Oswald the Lucky Rabbit production (Bill Nolan was Oswald's first voice actor in 1929 when Walter Lantz produced the Oswald cartoons). Disney has also introduced authentic Disney character voices which provide direction from the various characters to the players. The game contains new ideas from Disney and supports gaming mechanics such as PlayStation Move.
Using Ub Iwerk's sketchbook drawings in 2012, archivists recreated a scene from an Oswald cartoon, Harem Scarem.
Merchandise
Shortly after the rabbit starred in a series of twenty-six black and white animated silent shorts between 1927 and 1928, he became the first Disney character to successfully sell merchandise: a chocolate-covered marshmallow candy bar, a stencil set, and a pin-backed button. However, Disney lost the rights to Oswald shortly thereafter and the production of merchandise was put to a halt. Not long before Disney regained the rights to Oswald, Universal started marketing the character actively overseas. Disney slowly reintroduced him with merchandise such as shirts, figurines and a DVD of his original cartoons. In 2004 and 2005, Oswald products became popular in Japan, and were primarily made available as prizes in UFO catchers. Typically manufactured by Taito and/or Medicom, these products included puppets, inflatable dolls, keyrings, and watches. They were generally based on a navy-blue version of the original Disney/Iwerks character. Oswald made his first Disneyland appearance at Tokyo Disneyland on March 31, 2010 as an Easter float. At the Magic Kingdom in Walt Disney World, a poster of Oswald can be seen at the Town Square Theater where Mickey Mouse is available for meet and greets. Also inside Mickey's meeting area, a doodle of Oswald and Mickey can be seen. Clothing products are also available at Disneyland Paris in Walt Disney Studios Park.
Theme park appearances
An Oswald costumed character showed up at the parks in Florida and California on the day Disney reacquired Oswald, but made no further appearances at the time.
In 2010, Tokyo Disneyland produced a float featuring Oswald for their first Easter holiday event.
In 2011, Oswald appeared with other old Disney characters on the Construction walls for Disney California Adventure Park's new entrance.
In 2011, Oswald appeared on a poster as a magician's rabbit in Town Square Theater in Magic Kingdom park.
In 2011, Oswald appeared on various items of clothing available for purchase at Disneyland Paris in the shops on Main Street USA.
In 2012, Disney California Adventure park at the Disneyland Resort reopened with a new entry area called Buena Vista Street, themed to 1920s Los Angeles. Oswald's Service Station is a 1920s gas station (housing a gift shop) located at the north end of the street and features Oswald prominently in its logo. Disney California Adventure also sells Oswald merchandise, while next door Disneyland Park offers Mickey Mouse merchandise exclusively.
In 2012, Oswald ear hats appeared at the Emporium at Walt Disney World in Florida.
As of May 28, 2014 Oswald can be spotted on the exit of The Seven Dwarves ride at Magic Kingdom, Orlando. He is carved into a tree near the exit door.
On April 1, 2014, a new Oswald costumed character began meet-and-greets at Tokyo DisneySea.
On September 14, 2014, Oswald began making appearances on Buena Vista Street at Disney California Adventure.
Home media
Some earlier Oswald shorts are in the public domain, and have thus been available for some years in various lower-quality video and DVD compilations.
A professional restoration of the then surviving Disney Oswald shorts, under the title The Adventures of Oswald the Lucky Rabbit, appeared as a two-disc volume in Walt Disney Treasures: Wave Seven, released December 11, 2007. The cartoons included Ozzie of the Mounted, Tall Timber, and a much-extended version of Bright Lights, all newly rediscovered at the time.
Six Walter Lantz Oswald cartoons, including Hells Heels and Toyland Premiere, have been included in The Woody Woodpecker and Friends Classic Cartoon Collection DVD.
Five additional Lantz Oswald shorts, including Wax Works and Springtime Serenade, are included in The Woody Woodpecker and Friends Classic Cartoon Collection: Volume 2 DVD.
The full version of Oh, What a Knight is included as an unlockable cartoon in Epic Mickey by collecting various film reels in the game.
The restored version of Hungry Hobos is included as part of the bonus features in the release of the Walt Disney Signature Collection edition of Snow White and the Seven Dwarfs on Blu-ray. Although the short is not included on the disc itself, a digital code is included with the Blu-ray so the short can be "unlocked" for viewing.
Reception
During the 1920s, the Oswald shorts, as well as Oswald himself, proved extremely popular and had received substantial critical acclaim. The Film Daily noted that the series was "one of the best sellers of the 'U[niversal]' short subject program." According to The Moving Picture World, Oswald had "accomplished the astounding feat of jumping into the first-run favor overnight".
With the release of Trolley Troubles, the Film Daily wrote, "As conductor on a 'Toonerville' trolley, Oswald is a riot. This ... you can book on pure faith, and our solem word that they have the goods."
The Moving Picture World noted Oswald was "good for a lot of smiles and real laughs. 'Trolley Troubles' presents Oswald as the skipper of a dinkey little trolley on a wild ride over mountains."
According to The Moving Picture World:
If the first of these new cartoon comedies for Universal release is an indication of what is to come, then this series is destined to win much popular favor. They are cleverly drawn, well executed, brimful of action and fairly abounding in humorous situations. Oswald the Lucky Rabbit is all of that. Some of his experiences are hilarious and breath taking.
With the release of Oh, Teacher, Moving Picture World wrote that it "lives up to the promise of the first ... as a clever, peppy, and amusing series of cartoons that should prove popular in any type of house. This one deals with Oswald as a school kid and introduces a cat as his rival. It contains some of the best gags we have seen in cartoons."
With the release of The Mechanical Cow, Moving Picture World wrote that Oswald "has a wild and amusing time with his ingenuous milk producer"
With the release of Great Guns, Moving Picture World wrote that Oswald is a "hero in action in the trenches and [in] a situation where two planes fight each other like pugilists". They found that Great Guns was "chock full of humor" and wrote, "This series is bound to be popular in all types of houses if the present standard is maintained."
Moving Picture World also wrote of the series:
In addition to striking a new note in cartoon characters by featuring a rabbit, these Disney creations are bright, speedy and genuinely amusing ... The animation is good and the clever way in which Disney makes his creations simulate the gestures and expressions of human beings adds to the enjoyment. They should provide worthwhile attractions in any type of house.
In addition:
Oswald looks like a real contender. Walt Disney is doing this new series. Funny how the cartoon artists never hit on a rabbit before. Oswald with his long ears has a chance for a lot of new comedy gags and makes the most of them. Universal has been looking for a good animated subject for the last year. They've found it.
In the modern era, animation historian David Gerstein notes:
Disney has done some new projects with Oswald since recovering him. He's co-starred with Mickey in a video game series vaguely, Lord of the Rings crossed with Who Framed Roger Rabbit, called Epic Mickey. Kids who have discovered those games have discovered the Oswald films, and it's fascinating to see that Oswald is a genuinely popular character with kids today. If you ask a high schooler if they know Oswald the Lucky Rabbit, a surprising number will say yes. And so essentially there is just something vital about these characters that, when presented the right way, would absolutely connect with all ages.
Oswald won Best New Character in both Readers' Choice and Editors' Choice in Nintendo Power's Best of 2010 awards.
References
Oswald the Lucky Rabbit Wikipedia
(Text) CC BY-SA