History of the north caucasus instability
The North Caucasus (Russian: Се́верный Кавка́з; [ˈsʲevʲɪrnɨj kɐfˈkas]) or Ciscaucasus is the northern part of the Caucasus region between the Sea of Azov and Black Sea on the west and the Caspian Sea on the east, within European Russia.
Contents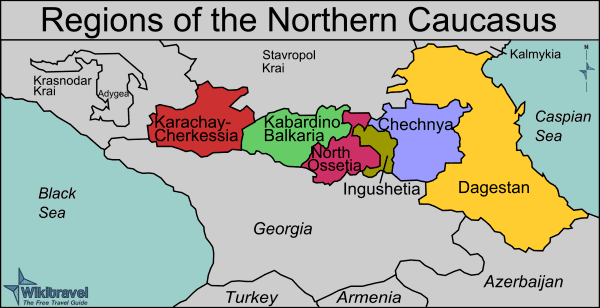 Geopolitically, the Northern Caucasus (territory north of the Greater Caucasus Range) includes the Russian republics and krais of the North Caucasus. As part of the Russian Federation, the Northern Caucasus region is included in the North Caucasian and Southern Federal Districts and consists of Krasnodar Krai, Stavropol Krai, and the constituent republics, approximately from west to east: the Republic of Adygea, Karachay–Cherkessia, Kabardino-Balkaria, North Ossetia–Alania, Ingushetia, Chechnya, and the Republic of Dagestan. The outer border of the Soviet Union's North Caucasus Krai was the same as that of present-day North Caucasus Economic Region (Raion) which includes an oblast (Rostov Oblast), two krais (Krasnodar Krai and Stavropol Krai), and seven republics. The former North Caucasus Military District (Okrug) also included Astrakhan Oblast, Volgograd Oblast, and the Republic of Kalmykia. Its administrative center was Rostov-on-Don until 10 January 1934, Pyatigorsk until January 1936, then Ordzhonikidze (today Vladikavkaz) and, from 15 December 1936, Voroshilovsk (today Stavropol). Geographically, the term North Caucasus also refers to the northern slope and western extremity of the Caucasus Major mountain range, as well as a part of its southern slope to the West (until the Psou River in Abkhazia). The Forecaucasus steppe area is often also encompassed under the notion of "Ciscaucasus", thus the northern boundary of the Forecaucasus steppe is generally considered to be the Manych River. Ciscaucasus was historically covered by the Pontic steppe, mostly on fertile calcareous chernozyom soils, which has been almost completely tilled and grazed. It is bounded by the Sea of Azov on the west, and the Caspian Sea on the east. According to the Concise Atlas of the World, Second Edition (2008), the Ciscaucasus region lies on the European side of the "commonly-accepted division" that separates Europe from Asia.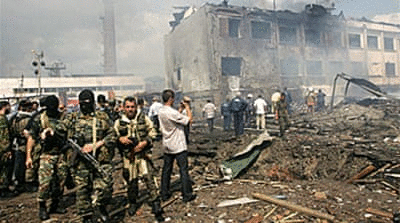 In 2011, the Russian government has put forward plans to create a "North Caucasian version of Silicon Valley", at a cost of 32 billion rubles ($1.1 billion) as part of ongoing efforts to generate opportunities in the region.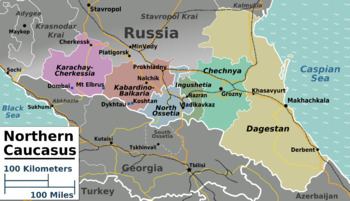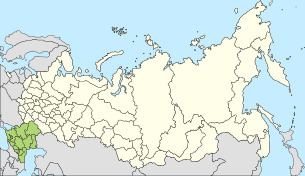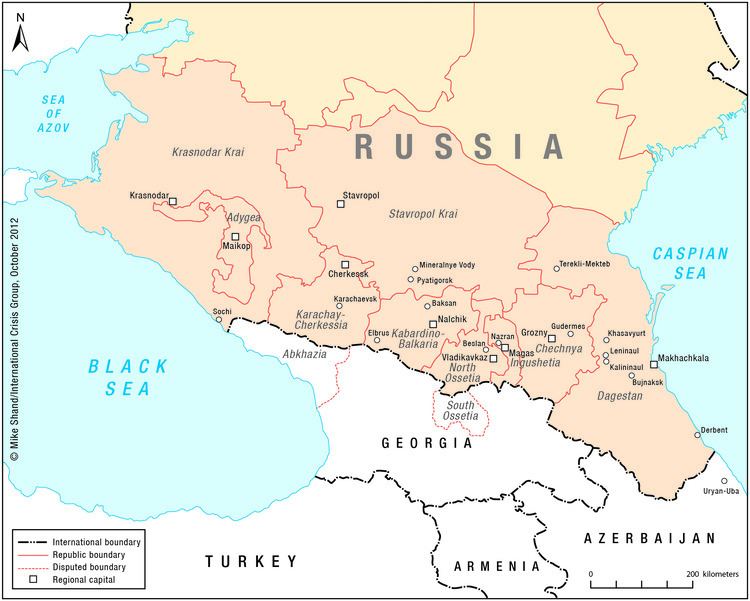 References
North Caucasus Wikipedia
(Text) CC BY-SA